Navy and Pink Guest Room Reveal
Is it weird to get excited about a room?  Well I am weird and I get excited about rooms.  And houses.  And yards.  But this room—I am so excited about this room.  It's the big reveal day!
We have an extra bedroom upstairs that is currently serving as a guest room.  Which meant that it housed the extra queen bed we have and that's about it.  It was in a sad, sad state and I was embarrassed when it came time to show it to guests wanting to see my new house.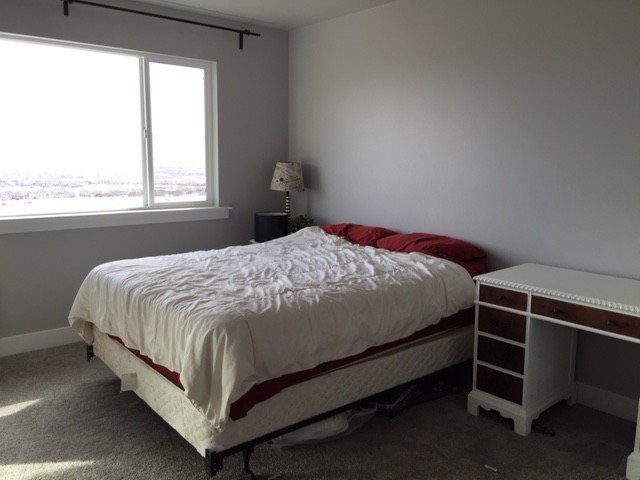 Now?  Now I'm embarrassed to show people the REST of the house compared to this room.  This room gives me hope for how the rest of the house will eventually look.
As you may know, I am obsessed with board and batten and basically all kinds of trim.  And it will be everywhere in my house.  So when I was discussing this room with my husband, he was like "You should do the board and batten on all the walls and make this wall an accent wall with a grid!"  Yes–that is the man I married and I ADORE that he is that way.  He gets excited about rooms and houses and yards like I do.  Maybe not quite as much.  But still, he gives the orders and I get started.  We are a very progressive couple–the man gives the decorating orders and the wife does the work.  (Well actually he likes to think that, mostly I just make the plans and pretend to run it past him and do what I want anyway.)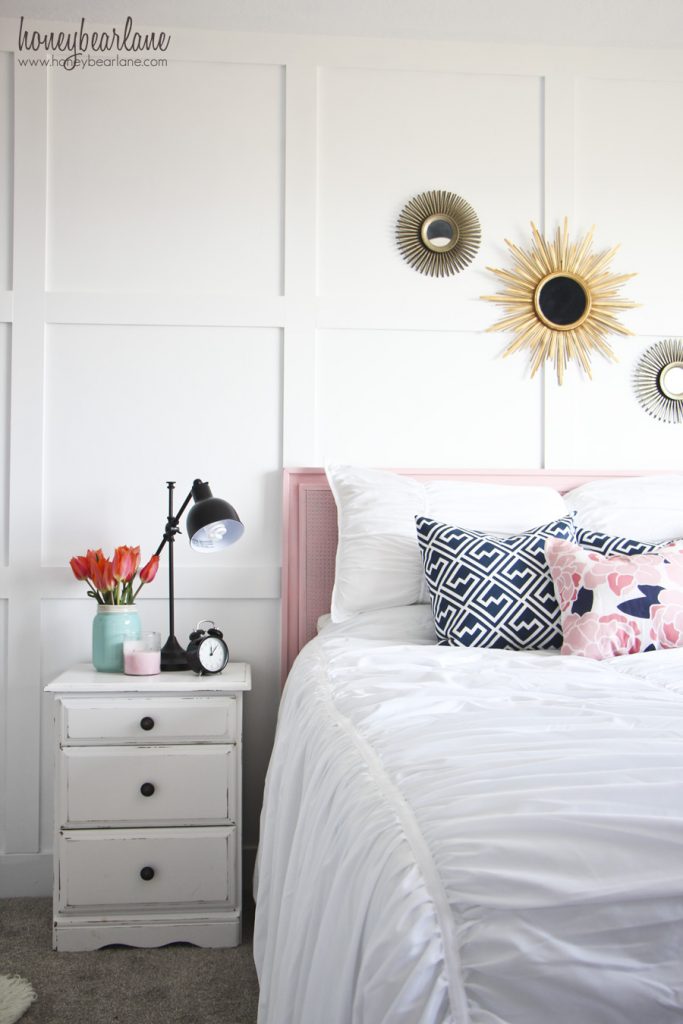 However, in this case, I actually did it his way.  I was only going to do two walls with board and batten and navy blue and leave the rest as they are.  Which would have been pretty nice still, I think.  But doing it his way, although WAY more work, ended up taking this room over the top and taking it to the next level.  It has added 200% more character to this room, making this room think that it existed in the 1920's Craftsman era and not built last year.  I have a board and batten tutorial here and I will post a grid trim tutorial soon!
So the trimwork was decided.  And since I did this room for Better Homes and Gardens, I checked out some of my favorite products of theirs to use in this room.  I loved the Marissa curtains I used in my Master Bedroom makeover last year, and I found that they also had them in navy blue.  And I've been dying to do a room with navy blue, this seemed like a good jumping off point.
I found this cute designer pillow from Etsy and the color scheme just spoke to me.  I was slightly nervous that the pink accents would make the room feel too feminine for a gender-confused guest room.  But I decided that it's MY house and MY room so I would do what I wanted, dang it!  And I'm so glad I stuck with my instincts because I adore the navy and pink color scheme so much that I only want to look at navy blue and pink the rest of my life.
So I chose to paint the upper portion of the walls in navy blue.  The blue I chose was Benjamin Moore's Hale Navy–the trendiest navy blue of all, it seems.  But I can see why.  It is so rich and dark and luxurious, like dark chocolate.  It feels like a superior paint color, like if paint colors were people, Hale Navy would be the one going to the country club and driving a Bentley.  It almost feels too pretentious to live in my house.  But now that such an affluent paint color lives in my house, maybe I will be inclined to step it up and vacuum once in a while.  I painted the rest of the room a white color matched to my trim, as well as the ceiling.  PS-Painting ceilings SUCKS.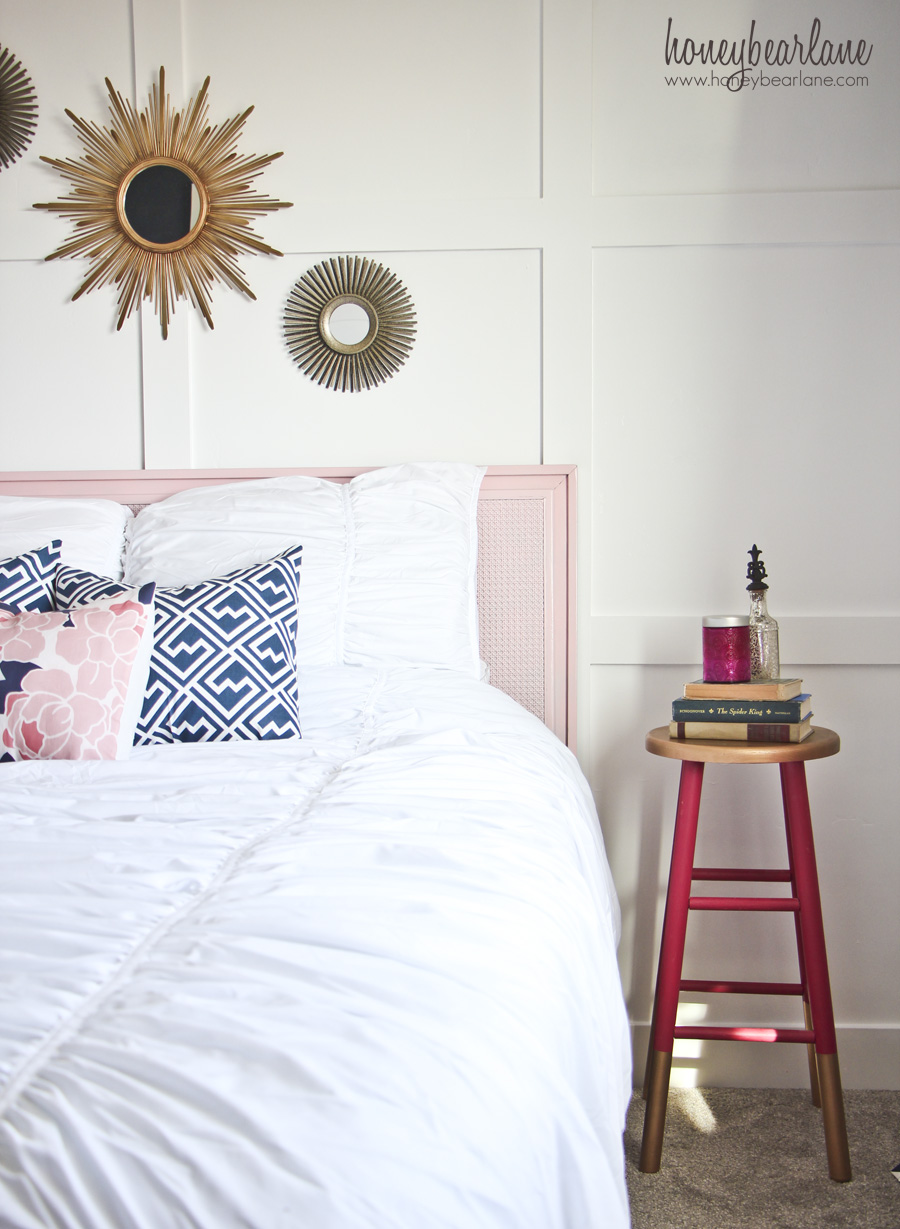 For the bedding, BHG at Walmart has this cute comforter set that looks really close to my Crate and Barrel duvet cover but this one is like more than half the price.  I got a King Size, even though it's a Queen bed.  Always do this–always.  Because this way you have a huge comforter that gives plenty of overhang and plenty of covers for your guests.  The one drawback is that you also end up with king sized shams and I don't buy king size pillows.  So you might notice that my shams look a little off and it's because I pulled them tight and folded the overhang behind it.  But you barely notice right? And last, those navy blue 20×20 pillows I whipped up really quickly from fabric from Hobby Lobby and put pillow forms inside.
Furniture:  Every piece in this room was thrifted and refinished by me, awhile ago.  Except the desk chair, I painted that with the Hale Navy and recovered the pad with a custom fabric I also made -tutorial coming.  Finally my furniture hoarding paid off!  That desk is the old green one–bleck (I can't believe I painted it that color) which I stripped off the drawer fronts and repainted white.  The hot pink stools I painted, the nightstand I also painted, AND the dresser is a laminate one I refinished as well.  Last, I spray painted my old headboard Krylon Ballet Slipper pink which was the perfect pink accent.
Decor:  I was excited to hang up this cute (BHG at Walmart) sunburst mirror and found some cheapo small ones at Home Goods to flank it.  The painting above the desk and the photo by the door are from Home Goods as well.  And I shopped the house for accessories–I have plenty of them!  And there's nothing better than fresh flowers.  Also, the "Love you to the moon" pillow was from Home Goods.
I also discovered that I finally had the perfect place for this special item–a flag that my WWII veteran Grandpa was retired with at his funeral.  The U.S. Air Force presented it to my mom, who gave it to me to take back home–since she is currently serving a mission for our church.  BHG at Walmart actually makes these flag boxes and I bought it and placed it inside.  So for now it resides in this guest room where all my visiting family members can enjoy it and remember Grandpa.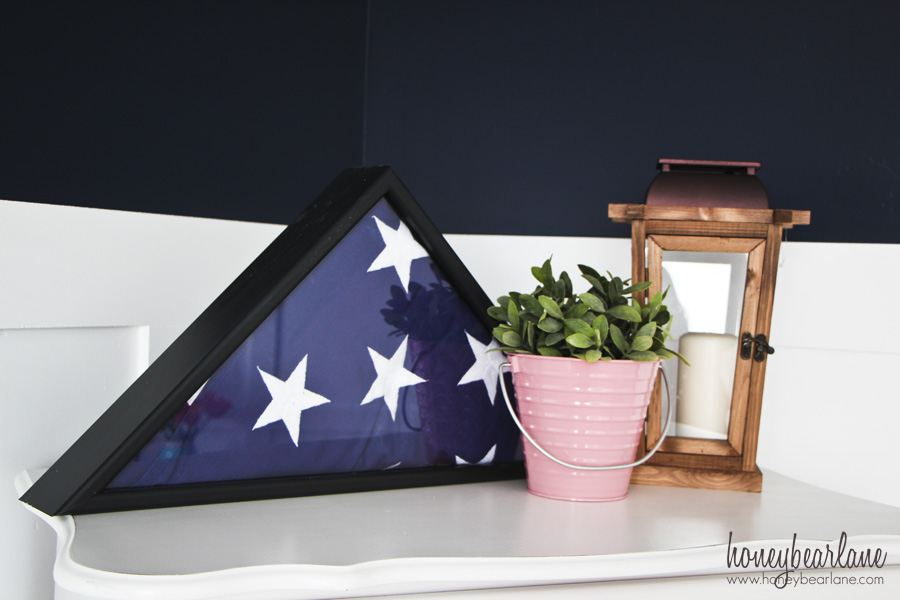 By the connecting bathroom door was the perfect spot for this cute spring blossom art I found which I think I had dreams of.  I love little pink blossoms and I might just go steal some from someone's tree.  The last thing I did was a small little station of guest items–towels, soap, toiletries.  It was what I had on hand.  Clearly I need to go shopping.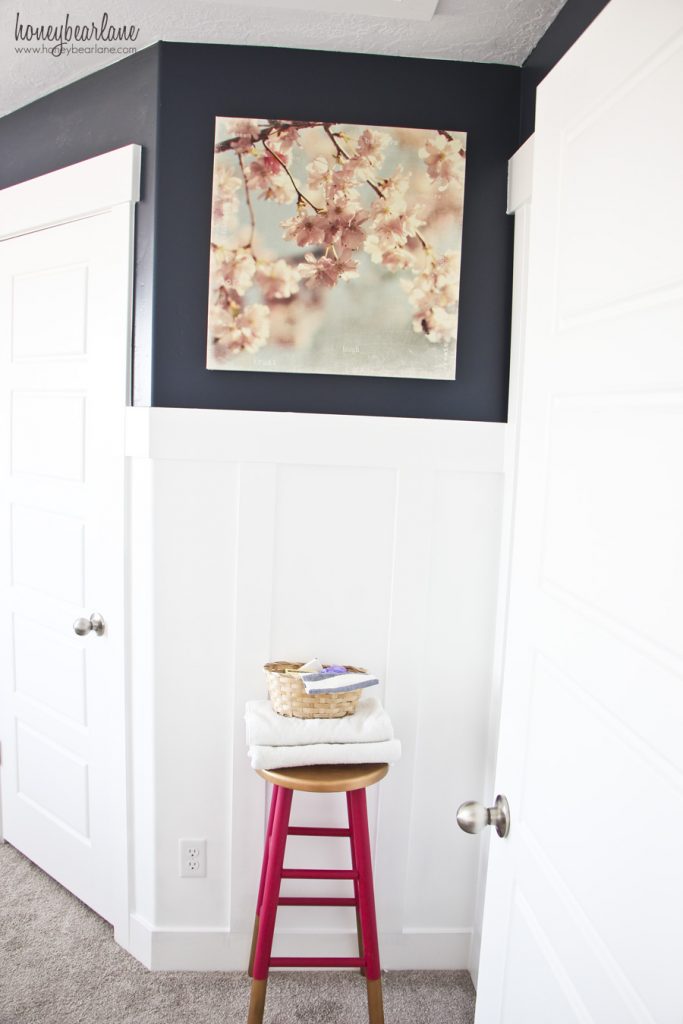 And that's the room!  Don't you want to come stay with me now?  Just pretend you don't see the rest of the house–just cover your eyes until you get into the guest room.
Let's see this room before and after again just for that fun affect: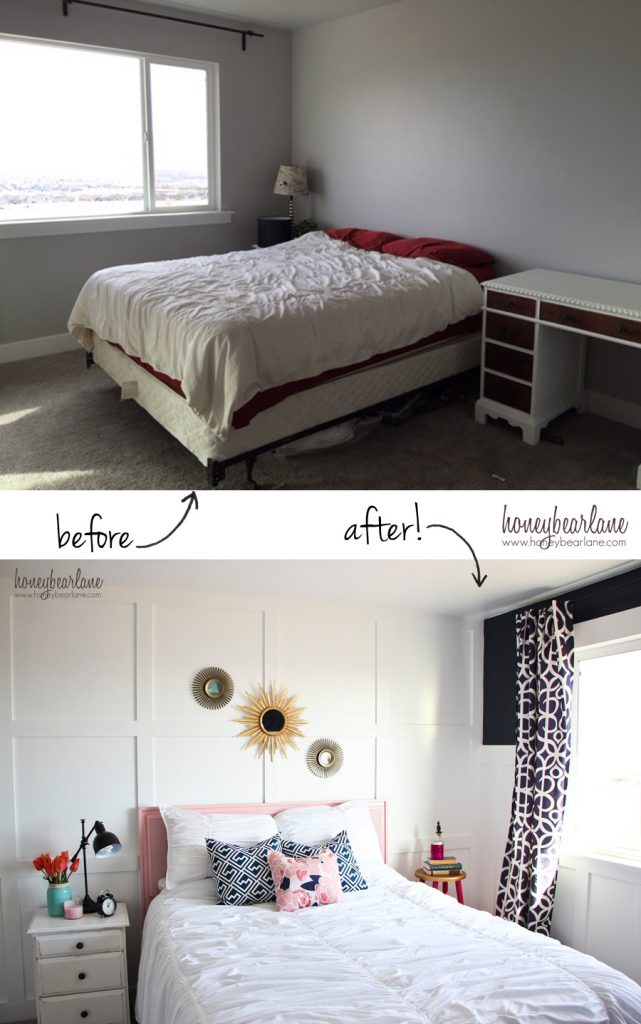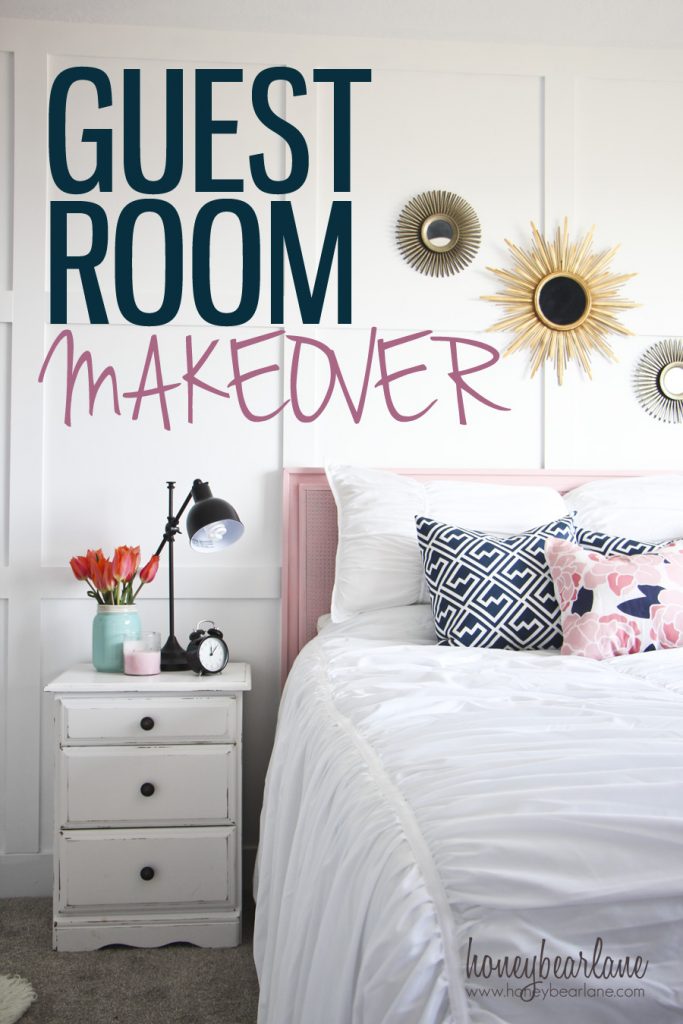 Better Homes and Gardens at Walmart Products in this room:
White Ruched Comforter Set: $45
Navy Blue Marissa Curtain Panels:  $18 (buy these online for the 96″ length)
Sunburst Mirror: $30
Black Task Lamp: $32
Rustic Lantern: $18
Flag Shadow Box, in stores:  $16
Peony and Rose Petals Candle:  $6
And if I were to extend my budget for this room, I would have also purchased these items:
Blue Sheets:  $40
Here's your chance to win a $100 Walmart gift card to makeover your bedroom!  Enter the Rafflecopter below!
a Rafflecopter giveaway

And don't forget to follow BHG Live Better on their social media channels:  
Twitter  Instagram  Facebook  Pinterest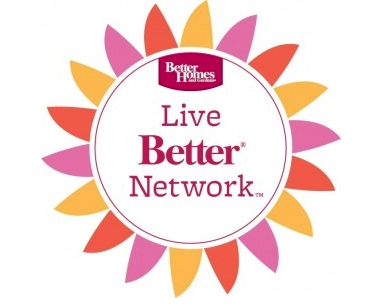 I wrote this post on behalf of Better Homes and Gardens Live Better, received compensation, but all opinions and statements are my own.