There are only a few projects I've done that I've felt have substantially changed the feeling of my house.  And the DIY marble backsplash was one of them, for sure.
*Warning:  very long post ahead!*
I thought about this project quietly for a very long time.  I always hated that my kitchen lacked a proper backsplash, only having that little quartz lip of the countertop.  Every time I took a picture for Instagram or something I was practically embarrassed, even though I have a brand new white kitchen.  But NOW, now it's something to be proud of.  Isn't it?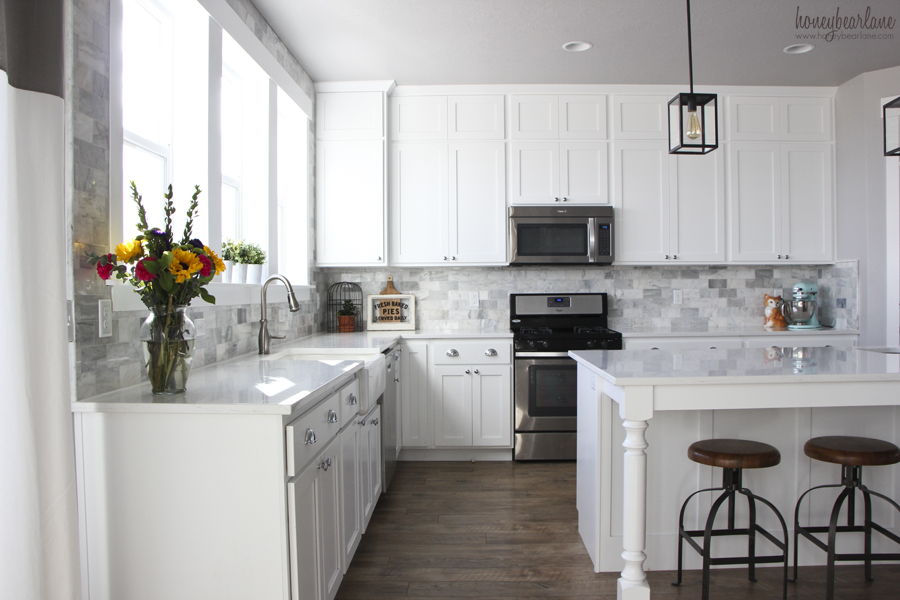 Yes, it's gorgeous.  I'm not even going to pretend to be bashful about that.  I'm definitely not going to brag about what a great job I did, because I didn't.  But the full, finished effect is just stunning.  This DIY marble backsplash is actually an affordable marble subway tile from Lowes.  I didn't really shop around much but I knew from online tile shops that marble tile was $$$$.  And I had $.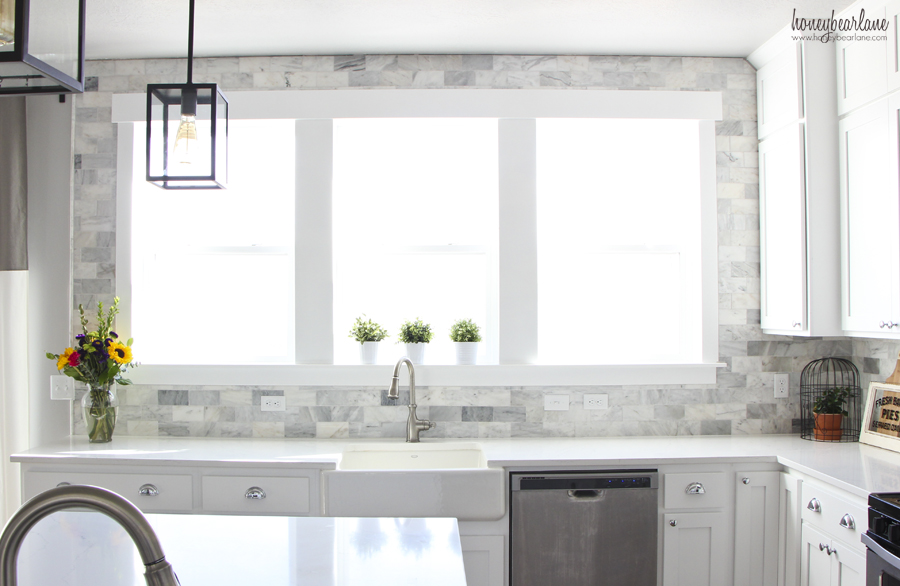 I debated this for a while…should I try to DIY it or hire it out?  I'd never done tile before.  I was extremely nervous, as I always am before trying something new.  I didn't want to totally screw it up, it was the kitchen!  It's something everyone sees.  And then there was the method of HOW to tile.  Should I use the sticky paper stuff?  Should I use mastic?  Should I use mortar?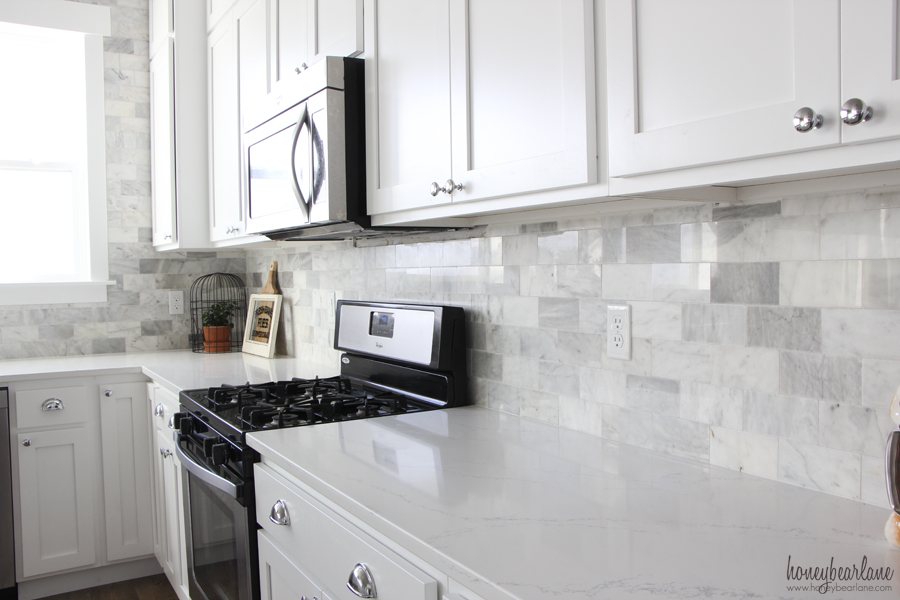 Now that I've done it, I understand the reaction that everyone gave me when I asked them how hard it was to tile.  They always said something like "It's not that bad…" while looking away like please don't ask me any more questions about that horrifying experience.  Because that's exactly it.  It isn't THAT bad.  But it is kind of a horrifying experience.  It's just so messy and exhausting and ugh.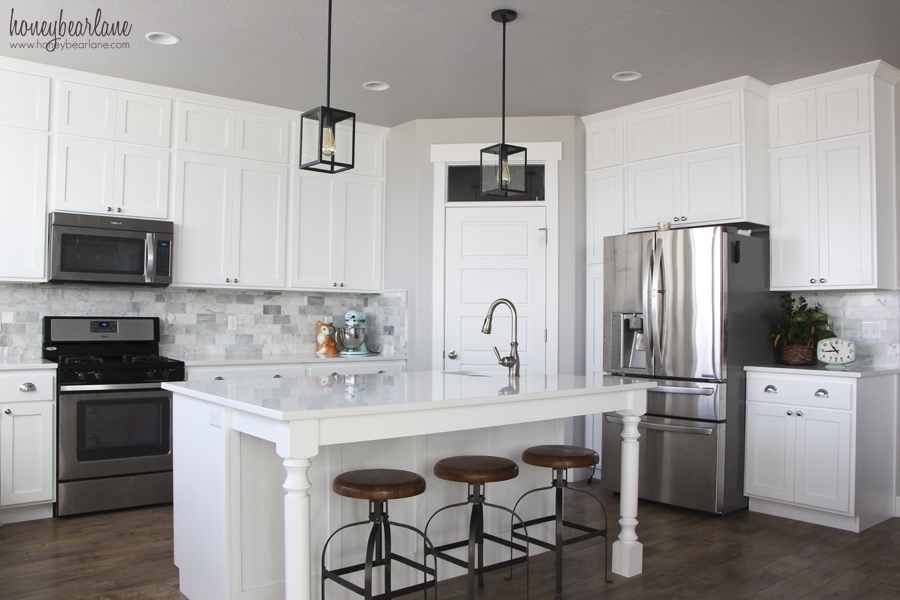 One day, after getting a sample box of tile and stacking it against my kitchen wall, I decided to go for it.  My Fall Craft Party was coming up and I wanted it done before that.  I went with my husband and the whole fam damily to Lowes and we filled up two carts full of crap for this project.  We also bought two new pendant lights, which I will share more about in another post.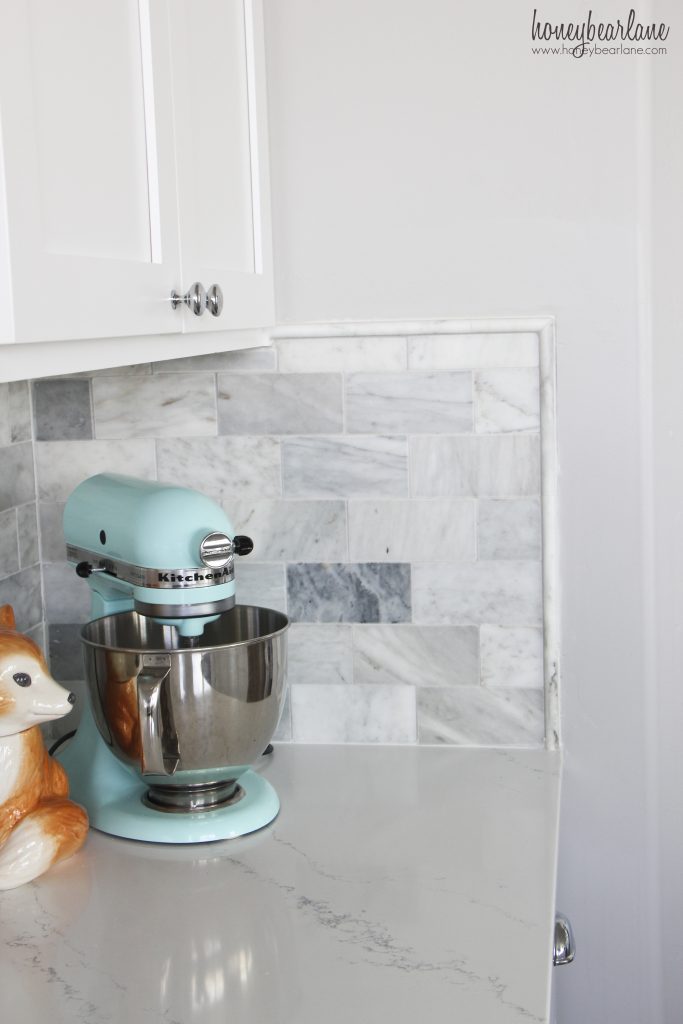 As I was checking out, the sweet checkout girl said, "And by 'we' you mean him, right?" when I said WE were going to do a kitchen backsplash.  Um, no.  I mean ME.  My husband didn't do a single thing.  It's just annoying to me that everyone always assumes that this fragile girl couldn't possibly do it.
I also went to Harbor Freight Tools and purchased a $50 tile saw.  This thing was cheap but it got the job done.  And there's no way I could have done this without it.  So worth it.
The entire breakdown was around $500 for all the supplies, but bear in mind that the amount of work required for my backsplash probably would have cost over $2000 if I'd hired it out.
I bought the following:
(affiliate links)
55 boxes of 3×6″ marble subway tile
1 box of marble pencil tile (this is the stuff you put on the raw edges) and this box was $$$.  Save any you don't use to return!
2 medium tubs of tile adhesive (I ended up needing also a small container more.)
1 tub of Mapei Ready to use Grout
1 Rubber Grout Float, sponge, Notched Trowel, and 2 bags of marble tile spacers.
1 Tile Saw, 4-Inch and diamond blade
So you will save some money if you already have some of that stuff or can borrow it.  I ended up doing mastic rather than sticky paper because I was nervous the sticky paper wouldn't hold up the weight of marble tile.  I knew it would work great for subway tile, so if you're doing that, totally go for the sticky paper.  So much less mess.
BEFORE: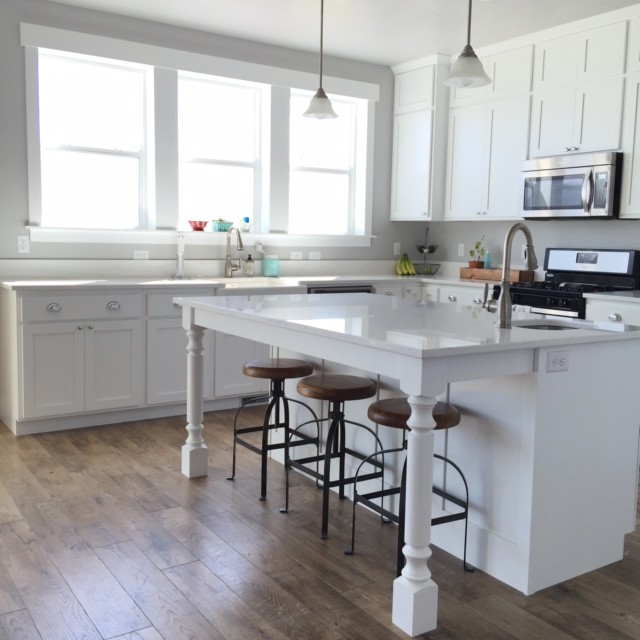 Step 1:  Rip off the Old Backsplash
The first step was to rip off the existing "backsplash".  You don't technically HAVE to do this but I hate the look of leaving it on.  I used a razor blade to cut the silicone and a table knife to pry it away from the wall.  The first one was simple, that tiny one by the fridge.  They didn't glue that one.  But the rest they HAD glued (if you're building, ask your builder to leave off the glue if you are planning on doing your own backsplash later) so I had to use a crowbar to pry it off and made some holes in the drywall.  No going back now!  Tip:  Use a studfinder to find studs and then slide the crowbar in that spot.  It will damage the wall less because the stud is behind the drywall.  But you can buy a patch and slap it over the top of the big holes.  And yes, I totally sliced my finger open with the razor blade at one point.  Ouch.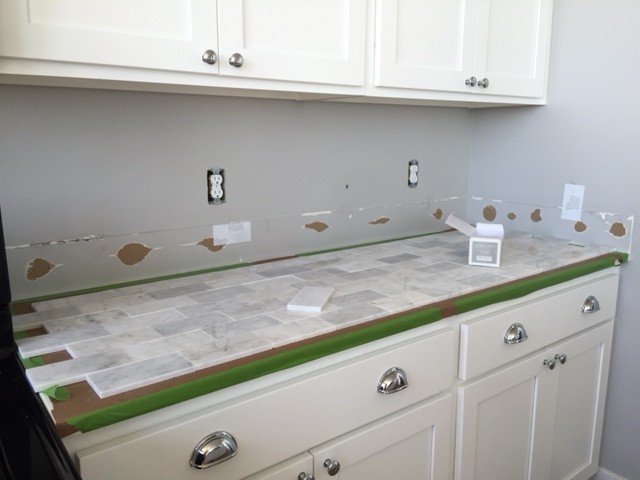 Step 2:  Prepare the surface
I cleared everything off and covered my counters with contractor's paper.  I made sure the walls were clean and relatively flat (you know, from all the crowbarring).  We pushed the oven out from the wall.  I turned off the electricity from the kitchen outlets and lights and then removed all the outlet covers.  You also have to unscrew the outlets themselves because you want the outlet to sit flush with the backsplash.  So I had to buy longer outlet screws to put them back in.  We have this cool electricity-sensing pen that you can touch to the outlet to make sure it's not live anymore.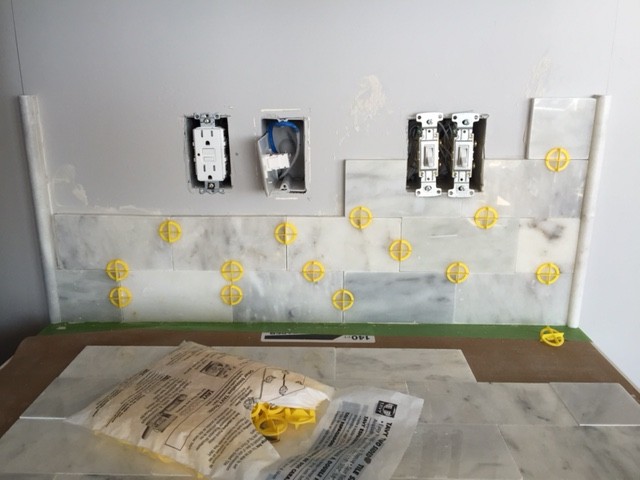 Step 3:  Start tiling!
Writing this post is bringing back all the memories of being totally exhausted.  Anyway, I started tiling in the smallest, least conspicuous spot.  This way I could lessen the visibility of rookie mistakes.  Having read the reviews online of the tile I bought, I was aware that I needed to open many boxes of tile at once and mix them up with each other.  Because they were varying shades of white and gray and you wanted a more random pattern.  I actually laid out what I wanted on the countertop.  This was helpful.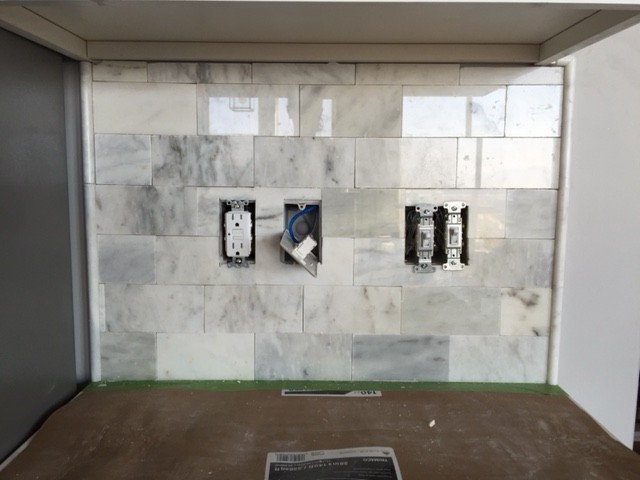 I used a level to draw a straight line from the edge of the countertop up the wall.  This was my starting point.  I used my notched trowel to spread some of the mastic, but it was rather large and awkward for how small the space was.  So I ended up back buttering (putting the mastic right on the back of the tile) a lot of them.  Later on, my friend helped me for a bit and showed me to apply the mastic with a small paint scraper and then notch it with the trowel for awkward small spaces.  This saved time.  This little section took me HOURS.  I knew I was in for a long week.
I marked out the space I needed to cut for each outlet, making sure that I cut it close to where the actual drywall was cut.  But I also had to make sure my staggered subway tile pattern didn't get disrupted by taking a shortcut around an outlet (you'll understand what I mean once you start doing it.)  Sometimes you're like "But this piece HERE fits so perfectly in this tiny spot" but if you use it, you could mess up the pattern.  Stupid pattern, wasting my time.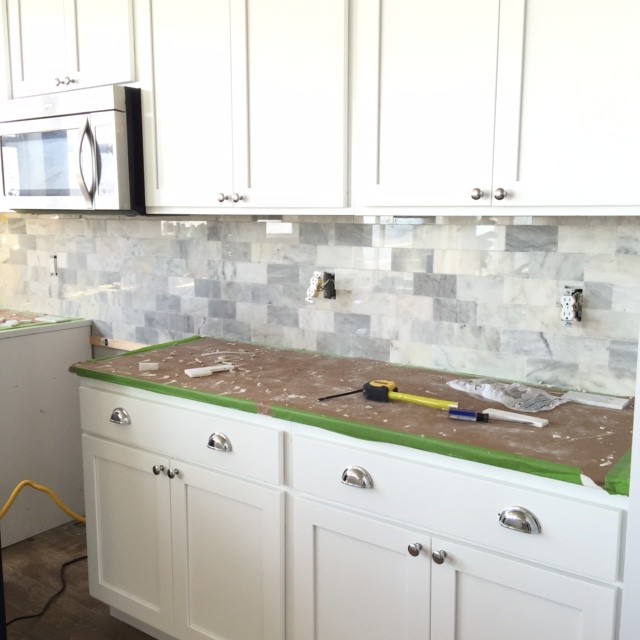 Tiling Tips:
Behind the oven, I put a 1×2 piece of wood on the wall with a nail gun so it could act as the countertop guide (you can kind of see it in this picture) But I actually put it a whole row below where the countertop ended because we eventually want to replace our builder grade oven with a backless one.  This will give it the appearance of the tile going all the way down behind it.
For spaces that a single tile will cover an outlet, you have to cut a notch in the tile.  These are very time consuming, but you do it just like notching wood.  Just cut each marked side and then do a bunch of little cuts next to each other until it's all cleared out.  And pray you don't have very many of those.  They take forever.
When wanting to take a break, make sure you wipe off any mastic that hasn't been covered by a tile.  It will dry and make the space rough and awkward.
Please do this with someone else.  It will go a lot faster and be less traumatizing.
Make sure each bottom row is level.  The counter where my sink is was not level.  I used shims to hold the tiles in place.
Don't stress if your cuts aren't super accurate and it looks crappy while you are putting it up.  The grout makes everything all better and you don't even notice.
Step 4:  Grout
I finally finished on Friday morning (I started Tuesday) and I had literally worked nearly every waking moment of every day.  All the cutting took so much longer.  I listened to a super long audio book while I did it.  But I had to work fast because I hated having my kitchen torn apart.  We were eating hot dogs and frozen food for dinner every night.
We used this type of grout which said that it never had to be sealed and it was already pre-mixed.  But it WAS sanded grout, even though I really wished I had unsanded.  The package didn't say anything about it being sanded.  Although the sand made it harder to wash off, it didn't scratch the tile. I used the grout float a bit, but also my hands quite a bit.  They got extremely exfoliated, but it was the best way to make sure the grout got in between the fine lines (the marble spacers by the way are extremely thin but I used them a lot.)  I worked in sections, washing off the backsplash after I grouted a space.  It really is pretty easy, but just a lot of work.  Even washing the grout was a lot of work.  There are still spots not completely free of sand.  I got burned out.
It was done!  Hooray!  I just needed to caulk some lines, but that wasn't very easy.  I had some large gaps in between the upper cabinets and the tile, and I filled it with a lot of caulk.  But I think one of these days I will just get a piece of white wood and put it over the whole thing.  Same with the ceiling/tile area on the wall with windows.
I was able to get any residual grout off my counters with a paint scraper and Goof Off.   Then I cleaned everything up and put the outlets back (with longer screws) and covers on and we were back in business!  Overall, I couldn't be happier with the way this turned out.  As much as I still love the solid white subway tile, my kitchen is already SO white, adding in the variation and contrast helped a lot.  And once the backsplash was done, the pendant lights just seemed to match so much better.  I love it!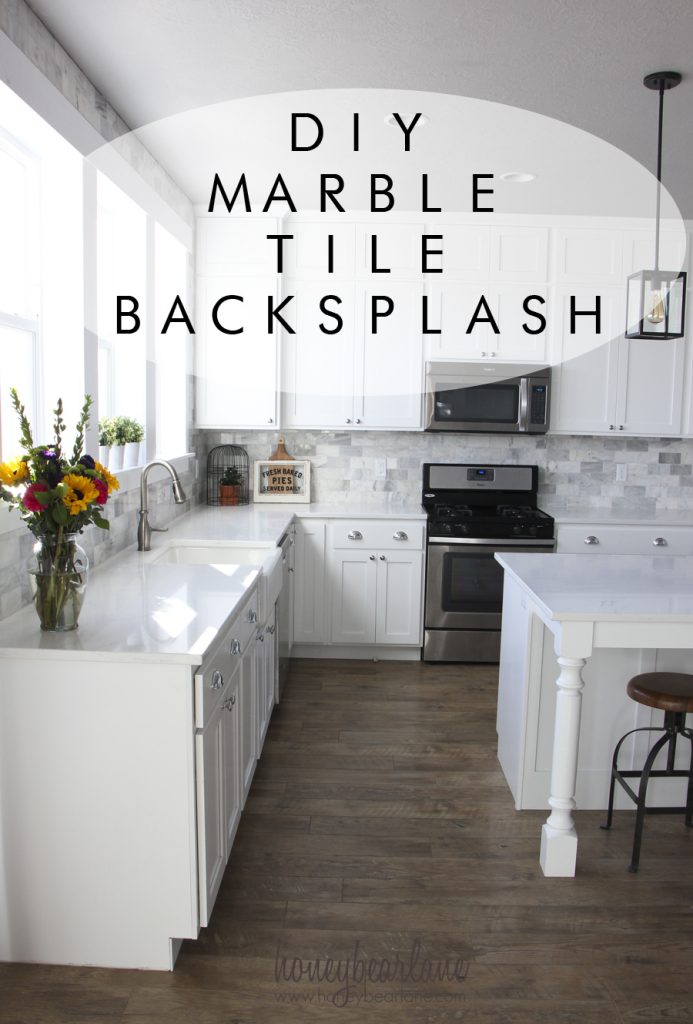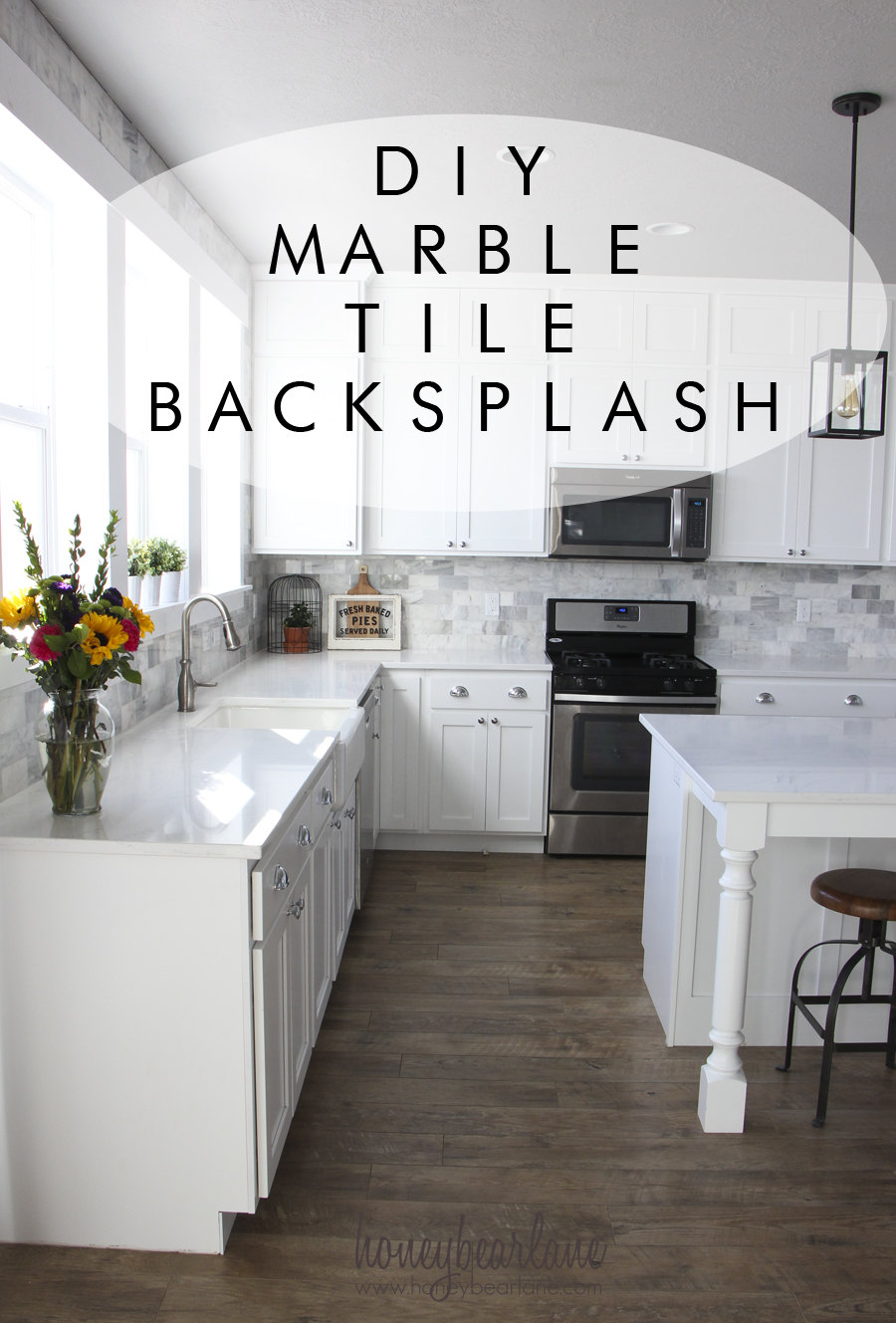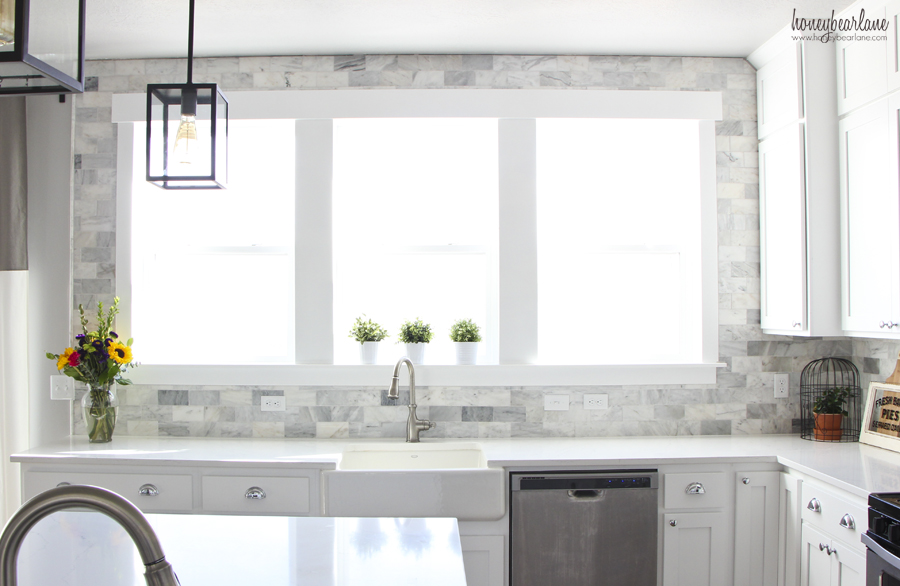 What a post!  If you made it this far, congrats.  But also, don't feel discouraged by my honesty.  It really won't be a cakewalk.  It is some serious hard work.  But it's extremely worth it, and now that it's done, I'm super happy I did it.  It also might have seemed harder because I was coming down with a cold at the same time and didn't feel well.  But either way, just get some willing volunteers to help you out and you can totally do this project.  Good luck!