Warm and Cozy Farmhouse Fall Decorating
I just had to share my warm and cozy farmhouse fall decorating ideas before I added my Halloween stuff.  It's been tricky this year to stay on top of everything because I've been feeling really crappy the last month or so.  I was diagnosed with Hashimoto's and hypothyroidism, which I know is quite common, but it still doesn't mean that it doesn't make you feel awful sometimes!  I started a medication so my body is still adjusting and it's going to take some time.  However I am feeling better and better each day so that is helpful.
I confess that I actually started decorating for fall back in August.  It's a good thing I did because of said health issues.  I know it's October, so many of you will already have farmhouse fall decorating done and overwith, but I still wanted to share.  On to the pictures!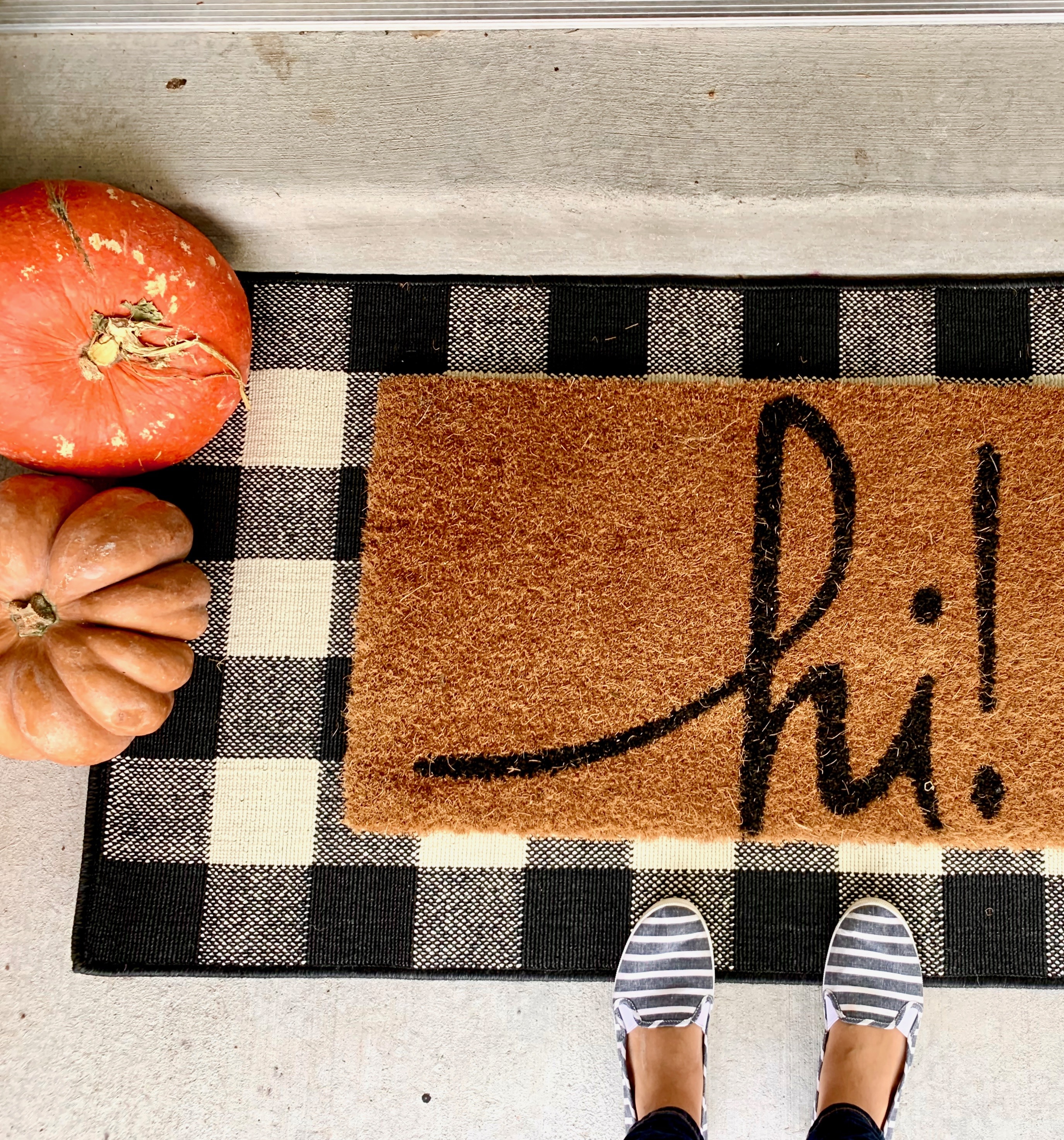 Fall Decor in the Kitchen
In my kitchen I have all sorts of little vignettes of items.  I collect little items and display them in corners.  I used to love the look of clean and cleared counters.  However my kitchen is so white that it kind of feels sterile without any decor.
I always start off with my basket circle tray which sits on my island.  I added height with a pitcher that has eucalyptus stems in it.  I actually had real leaves in this for a long time but they kept dying (darn those real leaves!  Why do they die?!) so I gave up.  I threw in some fall leaves for color.  You can get these cheap stems at craft stores and I like to tuck them everywhere in my fall decor for a little extra fall color.
I got this adorable ceramic mint green pumpkin from Marshalls this year, even after swearing I wouldn't buy anymore pumpkin decor this year.  It was too cute to pass up!  I always have my favorite textured bowls from World Market on this tray, along with some cozy fall mugs.  I don't actually use these.  Then I added my fox, which might be from World Market also but I don't remember.  I've had it for a long time.  What can I say, I'm a fan of World Market!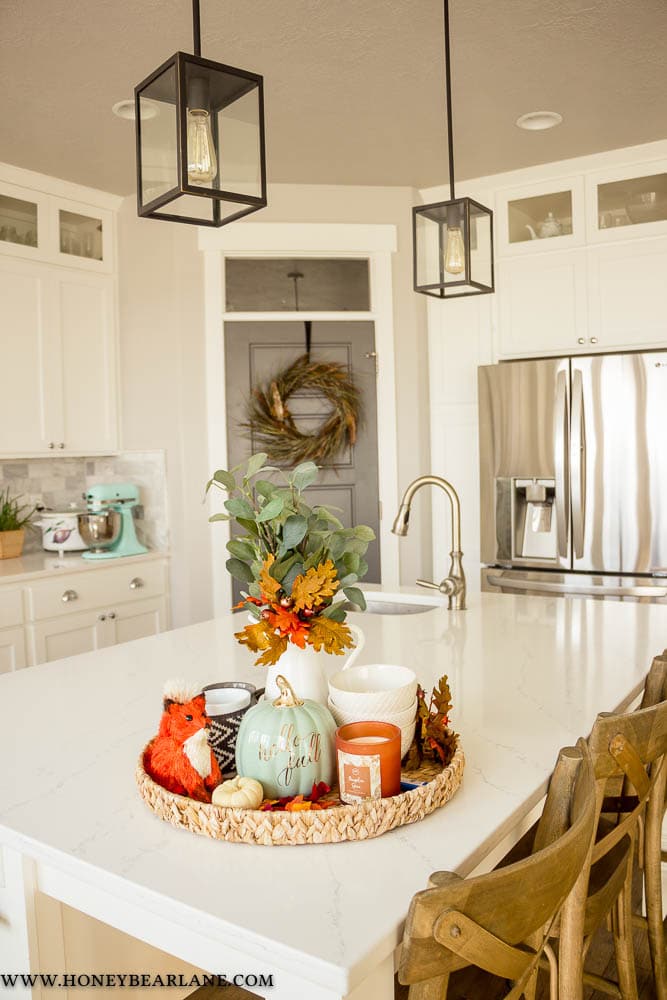 I switched out my barstools this year and I LOVE the new ones so much.  They're from World Market and they sometimes go on sale for a great deal.  They add so much to the farmhouse vibe.
I am still on the lookout for the perfect pendants to replace these ones, we we got at Lowe's for like $30 each and are kind of tired of.  I keep wavering between brass or not, because I don't have brass in the kitchen already.  Would I have to change out all my hardware as well?   Is brass going to get tiring?  Should I go with something black?  Tell me what you think.
Check out all these kitchen projects: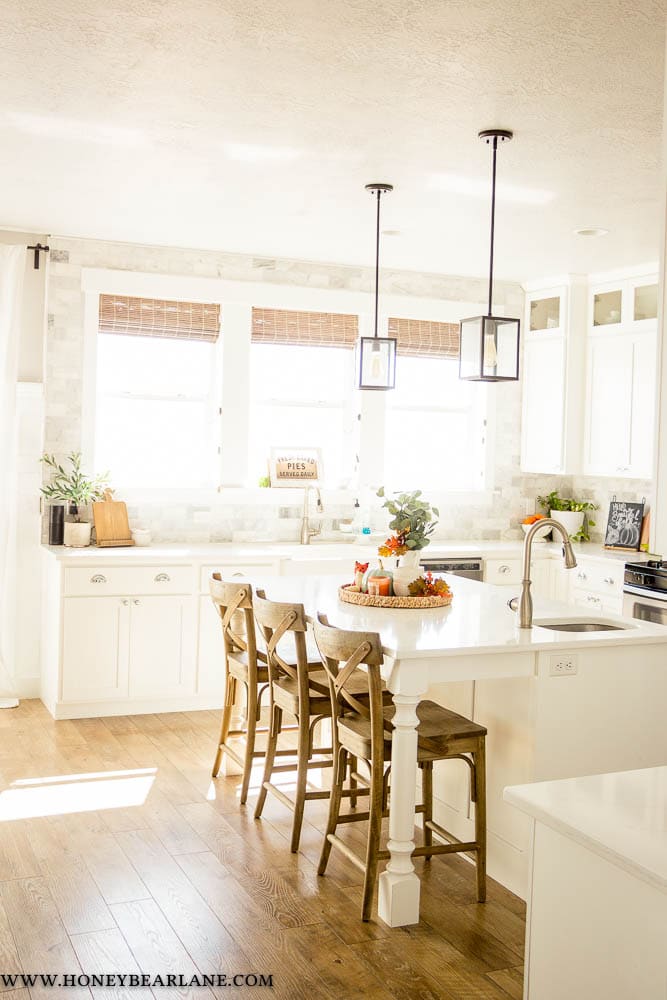 I'm still loving my marble backsplash and if you don't have a backsplash, it is one of the best things you can add to your kitchen to take it up a notch!  It isn't the easiest project, but it is SO worth it.  Especially because contractors will charge quite a bit to do it.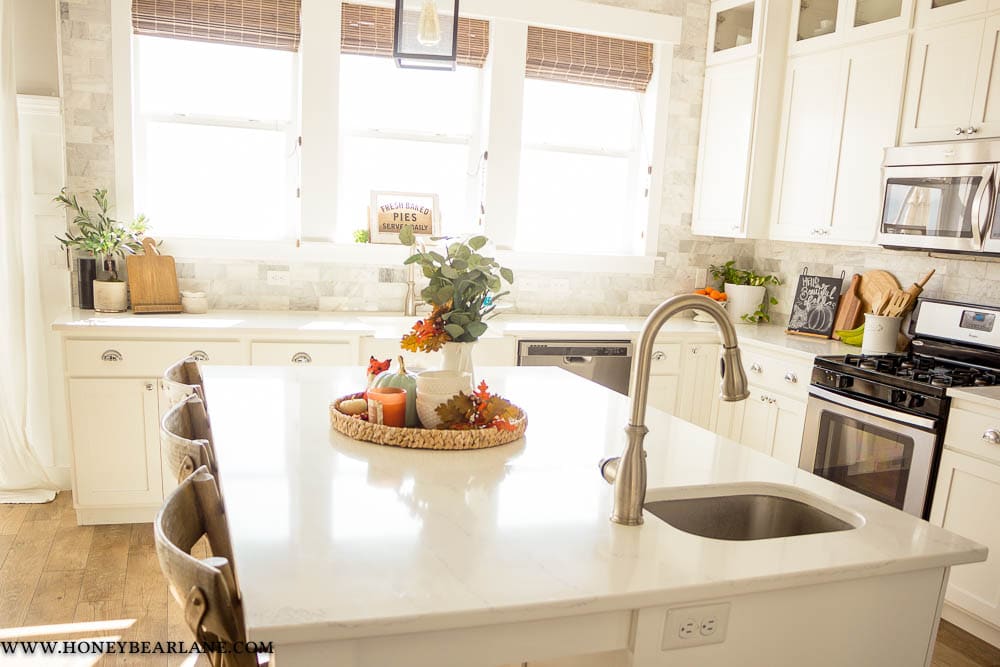 Farmhouse Dining Room
My favorite and simple centerpiece that's on my table right now is just a dough bowl (purchased at Hobby Lobby), lined with some leaves both dried and faux, then I added some chalk painted pumpkins and things.  It's so pretty and makes a statement anywhere it sits.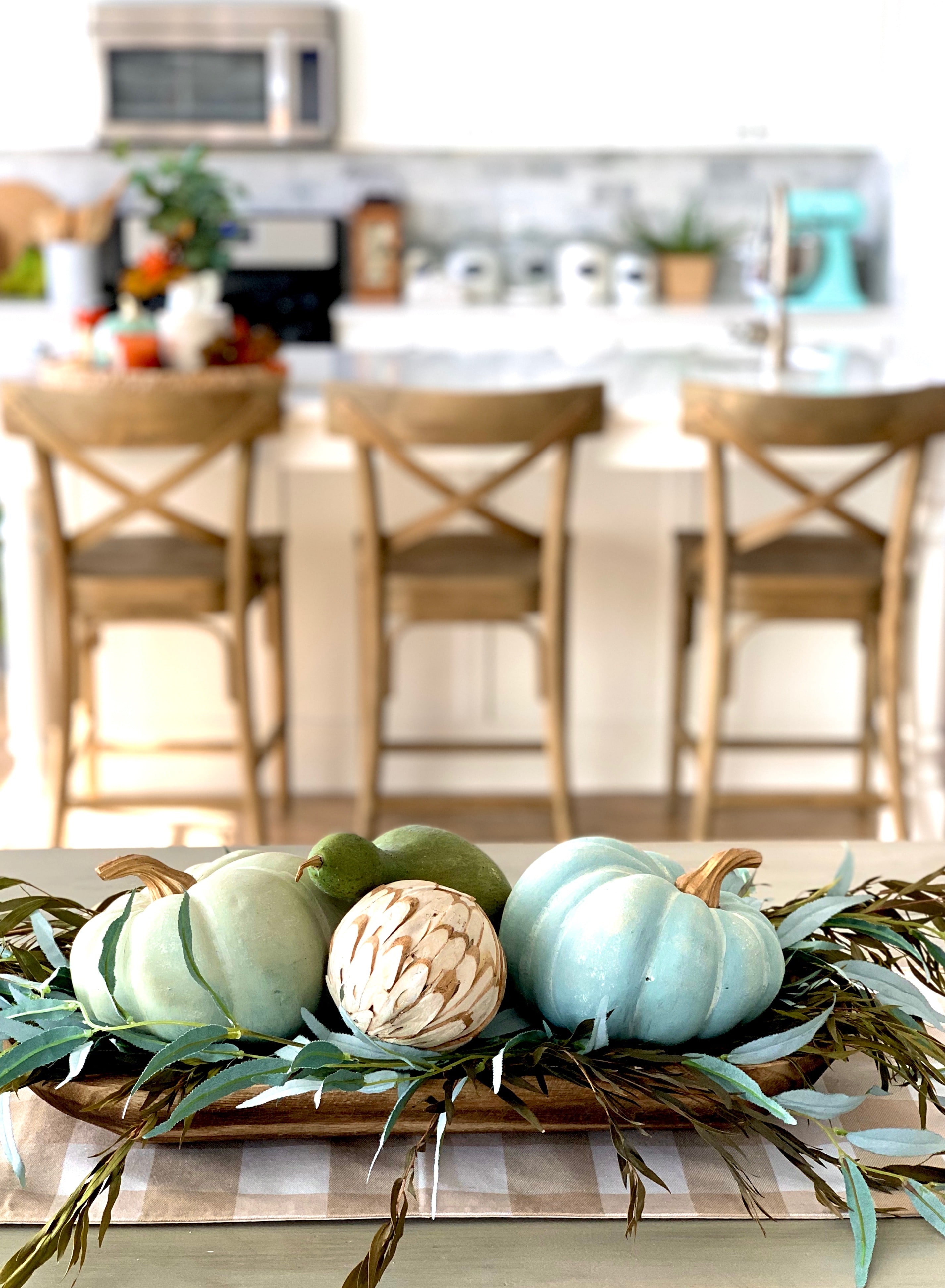 I struggle to photograph my dining room for some reason. I have a very open floor plan so bear with the photos. I love this wall I have that houses my buffet table and sits next to the dining table. I added shiplap to it several years ago and added these shelves which are fun to decorate.  I didn't actually change anything on the shelves for the fall, but rather decorated the top of the buffet.
Check out these other Dining Room Posts: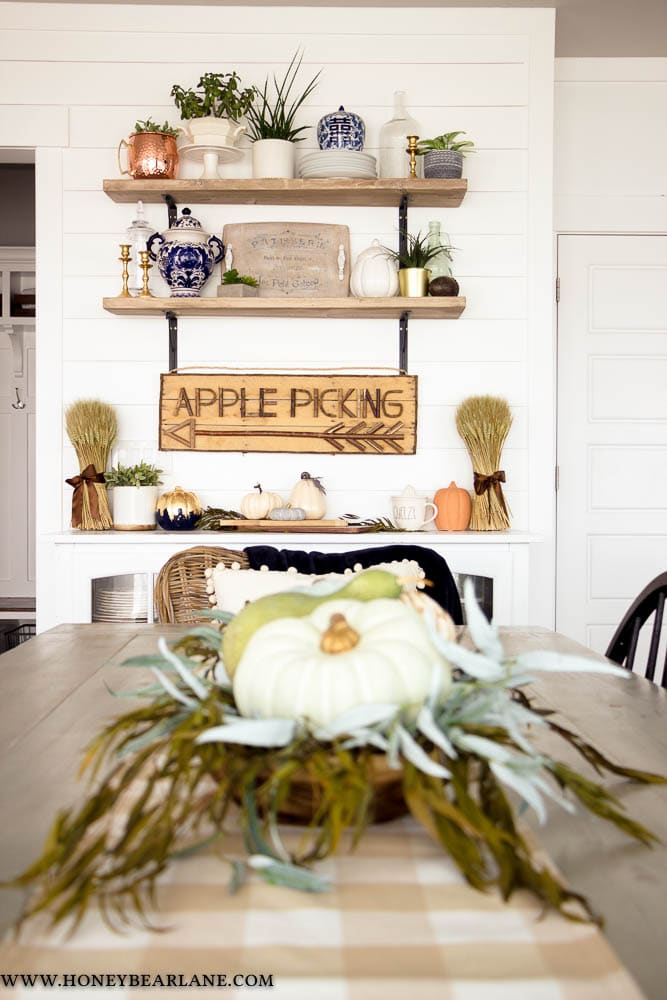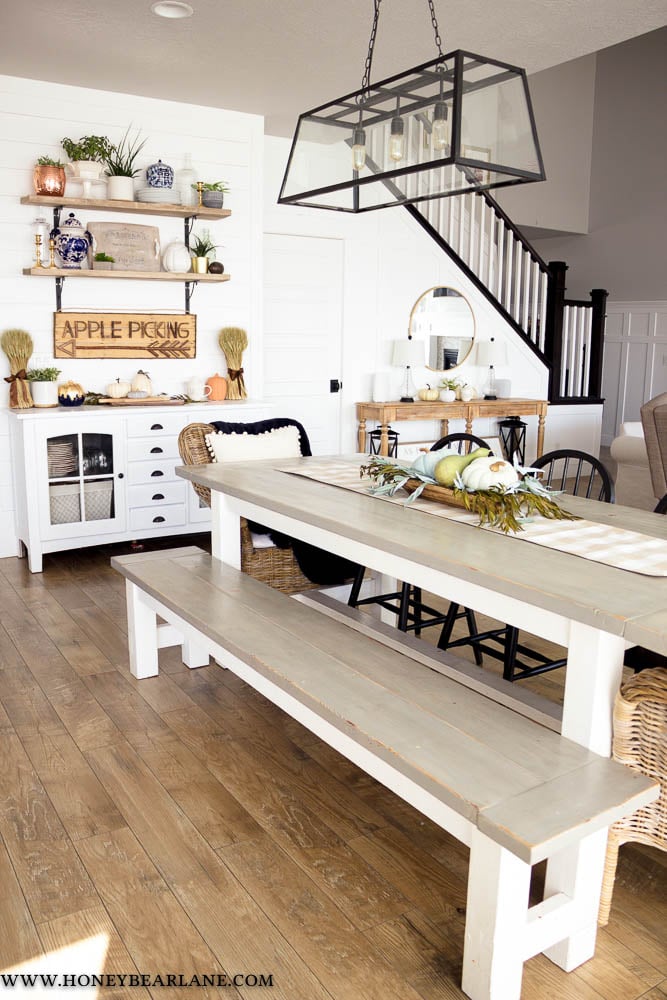 Decor in the Living Room
For farmhouse fall decorating in the living room, I added a few touches here are there since I didn't want to go crazy.  I didn't change out my pillows at all which is CRAZY for me, haha!  I got out my pumpkins and spray painted a milk bottle copper and put some fall leaves in it.  I actually love adding in little copper accents in my house because ever since I switched my decor to be more navy blue, copper and orange are a great complementary color for it!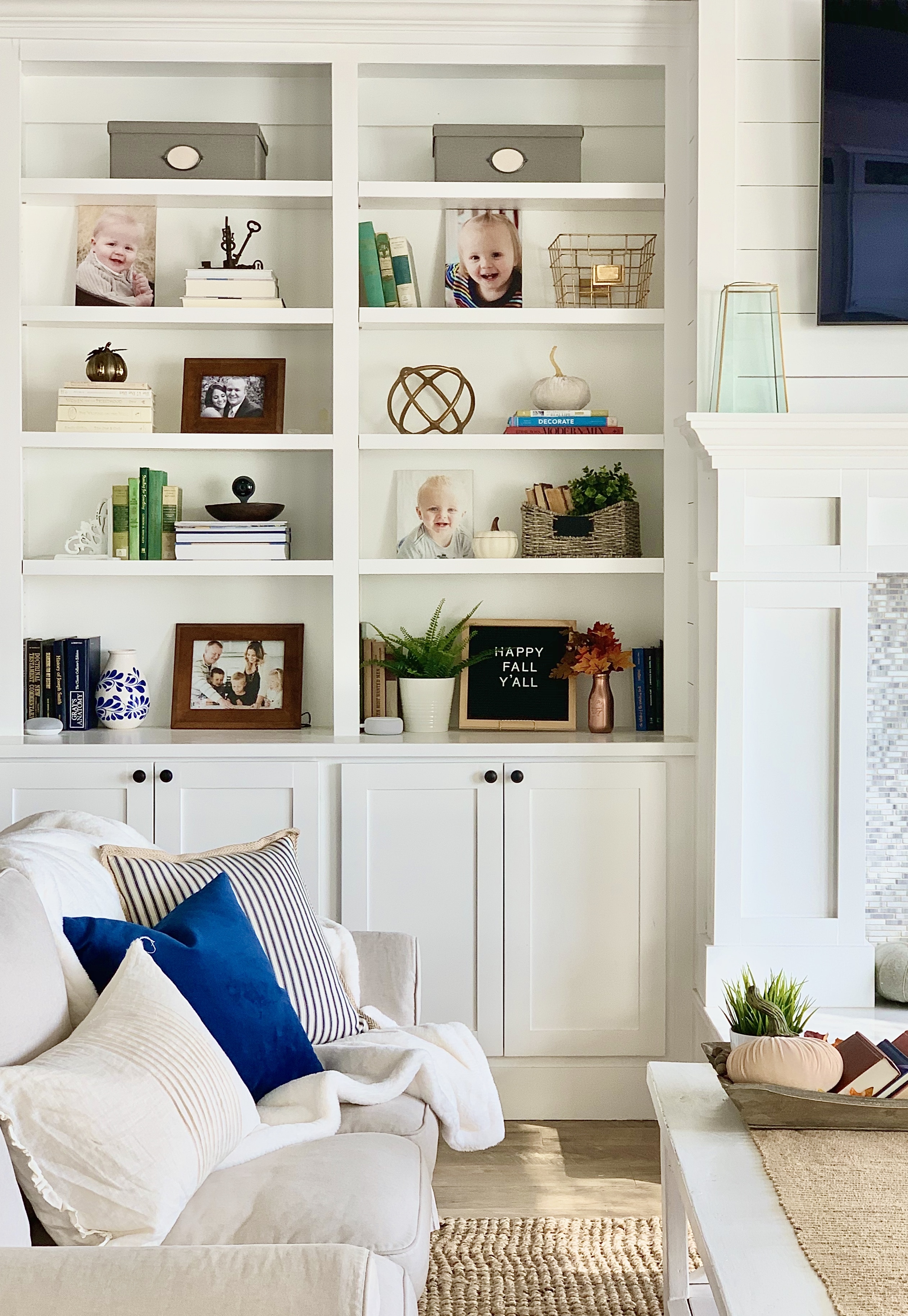 I have a sofa table behind my couch that sits against the window.  This is actually super hard to photograph because of the window behind it so this photo is from my phone.  Turned out okay, right?  I love how much better at photography phones have gotten.
I added a little vignette of fall decor with some wheat stems in a galvanized bucket (which I found at Goodwill and is one of my favorite finds!), a tray with a little copper dipped pumpkin I made.  I didn't share this tutorial because it didn't turn out as nice as I hoped.  I just spray painted it and then taped it off and sprayed it with copper paint.
Finally I added some fall leaves and some blue flowered stems to my ever-present balloon vase which is also one of my top 10 favorite decor items.  I bought it at World Market and I think they still sell it!
Favorite Projects for my Family Room: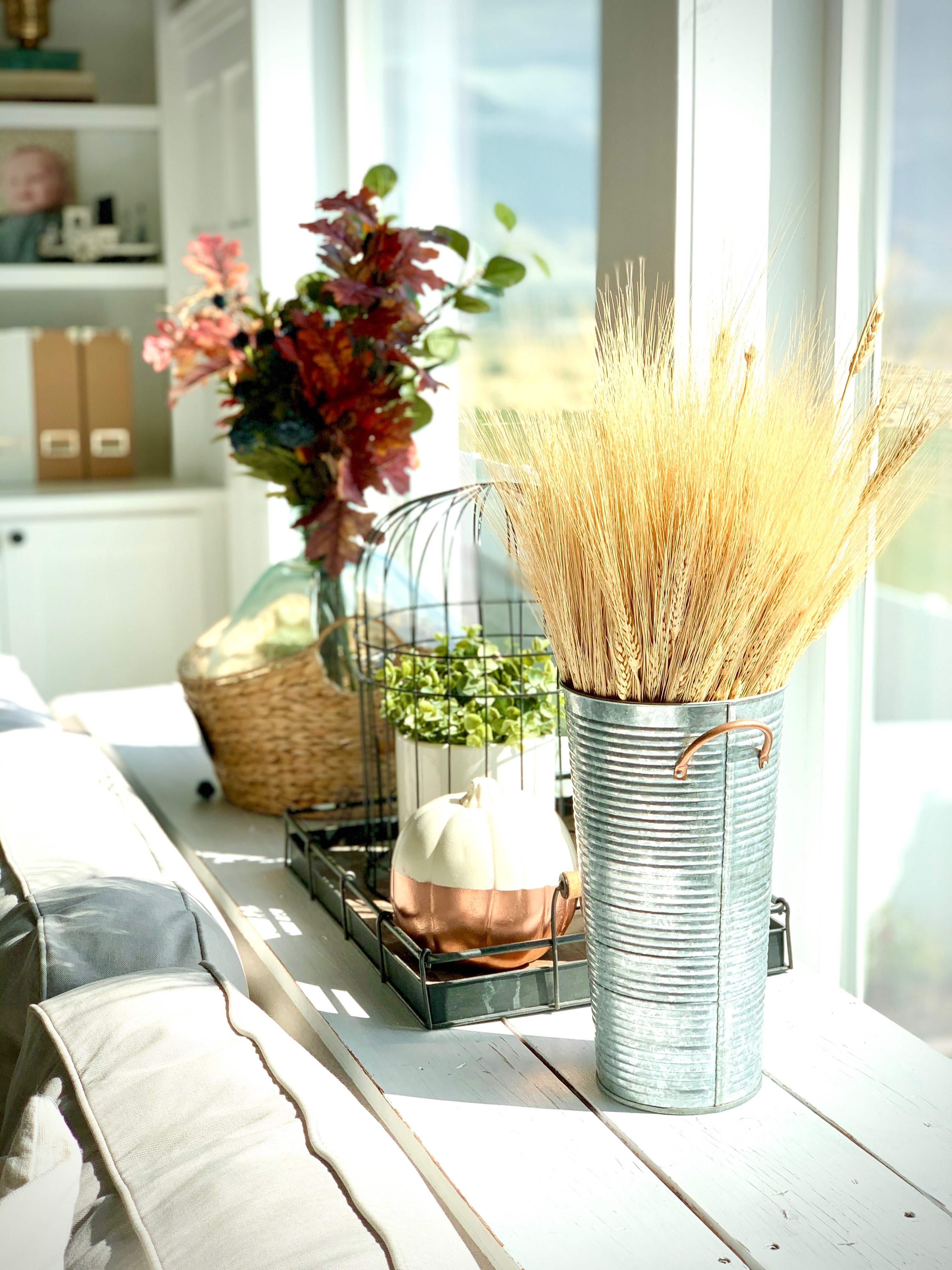 That's all I'm sharing today for my warm and cozy farmhouse fall decorating! I hope you got some good ideas and tips and I'd love to hear from you! I've also included some links to items on Amazon so you can easily add it to your own house (affiliate links).
If you enjoyed this post, I'd love it if you would share on Facebook or Pinterest! Thanks friends!