Peanut Butter Blossom Turkeys
I love the result of baking but not so much the actual baking task.  I find that I would rather spend hours nailing wood to a wall and painting it than mixing together a few ingredients to make a tasty treat.  That seems strange, right?  Well this week I have done both–baked two different kinds of cookies so far AND nailed some wood to a wall and spent hours painting it.  I feel so accomplished.  And what makes it even more heroic is that I did something fun for my kids too–these cute peanut butter blossom turkeys!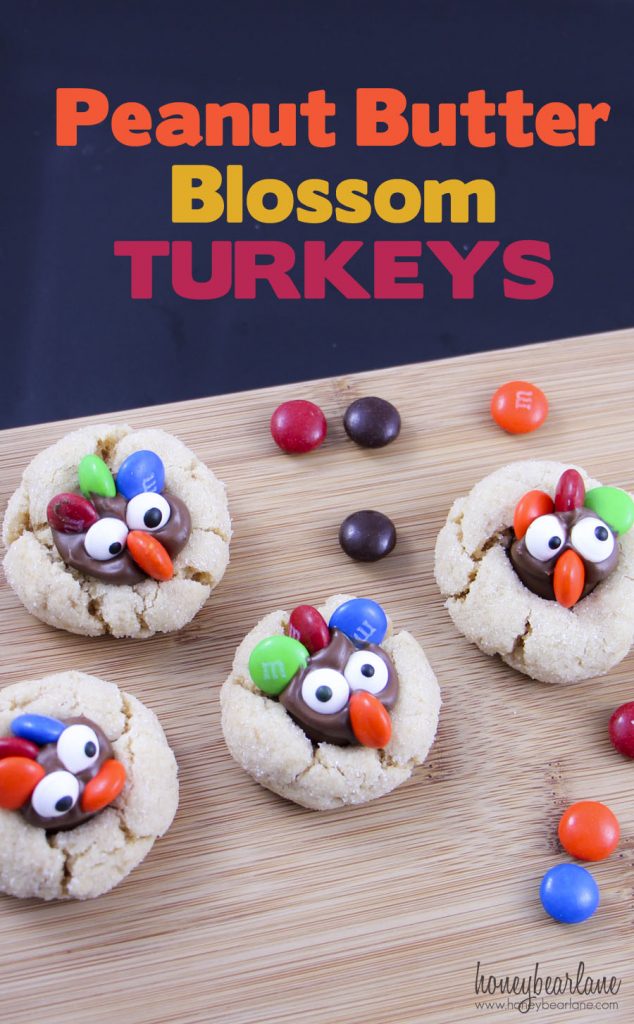 You take the most basic and fool-proof version of these cookies and just add a few extra things–some M&Ms and some of those edible eyeballs from craft stores.  Those are nice to have on hand in case you ever feel like letting your kids make some type of monstery creation out of food. (That word 'monstery' that just made up really looks like monastery, doesn't it?)  And what's so nice is that is extremely low in parental involvement once the actual cookie is made.  Just make an example and give them the candies and they can go crazy and it doesn't end up being a huge mess.
Peanut Butter Blossom Turkeys
This is the basic Peanut Butter Blossom recipe from the Better Homes and Gardens cookbook.
Ingredients
½ cup shortening
½ cup peanut butter
½ cup sugar
½ cup brown sugar
1 tsp baking powder
⅛ tsp baking soda
1 tsp vanilla
1 egg
2 T milk
1¾ cup flour
Granulated sugar for rolling
Hershey kisses
M&Ms and eyeball candies
Instructions
Preheat the oven to 350. Cream together the first four ingredients and then slowly add the rest of the ingredients until it's well mixed. Roll into small 1½ inch balls and roll in sugar before placing on a cookie sheet. Bake for 10-12 minutes. After you take them out, place a Hershey kiss right in the center of the hot cookie, pressing down. Let it sit for at least five minutes to melt the chocolate and then you can decorate it like a turkey. First add three M&Ms at the top of the Kiss for feathers, then use the eyeballs to gently push down the middle and use an orange M&M as a beak.
These Peanut Butter Blossom Turkeys are just so easy and cute and will get your kids in the mood for Thanksgiving!