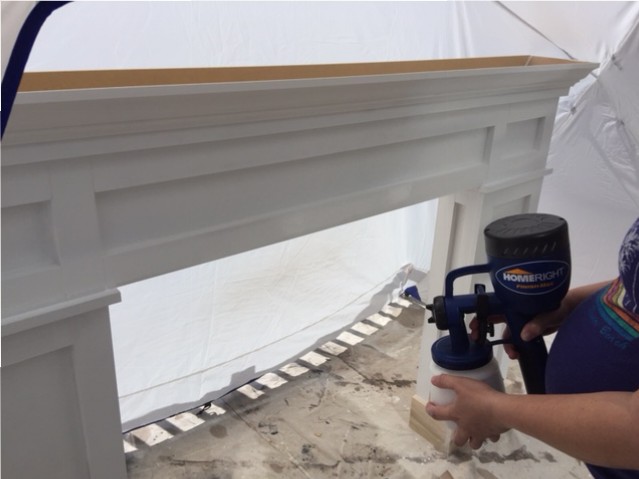 It was time to paint. (Woah, check out that belly!)  I turned on the Finish Max sprayer and sprayed the entire thing in less than 5 minutes.  Then I moved it inside and sprayed the hearth (I had to tape everything off with plastic tarps and drop cloths).  I just did fine layers but it does take a little practice.  You have to hold your hand very straight and steady which I am not very good at.  I had drips.  I found that I could smooth out my drips with this tiny foam roller I had (It's a Martha Stewart craft brush actually but it was extremely handy for this.)
It took all day and I did many coats.  Most of it was just a lot of waiting for the paint layers to dry.  I would sand down rough areas in between coats also.  The end result is nearly perfect but I'm too burned out to do anything else while I'm still pregnant.  So I will do final touch ups later.  But once it was dry and we moved it back into place, it was SO exciting!  It looks so gorgeous!
I am very happy with this sprayer.  It comes with a cleaning kit as well but it didn't work for me because the piece didn't fit on any of our faucets and the city hasn't turned on our ground water yet for an outside hose.  In the future I can use the hose.  But it wasn't too hard to clean without the kit.  Painting is always a lot of cleanup, so I'm used to it.
I'm going to be using this sprayer for the rest of my projects having to do with this mantel.  Next up is built-in cabinets and bookshelves and planking the upper half of the mantel.  It's good to know I have the right sprayer for the job!