How to Get a DIY Weathered Wood Finish
In my DIY Farmhouse Table and Bench post, I talked all about building my table from scratch.  This post is all about how I got my DIY Weathered Wood Finish!  If you haven't read the table post, you'll definitely want to check that out first.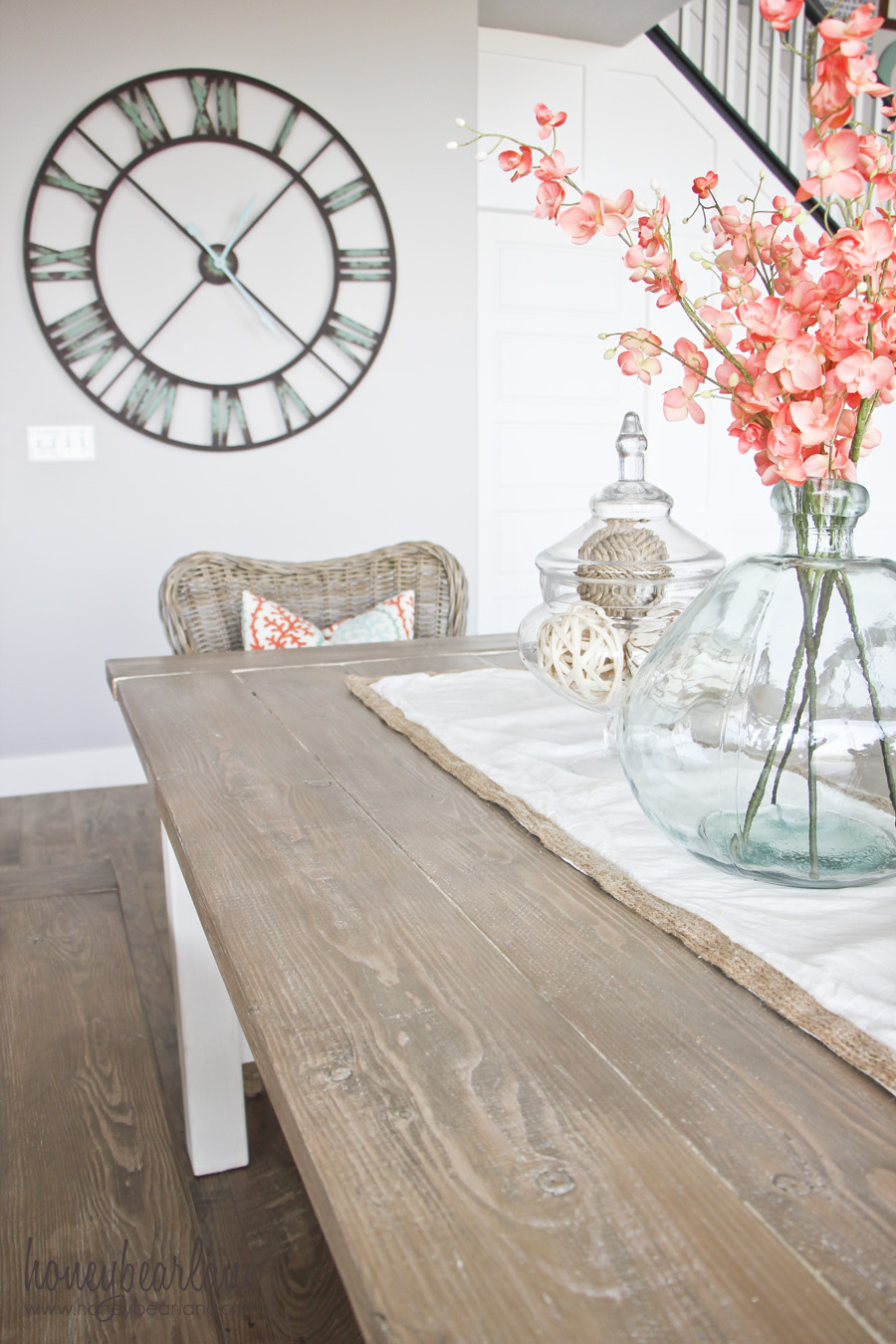 You guys.  I LOVE LOVE LOVE this table.  It's something I'm most proud of.  But I also LOVE LOVE LOVE LOVE the finish!! It was super easy and fool-proof.
List of Supplies You'll Need For Your DIY Weathered Wood Finish
Supplies (affiliate links, read my disclosure here)
I painted the entire base of both the bench and the table in Chalky Finish paint in Everlasting (I did this last actually.)  To get the distressed weathered wood look on top, I tried a new method that I think I will only ever do again.  I've tried so many different things without success or they just took so many coats of things that it was hard to repeat.  But this one worked great and was simple!
Whitewashed Base Layer
First white wash the wood.  I watered down the rest of my Chalky Finish paint about 50%.  It was still relatively thick, not super watery.  Then I painted it on and wiped off the excess.  I let that dry for a little while.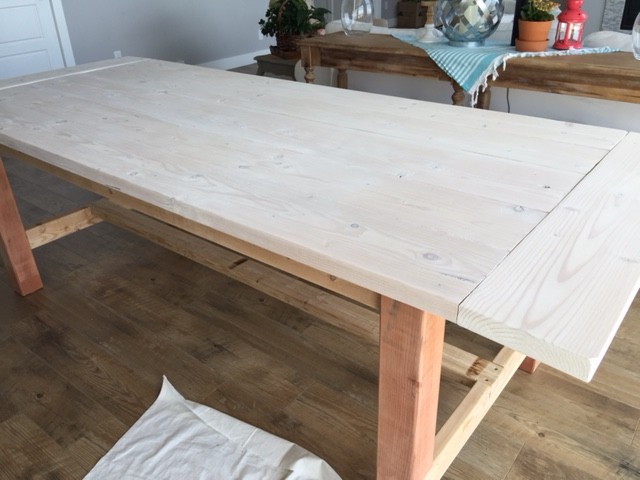 Apply Dark Stain On Top
The next step seems a little weird but I promise, it works.  You get a can of dark stain–I used Dark Walnut by Minwax.  That is scary right?  How can such dark stain make the light gray look?  But think about it–white and black mixed make gray.  So it makes sense. Then wipe on some stain–it doesn't take a lot.  Then you immediately wipe it off.  I used it rather sparingly, I found that the stain left on my wiping rag worked great for coloring the edges and sides of the table top.  What you are left with is a grayish wood that has white underneath in the spots the stain didn't touch–like nooks and crannys.  Perfect!  You could heavily distress the wood first with chains and hammers and whatnot if you wanted, but I wanted my dining table to be as smooth as possible to make cleaning it easier.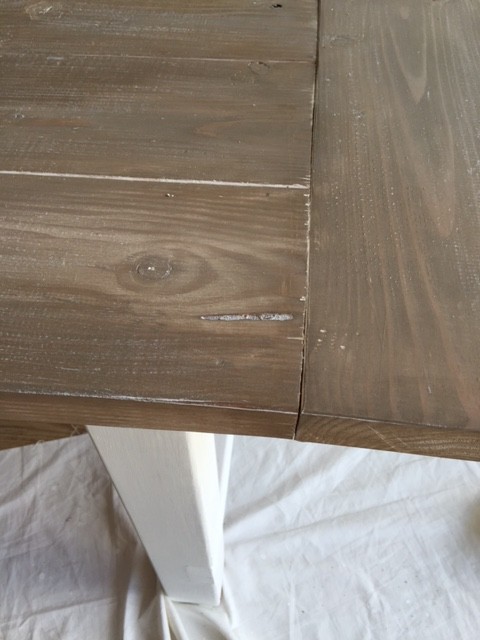 Dry Brush with White
Finally, take a dry brush and dip it in the whitewash and brush most of it off before lightly brushing the table top in random places.  It puts in the white a little more here and there.  It only takes the smallest trace of paint to make a difference.  And you can wipe it off with a wet rag if you get too much on initially.  This last step really takes it to the true 'weathered wood' level.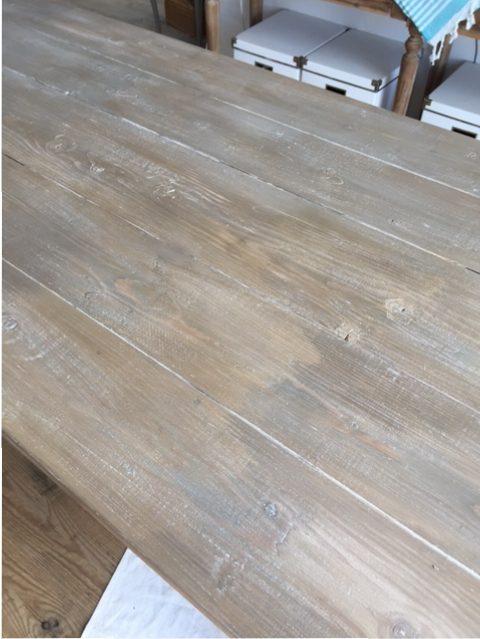 Sealing Your Table
How I sealed it is also my new favorite.  I used DecoArt's Soft Touch Varnish.  I LOVE this finish.  You get that soft, smooth, silky finish without it being shiny or changing the color at all.  No yellowing at all, not even a trace of color.  I put on several extremely thick coats in the hopes that it would also help fill in the cracks between the planks of wood.
UPDATE ON FINISH:  I'm going to be honest here…a year later, I regret the finish I chose.  It has not held up well at all to kids. When they would get something on it like watercolor paint and it wouldn't come off, simple scrubbing would dissolve the finish and then I'd end up removing the finish down to the bare wood.  I am going to have to take my table outside sometime and sand it down and refinish it completely.  When I refinish it I am going to use a polycrylic so I don't have to do it again.  I also don't love how the table has felt sticky all the time, even when it's completely clean.
What About the Cracks?
An idea to fill in the planks: Before the table is painted, stained or finished in anyway (basically right after it's sanded) you fill in the cracks with an epoxy.  Just use any basic epoxy (no recommendations because I haven't actually done this, it's just a theory I think would work) from a craft store.  Hopefully you can get all the cracks filled up without much residue left on top.  Let it dry for awhile (at least 24 hours) and then sand the top again and get any epoxy that is on top of the table off.   One of my friends tried this and didn't sand all the filler off first.  Then she had to go back and re-sand and then those areas wouldn't accept stain the same because they were too sanded.  Sometimes sanding too much clogs the pores of the wood and it still won't accept stain.  Sigh!
Or you can use a table saw to take a little bit off each side of the wood to remove the rounded edges completely and avoid having cracks.
Every time I do a project like this table and bench, I feel like I achieve a new building milestone.  Like I do something that makes me nervous, find out it's not that bad, and gain confidence to try something else. And if I can do it, you can too!
Remember to PIN this post so you can do this awesome finishing technique later on!


How to build a farmhouse table for less than $100!