DIY Farmhouse Table and Bench
You want a farmhouse table. You want to save money. So the answer is obvious…build your own! You might think this is an impossible task, but guess what? I built this table. And I built the bench. And I was super proud of myself. What do you think? I love it! Here is how my DIY farmhouse table turned out:

Farmhouse Table and Bench Plans
Ever since I moved, I knew we needed a new dining room table–ours was too small for the space. So I searched for months for a dining table I liked but to no avail. When I focused on building a farmhouse table, I followed the Farmhouse Table Plans at Ana-White.com.  This is where I found the best farmhouse table and bench plans;  they were laid out so well and clear!  It was pretty straight forward and easy to follow.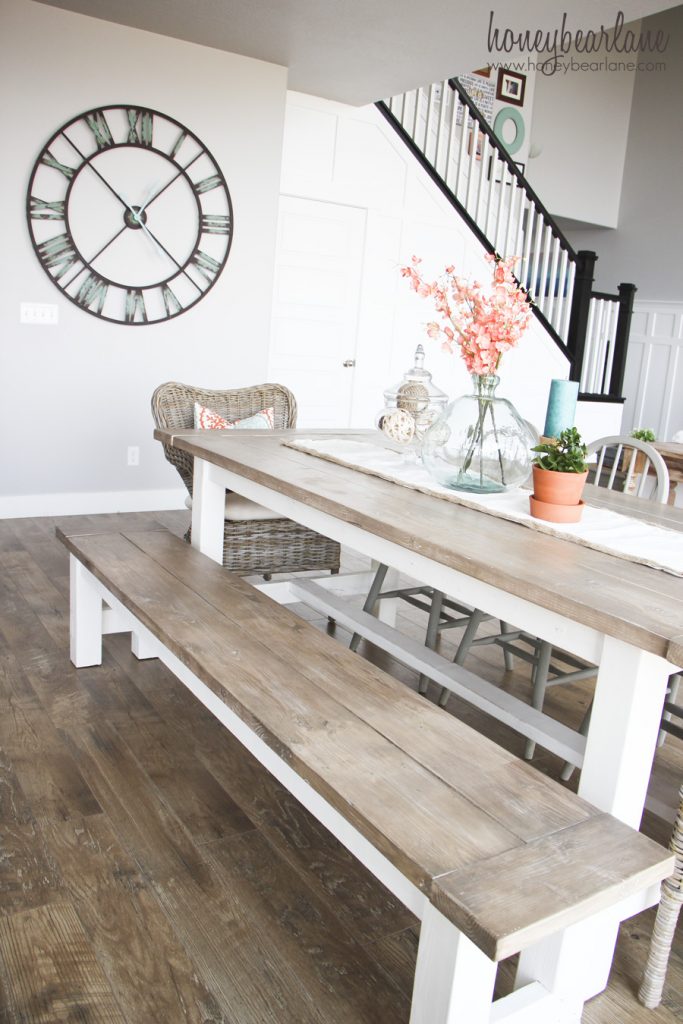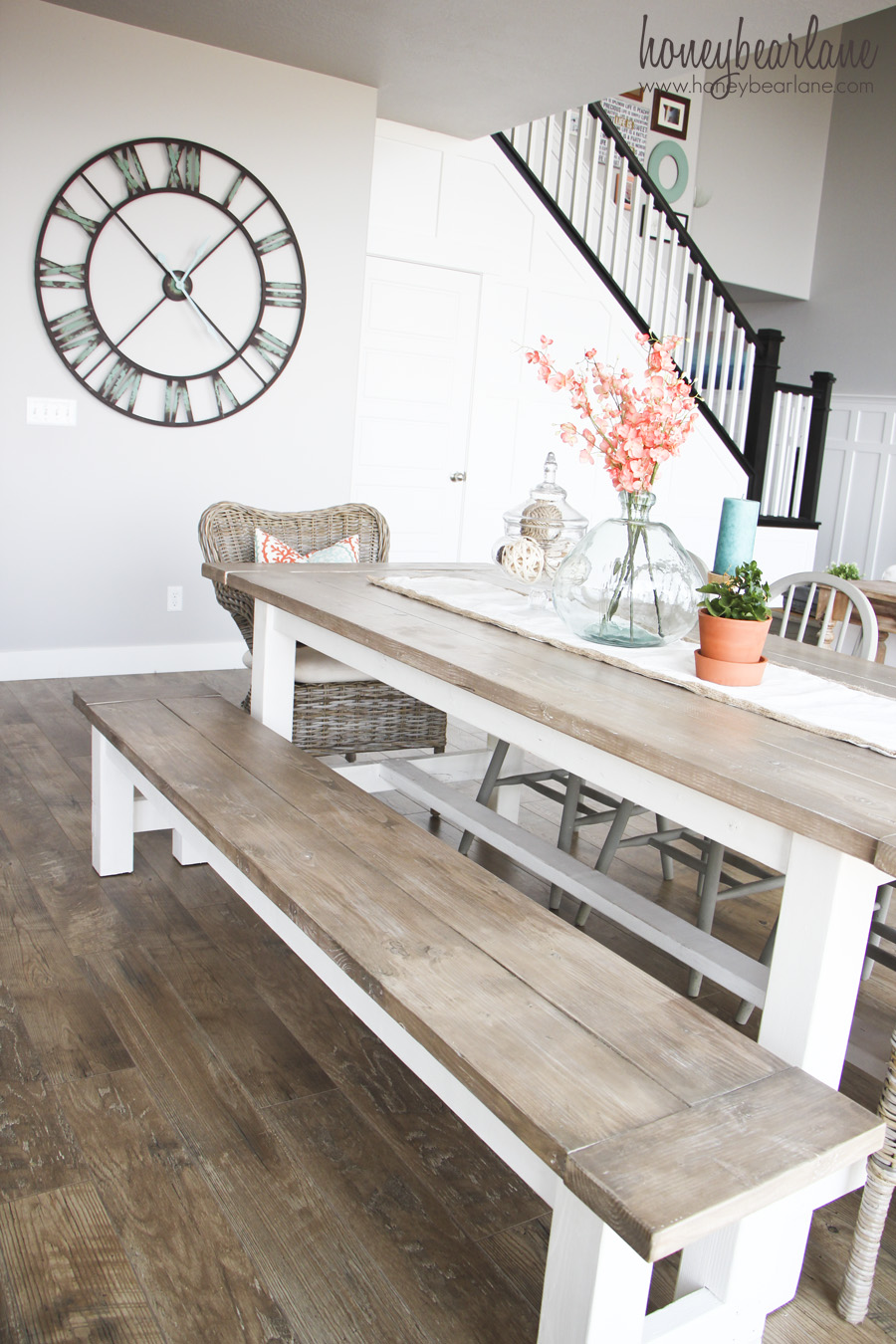 I also built a matching diy bench for the kitchen table and here's the link to those plans. I altered my bench so it would only have two 2×8's instead of 4 2×4's. It seems to match the style better. The bench was a bit tricky because of the lack of space in between the legs to use the Kreg jig drive bit.  I recommend you get the shorter Kreg Jig driving bit, it really comes in so handy in those tight spaces!  (Affiliate link!)   
Keep reading for all the juicy details on my diy farmhouse table!
Here's some other farmhouse style projects I've done:
Supplies for Your DIY Farmhouse Table
Here's a list of supplies and tools I used to make my table (some affiliate links, here is my disclosure):
5 2x6x8
1 2x8x8
2 4x4x8
5 2×4
Helpful Tools
Assembling The Farm Table and Bench
I just followed the instructions except for when I made the tabletop. I decided to keep it about a foot or two longer than called for, so my top is about 8 feet long. This is nice because it makes it easier to have people sit on the end and slide the chairs underneath. However, since the ends are breadboards (they are attached perpendicular to the other tabletop boards), they don't have the greatest support. We ended up reinforcing the ends with some metal brackets. They have held well, although no one is jumping on the end of the table.
Before I brought the table inside, I finished the top and bottom and brought them inside separately.  Then I assembled it inside upside-down.  It's a very heavy, solid piece so this really is a no-brainer.
Cutting Notches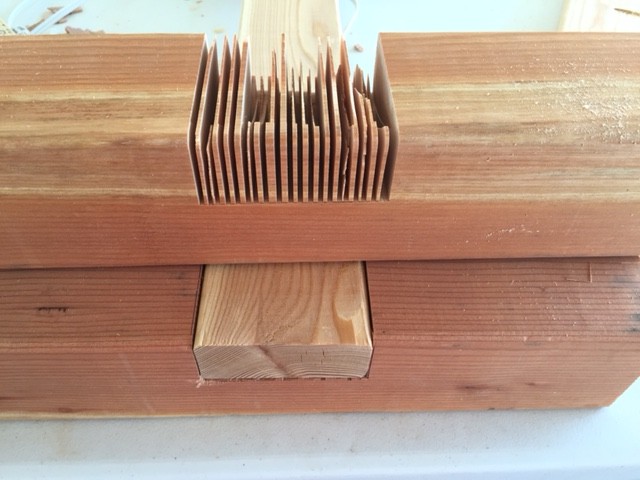 The most intimidating part for me was cutting the notches. But I practiced a few times on a scrap piece of wood and saw it wasn't so hard. It was a little time consuming though. I was able to do it with my 10-inch sliding miter saw and a Dremel Multi-Max with a tiny saw attachment to smooth it out. A 12-inch saw would be easier, and I also think this could be done easily with a table saw if you have one. You could also use a circular saw. A chisel is also a great way to knock out the pieces of wood if you don't have a Dremel.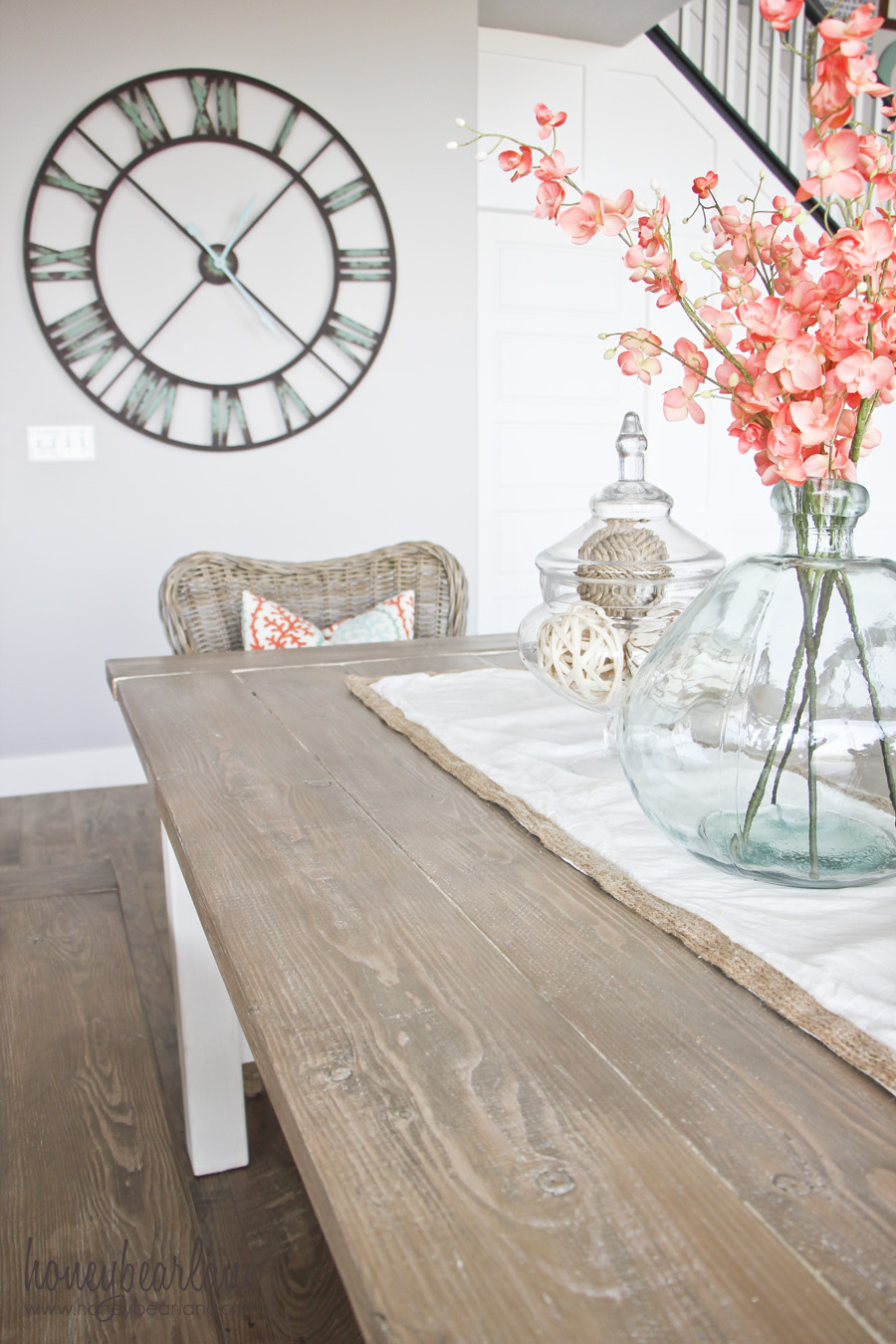 I have had a million questions about the way I finished this table, which is my favorite.  But I have decided to dedicate a single post to that.
I LOOOOOOVE this finish.  I have tried so many different ways of doing weathered wood style and this is my favorite.  I made a critical error, however.  I did not use a durable finish for the top.  After only about a year, it was showing some horrible spots of wear and tear and the finish looked really uneven.  I ended up having to completely re-do the finish and rather than sanding it all down and re-doing this stain (which in some ways I wish I had), I decided to use paint and achieve a weathered paint wood style.  I actually do like it.  Here's a link to that post!
Painted Weathered Wood Table Finish
Because I painted it, I was able to put caulk in all the cracks which made it so much easier to clean.  I was getting all kinds of crud down in between the cracks.  If I were to ever build another table (which knowing me, I will), I'm going to run my planks through the table saw to get a nice, crisp edge.  The pre-fab wood edge is nice and beveled but it makes for the obvious cracks.  I have 5 kids and lots of crumb-makers.  Anyway, since I caulked the cracks and painted over it, no more cracks.  It also hid some imperfections.
Sealing the Farmhouse Table and Bench
Remember how the the first time I made the critical error in sealing?  I did not make that a second time when I did the painted weathered wood finish.  I used polyurethane and let it dry at least 12 hours in between each coat.  It was a long ordeal because I seriously did like five coats.  I'm happy to report it has held up better than the first coat but it's not totally impervious.  Let's just say it's a good thing it's weathered looking because it hides all the wear and tear much better.
So what should I do?  How should I seal it?  Honestly, I'm not sure at this point.  But here's what I will be doing someday:  I'm going to go into Sherwin-Williams and ask them for some type of industrial-grade sealer.  If you don't ever want to re-do your table, you need to get the hardest sealer you can.
Would I Build my Farm Table and Bench Again?
Abso-freakin-lutely.  Hands down this is one of the best projects I ever made.  It really elevated my confidence as a wood-worker and taught me some valuable new skills.  Of course the best part is having a gorgeous and super durable farmhouse table and bench to eat on, play on, gather around, etc.  The dinner table and bench is an essential piece of furniture to have and you can save yourself so much money by building it yourself!
____________________________________________________________________________
Building a Farmhouse Table
I really love the farmhouse style and building farmhouse style furniture is pretty addicting!  I actually would love to try to build some different tables and maybe I will sell this one eventually and build another one.  That's the beauty of building your own furniture, especially out of pine!  You save tons of money and when you get sick of it you can actually sell it for a profit.  Awesome!
SaveSave