Industrial Farmhouse Boys Room Makeover
I've been a bad blogger, I know. I has been super hard to post during this summer while my kids are at home. I thought summer would be a great time to relax and get some things done, but I feel just as busy as ever! Every day is spent running errands and taking my kids to fun activities, and if I bag the fun activities, then my kids stay at home fighting and playing too many video games. But a few weeks ago I did get some time to makeover my boys room and complete an industrial farmhouse boys room with a Star Wars vibe. I absolutely love the way it turned out and ps, it turned out exactly like I planned. Love when that happens!
Here's the before: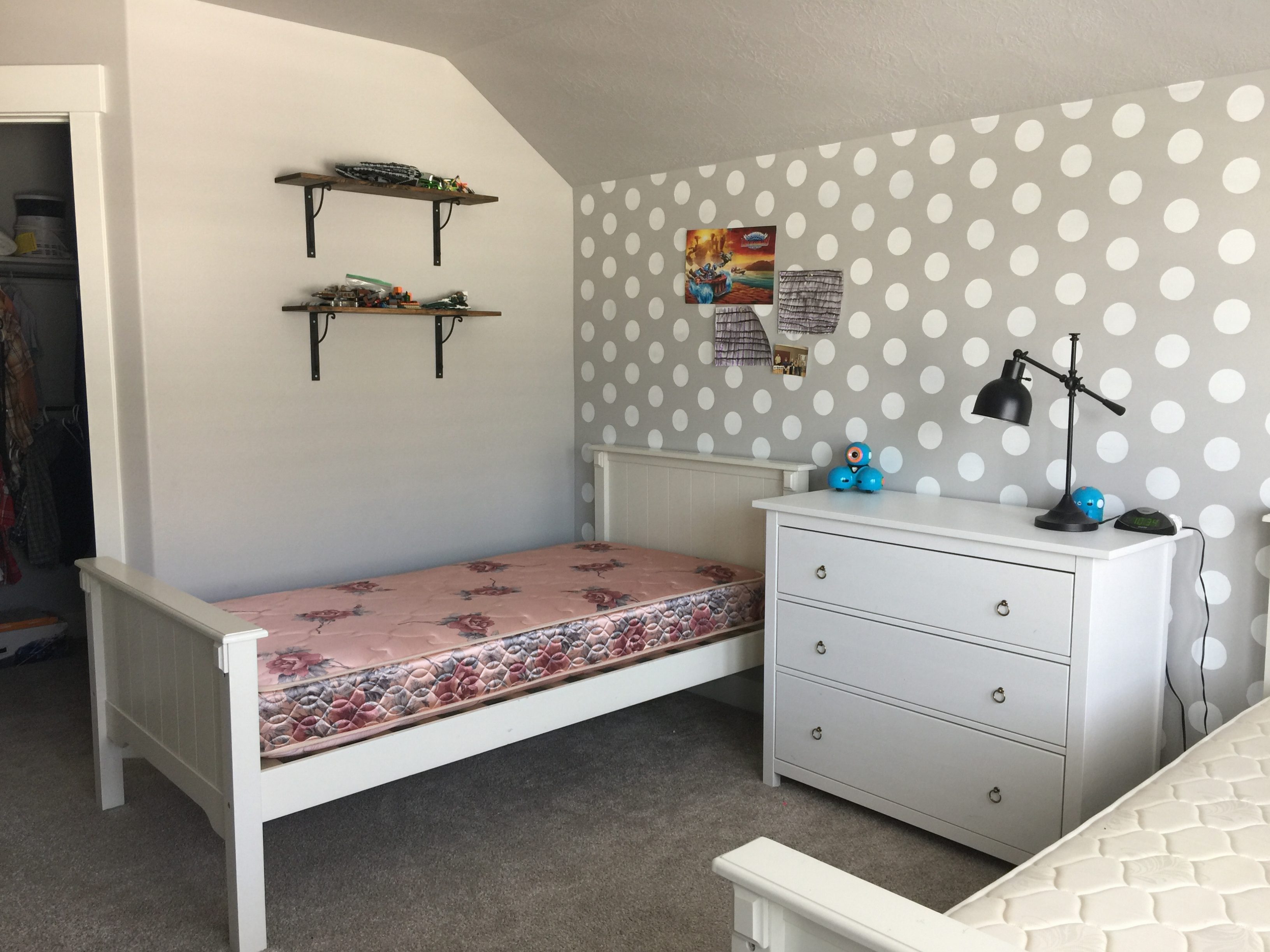 Here's a mockup of how I planned it:
And here's how it turned out:
Awesome right?!
I'm going to do a full tutorial tomorrow of the chalkboard and brick walls so stay tuned for that. In the meantime, enjoy some pictures!
Another before: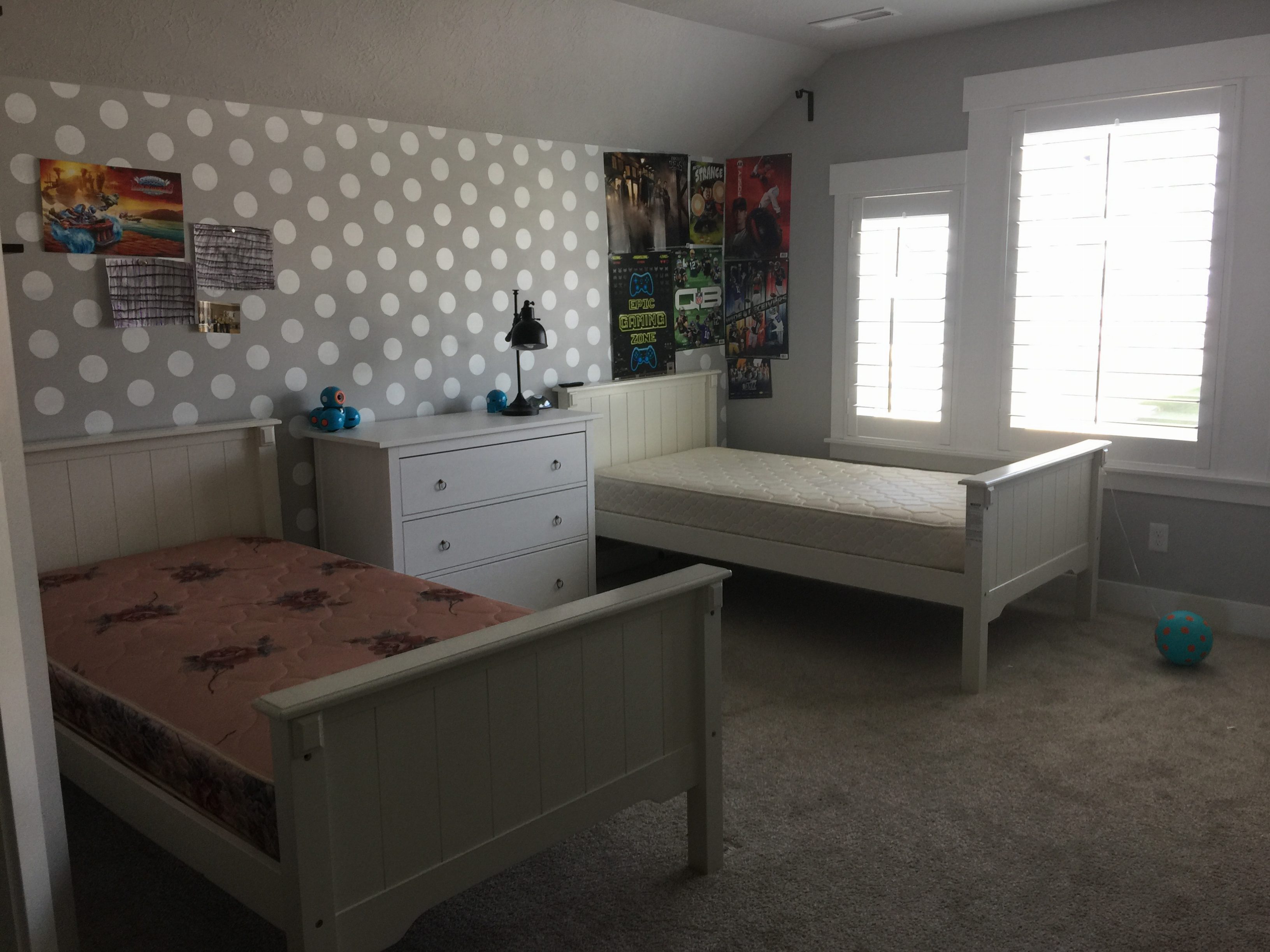 And the after…HUGE difference!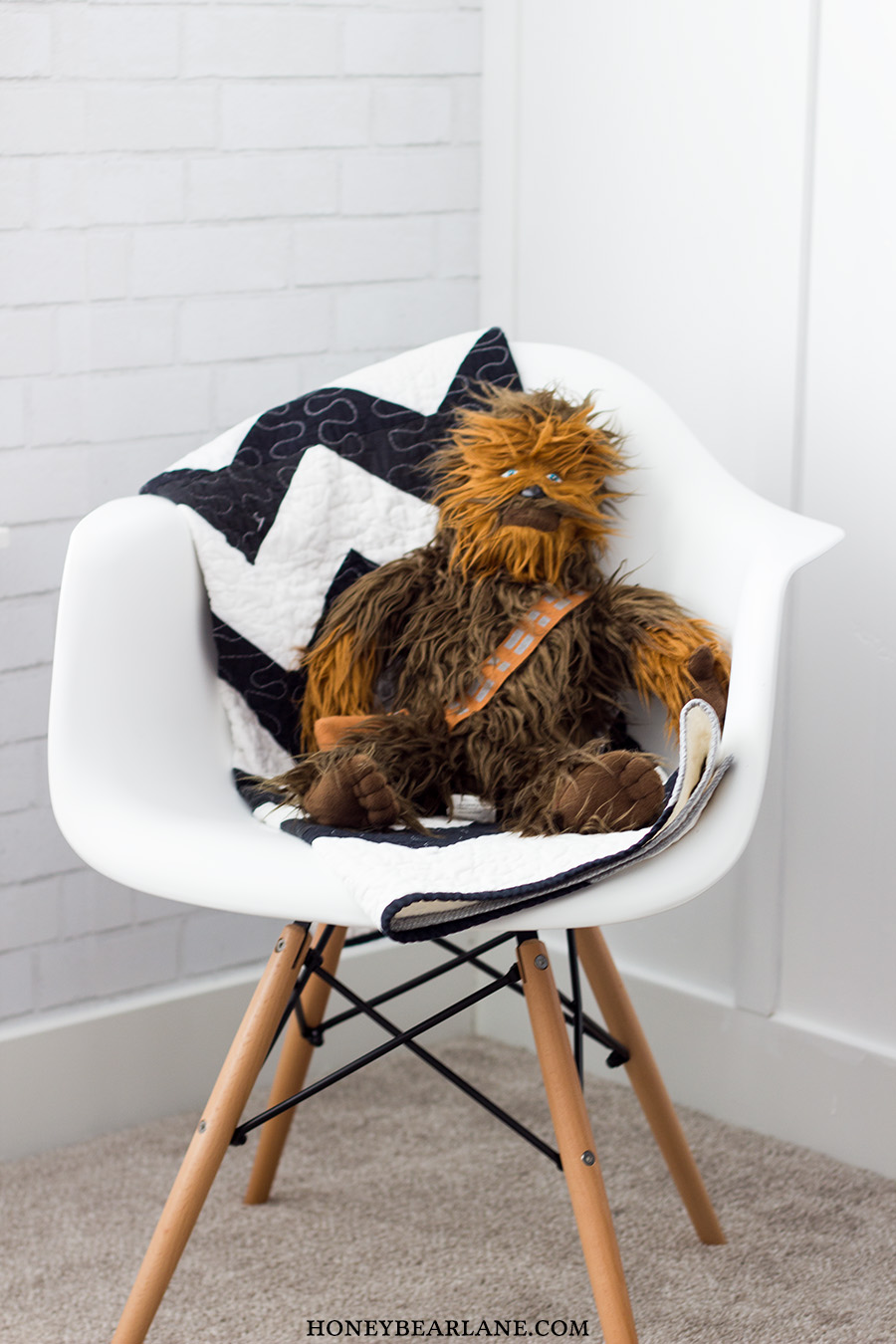 This room was turned completely on its head. The only things that are the same is the carpet and the basic structure of the room. I added board and batten to two walls, chalkboard paint to one wall, faux brick wallpaper to another wall, and painted the ceiling. We changed out the light fixture and added reading lamps above each bed.
I painted the beds from white to gray and painted the dresser from blue to black. I used DecoArt satin enamels to paint it and it ends up with such a crisp and smooth finish, it looks like it was factory finished.
I bought new bedding (the quilts are from IKEA and the Swiss cross pillow is from Target) and a new mirror and chair for the corner. I also added some IKEA spice racks to the sides of the nightstand dresser as a place for my boys to put their books they read every night before bed.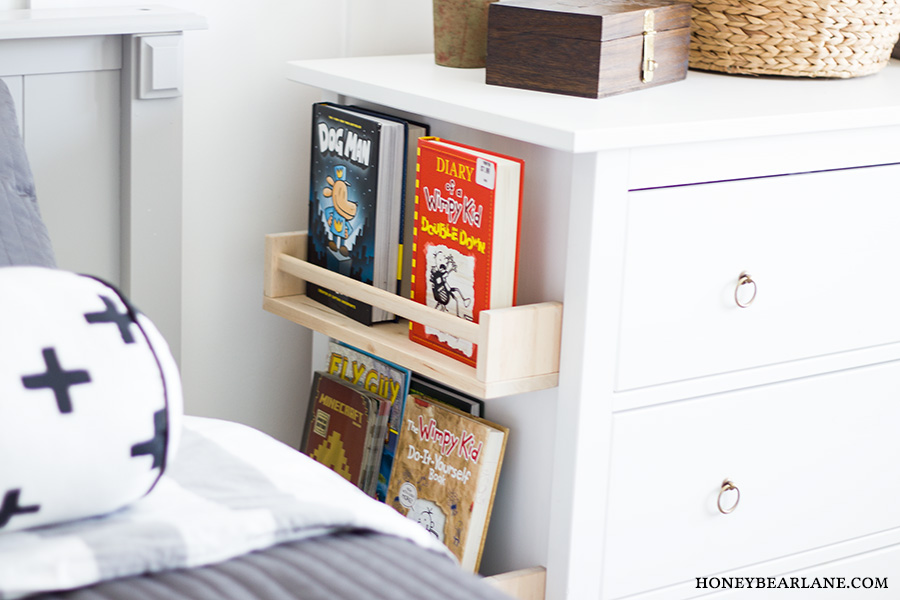 I hung a shelf above the nightstand dresser so they would have a place to put some of their Lego creations and other decor. The little baby Snake plant is a perfect plant for a kids room because they are extremely hardy and don't need a lot of water. So if I forget to water it, which I will, it can still survive for awhile.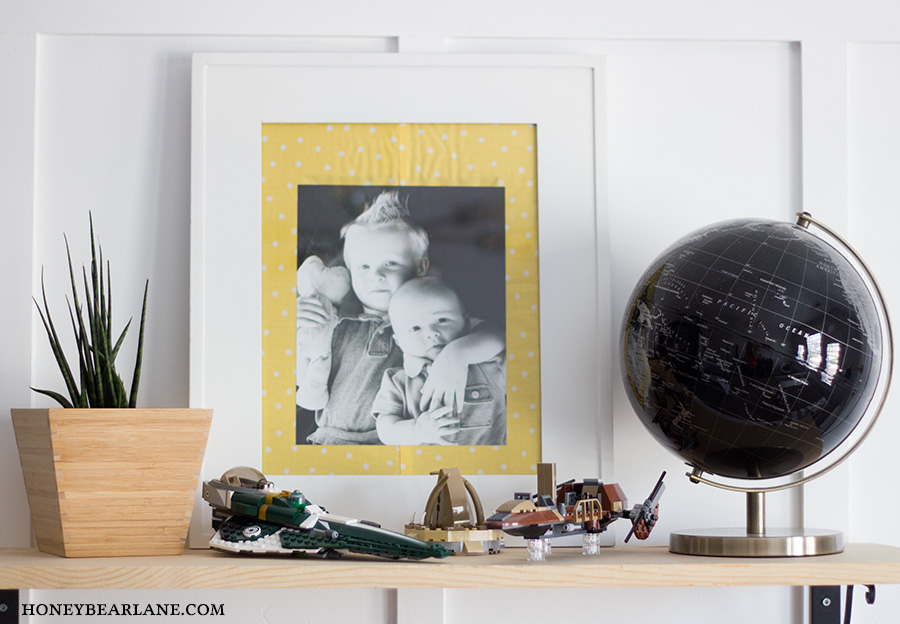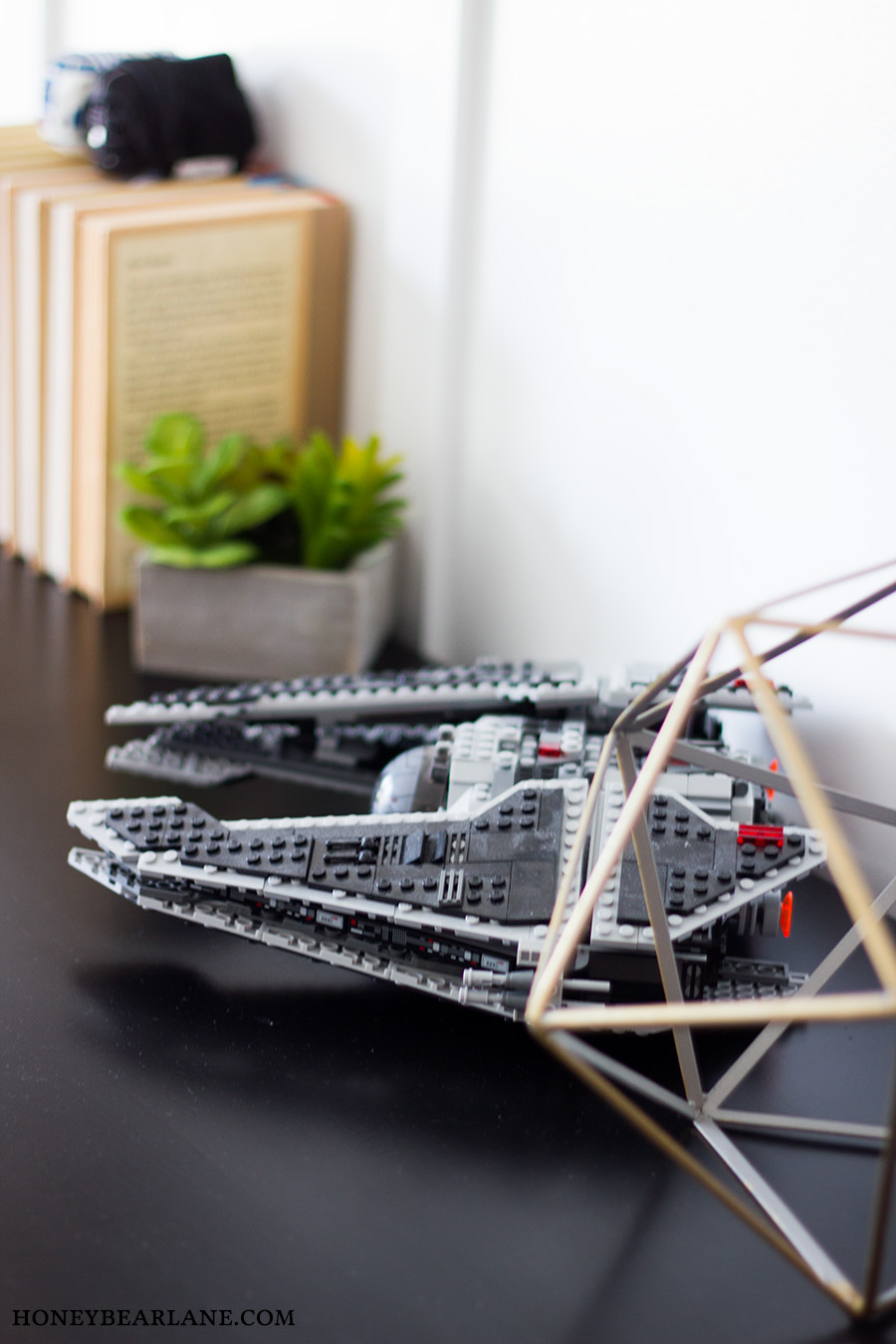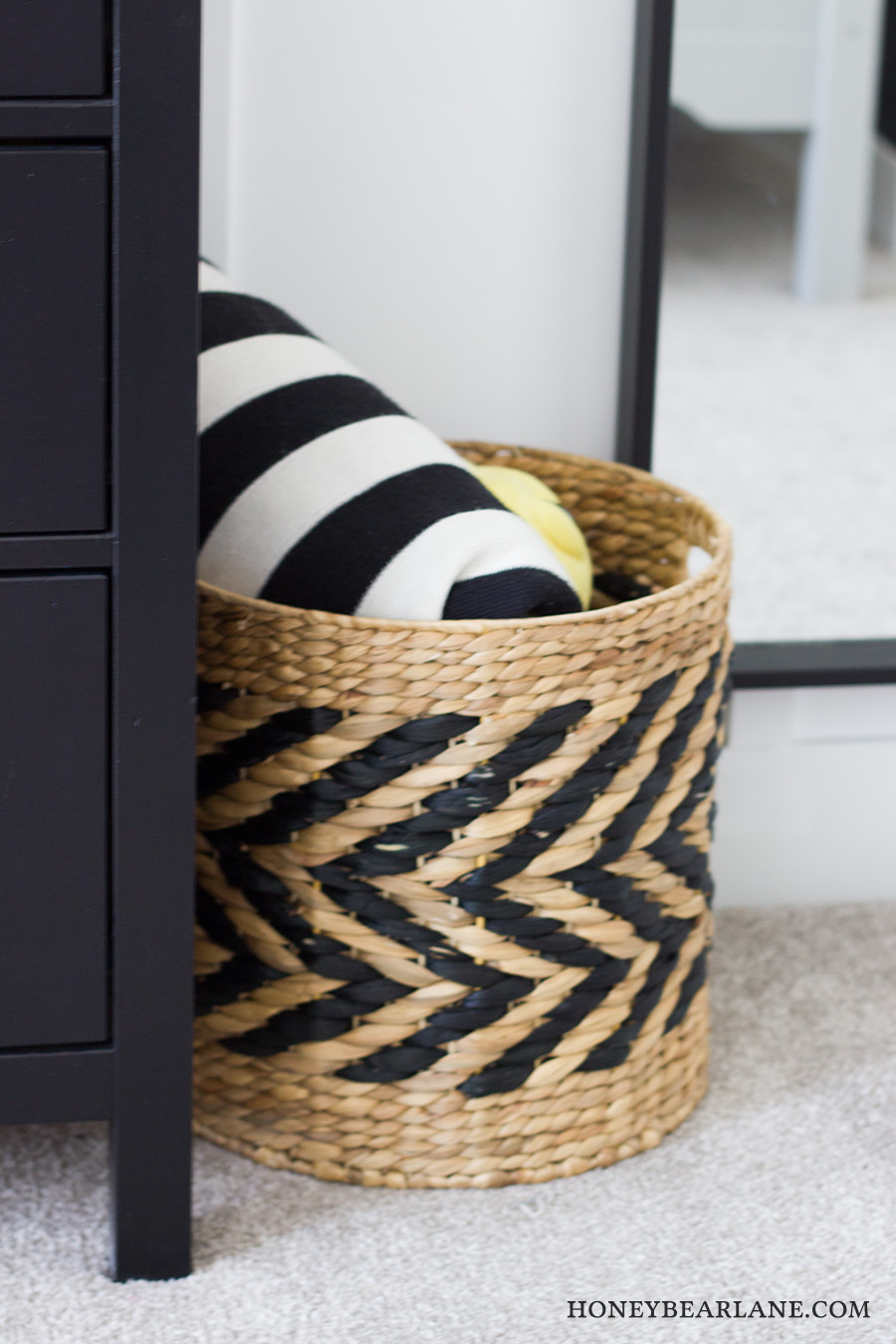 I found the little chevron basket at Smith's Marketplace one day on clearance and I knew it would be the perfect accessory for my kids to throw stuffed animals in. When you know you're going to be decorating a room a certain way, it's so helpful to always be on the lookout for items for it when you go shopping (although don't go crazy overboard!)
I got a bunch of my accessories from Target as well because they have some super cute Star Wars stuff as well as being the sponsor for this room (again, tutorials tomorrow). I got these cool canvas/foil artwork there as well as the black globe, the Swiss cross pillows, and the Chewbacca stuffed doll (which my baby boy absolutely loves and it's the cutest thing ever!)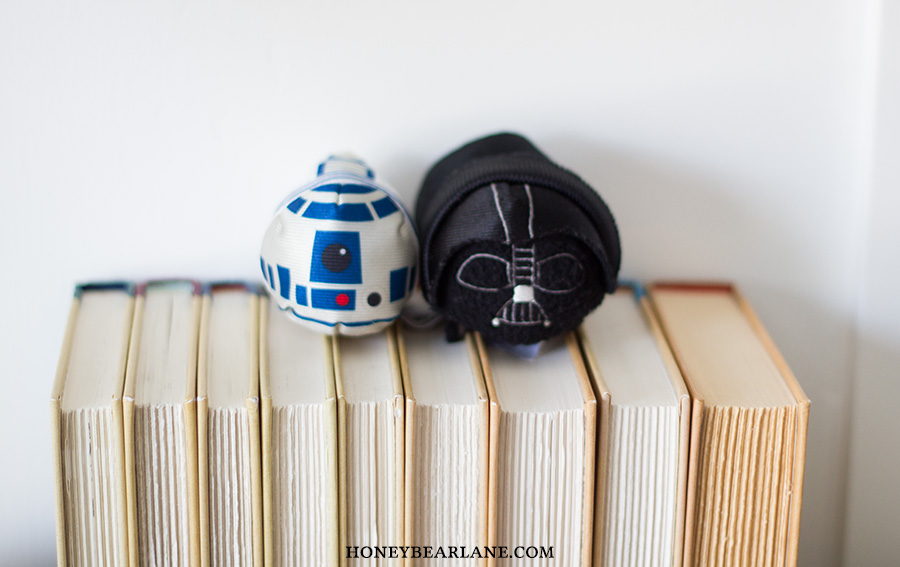 These little Star Wars Tsum Tsums we got at Disneyland so they are special momentos from that family trip.
The little finishing touches in this room are what I love the most. I absolutely LOVE the overhead light I got from Joss & Main as well as the little reading lamps above their beds, which I found at IKEA. I tried to make this room really functional for them. They didn't want to be in bunkbeds anymore so we took them down to individual beds and I painted them but now they still have some space to play.
They also love the chalkboard wall and even though the big glorious moon picture you see was drawn by my artistic husband, the wall that is behind the door to the room is their little domain to go crazy and write or draw whatever they want.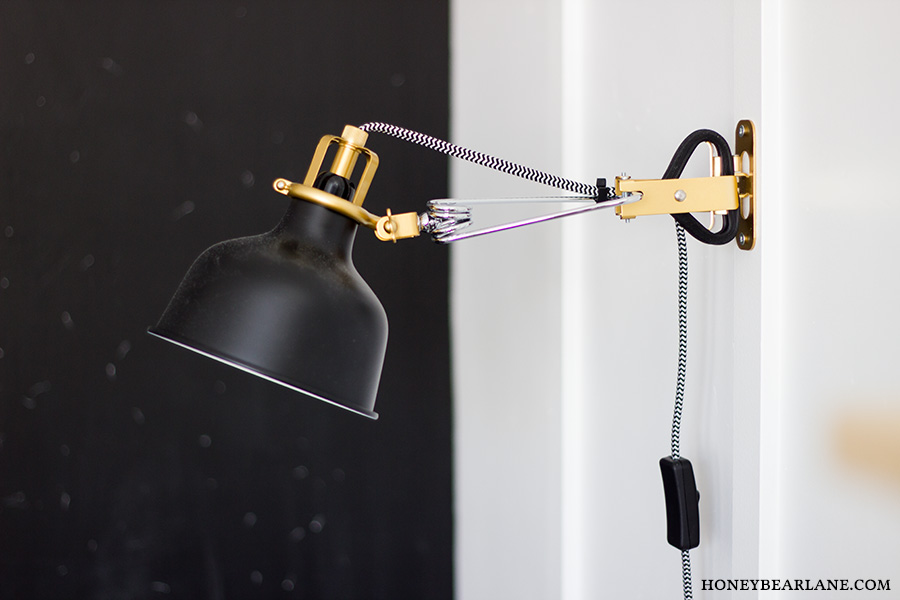 I feel like I really nailed this whole room makeover. It's definitely go the industrial farmhouse vibe, but with plenty of little fun kid things like the chalkboard wall and the Star Wars accents. I really wanted to buy a large area rug but I ran out of money in the budget and sometimes you just have to forgo things here and there to make it fit the budget. But you can still end up with a totally awesome end product!
Here's the mood board for this room so you can see just how helpful it was for me: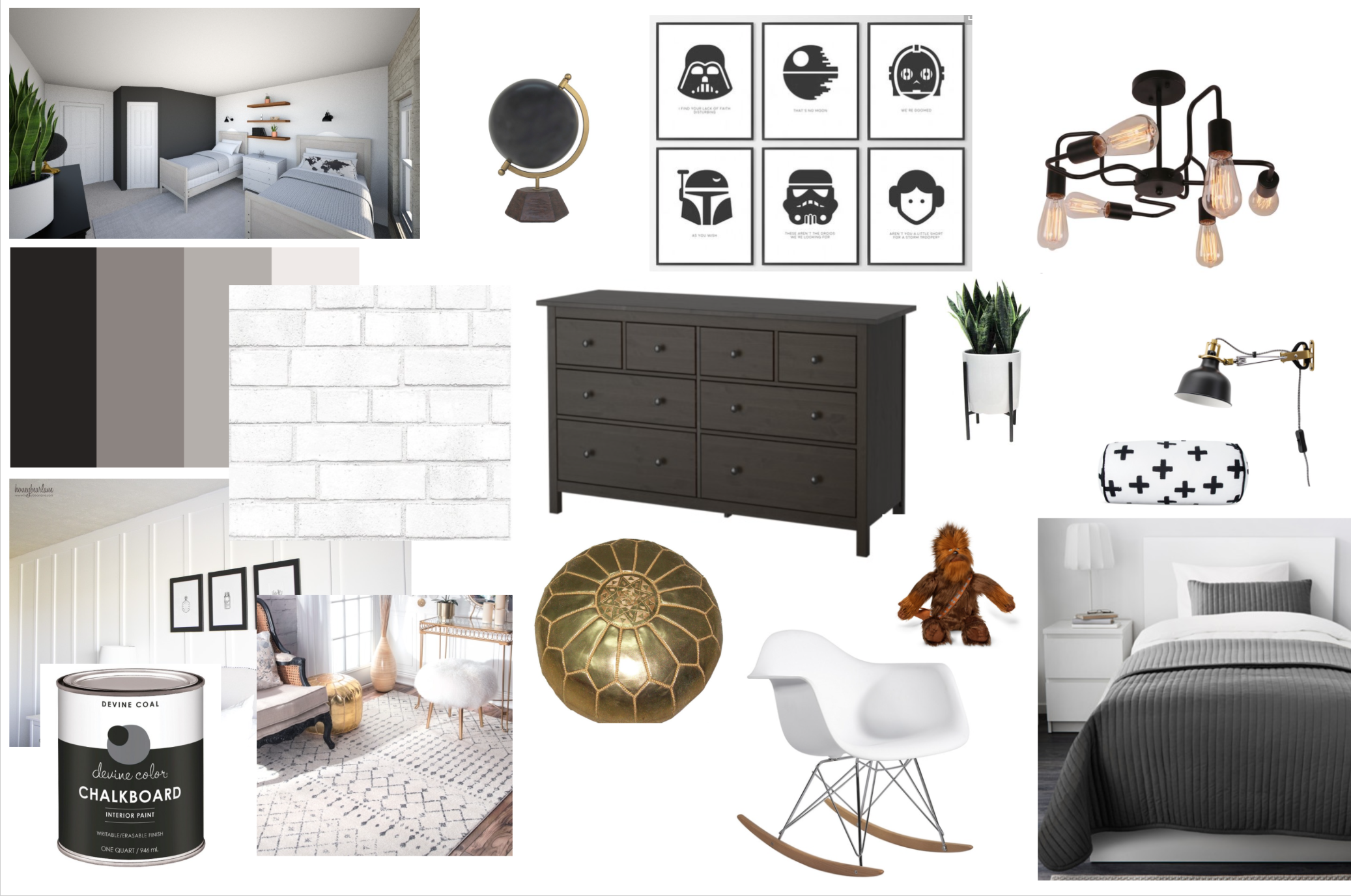 You can see that some of the things changed a little but overall it has the same feel and a lot of the same things. Creating a mood board is such an important step in decorating. If you want to learn the first five things I do when decorating a room, sign up for my free email course!
Shop this room:
(Affiliate links, see my disclosure here)