Modern Farmhouse Boys Room Plans
I've been planning my boys' room decor ever since we moved in. But it didn't happen because we ended up switching their room with my daughter's room and you know, life. But I'm motivated to do it now because they will probably only be in that room for about three more years before our basement is finished and they move down there.
I love classic and neutral decor, so sometimes it takes me out of my comfort zone to decorate a kid's room. I have this idea that if I do something wild and crazy I will end up regretting it. So for a long time I planned a very attractive but definitely more grown-up room, like this:
I still think this would be such a cute room and many of the elements I'm keeping. But the more I thought about it, the more I realized that my boys really want their room to reflect their personality, to be a more modern farmhouse boys room. So here is the new mood board: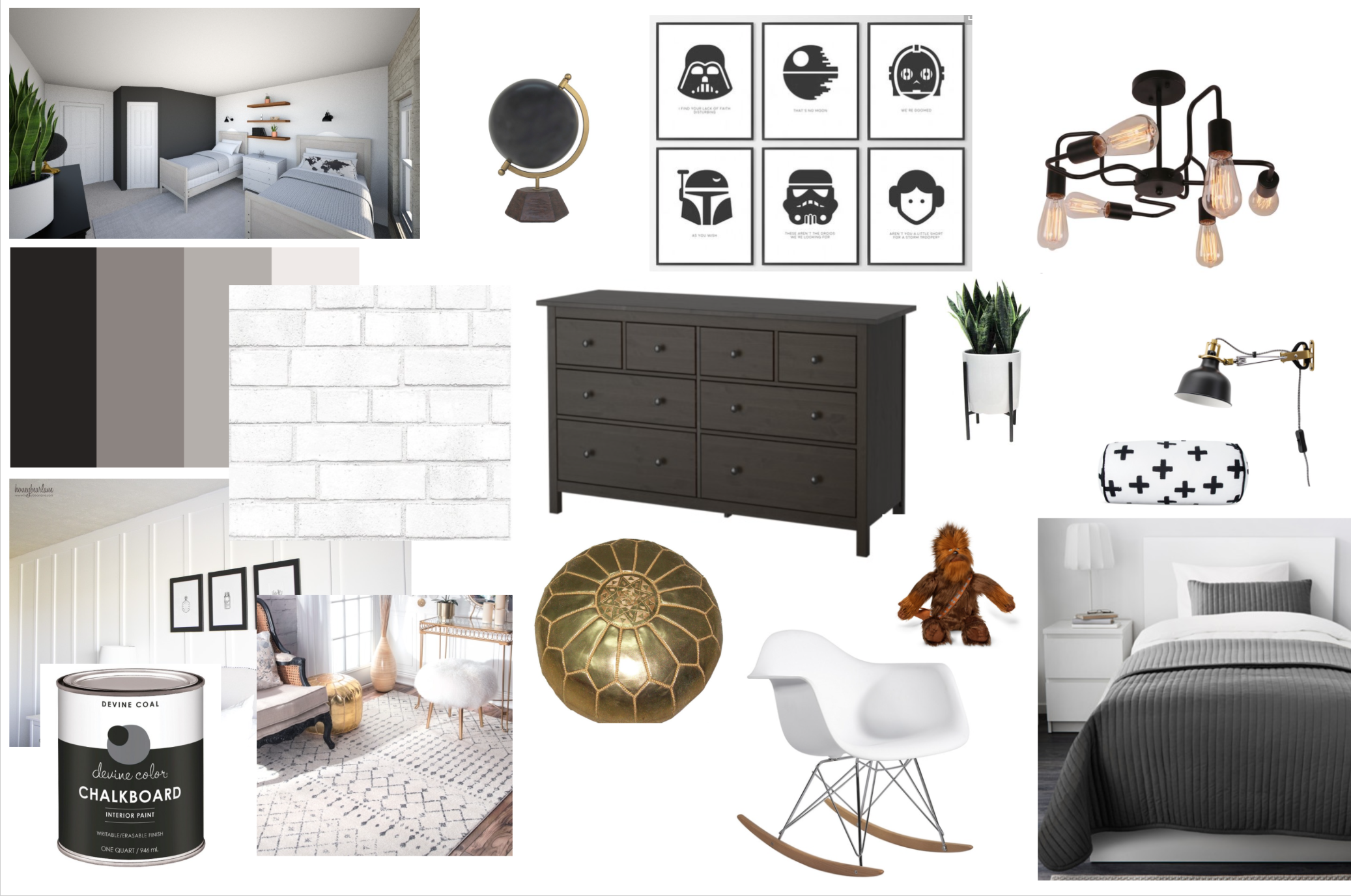 As you can see, the colors are essentially the same, except I'm adding a lot more black and accents of gold and other metallics. There is more of a 'space' and 'Star Wars' theme. Our family loves Star Wars, especially after our recent trip to Disneyland. The biggest things happening in this room are wall treatments. Two walls will have skinny board and batten, one wall will have textured wallpaper, and another wall will be painted with chalkboard paint in black. It still keeps with the industrial farmhouse style that is around my entire house, but it's way more lively and fun.
I have those gingham duvets in the first mood board which was my inspiration for the entire room the first time around. But as I tried to include them in the second time, it became more and more apparent that they just weren't working with the more modern vibe. It just goes to show you that even your entire inspiration can change as the room starts to take shape. Mood boards are so important for this step.
Also a few of the items I'm not 100% sure about (like the rug) but as the room takes shape I can make the final decision on that. It's good to just include something you like even if you're not committed to it all the way just so you can see the entire plan.
Here's a Before picture, so you can get an idea of where I'm starting. The polka dots are from my daughter's room decor (sad to see them go!) The wall with windows is where the brick wallpaper will go.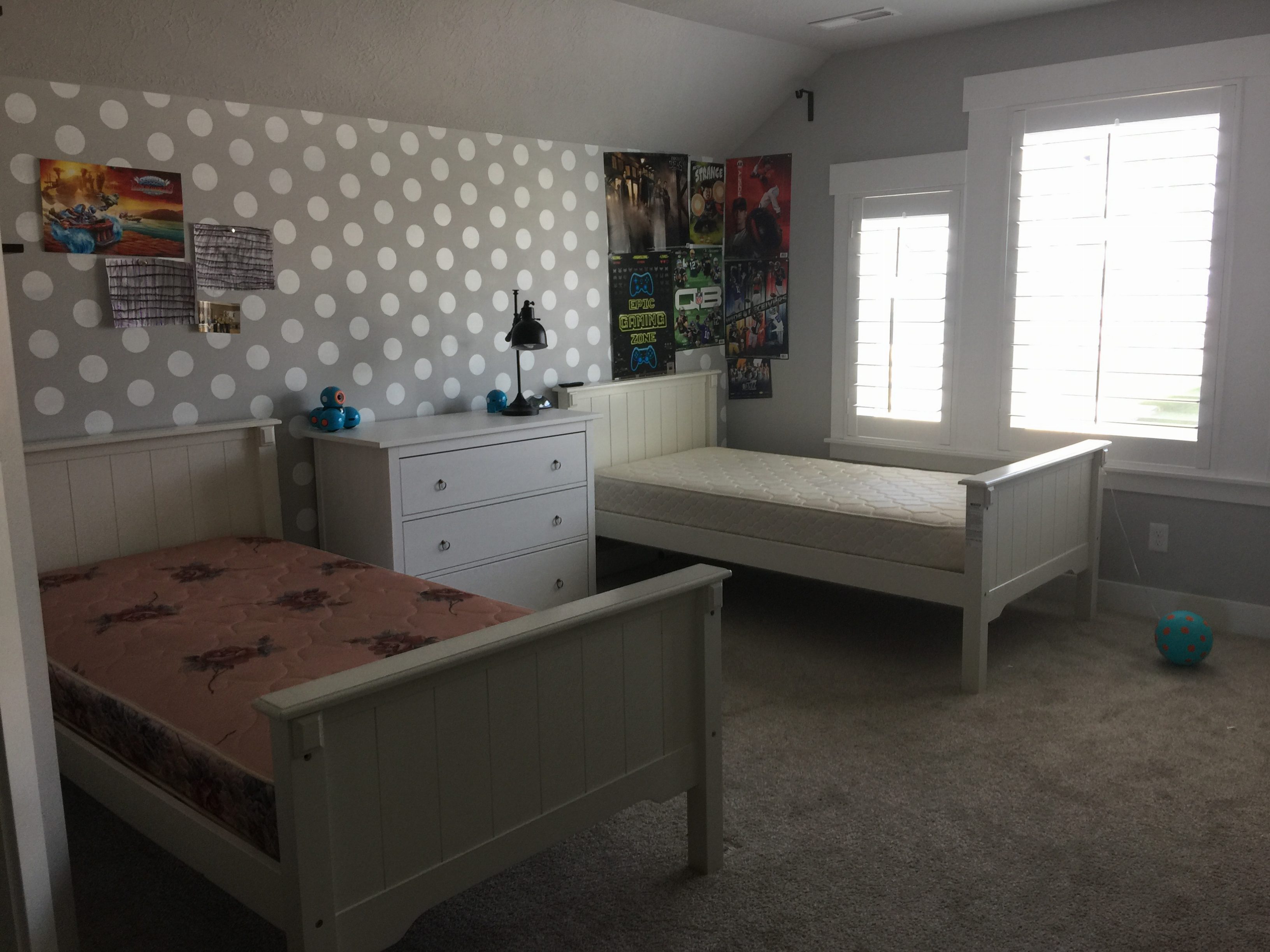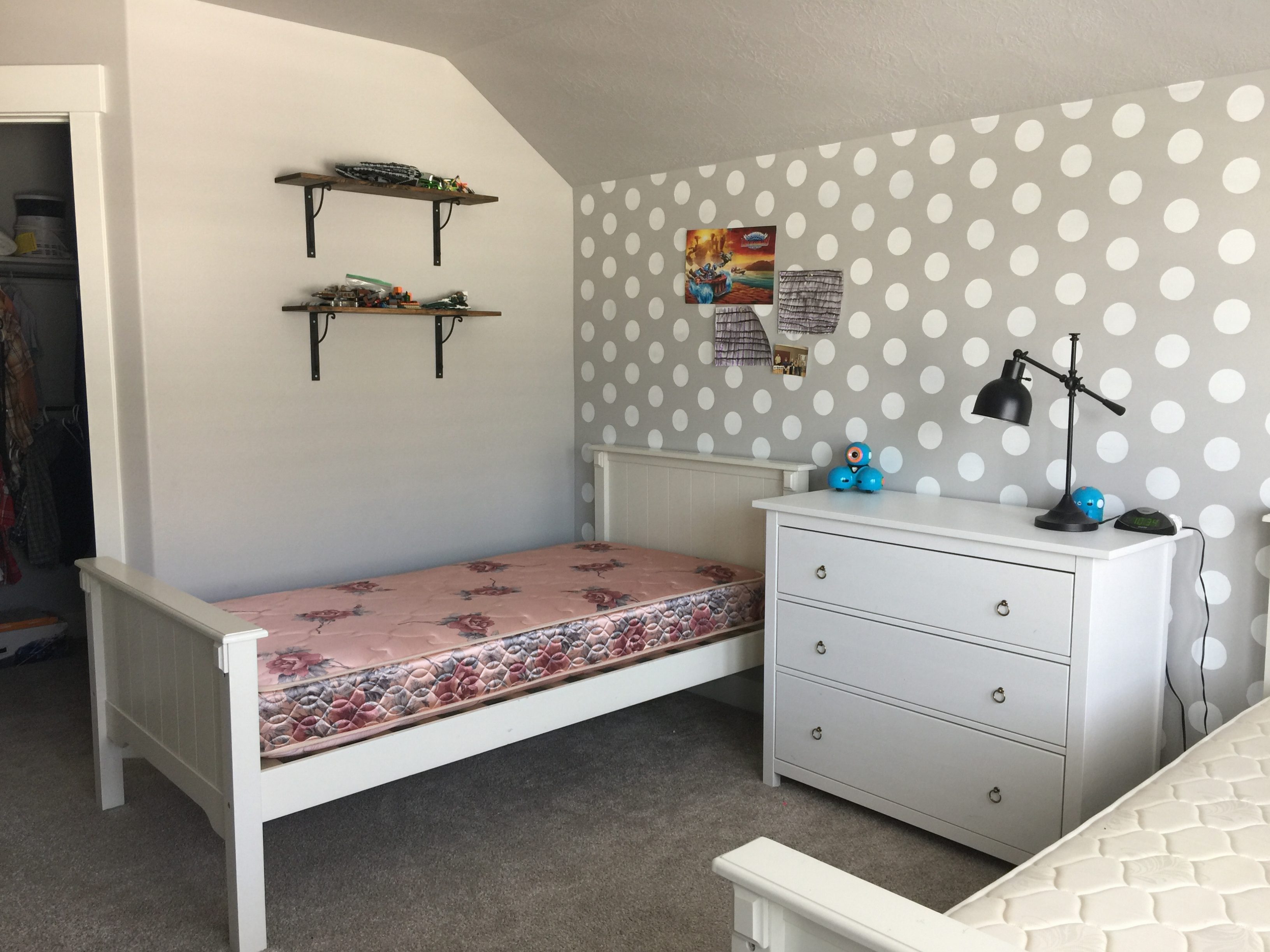 I'm keeping their current beds rather than getting the wrought iron ones and painting them a light gray. I'm going to paint the blue dresser black as well (not shown.) Then I'll move onto the wall treatments, changing out and adding light fixtures, and then hanging art and accessories, maybe adding a rug and a chair. It's going to be a lot of work but I've broken it all down into manageable projects and hopefully it will be done by July.
Here's a mockup of the room (I created this and the mood board on roomstyler.com which is an amazing home decor planning tool!) It gives me a general idea of what the room will look like when it's done. It obviously doesn't show the board and batten because they don't have that option.
I'm so super excited to get started on this. I haven't really done any projects in months and months and I'm dying to decorate!