I'm super excited to be able to share my fall home tour with you this year because a) I just finished my beautiful built-ins and b) my website is finally working!  You might have had some trouble getting into my site lately and I apologize with that.  Sometimes you just have technical difficulties.

I added little splashes of fall all around my home but I didn't go overboard.  I like decor that is easily incorporated and stays fairly neutral so that I don't get super sick of it.  Let's start with my front porch…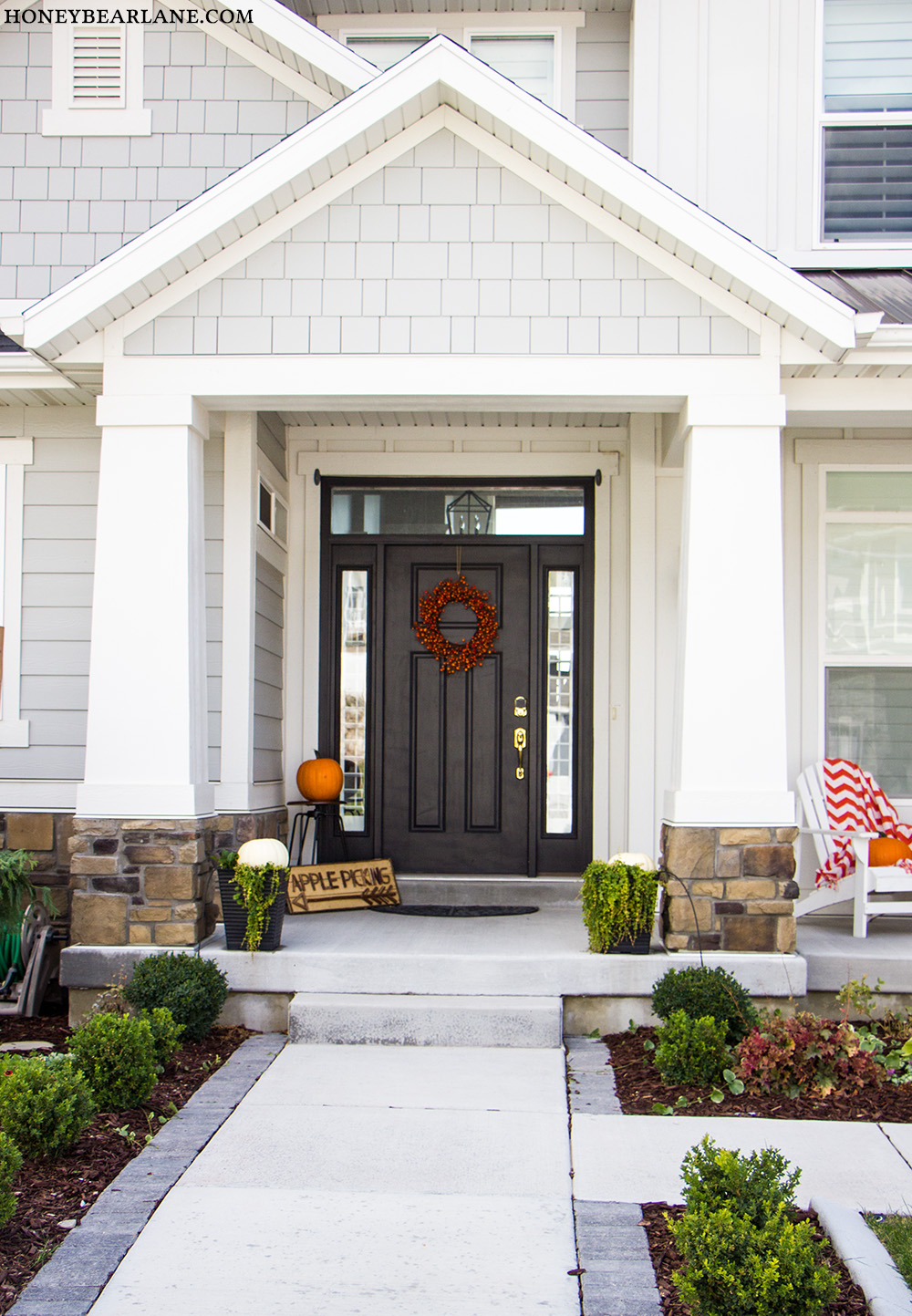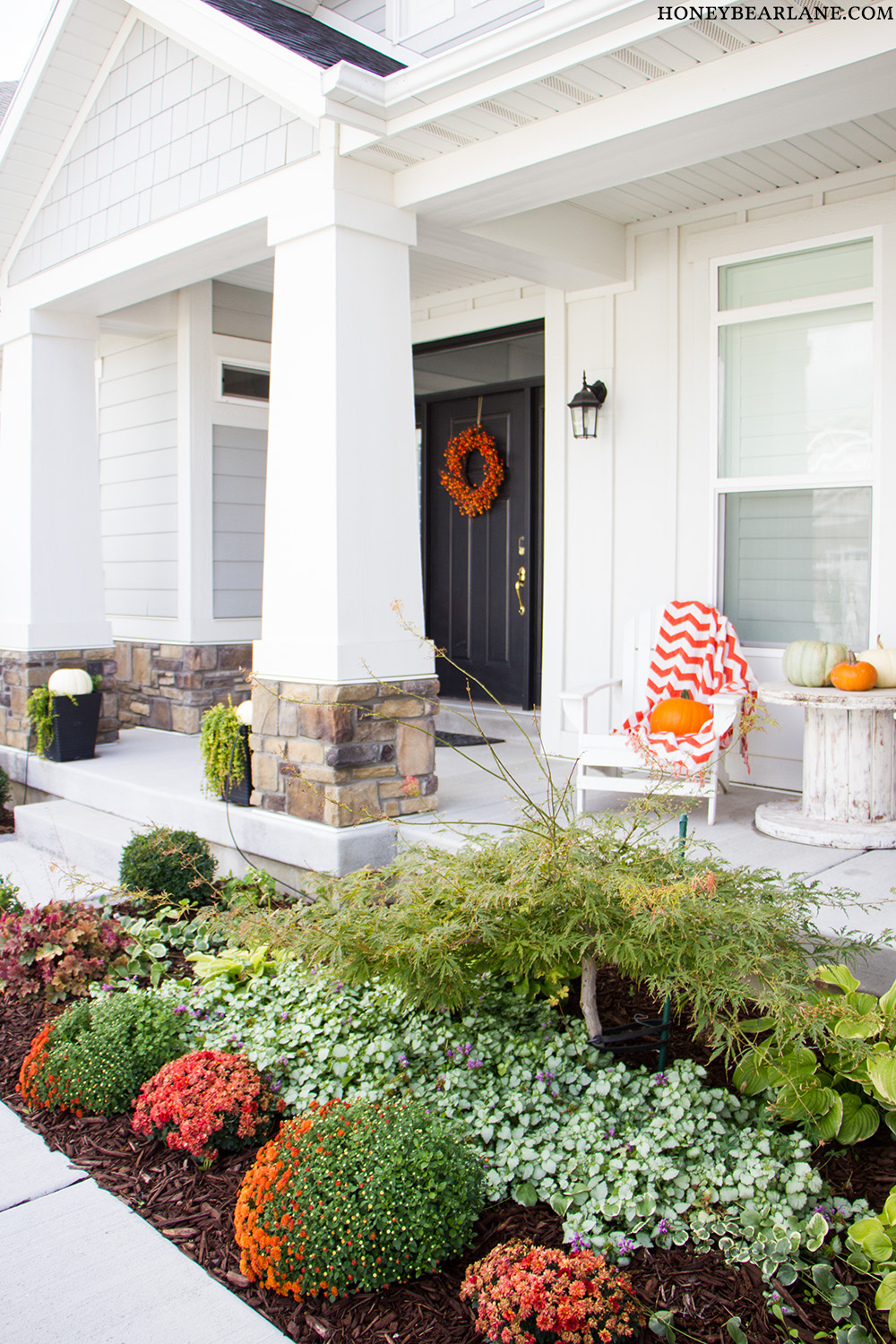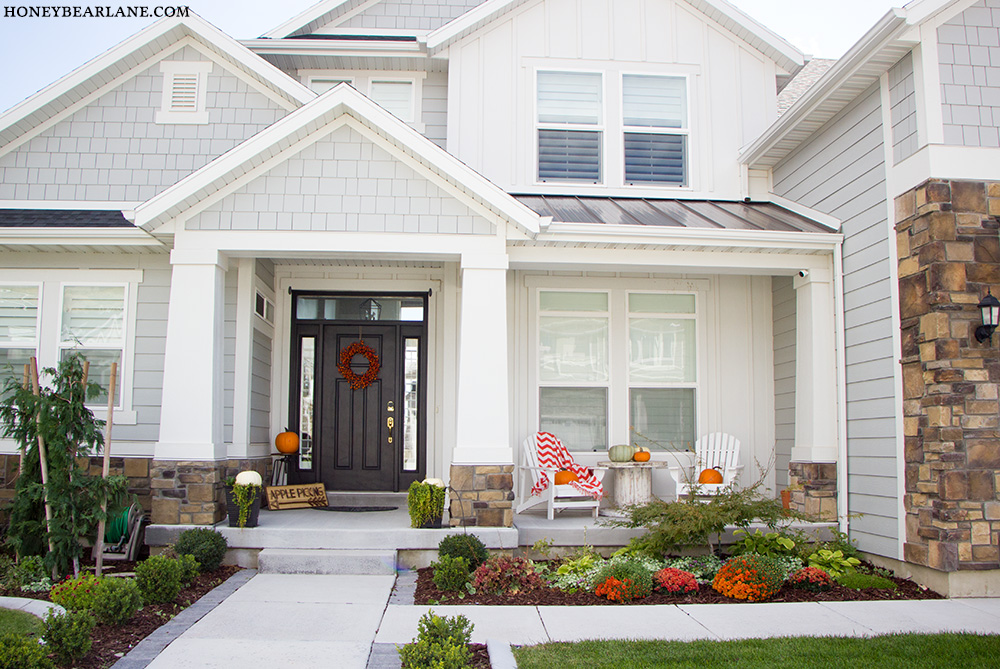 I am kind of obsessed with the front of my house.  It really it is beautiful and classic.  I wanted it to be farmhouse style without being overly farmhouse and overly trendy.  And I love how the plants around it just pop against the house.  I'm super excited my mums came back from last year, even though they bloom unevenly because of the shadiness in the area.  I kept it pretty simple with pumpkins, a wreath, and a couple other accessories.  The chairs and table stay all year.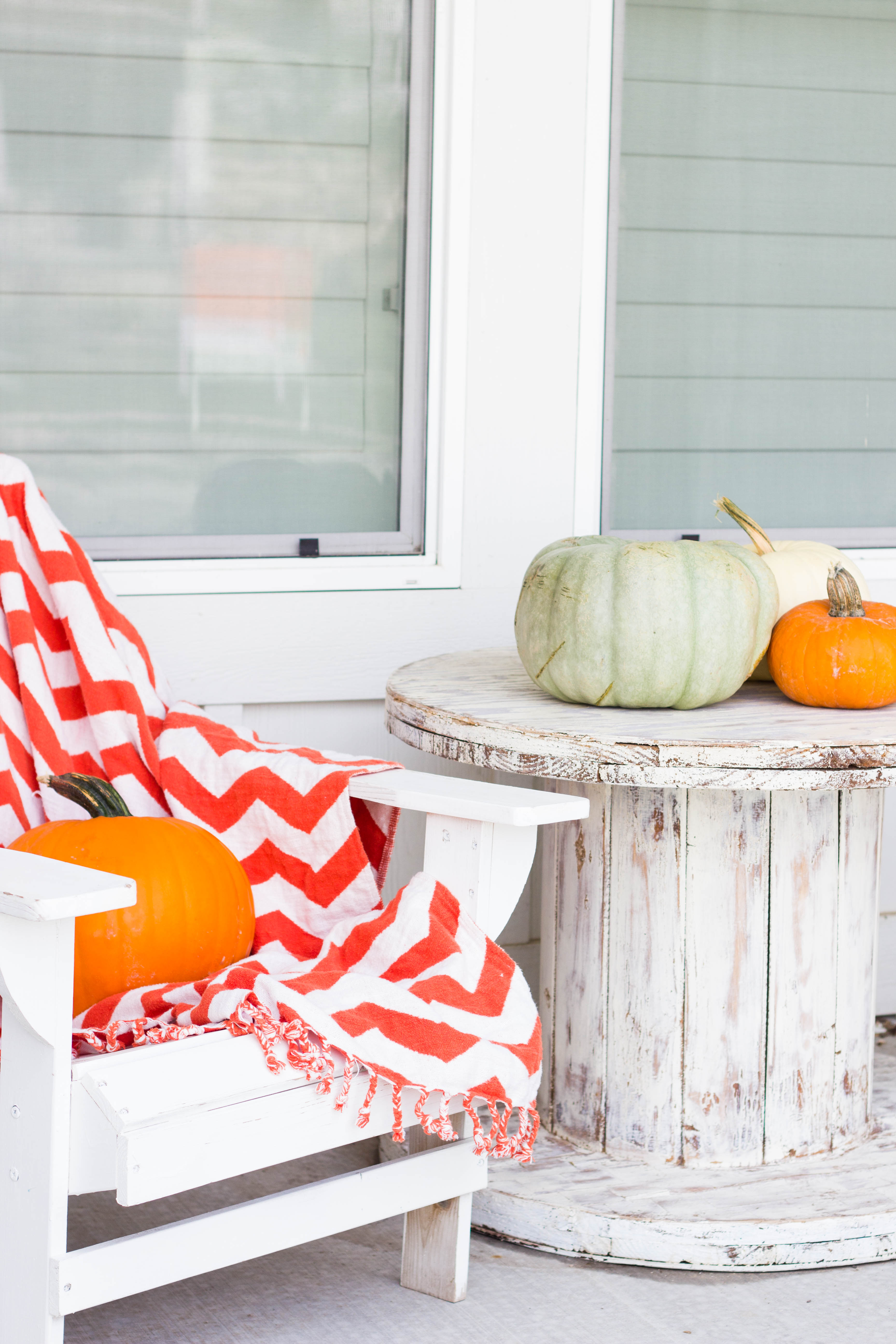 Speaking of pumpkins, it has been super hard to find cool white and green-blue pumpkins locally.  Everyone in my area wants them so the second they appear at the grocery stores they sell out.  I live in the suburbs so we don't have farms everywhere cranking these out but if you happen to live in the Salt Lake area, any tips on getting beautiful pumpkins?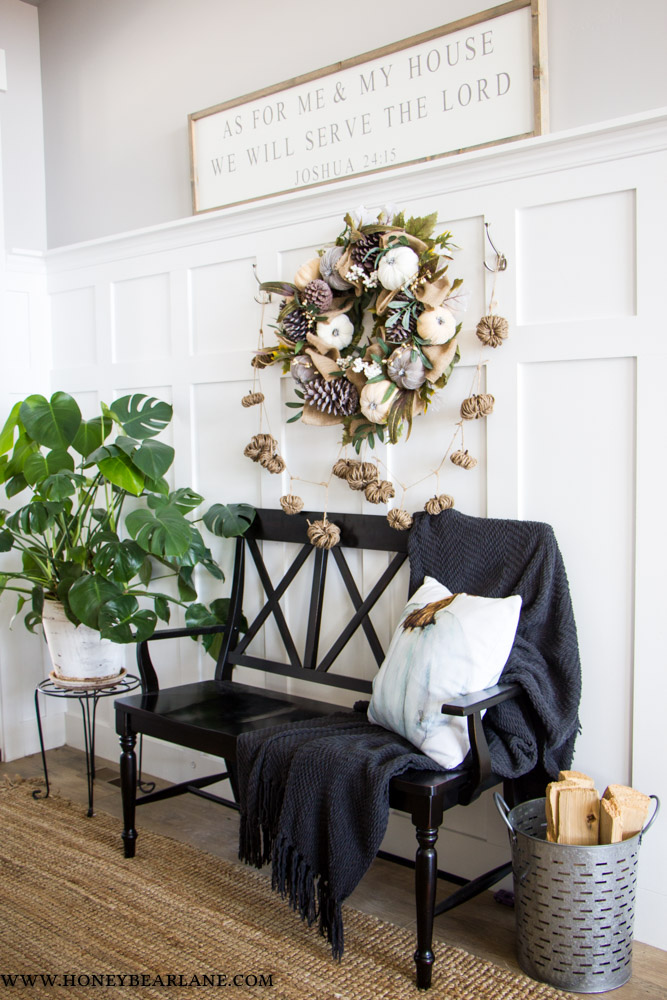 When you go inside my house, there is a small entryway that I love to decorate.  It's just a little nook with just enough room for a small bench and a wreath to hang.  I found this pretty wreath at Home Goods this year and I'm in love with it.  I also got that blue pumpkin pillow from Craftberry Bush.
The pumpkin garland is something I also bought last year and I think it was also a Home Goods find.  The dark gray throw is actually from Walmart.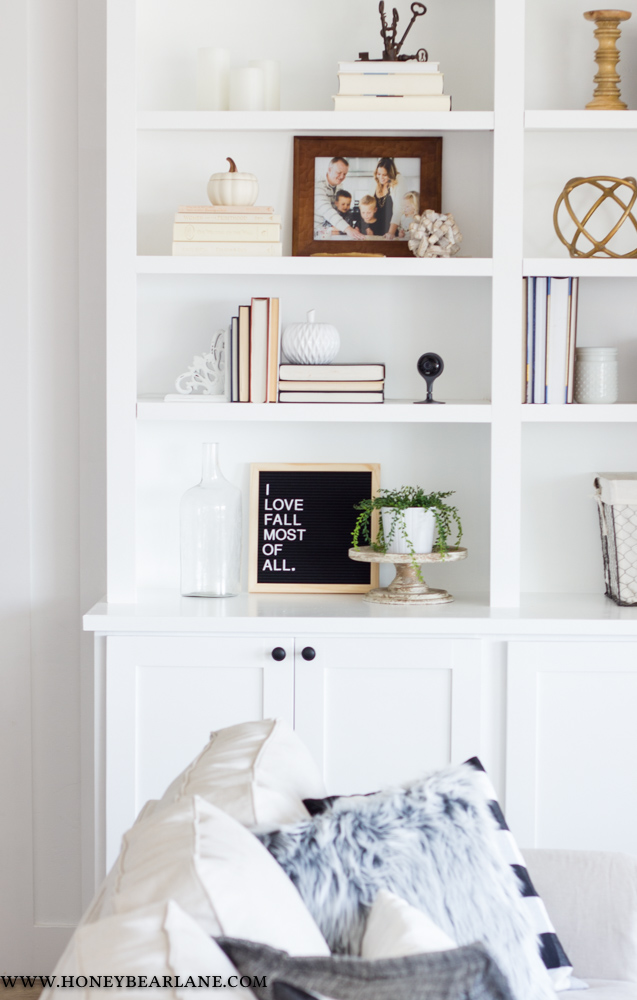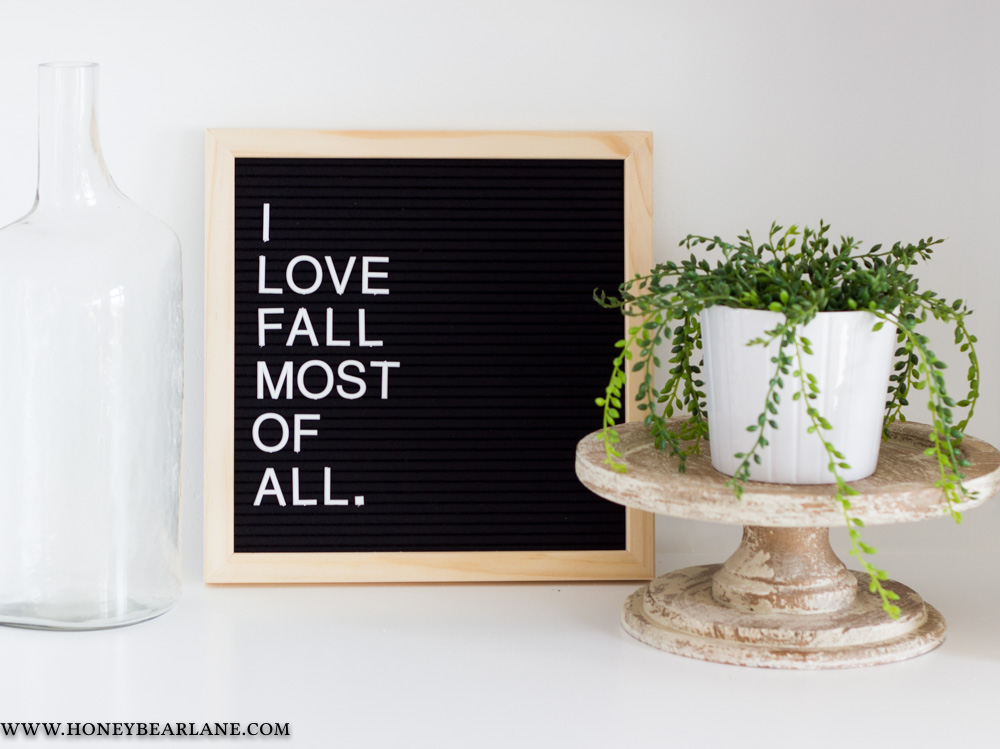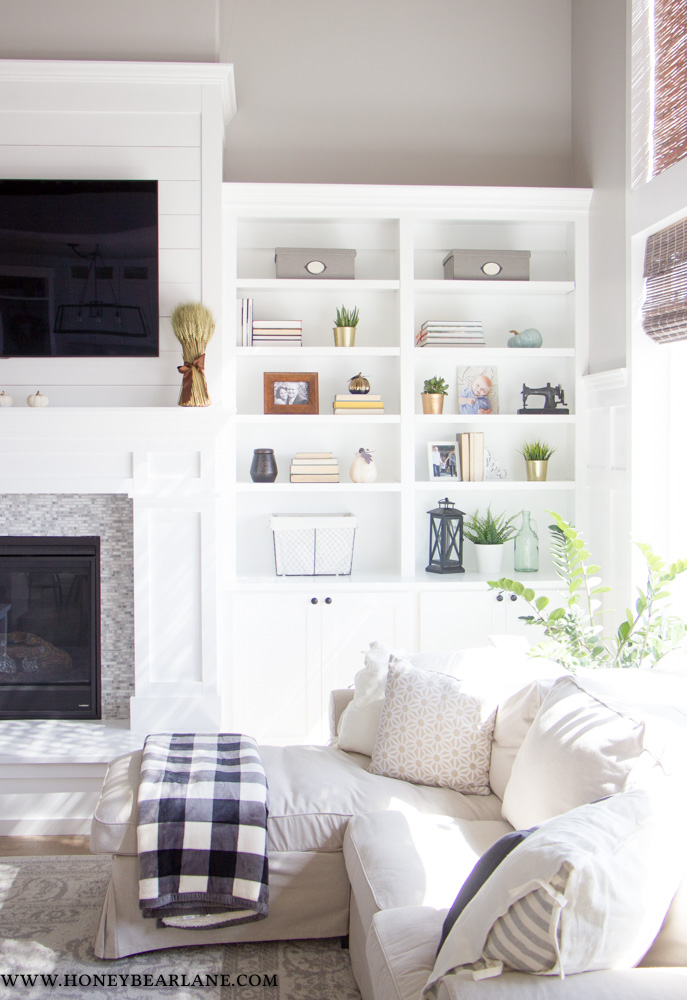 In my family room are the brand new built-ins which you can see more pictures of in this post.  (Ps I built them myself which is why I can't stop talking about them!) I have the Everett console table from World Market which is perfect against the stairs wall, complete with the gold Target mirror and these hobnail farmhouse lamps (also from Target) and I am in LOVE with them.  I made the pumpkin centerpiece by painting some craft store pumpkins and building the wood box.
In the family room are two couches, two chairs, and a coffee table (I built that too.)  I found this pretty basket tray at Home Goods last year and filled it with fabric pumpkins because my 1 year old loves to destroy everything I put in this tray.  I figured fabric pumpkins could handle a beating.  I picked up a couple new pillows also at Home Goods (this post sounds like it was sponsored by Home Goods–it's not!) the fur and the other gray one which pair really well with the buffalo check pillows I got at Hobby Lobby.
In the fall I put throw blankets everywhere because my kids each love to have their own to cuddle up with when we watch movies together.  I actually keep them year round but add a few more in the fall and winter.  I also like to change out my pillows for more thicker textured ones and darker colors.  And I forgot to mention that I switched my IKEA slipcovers to the beige ones several months ago and it was the BEST decision!  I used to have white and it was just starting to look a little sterile after awhile, not to mention they looked dirty so quickly.  So I purchased the beige ones and haven't looked back.  Especially with the built-ins, I think the white slipcovers would have gotten lost in a sea of white.
I barely decorate the kitchen and dining room for the holidays because I don't really want any extra clutter.  I switched out my pantry door wreath and added a pumpkin centerpiece on the table.
I thought about staging this table for this home tour but I want to show you what is more realistic for us…we don't eat at a fancy table every night.  We use cheap plates and don't use tablecloths or placemats…they just make more messes.  And my 1-year-old is totally into climbing on everything and would pretty much destroy anything I put on the table.  It's a miracle the centerpiece is still intact–but not without me putting it back together several times already.
We just barely finished our backyard this month so I'm sharing a little peek at it…I planted some fall color mums in our DIY planters.  They'll grow back twice that size next year!  The grass is still coming in so it's long and hairy and patchy.  And we have construction behind our house…yaaaayyyy.
That's all for my fall home tour!  I'm so excited about the progress we've made on our home this year.  I feel like it's finally starting to look like the house I dreamed of.
Click below to shop things from my house!


I'm participating in a Blogger Fall Home Tour blog hop so please go visit the others today!


Taryn Whiteaker Designs | Design Dazzle | Honey Bear Lane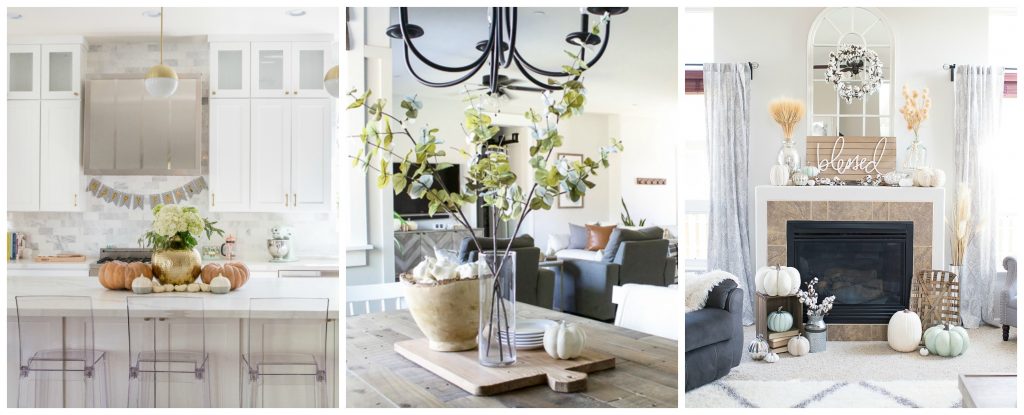 The Posh Home | Hello Allison Blog | Blooming Homestead
**This post contains affiliate links. If you click on a link and make a purchase, a small percentage will go to support Honeybear Lane. I only recommend products I use. Thank you for your support!
SaveSave