Favorite Things Giveaway 2017
I am thrilled to bring you the 5th annual Favorite Things Giveaway, not only to gift 30 people prizes, but also to give you ideas for holiday shopping to use this as a gift guide! Scroll below to see the prizes, and hop to each site to enter their giveaway for a chance to win! Here are the items that are MY favorites that I'm giving away to one lucky winner:
Favorite Things Giveaway 2017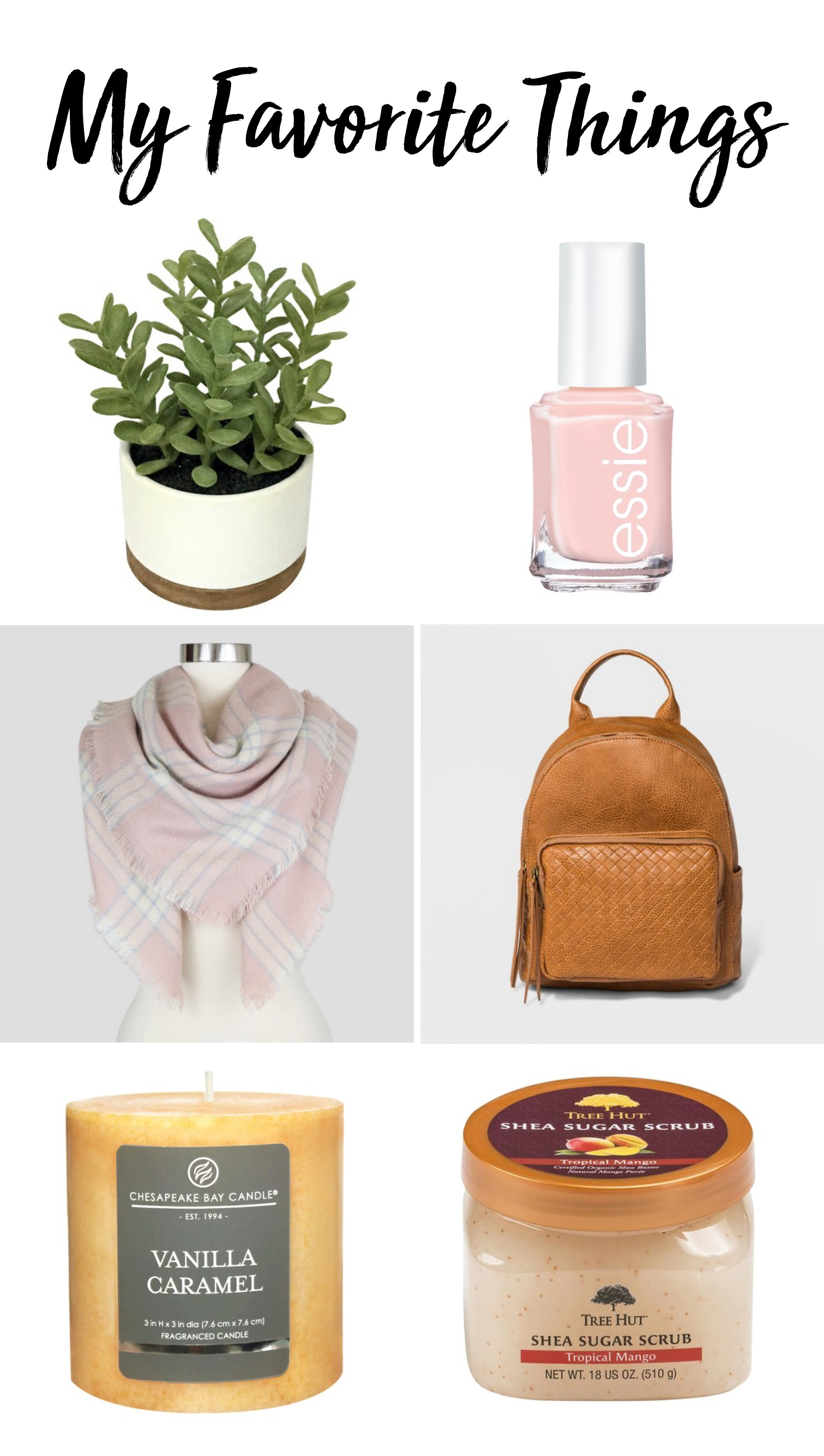 From top to bottom, left to right:  Artificial plant  |  Essie nail polish in Skinny Dip  | Pink blanket scarf  |  Leather backpack  |  Vanilla Caramel Candle  |  Shea Sugar Scrub in Tropical Mango
Here's the low-down on why these are my favorite things:  1) I love decorating with faux plants–they are zero maintenance and add a pop of green to any space!  2) When I paint my fingernails I always choose a super light pink, nude color because then when it starts chipping you don't really notice it.  I'm a low-maintenance girl! 3)  I love wearing scarves in the winter and pink is such a feminine color.  4) I am in love with this bag–I love having a backpack rather than a purse that always falls off your shoulder.  I'm busy with little kids and it just makes life so much easier!  5) I love vanilla scents and I always have a scent going on in my house.  6) I love to pamper myself with a quick yummy-smelling scrub in the shower!
All this stuff is a $100 value!
I've teamed up with 29 creative bloggers and we are all sharing some of our favorite things right now, and each of us will select a lucky winner! What you need to do is make sure you HOP to each of our sites to enter to win the giveaway on each site. Yes, that's 30 in all, but you've got a week to do it…plenty of time! While you are there, we challenge you to click around to see what they have to share, you may just love them as much as we do!
Now, here is the HOP! Click on the links below to enter each of the prizes. Somedays within the first few hours, the direct link can get broken, if that happens, click on the home page of that site to find the post or go back shortly. Giveaway ends Thursday, November 9th at midnight, so make sure you enter each of the 30 prizes.
1: Fun-Squared
2: Capturing Joy with Kristen Duke
7: Lil Luna
10: C.R.A.F.T.
11: Cupcake Diaries
15: Honeybear Lane
16: Landeelu
17: Becky Higgins
18: Lolly Jane
19: Giggles Galore
21: Girl Loves Glam
24: The Pinning Mama
25: The Idea Room
29: Eighteen25
30: Somewhat Simple
Now, time to enter MY gift!