How to Remove Carpet in 5 Simple Steps
So my big project for 2018 is my front room/craft room.  I'm giving it a total overhaul which I will share with you in a future post.  But I have some major DIYs to do first so I'll be sharing what I learn along the way.  It's been awhile since I've done a home project and I just have to say…it feels SO good to be back at it!  It's so funny to me because most people dread home projects but I seriously feel like they give me a purpose during the day.  When I wasn't doing anything, all I would do during the day is clean up the house, feed kids meals, and do laundry.  To me, it was just unfulfilling.  I love having a big plan to be working on, even if it's for just a few hours a day.
So step 1 of Project Front Room was to remove the carpet and put in the same laminate that I have going through the rest of the main floor.  I've been asked TONS of times what my laminate is which I have detailed in this post but here it is again:  Mannington Historic Oak in Ash.  And for the record, it's not the cheapest laminate.  For just 150 square feet it cost me $550.   But then again I'm not a super expert on the cost of flooring.  Anyway, getting off topic.  This post is about how to remove carpet.
So I'm a rookie at removing carpet but it turned out to be pretty dang simple.  Here's how to remove carpet in 5 simple steps: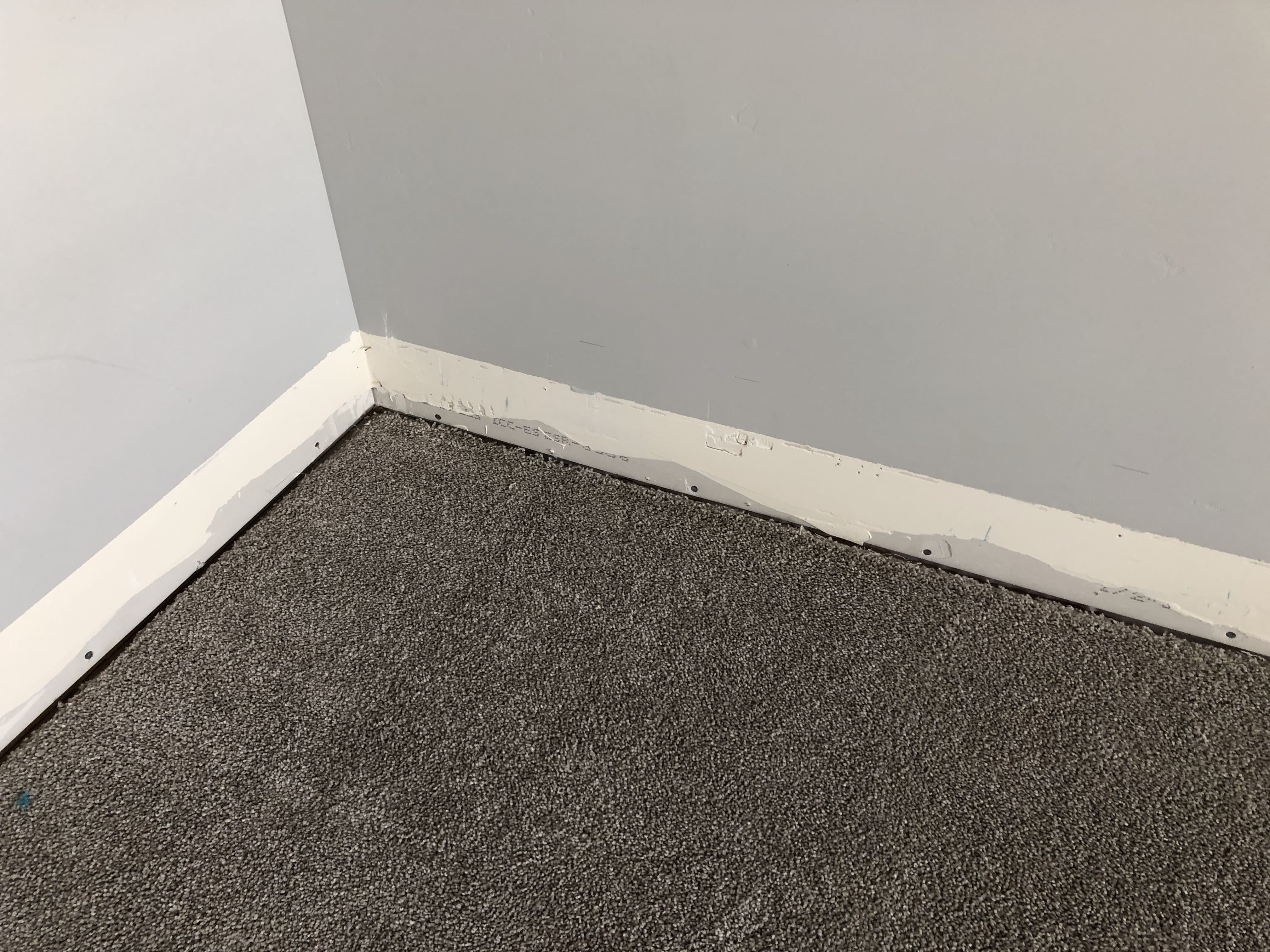 Step 1:  Remove baseboards.  I did this because I was installing laminate but I'm pretty sure there's a way to do it without removing them.  Maybe you could just remove one side, just so you can get a grip.  But once I removed them, it lifted right up.  To remove baseboards, I first cut the caulking with a razor blade, then used a crowbar to pry it off.  I show you how to do it in more detail in this post.
Step 2:  Lift off carpeting.  I lifted off the carpeting as simple as lifting a rug off a floor.  Of course all the furniture was moved out of the room which makes this step WAY easier!  I lifted it off the nail strips and rolled it up.  Then we moved it to our unfinished basement to make it a little more cozy for my video game playing children.
Step 3:  Remove carpet pad.  The carpet pad is stapled down under the carpet.  I just ripped it off the staples (carefully) and I actually also used it it under the carpet in the basement.  This was also very simple.
Step 4:  Pry off nail strips.  I use the mallet and crowbar to pry up all the nail strips.  This was kind of tedious and and loud but not too bad.  Here's a quick video of how to do it–Yes I filmed this with one hand and did the tutorial with the other.  🙂
Step 5:  Pry up staples.
 I used a flat head screwdriver and pliers for this.  And this was also long and tedious but has to be done unfortunately.  Just get yourself an audio book and listen to your headphones while you do it!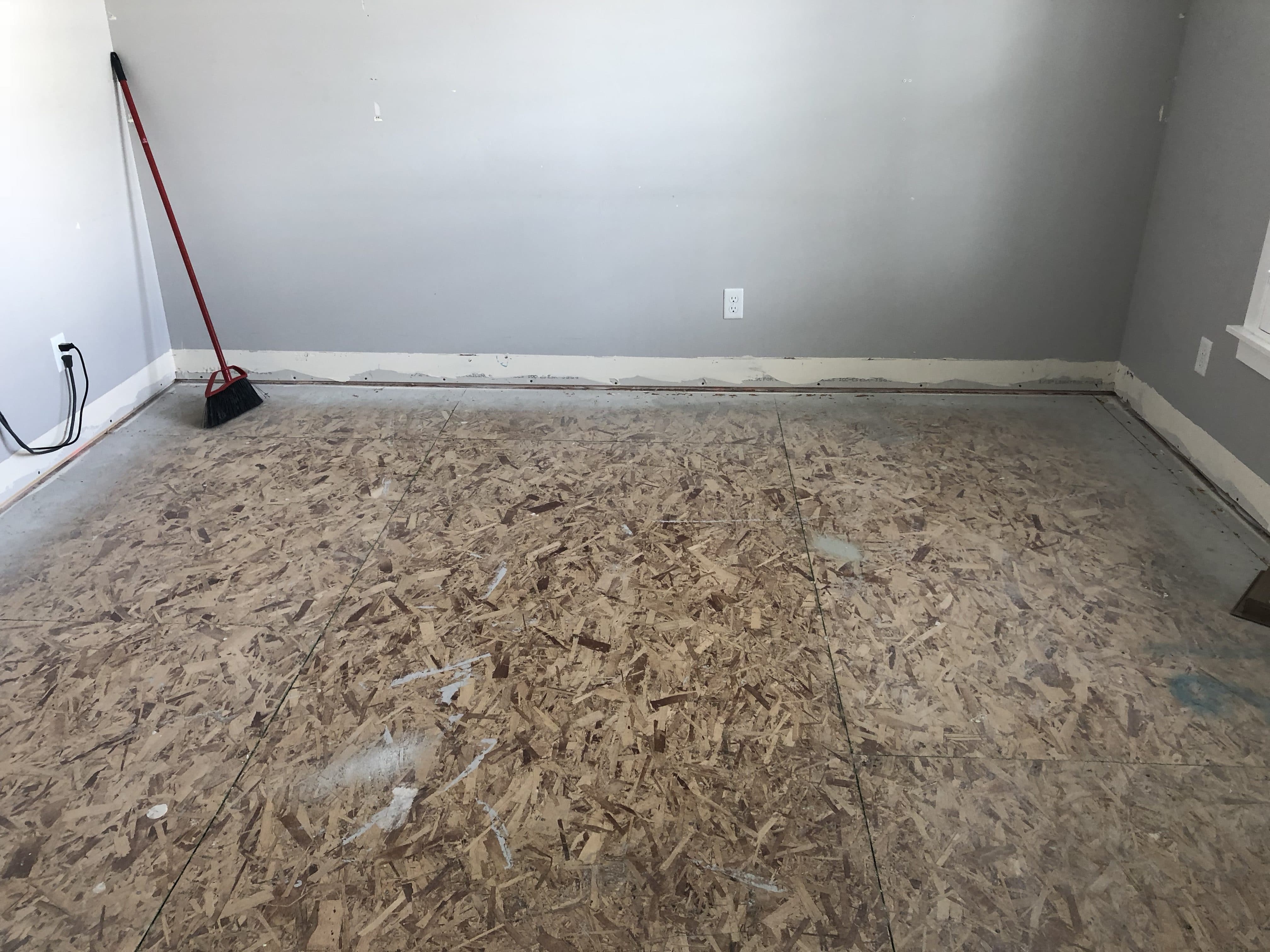 Overall, it can be intimidating to think about how to remove carpet, but it's just a matter of simple steps that you have to break down.  And now that I've laid the laminate down, I'm so glad I did this!  It just makes the house seem so much more elegant.  I'm not totally anti carpeting, but I just feel like it looks bad so quickly.  The carpet in my front room was only 3 years old but my kids had already stained it in like three places.  And part of my big plan is to build built-in cabinets and a desk and I want to do that on laminate instead of carpeting which would need to be replaced in like 5-10 years.  I prefer hard flooring with a rug.  Plus that way you can change up the rug when you want a new look for the room!