Minecraft Birthday Party with Free Printables
My second child turned eight this year and wanted a Minecraft birthday party.  I'm not sure if Minecraft parties are still "cool", but the game is still a huge hit with my son and his friends!  I spent a long time researching ideas for this party and ultimately borrowed ideas here and there from things I read and made my own set of printables.  It ended up being a fun party with only a few mishaps.  I thought it would be nice to share exactly how I did this party, what I bought, and how I carried it out in case you want to do your own Minecraft birthday party.  I didn't find many good free printables online, so hopefully this full set can be helpful!
Decorations:
So I didn't go crazy with the decorations because I focused more on the games.  I figured that would be more fun for the boys anyway.  I bought two lime green plastic tablecloths because I feel like layering two on the table looks nicer than just one.  The nice thing about this is that you can just wrap up the tablecloths and all the trash inside at the end and throw the whole thing out.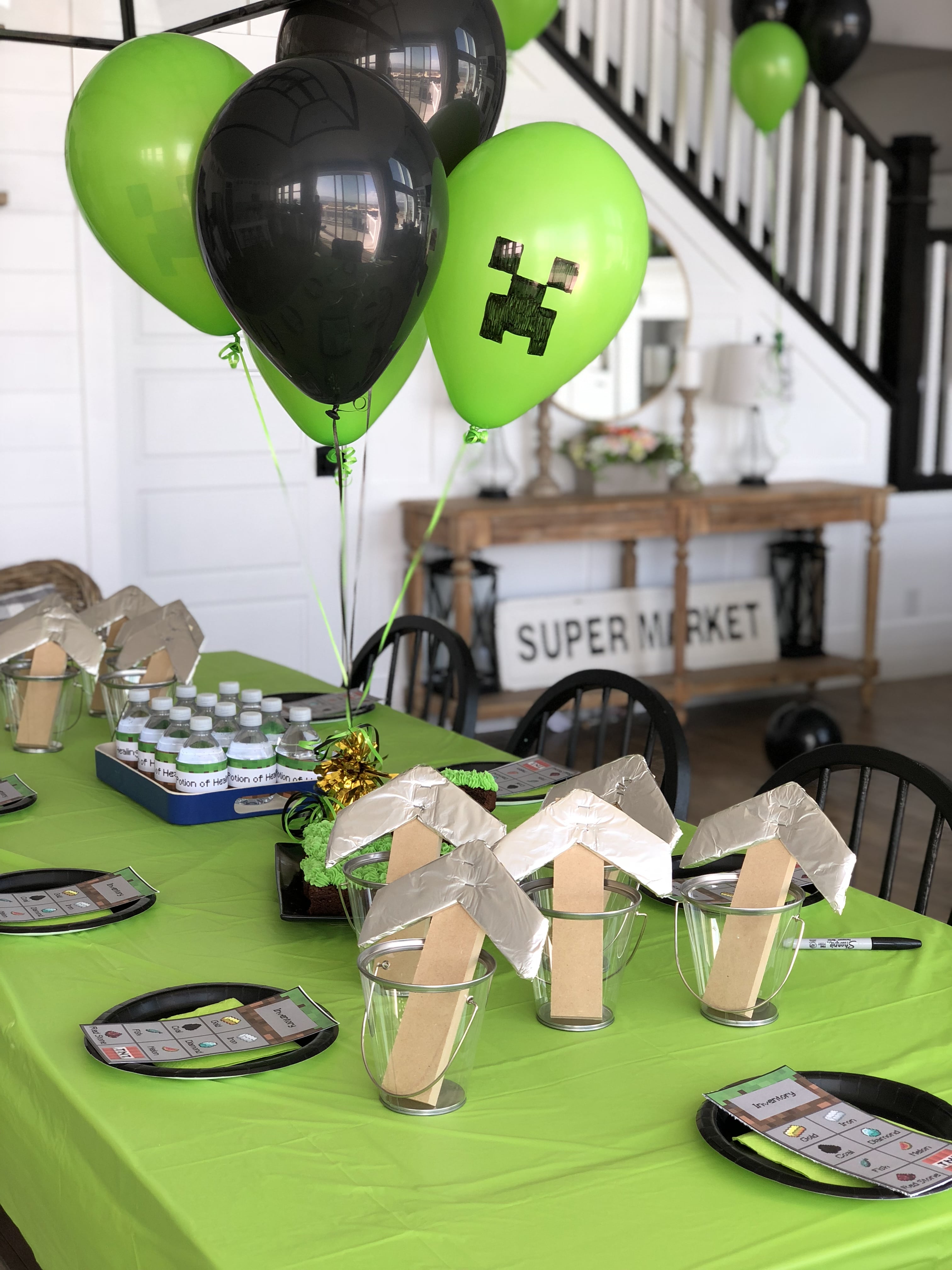 I set out black paper plates with lime green napkins.  I bought green and black balloons and had them filled with helium and drew Creeper faces on some of them with a black Sharpie.  Balloons were in the center of the table as well as around the house.  I also put some of the food and game items on the table for the decorations.
Food:
I made a double batch of brownies and cut them into squares.  I stacked them neatly on a black square plate I have and then made a simple buttercream frosting recipe dyed green and piped it onto the brownies with a 'grass' tip.  I stacked some of the brownies up on top so it looked kind of like Minecraft.  I probably could have added some fun figurines or something but I was running out of time.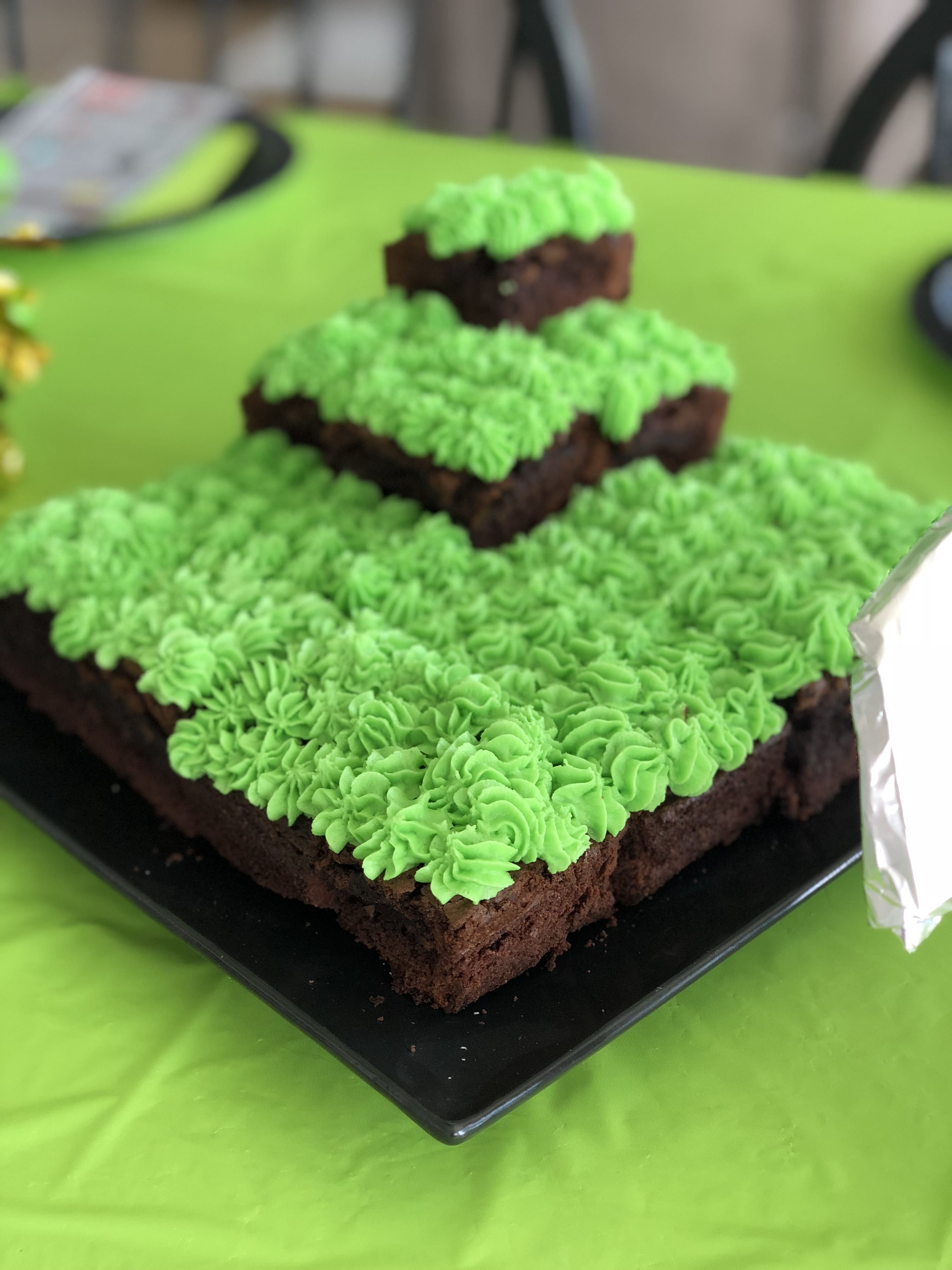 I had also made pizza dough, spread it in a cookie sheet pan and made individual slices of pizza with creeper faces on them.  I forgot to take a picture of this because I did it right in the middle of the party.  In retrospect, I should have had this finished before the party.  The party went by in a whirlwind!  I just cut my pepperonis to be squares so it looked like creepers.  It was a fun effect but I'm not sure the kids even cared.  I could have just bought a square pizza from Little Caesar's or something.
I also had tons of candy but those were for the scavenger hunt and they took them home mostly.  I wrapped kid-sized water bottles with a "Potion of Healing" printable I made.
Games:
There were three games/activities.  The first was a gift unwrapping game.  They had to roll doubles and unwrap a gift that was layered with like 20 layers of gift wrap.  They used oven mitts and spoons to unwrap it.  Every few levels or so had a 'diamond sword' which was a blue rock candy sucker with a printable sword handle taped on the end.  This was a fun way to start the party.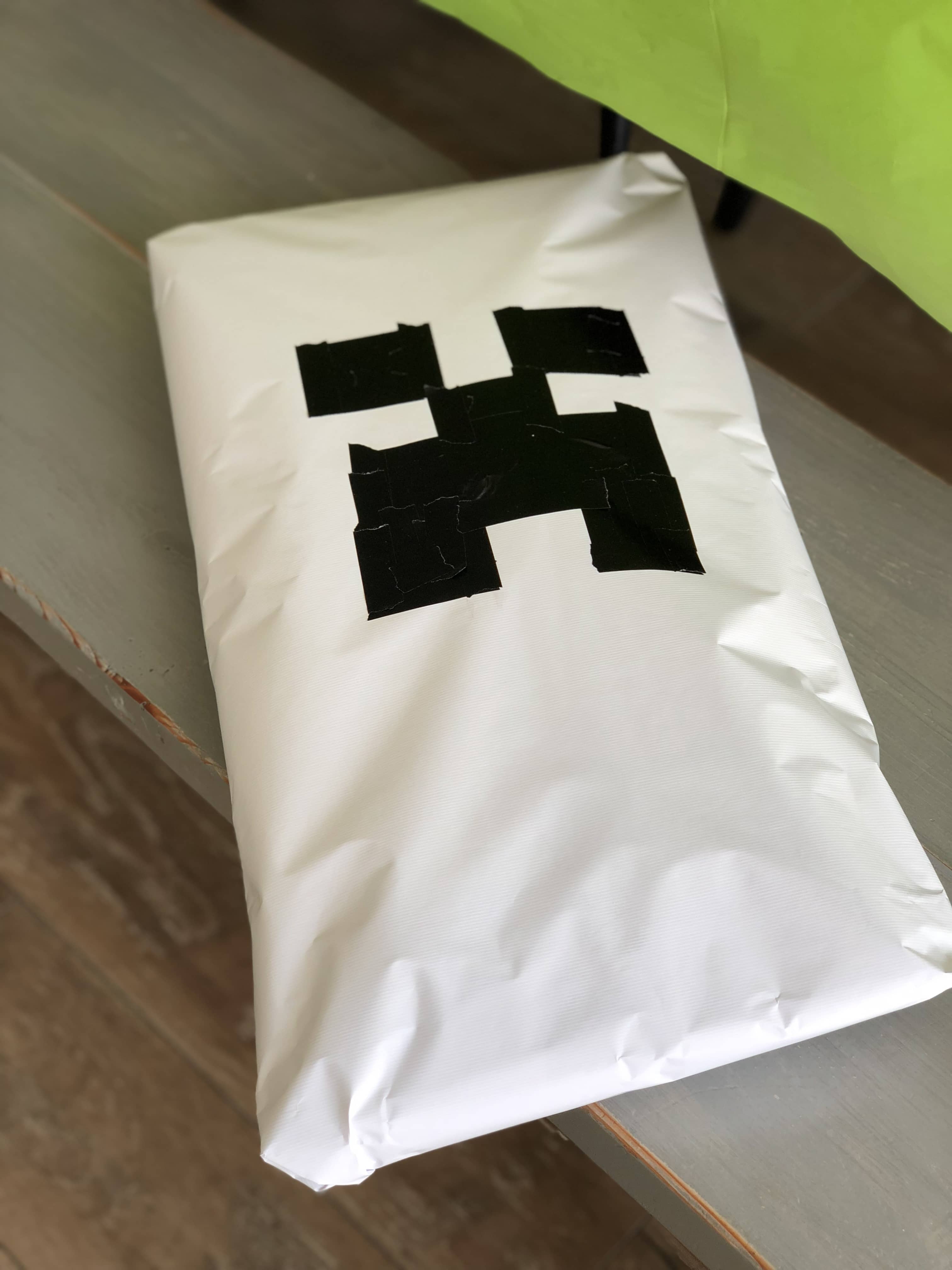 Scavenger Hunt
After that, we did the scavenger hunt.  I bought some clear plastic buckets at Walmart for them to collect their stuff but they were too small, so next time I'd probably do some paper gift bags.  I made some 'pickaxes' from some leftover MDF I had for the handle and I cut a shape out of cardboard and wrapped it in tinfoil for the axe head.  Then I stapled it to the MDF with a heavy duty staple gun.  I thought that was a fun bonus.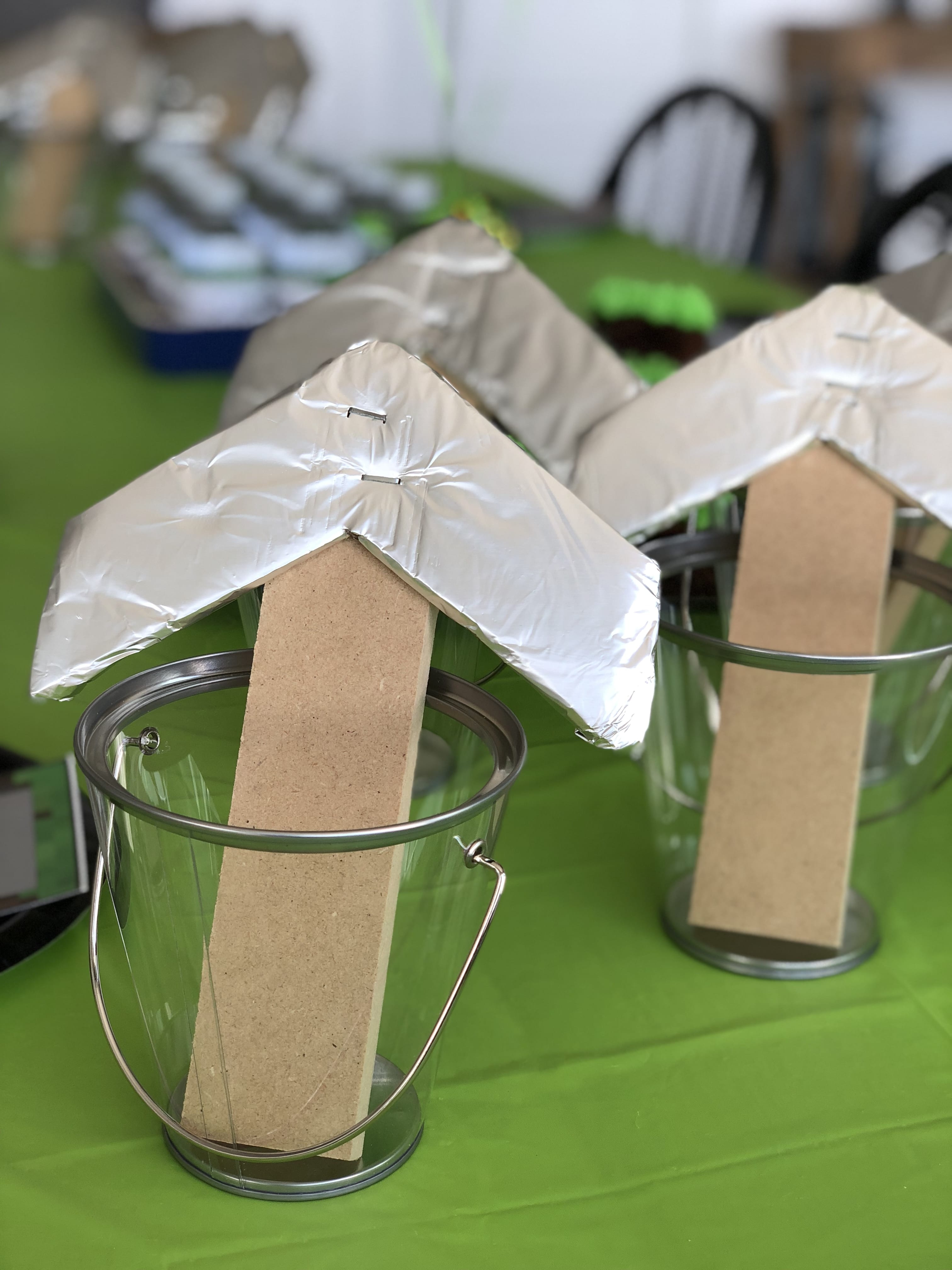 I made 9 clues for each of our 8 items on the inventory list.  Everyone grabbed a bucket, pickaxe, and inventory list and I read the first clue.  The first clue was coal which you get by mining in the 'mountains' so they went upstairs to the playroom where they found the coal 'buried' under a block mountain.  I wanted them to make a fishing pole for the next item so they had to get string from spiders, like in the game.  The spiders were black balloons that they had to pop.  Then they got the poles and string and assembled them.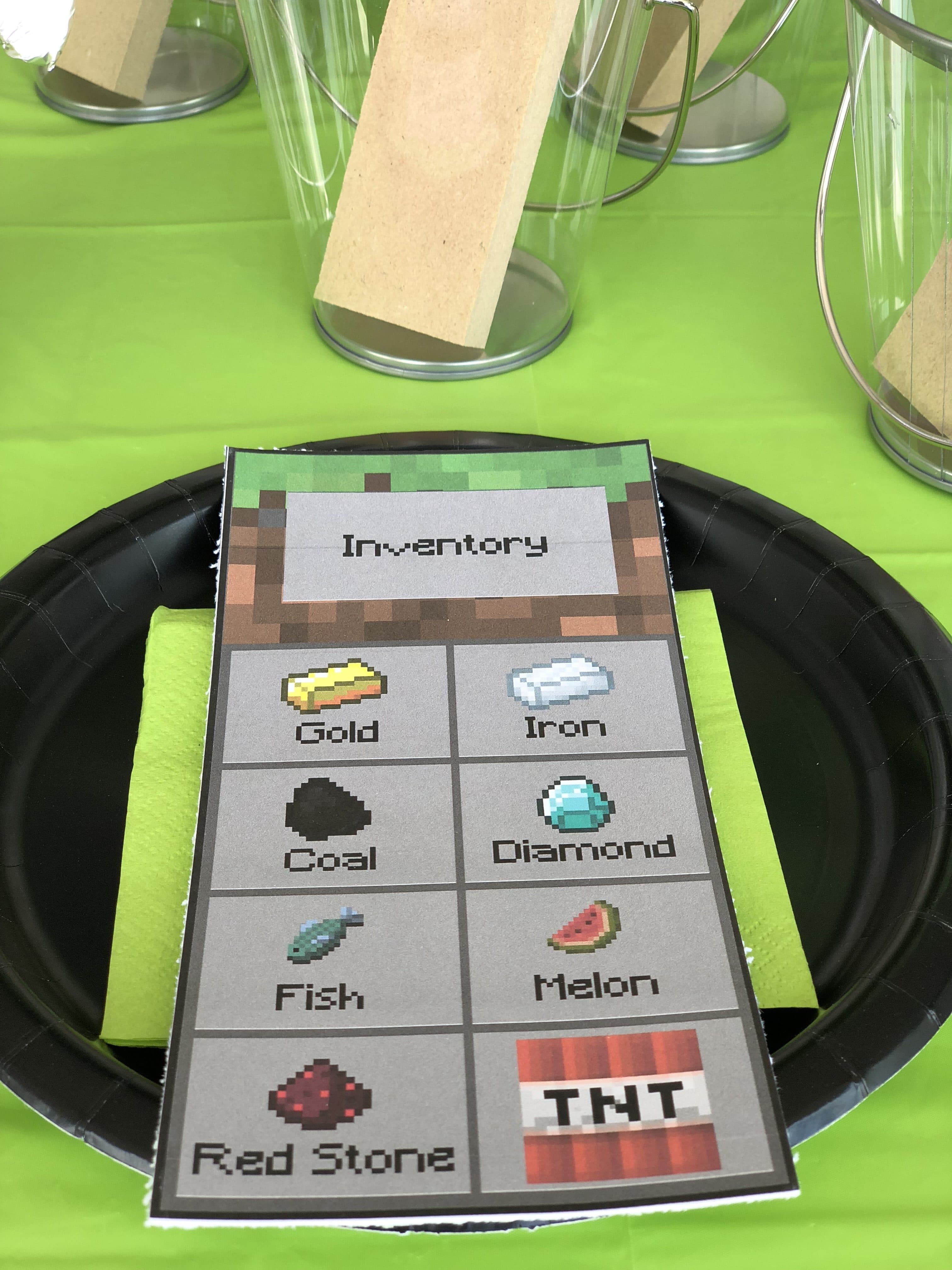 The next item was fishing, so they tossed the string over the fence where my older son and his friend clipped the fish packets.  They got the next clue and kept going.  There were more mining clues, one where they had to dig in some dirt to find (melon), and one where they had to defeat creepers (green balloons to get TNT).  I put three of the inventory items in some chests I made from black tape and chipboard boxes.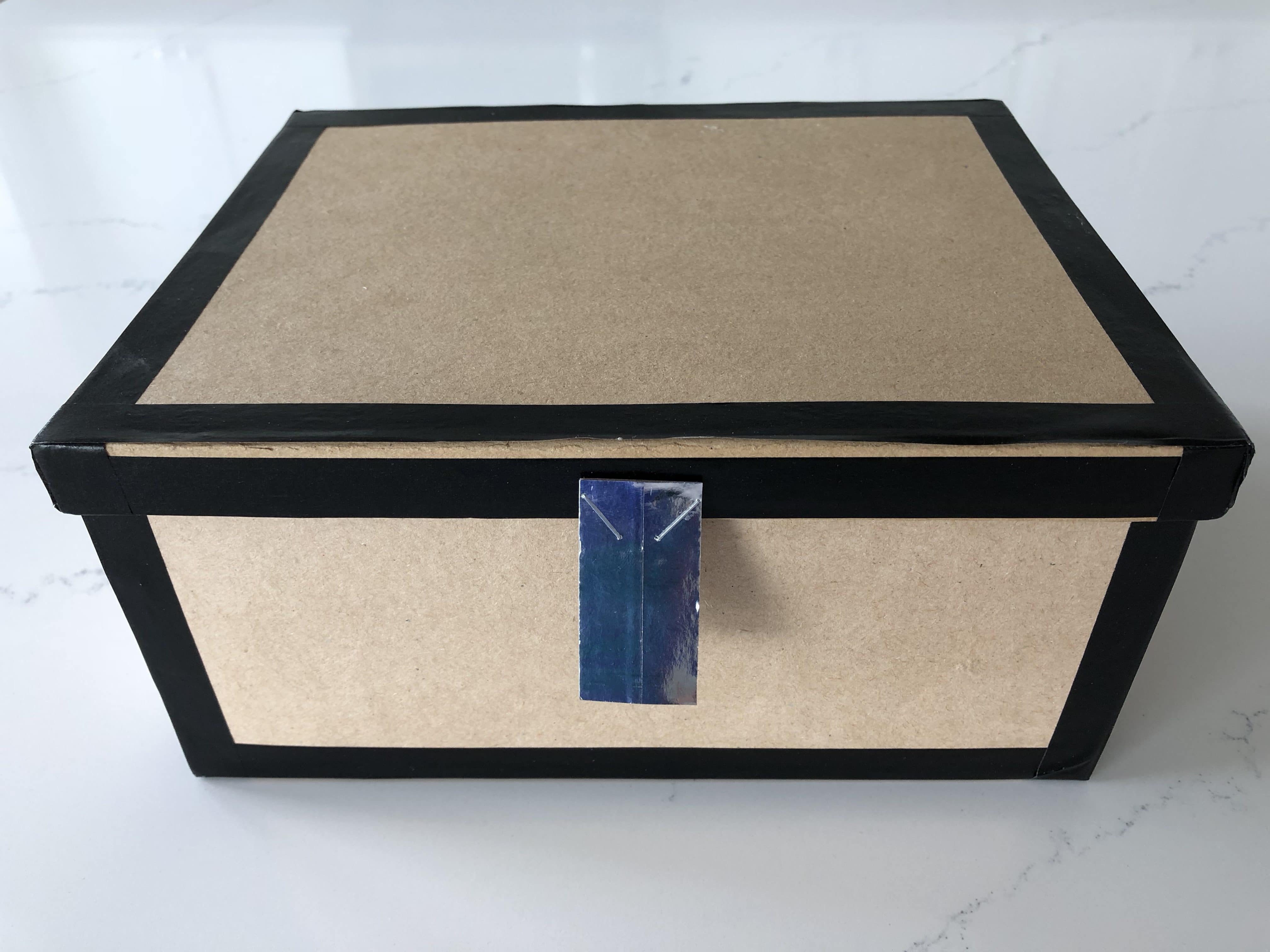 The last activity was making their own slime.  We followed this simple recipe but had a problem because the cheap contact solution I bought didn't have the right ingredients to activate the glue and cause the chemical reaction.  So make sure it has sodium borate and boric acid.  So after I realized that, I got my own personal contact solution and used it and it worked.  We put the slime in these little plastic cups I got from Hobby Lobby with lids.  I printed a special label just for these cups and they worked out great!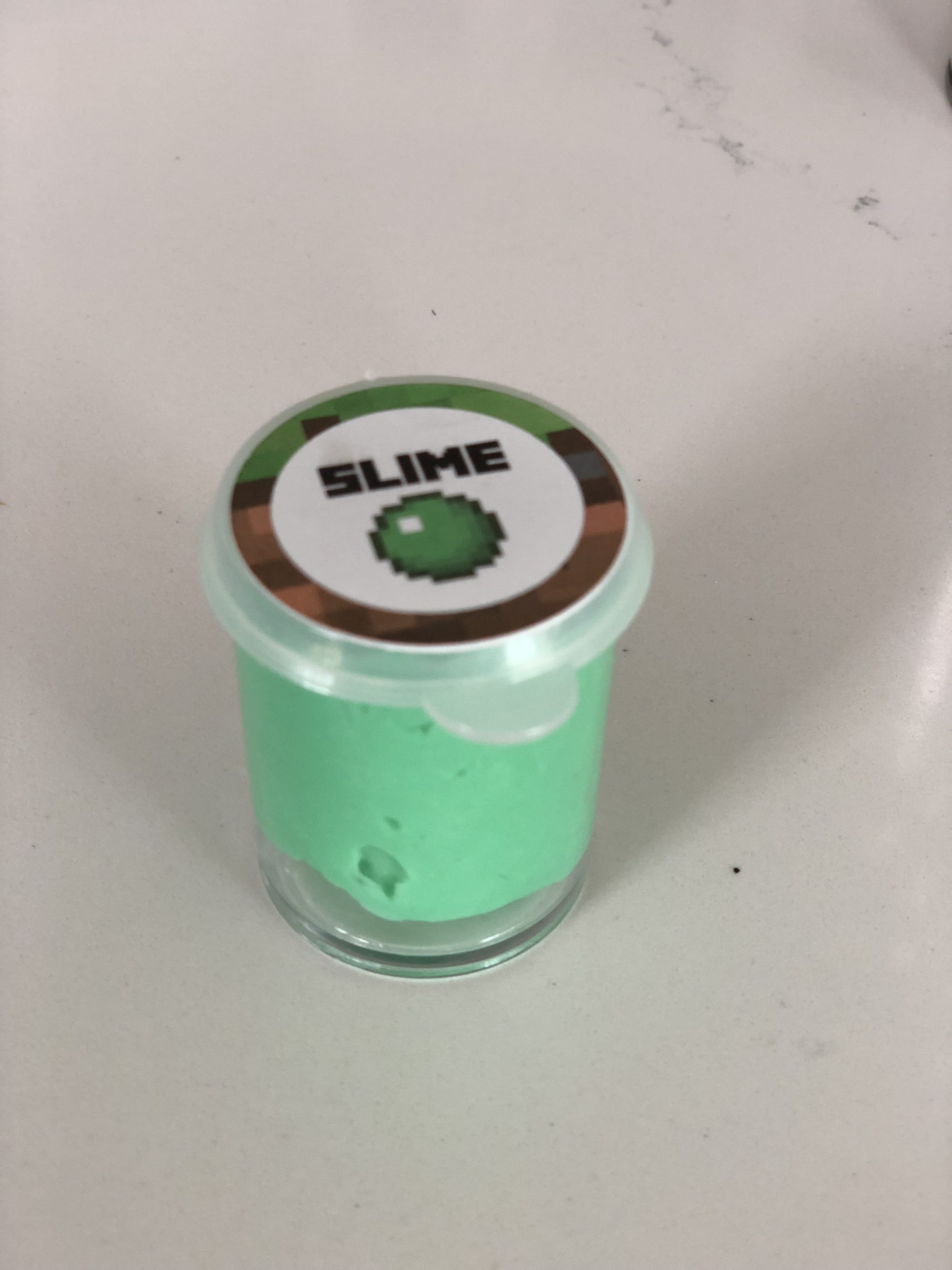 Shopping List (affiliate links)
Rolos or gold nuggets-Gold
Kisses with silver foil-Silver
Sour Patch Kids Melons-Melon
Swedish Fish-Fish
Ring Pops-Diamonds
Oreos-Coal
mini Kit Kats-Red Stone
Licorice-TNT
Small resealable bags 2″x3″ (you can find these in the jewelry section of craft stores)
Stapler and staples
Chipboard boxes and black tape for chests
Blue rock candy suckers
White card stock for printing printables
White glue
Contact Solution
Baking Soda
Green Food dye
Red Gift Bags


And here are the links to all the printables!
These are property of Honeybear Lane, distributed for personal use only.  Please do not sell these printables.
SaveSave
SaveSave