13 Dollar Store Gift Ideas for Christmas
This is a sponsored post written by me on behalf of Dollar General for IZEA Worldwide. All opinions are 100% mine.
I just went to Dollar General the other day to pick up some gifts for my son's Christmas party coming up and as I strolled the aisles, I started seeing all kinds of possibilities for other dollar store gift ideas.  It seems like there are so many people to give gifts to at this time of year–teachers, neighbors, kids, mailmen…the list goes on and on!  And it can get a little expensive so it's really nice to have several gifts on hand that aren't a huge investment but still mean a lot.  Everything on this list I got at the dollar store (and it was all for less than $5.)
Neighbor Gifts
Cooking Utensil with Dish Towel:  This is such a great gift to give and receive because it's practical and cute!  I use rubber spatulas and wooden spoons all the time and the festive Christmas dish towel is something you probably wouldn't buy for yourself.  I also used dollar store items for the wrappings-the cute bells.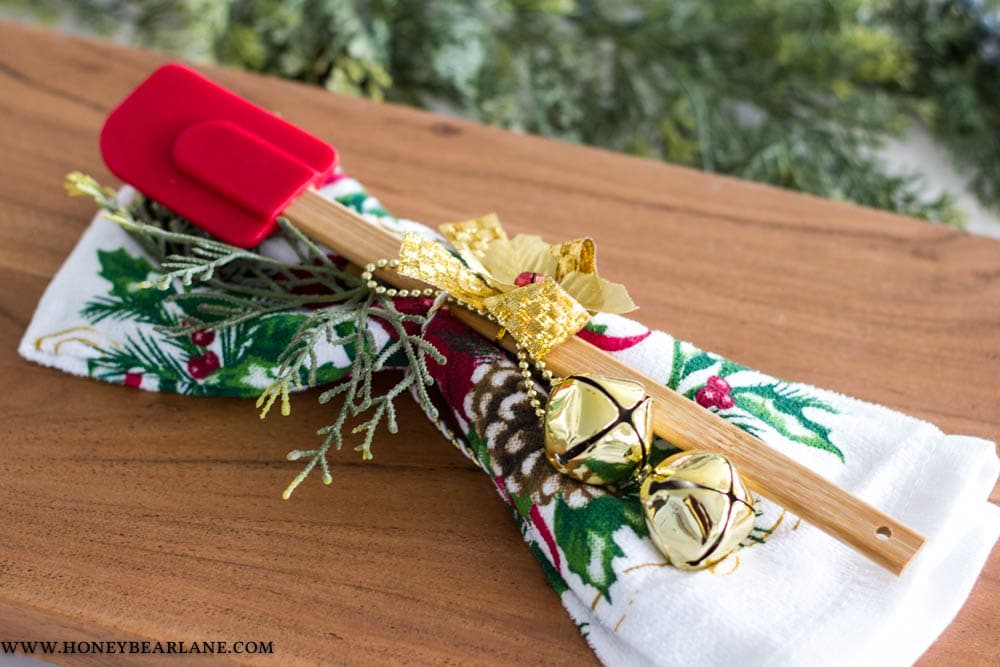 Rubber Spatula with Brownie Mix:  Dollar General had these small 8×8 pan Betty Crocker mixes for brownies, chocolate chip cookies, and peanut butter cookies.  So I grabbed a bunch of them for neighbor gifts.  Paired with a rubber spatula or another wooden spoon, these are great gifts!  You get so many treats at Christmas that it's nice to have the option of having one later.  I also couldn't resist wrapping it up with a couple pom poms.  I told you, this year I am obsessed with pom poms!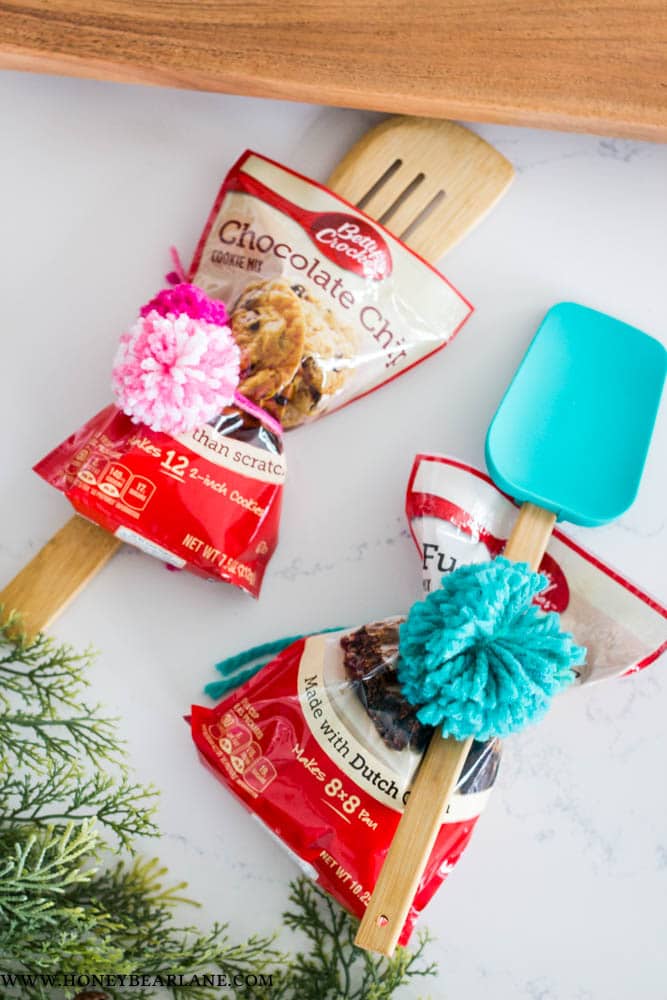 Traditional Treats:  Thin Mints, Piroulines, Butter Cookies, Etc:  You can't go wrong with these traditional Christmas treats and the dollar store has a bunch for $1.  They are super simple and all you have to do is put a ribbon and tag on them and there you go!  As a bonus, these really work for pretty much anyone.  Co-workers, neighbors, the mailman, you name it.  You never have to be caught empty-handed.  That pretty poinsettia is actually a sticker which I also got at the dollar store.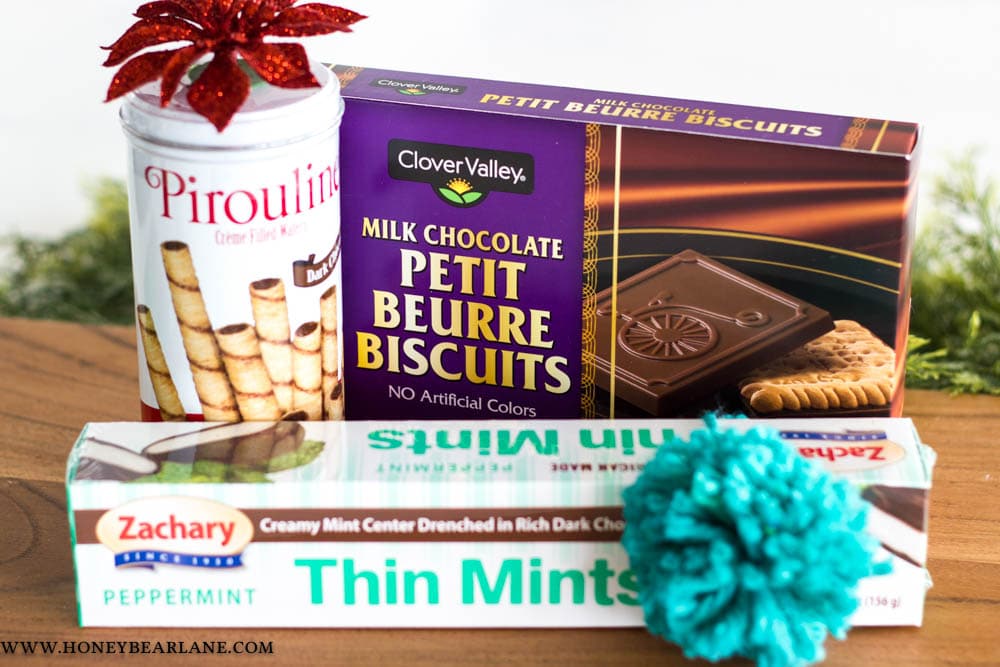 Popcorn and Movie:  You can get this box of popcorn (3 bags) at the dollar store and pair it with a Red Box rental movie code and you have an excellent neighbor gift for just $2!  Or you could even stretch it further than that that give them one of the bags and use the other two for other neighbors.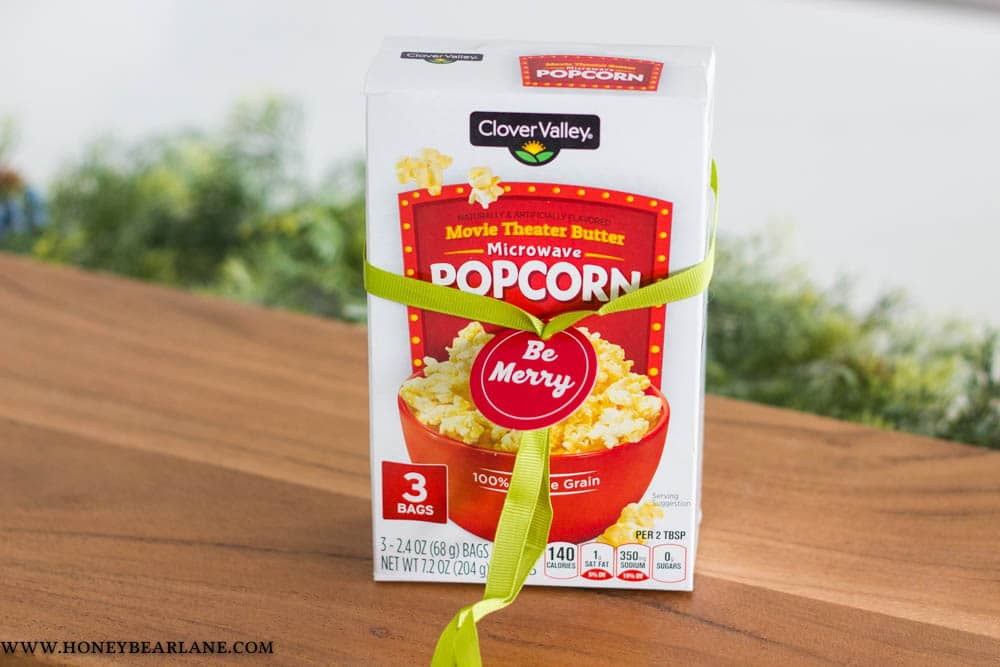 Homemade Cookies in Dollar Store Gift Boxes:  If you want to do the cookie thing, I absolutely love these super cute treat boxes I found at the dollar store!  You can get three boxes for a dollar and fill it with cookies or candy or whatever.  It's so fun!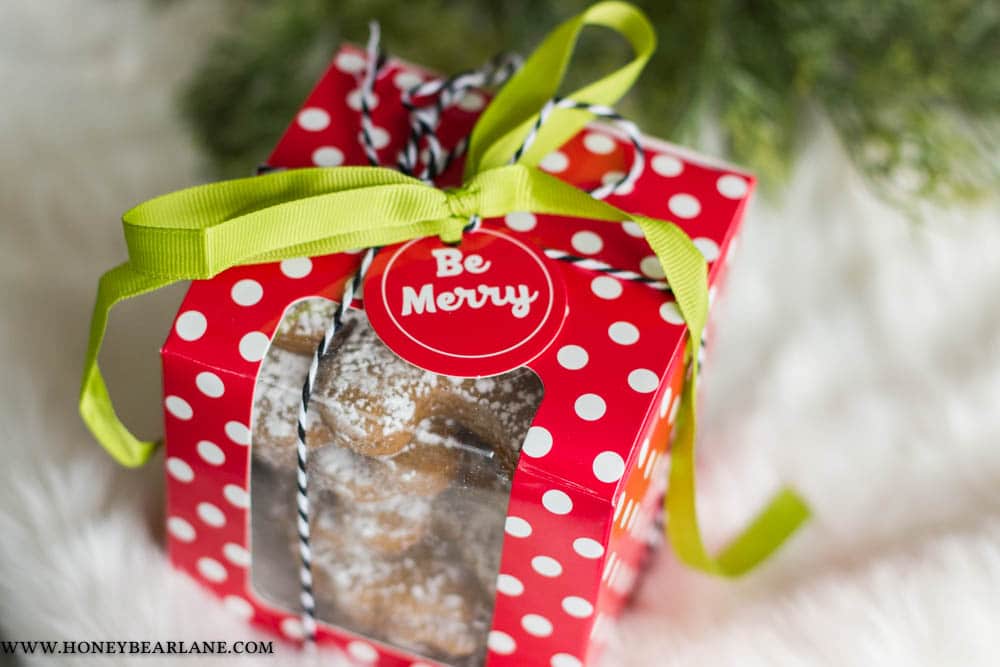 Gifts for Family
Frame with Family Photo:  Need a gift for great-aunt Edna?  You can't go wrong with a framed family photo-it's personal and happy and works with home decor.  Or you could throw in your Christmas card and leave the frame for them to use for something else.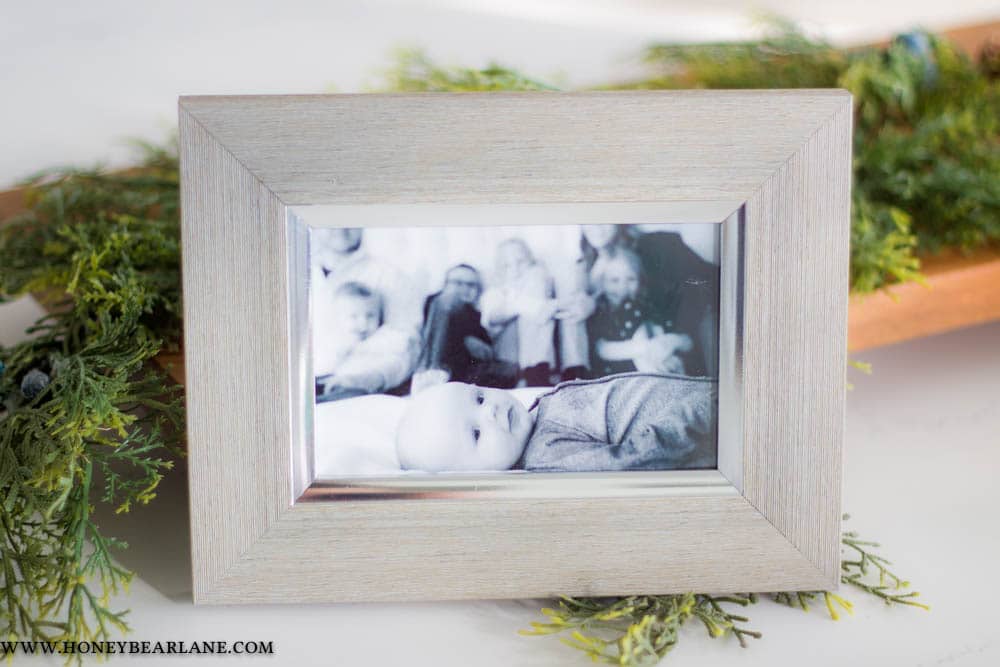 Ornament in Gift Box:  Dollar General had a bunch of cute Christmas ornaments in their Christmas aisle and paired with one of their cute Christmas gift boxes, it makes a quick and easy gift.  You could give these to your nieces and nephews or cousins or whatever, maybe find a way to personalize it or add a special message inside the box and there you go.  Something they will get out each year and hang on their tree and think of you.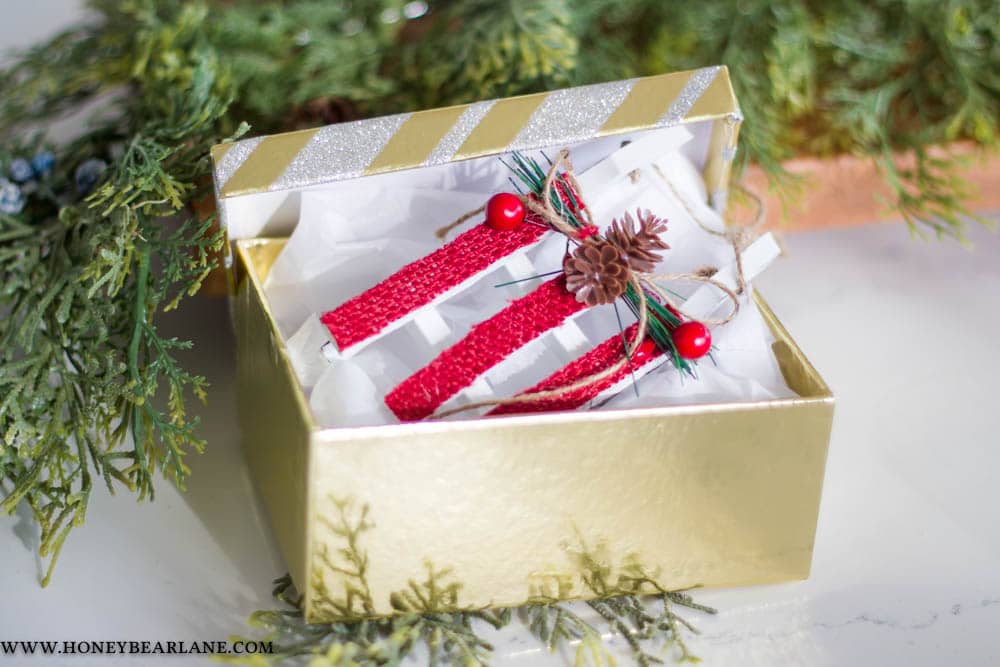 Fleece Blanket:  I found this at Dollar General for $5!  This is such a great gift that anyone can appreciate, especially kids because I don't think they get their own special blankets too often.  It's a cute red and black buffalo check which is so on trend this season.  Just wrap it with some ribbon and there you have it.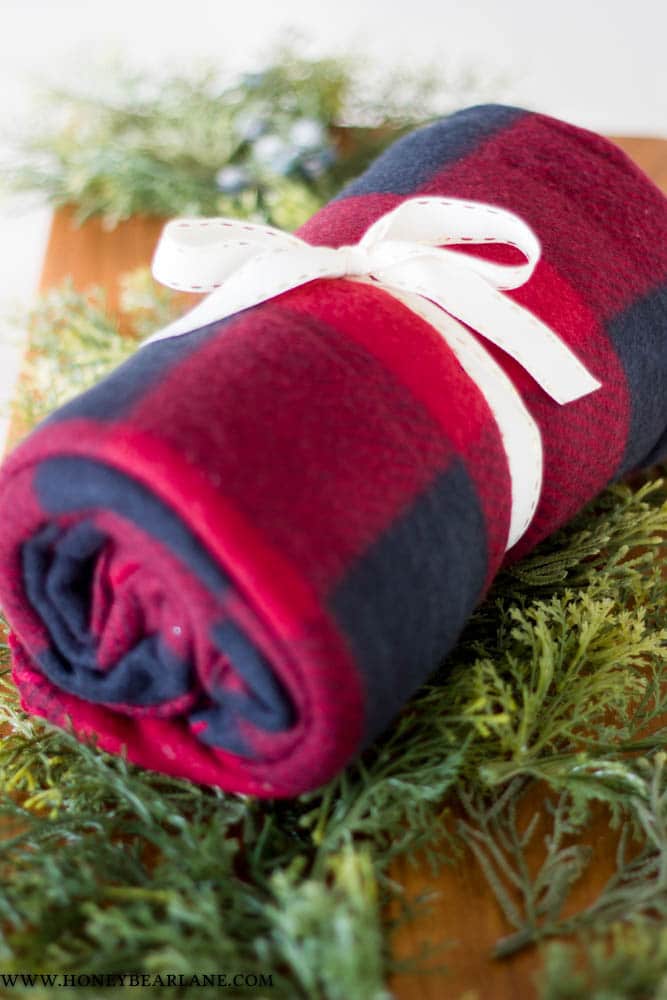 Gifts for Teachers
Pens, Markers, or Pencils Tied Up:  Dollar General also had a bunch of Crayola brand school supplies (crayons, markers, colored pencils, etc) or you can buy pens or dry erase markers or whatever.  Just take them out of the packaging and tie them up in a ribbon.  Teachers often have to buy their own school supplies so they really appreciate getting it as a gift!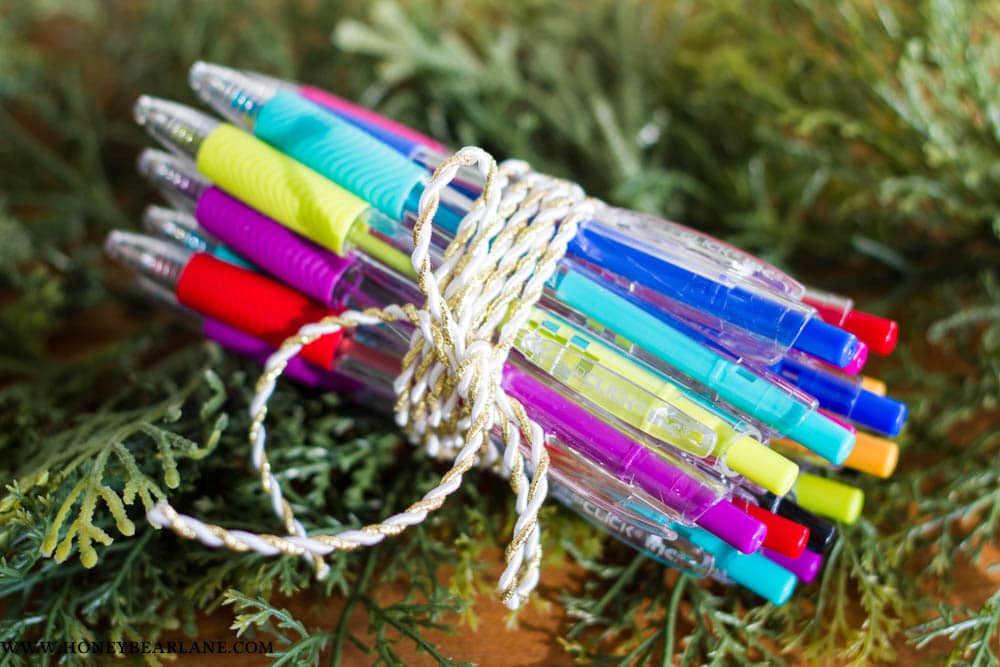 Wrapping Paper with Tape:  I've heard from teachers this is a great gift.  You just buy a roll of wrapping paper and pair it with some tape and you have an instant but extremely useful gift.  I feel like you can never have enough tape at this time of year, am I right?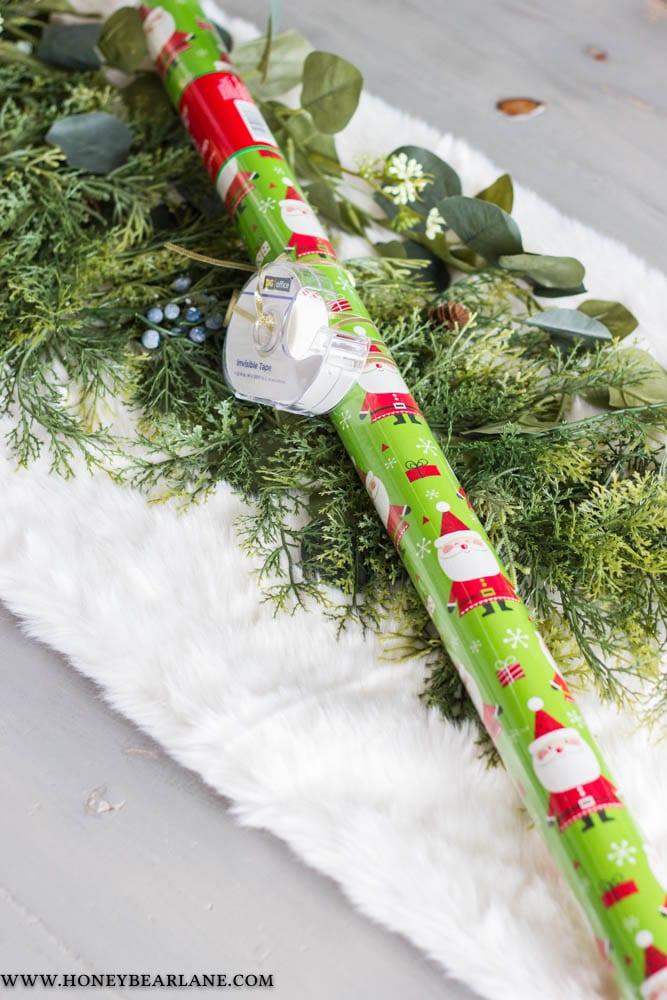 Soap or Hand Sanitizer:  I think teachers probably prefer hand sanitizer but I couldn't pass up this cute gingerbread scented soap I found at the dollar store.  Just tie a ribbon or pom around it and you have a simple and useful gift.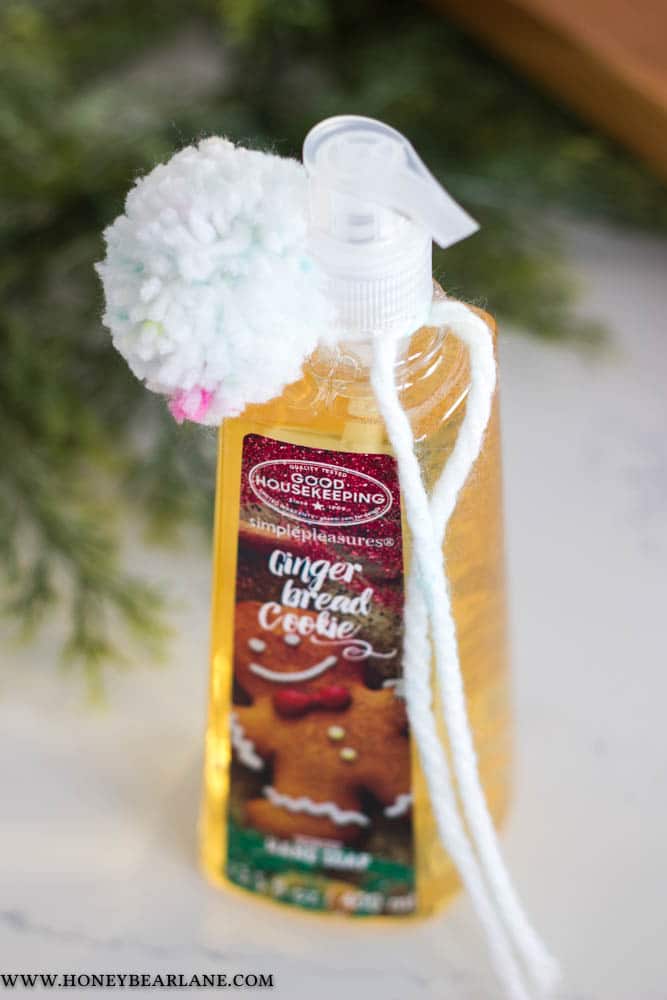 Gifts for Kids, (or Stocking Stuffers)
Small Christmas themed games, toys, etc:  Dollar General's Christmas aisle also had a ton of little stocking stuffer type gifts for kids.  Little games, a light-up bracelet, Christmas erasers, etc.  They were all super cute and I'm going to use them in my kids stockings as well as for my son's Christmas party gift exchange.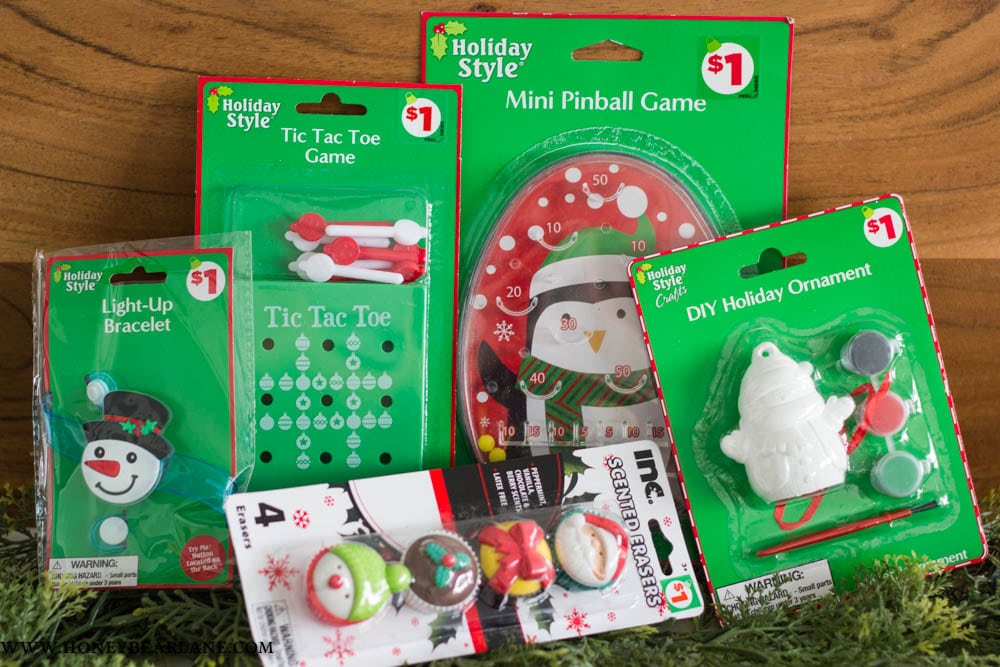 Word Searches, Puzzle Books, and Coloring Books:  My kids love puzzle books and word searches.  They love to do them in their downtime or in the car on a trip, or even at church.  They have a whole section for these at the dollar store so you can get a whole bunch for their stockings or to have them give to their friends.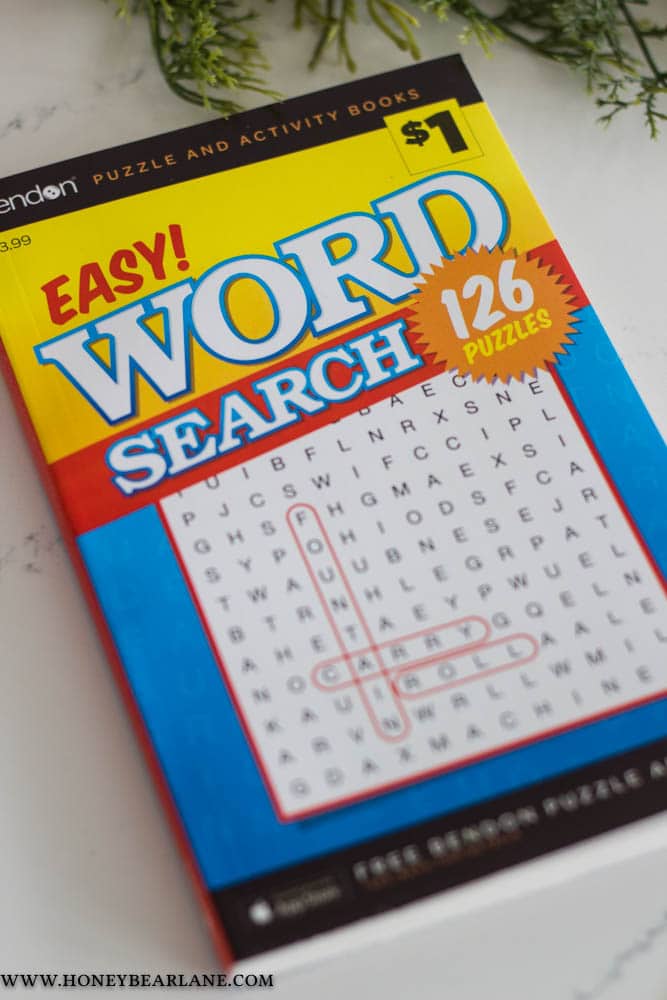 There's my list!  There are so much other items you could do as well…water tumblers, coffee thermoses, other school supplies, really the list goes on and on. Dollar General has a great selection of stuff, including home decor, kitchen, bath, and party items.  And they provide home decor inspiration on its Explore More page and Pinterest page. Explore More DG Home Goods
MORE GIFT IDEAS:
20 Thoughtful Neighbor Gift Ideas                                       7 Easy Neighbor Gift Ideas