5 Steps to Make Your House Reflect Your Style
This is a sponsored post written by me on behalf of CORT Furniture Outlet for IZEA Worldwide. All opinions are 100% mine.
Owning my own home has been my favorite thing ever. We rented for a long time and even though I made a lot of efforts, I don't think I was very successful at making those places really reflect my style. Sometimes I wonder if I would be able to recreate the homey feel I have in my house now if we moved again. If you're in the same boat, check out these five steps to make your house reflect your style.
Step 1: Use Favorite Decor Styles as Guidelines
No one wants to be tied to a certain decorative styles.  But most people do gravitate towards one.  Figure out what those styles are and then use them as loose guidelines.  You can easily search those styles on Pinterest and Instagram and get ideas for what you do and don't like.  Once you have a basic idea, try to stick closer to those styles to create a more cohesive look.  I usually define my style as Modern Farmhouse, but I love elements of Mid-Century Modern and Traditional.  I have committed to Farmhouse style which helps my house feel styled, but I'm not afraid to bring in something different here and there.
Step 2: Decide on a Color Scheme
My favorite color scheme is neutral with one or two pops of color.  This is by far the easiest and most flexible color scheme to work with.  It makes it easy to switch out the colors when I want something different and to decorate with different colors, particularly for the holidays.  Right now my color scheme is navy blue with pops of pink and coral.  It's perfect for the summer but it also works great for fall since orange is a complementary color with blue.  This color scheme will be great for most of the year, but when I want a change I can easily make it.  However, if you have colors you are certain you will love for a long time, go for it!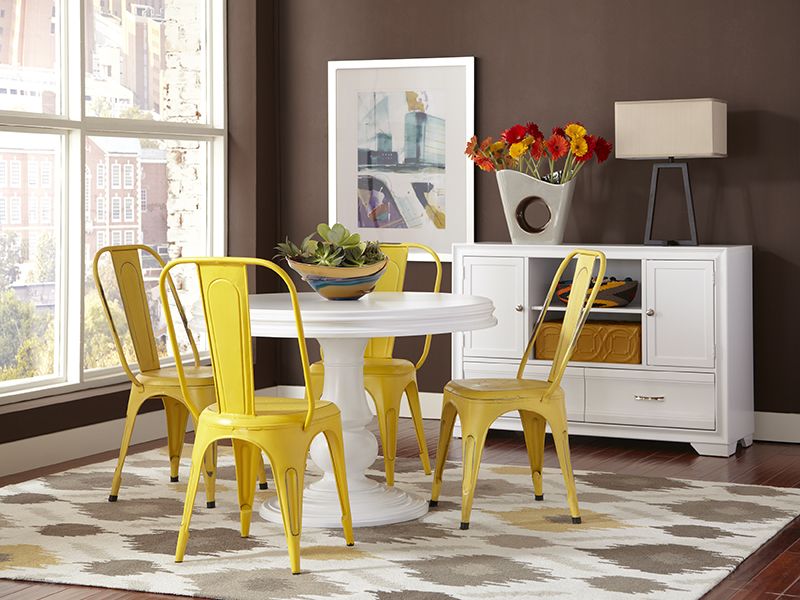 Step 3: Buy the Right Furniture Pieces
Buying furniture is the most expensive part of decorating.  This is why I usually buy my large pieces in neutral colors.  So if you're looking for discounted high quality furniture, you visit a CORT Furniture Outlet and discover some pieces for amazing deals. I found this huge outdoor sectional for only $299!  Just add a few more items (like a sisal rug and the plant I also discovered at CORT Furniture Outlet) and you have the beginning of a cozy outdoor space!

I was curious about this CORT Furniture Outlet, so I actually went and visited the one that's in my neck of the woods.  They have a great selection of brand new and also previously-leased furniture items for up to 70% off.

Here is a little room I put together using all stuff I found on the CORT website.  You could end up with a totally high-end looking room without having to pay the high-end furniture prices!  To get more ideas, check out the CORT Blog
Step 4: Add in Accessories
Once you've gotten your main pieces, it's time to bring the space to life with accessories.  This is my favorite part!  This is an easy way to bring in color, pattern, and texture.  I love decorating with plants, both real and faux.  I buy some pretty throw pillows and throw blankets and layer them on couches and beds.  I love getting trays and baskets and filling them with books, plants, and decorative objects.  You can actually get accessories at CORT as well!
Step 5: Add a Personal Touch
To really make your house feel like a home, you have to bring in personal items.  Yes, this can include family photos, but it's more than that.  It's displaying items that are special to you, whether its family heirlooms or just something that has a fond memory attached to it.  My favorite personal items are things that are sentimental as well as decorative, like old books that belonged to your grandparents.  I have a decorative object that is special to me because it belonged to my late sister-in-law who passed after giving birth to her third child.  That will alwaysbe special to me.  Personal items can also be things that you personally crafted, like an upcycled cutting board turned serving tray.  When you're surrounded by well-crafted handmade things, it makes you feel so proud of your house.  You literally poured blood, sweat, and tears into creating it. Just follow these five steps and soon you'll find that you're living in a house that reflects your style!
Be sure to pin this for later!