DIY Smart Home Lights with Halo
This is a sponsored post written by me on behalf of HALO. All opinions are 100% mine.
My husband and I love all things Smart Home related. We especially love everything DIY smart home, since we love saving money by doing things ourselves. My husband is great at picking up how to do things just by watching videos, so he has been slowly switching out our regular lights and electrical things around the house with smart home versions. When HALO Home contacted us to see if we wanted to try out their HALO Home Smart Lighting System, we jumped at the chance to try out their stuff. And so far, it's a win! We got a few different smart home lights to try out. Some hard-wired light switches as well as a battery-powered 'remote' you can stick anywhere. We also got some can lights. Since my husband has done lots of electrical re-wiring himself, he is comfortable doing it himself. We've provided some instructions here, but we aren't experts. If you aren't comfortable doing it yourself, hire a professional electrician. That being said, it really isn't hard at all! Especially the can lights, if you can believe it. *Make sure to turn off the power via breaker box to each switch and electrical function before doing work!
Shop the HALO Home Collection

DIY Smart Home Light Switch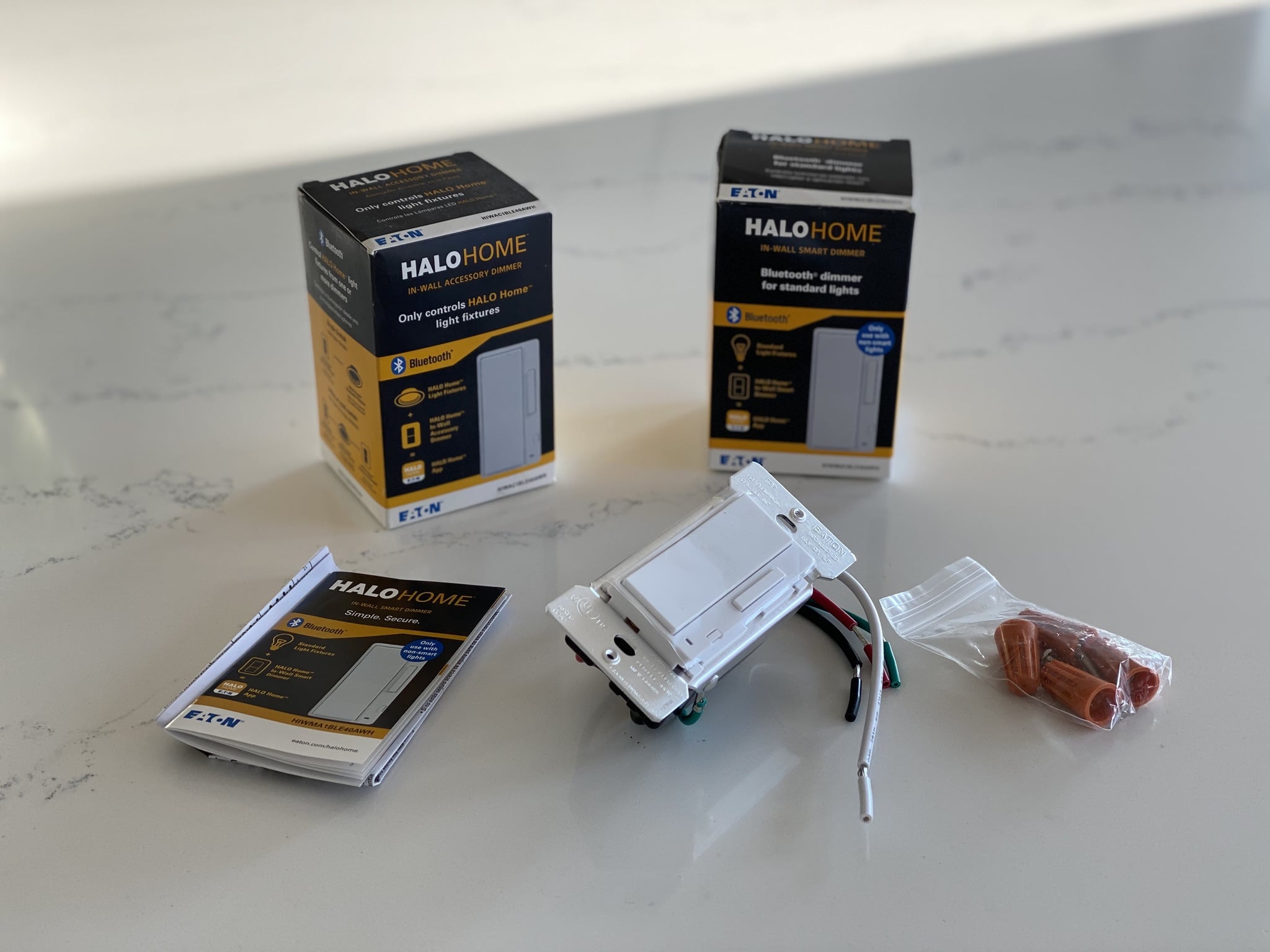 We started with the HALO Home Anyplace Bluetooth® Dimmer. My husband has rewired a lot of light switches but he did say that they were the easiest ones he's ever done. Here's a quick video showing how he did it:
Once it was installed, he set it up in the app:
Now we can schedule this light to be on and off whenever we need, but what we really liked was the dimmer on it. The light we installed in this room is beautiful but quite harsh. So we loved being able to dim it without having to get special light bulbs.
He also used this handy battery-powered HALO Home Anyplace Bluetooth® Dimmer for the same room because the only light switch is on the outside of the room (it's a front office room with French doors.)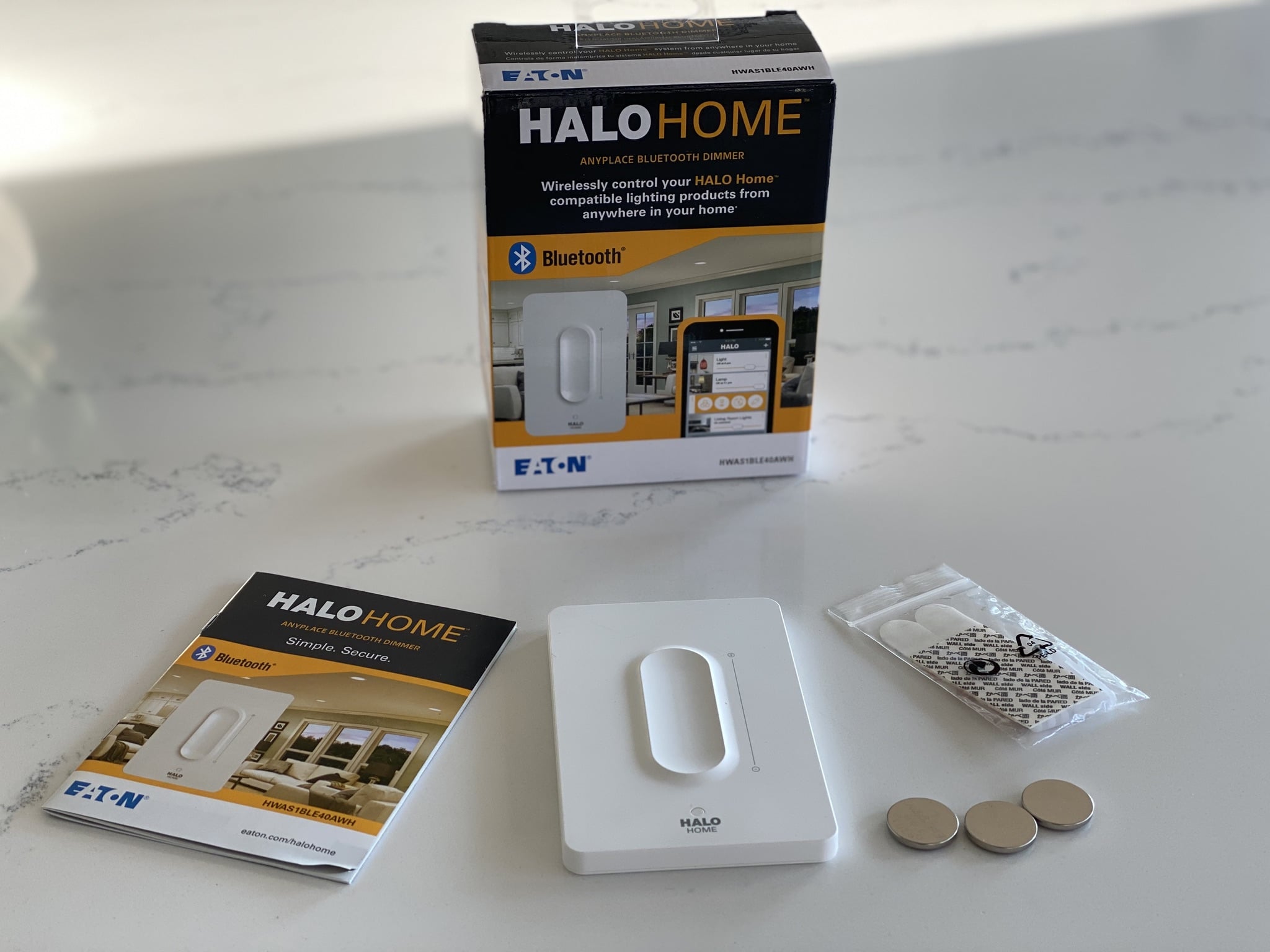 We put this HALO Home Anyplace BlueTooth® Dimmer on the office built-ins so we can access the lights from the desk. My husband really loved this little guy. He said it was designed so well. It's just a touch slide, so you just swipe your finger up or down to dim. He said even the way the sticky tape was adhered was smart. After you've got them all installed, you can set up the HALO Smart Internet Access Bridge which connects it to Alexa or Google. That way you can easily call out "Alexa, turn off the office lights." or whatever and it will be done. And with the app, you can easily control your home lights no matter where you are in the world, which is nice for when you're on vacation and you want to make it look like you are still home. Shop the HALO Home Collection
DIY Smart Home Lamp Plug in
For this, all you have to do is plug it in the outlet and then plug a lamp into that plug. Then you can set it up on the app to have a schedule so you can have the lamp turn on and off during times of the day and night. You can change the brightness as well, so you could have it more dim in the late evening or early morning or whatever. We actually used one of these to plug in our Christmas tree lights which is so great because now I don't ever have to turn on the tree lights. But if I wanted to turn them on when they are scheduled to be off, there is a little button on the side for that.

DIY Smart Home Can Lights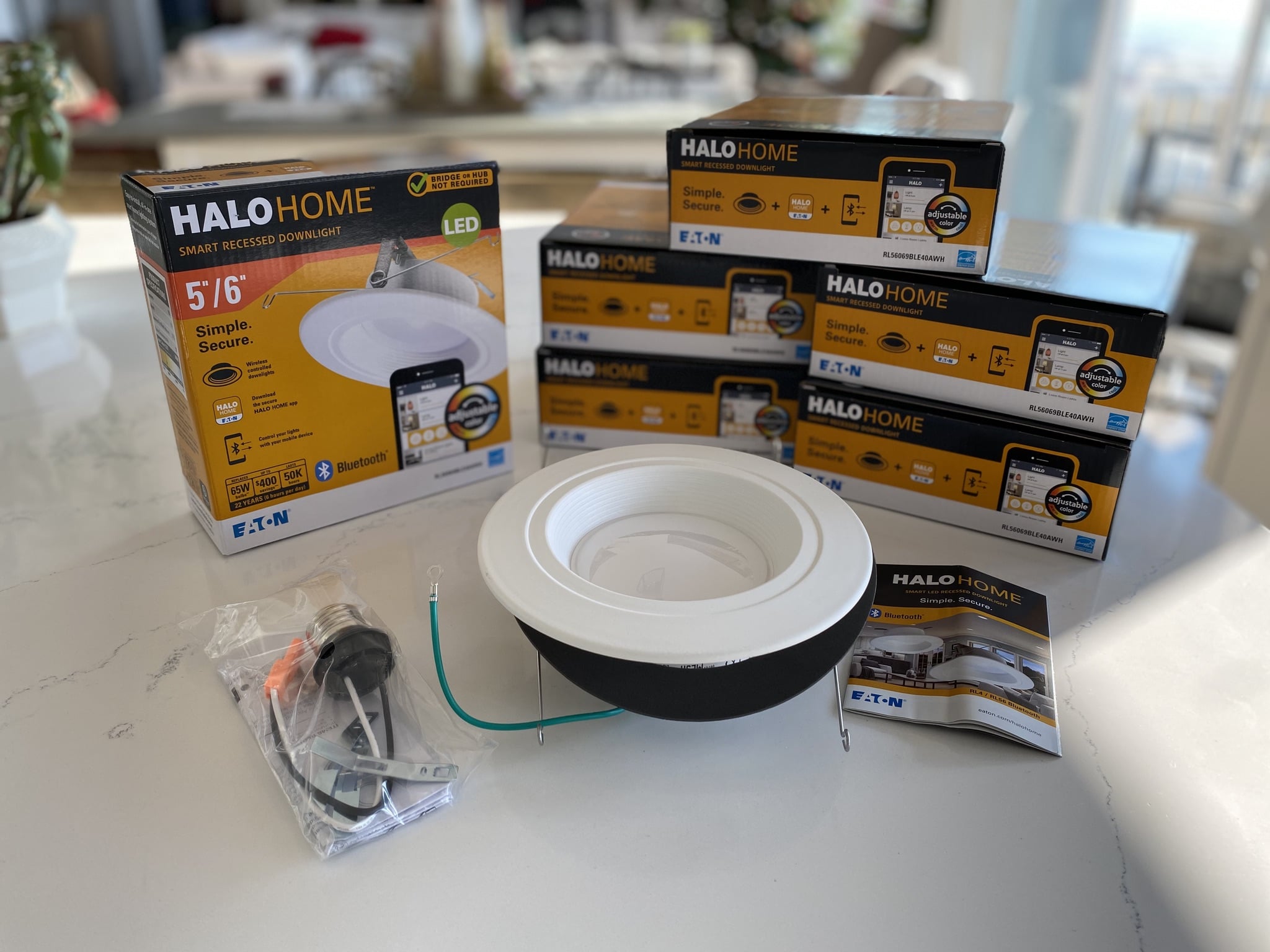 My husband was totally geeking out about these HALO Home Smart Recessed Downlights because he was worried it was going to be a whole lot of rewiring and effort. When he opened up the box, he saw that all that was required was a simple reattachment of wires, he thought it was really cool. Here's a little photo step-by-step for you so you can see how easy these HALO Home Smart Recessed Downlights are to switch out.
Easy as pie. You can also view this video which is also very helpful. Once you connect them to the app, you can setup the automation, but what's cooler is that the light bulb is included within the light and you can switch it from daylight to soft white and more. You can easily set up the lighting to whatever task is happening–daylight for homework and studying or working, soft light for relaxing or visiting with people, etc. There are ways to group all these individual can lights together so they work as a whole, and you can designate 'scenes' so you can easily switch the lighting from work to play.
Here is a picture of some of the items we used in our DIY smart home lighting system, from left to right: HALO Home Plug-in Lamp Dimmer, Smart Lighting System (replace normal light bulbs in lamps to control brightness and hue), HALO Home Bridge Cube and Multi-Room Scene Keypad.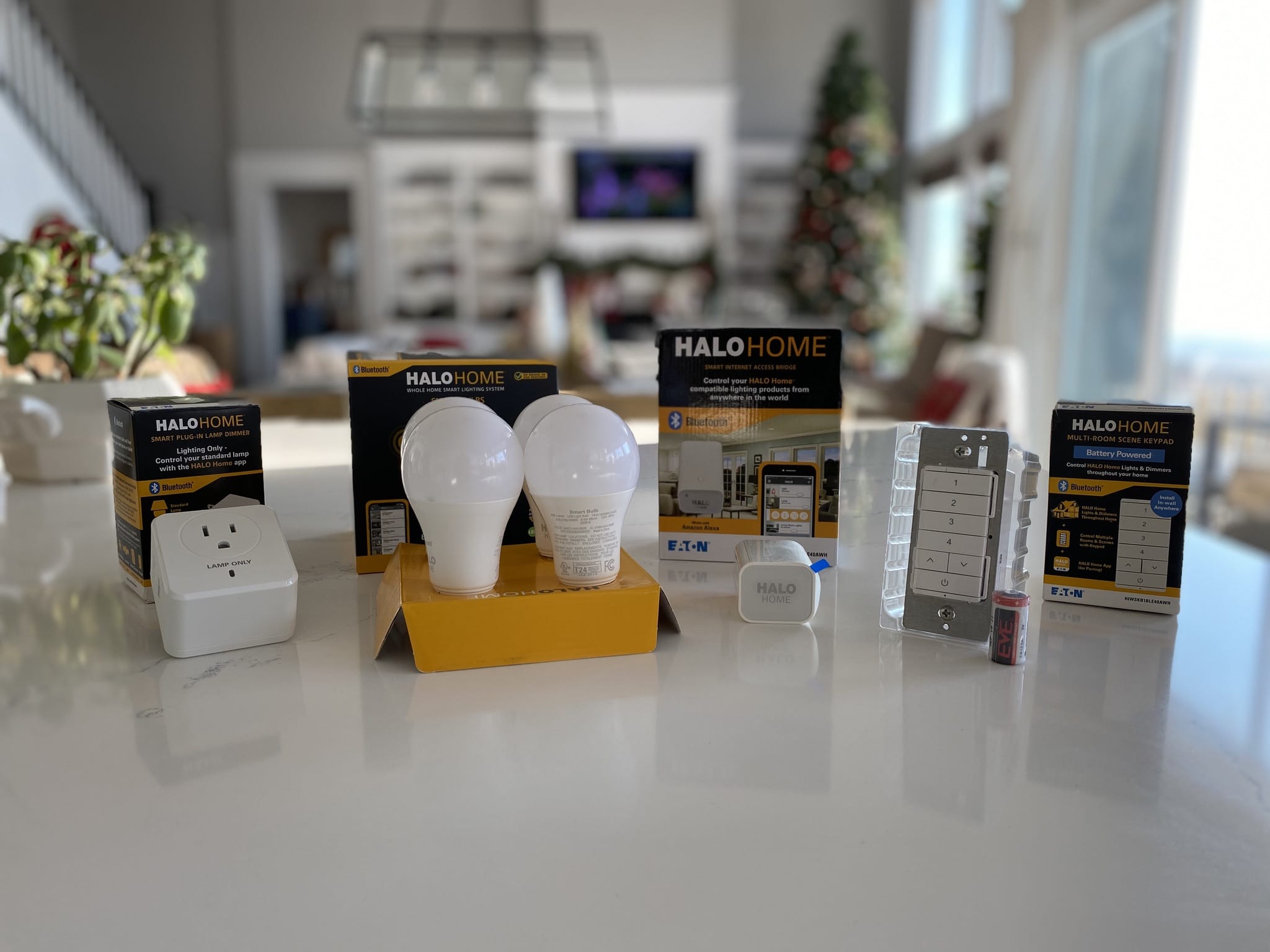 This last item is an easy to use HALO Home Multi-Room Scene Keypad that makes it easy to group your lights together and then be turned on and off at the hit of a button, location in one convenient spot in the house. You can install it anywhere but cutting a rectangle in the wall, installing the orange anchor, and then screwing it in on top. Cover with a basic switch plate.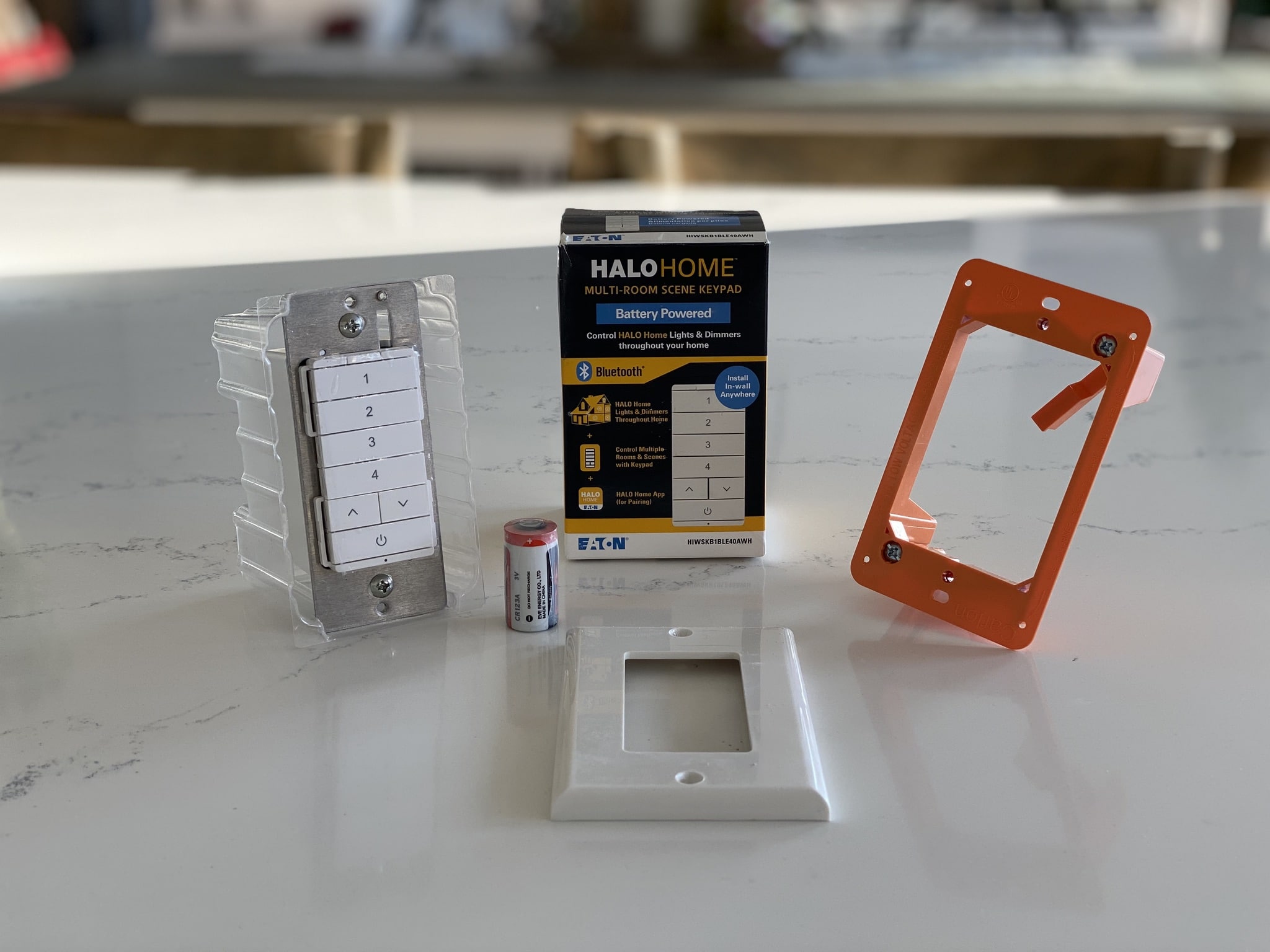 We love the HALO Home Smart Lighting System. With so many smart home options to choose from, it's so nice to have a company that has well designed products that are easy to install and use.