Classic Christmas Home Tour 2019
This is by far the latest I have ever posted my Christmas home tour.  And this is probably the latest I have ever actually finished decorating.  Being a blogger, I'm usually done before Thanksgiving.  But this year I was scrambling to finish my front office, which you'll get a sneak peak of in here.  I'm not quite ready to do a full post on it yet, but hopefully soon!  Between that and taking care of my family who all seem to be cycling through each and every sickness out there, it's been a rough 2019.  I will be ready for the new year!
As much as I was dreading putting up Christmas this year, I am so glad I did it and it really adds so much to the house and that Christmas feeling.  I'll start in the family room, which is where the bulk of the decor is.
I brought back lots of red this year.  I haven't done it for several years because I wanted to try some new color schemes, such as forest green and neutral or rose gold and champagne.  But there's nothing like classic red for Christmas.  I have always loved red, and it's just perfect at Christmas.
I went to hanging up my family's stockings from the get-go.  They aren't all matchy-matchy and might not be the most photo worthy, but I feel like it makes it more personal and homey.  I was trying to simplify as much as possible (and yes, believe me this is simplified, haha!) We didn't even pull out our big heavy ladder to decorate the top of the tree, but you don't really notice.
The garland was yet again, redone.  I have done new garland every single one of the five years I've lived here.  But this year I think I've got a repeatable one.  I actually did a blog post last year on how to hack faux garland, but to be honest, it was pretty time intensive.  It was a lot of layers.  And then, the day before a huge Christmas party I was hosting, half the lights went out.  I knew I would have to redo it anyway.
I pulled apart all the garland and then doubled up on the Pine Garland with blueberries from Michaels (I also had to buy 5 more to complete it).  I ran new lights through it and between that and the two garlands intertwined, it looks great.  It looks pretty realistic but without the mess.  I just made simple red velvet ribbons and tied them throughout.
I loved bringing out my red sawtooth star quilt again.  I haven't used it in several years, but it's one of my most favorite quilts I've ever made.  I'm so glad I could include it in my Christmas home tour this year.
I really love my dining room buffet wall, but it's so hard to get a good photograph of this space.  There's all these fun little details, like a little camper scene under a cake dome, a little advent house, a gingerbread cooking display.
I didn't do much anywhere else other than a wreath here or there.  I have had so much stuff cycling through my kitchen these days any decor would just add more clutter.  Same with the dining table.  I do have a pretty little tree in my newly finished front room though…
Tada!
Exciting little glimpse, huh?  Now let's close the doors which I just painted black.  I still love these pine and pom pom wreaths I made last year!
Love it!  Can't wait to show you the whole room.  It's my new favorite space.  I also recently added that tufted cushion to the piano bench, which I will share the tutorial on.
I actually just barely moved the piano back into this room, but both it and the tree were out in the entry first.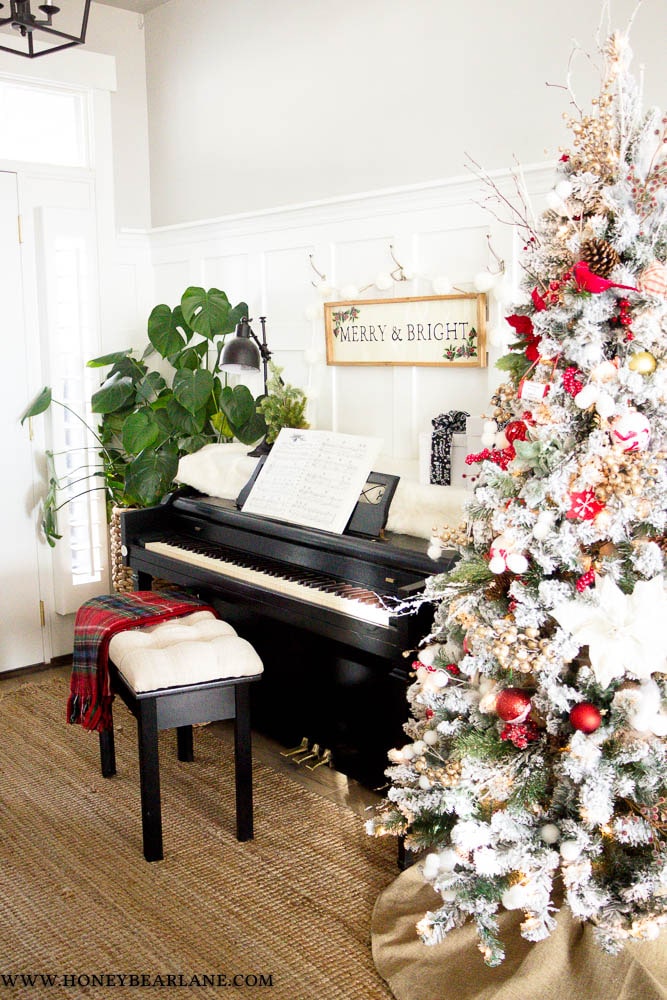 This was such a cute little setup, though, I'm so glad I photographed it.  But it was very crowded.  Now the only thing there is a simple black bench which gives me some much needed breathing room!
I hope you enjoyed my Christmas home tour!  I really love sharing it with you because I'm not sure if I'm going to get around to actually hosting people at my house this year.  Now that all my Christmas decorations are up and done, I can finally get caught up on everything else.  Gift wrapping, gingerbread house making, secret Santa stuff, etc.  The good parts of Christmas.  I can't believe it's less than two weeks away!
See my past year's Christmas home tours:
2016 Meaningful Christmas Home Tour
2017 Balsam Hill Holiday Housewalk
2018 Meaningful Christmas Home Tour