Since we are all in quarantine, I figured I'd take advantage of the extra time and my wood scraps and tackle my range hood.  I've been planning this project for years, in fact I'm pretty sure I included it in my 2019 woodworking plans.  I don't know why it didn't end up happening, but it is for sure happening now!  We have already gotten started.  However, due to the COVID-19 outbreak and quarantine, it might take longer for me to collect supplies.  So this post is just for sharing my DIY range hood plans.
I have looked up so many different DIY range hood posts and read them all in detail.  It's funny because when I first started researching DIY range hoods, there was like one post.  Now there are dozens, which is so helpful.  For some reason this project has kind of freaked me out…I think because I didn't want it to look homemade in a professionally done kitchen.
There are a few things I needed to do first before we tackle the hood.  First, we had a microwave in the spot where the hood goes.  So knowing we needed to remove it, I purchased a counter microwave.  I got a GE microwave that seems to work well and it fits in the pantry, which is where I wanted it to go.  It works wells as it is, but I have plans to completely makeover this pantry someday with a more permanent case for the microwave.  And yes, I do hoard Crystal Light strawberry lemonade flavoring.  🙂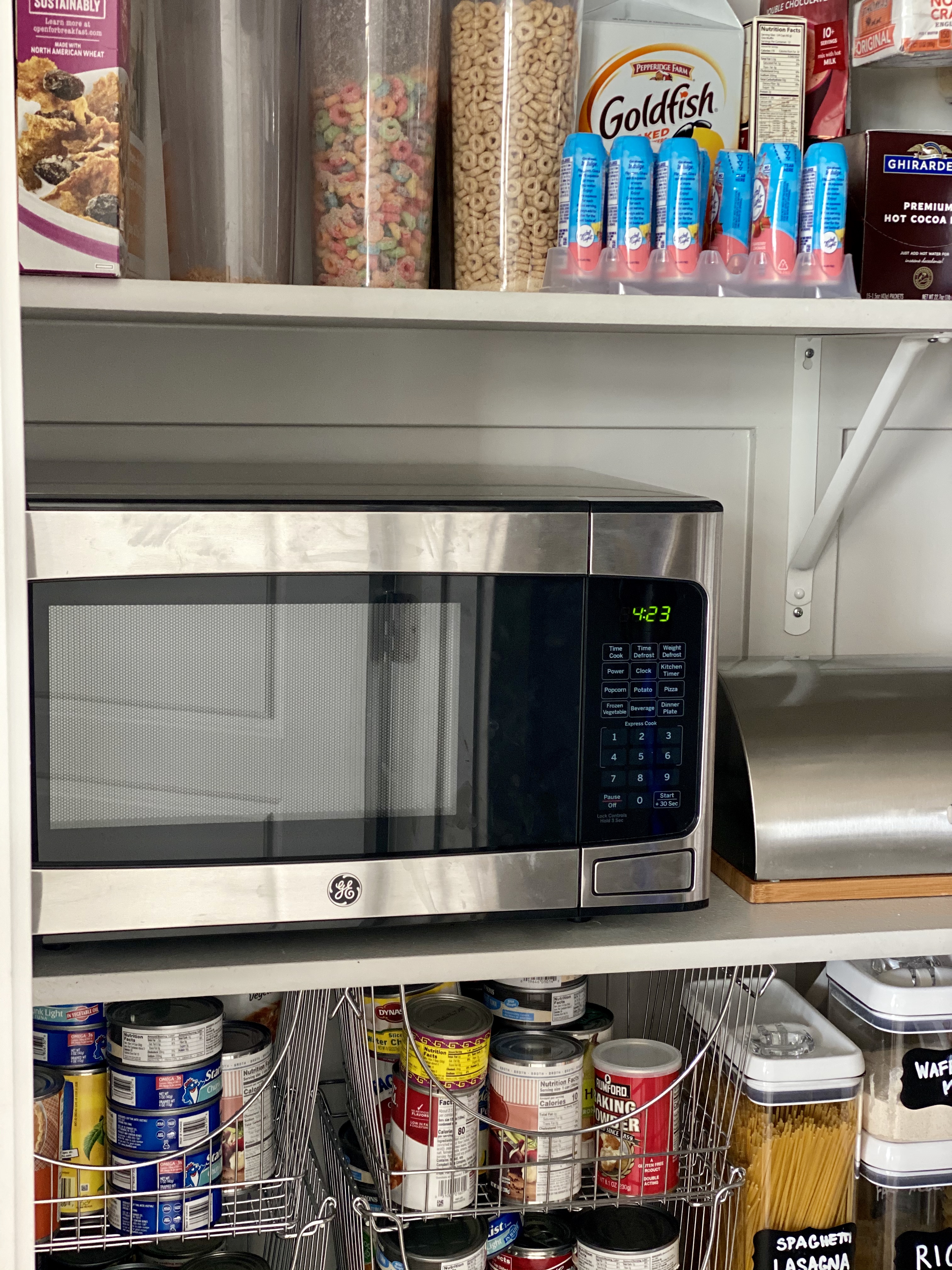 I also had to purchase a new hood fan…thingy.  I actually bought two different ones on Amazon first but had to return them for one reason or another, and ended up buying this one from Lowes.  It wasn't the cheapest option, but since we have a non-ducted hood, we needed a decent fan.  My husband REALLY wanted to vent it to the outside but to cut a hole in the side of our house he would have to get up on a ladder up super high on an angle and it just seemed too dangerous.  Maybe we'll attempt it someday in the future.  This one fit the bill, meaning it was flat on front with buttons on the bottom.
I apologize that my stainless steel isn't squeaky clean and shiny.  Couldn't be bothered to do that before snapping these photos.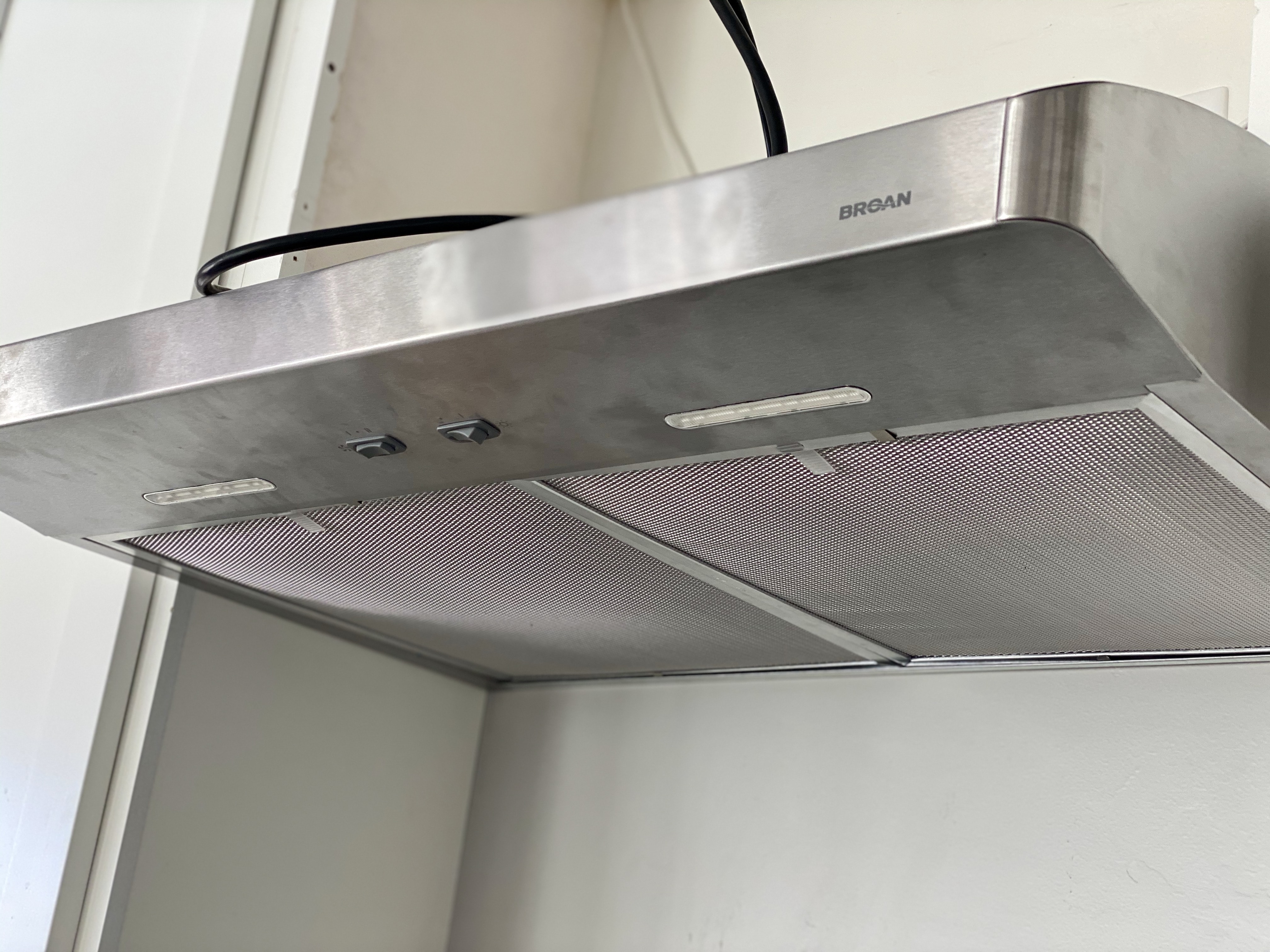 We removed the microwave, which was simple enough.  There were two bolts in the upper cabinet which I unscrewed and then we had to lift it off this metal cleat which was on the back wall.  I took it down and cleaned it really well and then we were able to sell it.  After that, my husband and I installed the hood, which was a little tricky but we got it done.  It was a hard-wired hood but I bought a little hard-wire to plug-in converter cord and it was super easy to convert.  We needed it to be plug-in because we have to use the outlet in the cabinet (previously used for the microwave) for our Hue lights.  As you can see, I will also need to add a little more backsplash to this space.  I planned for that when I initially added the backsplash and bought extra tile.  Soooooper excited to pull out that tile saw again, let me tell ya.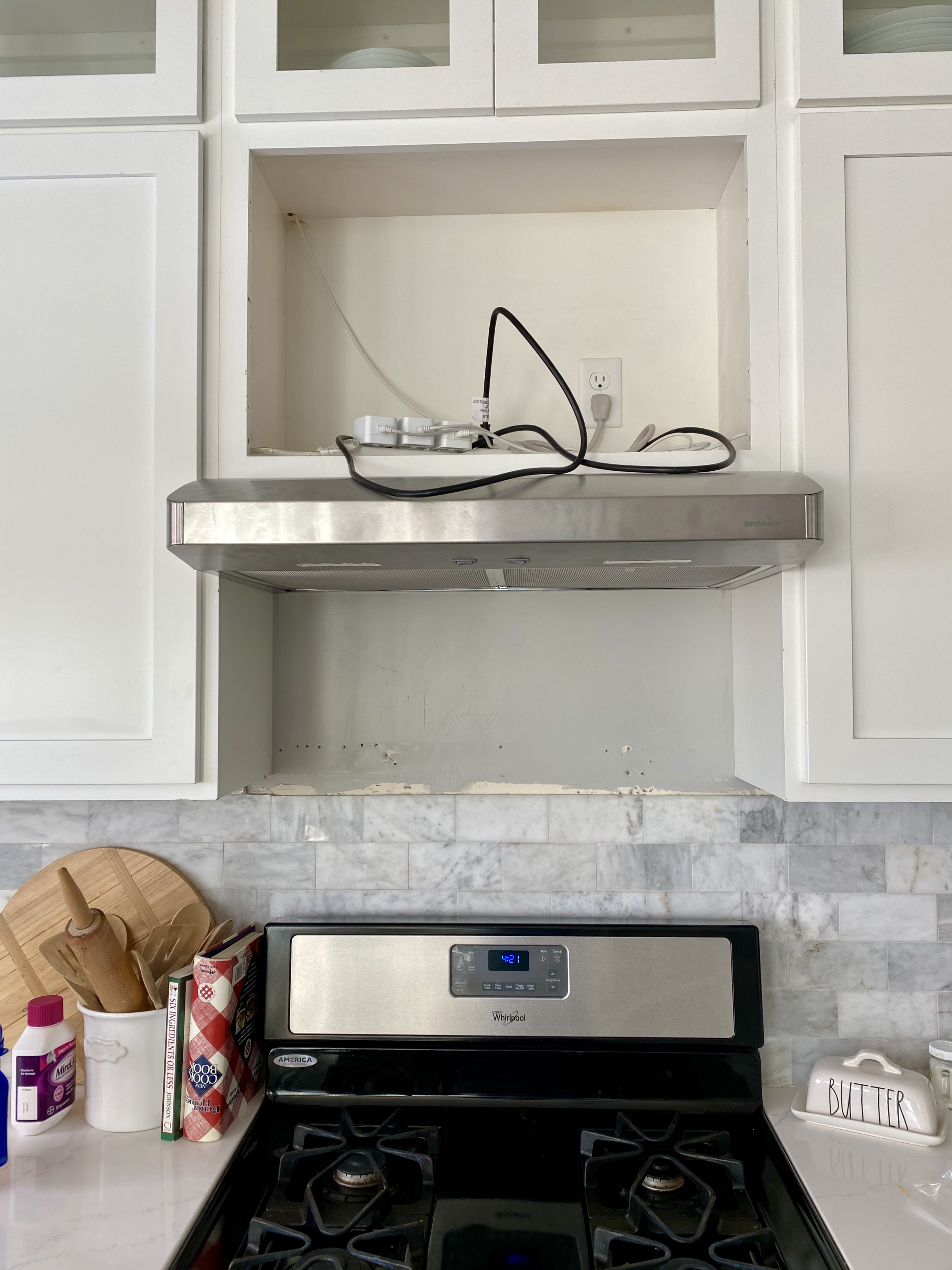 Next comes the hood!  I haven't built this yet, so this is just the plan.  I love using Sketch-up, especially when I can't quite picture how a build is going to go.  Sketch Up lets me basically build the item in the program, using all the exact measurements and everything.  It's not the easiest program to learn, but it really is so helpful!  Here's the design I came up with for the hood.
It's pretty simple.  I didn't want to go overboard with it because I'm working with a small space.  When you replace a hood for a microwave, you are confined to build within a pretty tight space, since microwaves are compact, whereas hoods are more decorative and they usually give more space between the hood and the cabinets.  I'm working with 30 inches of space.  And I didn't want it to stick out too much.  I want it to fit in with the rest of the kitchen while still looking nice.  I also designed it so the top portion will be attached by hinges and act as a door so the cabinet underneath can still be accessed.  So there you have it, my DIY range hood plans.  I'm super excited to be able to have a project to keep me busy!