Outdoor Living Room on the Deck
This post is sponsored by Joss and Main but all opinions are my own.

Being stuck at home more often than not these days, we have been making the most of it by beautifying each space and making each area comfortable and livable.
We have a large deck off of our house, about 24×10′.  We love this space, although we will undoubtedly love it more when we can get some sort of roof over it.  It's south facing and has lots of hot sun.  I built some outdoor furniture a few years ago which was great at first, but I neglected to seal it for the outdoors and the weather ruined them.  They aren't totally destroyed but they will need some TLC to get them back up to snuff.  Right now they are splintery, wobbly, and just not super safe.
I was contacted by Joss and Main, as part of their Style Spotters program, to spruce up an outdoor space.  I figured this was the perfect opportunity to get some new outdoor furniture, something that I didn't have to build for once and something that would hold up better to the elements.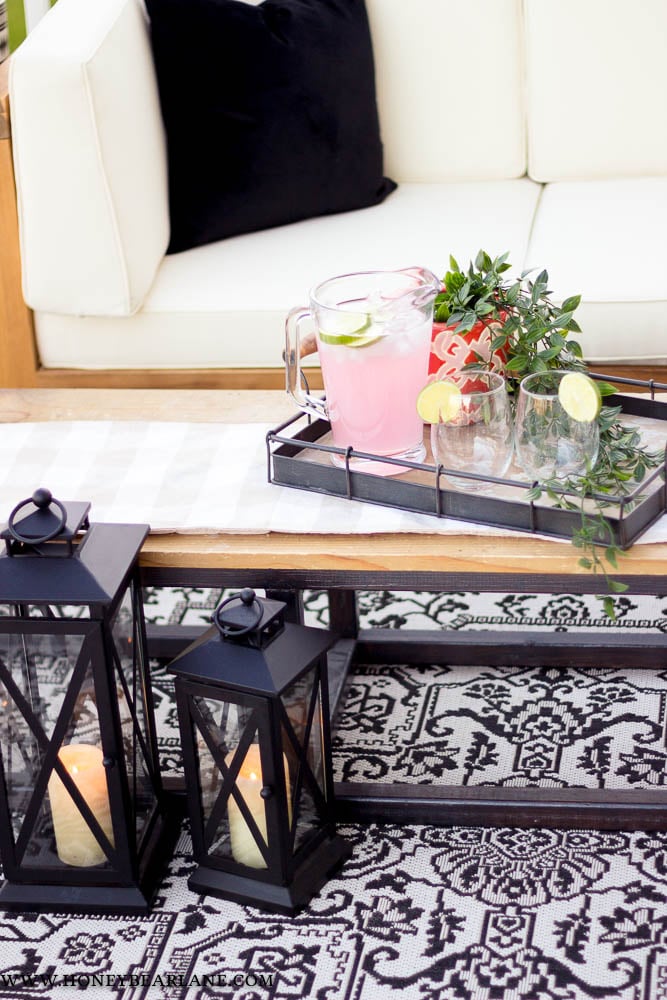 I searched their website for awhile and finally settled on this sectional.  It had a decent price, was beautiful, and had good reviews.  One thing I love about shopping on Joss and Main is being able to read all the reviews and see other people's pictures of how the product is used in their home.  It seriously helps me so much on making a final decision.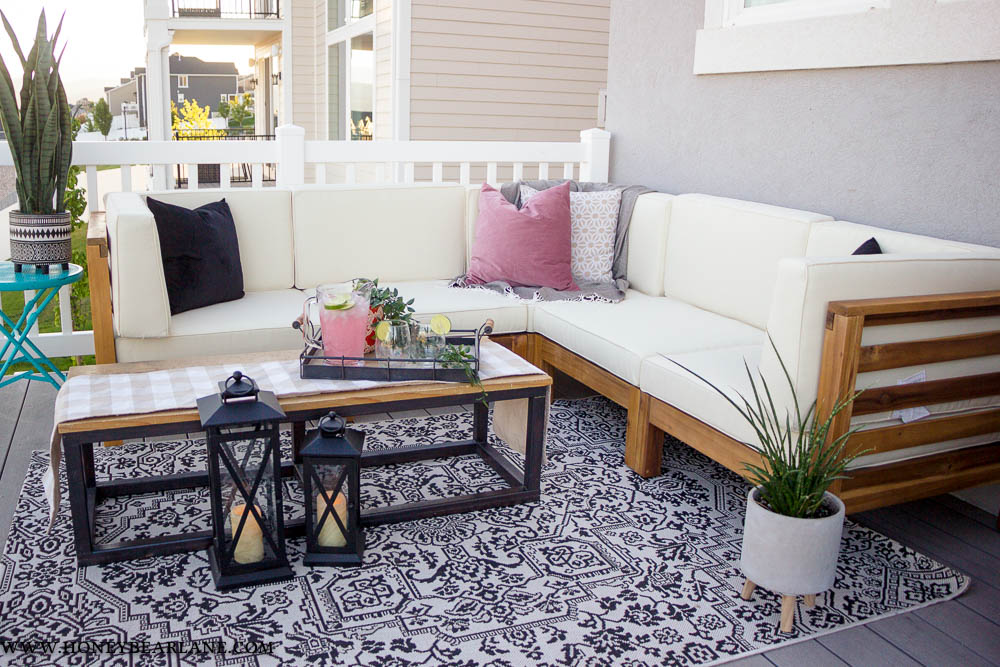 I had actually already purchased the cute black and white rug from Joss and Main a month before and I just love how they go together.  It looks very modern but is still neutral.  We are planning on getting a new and modern fire pit to sit around and be able to roast s'mores.  In the meantime, it's just a comfortable and attractive place to gather and hang out.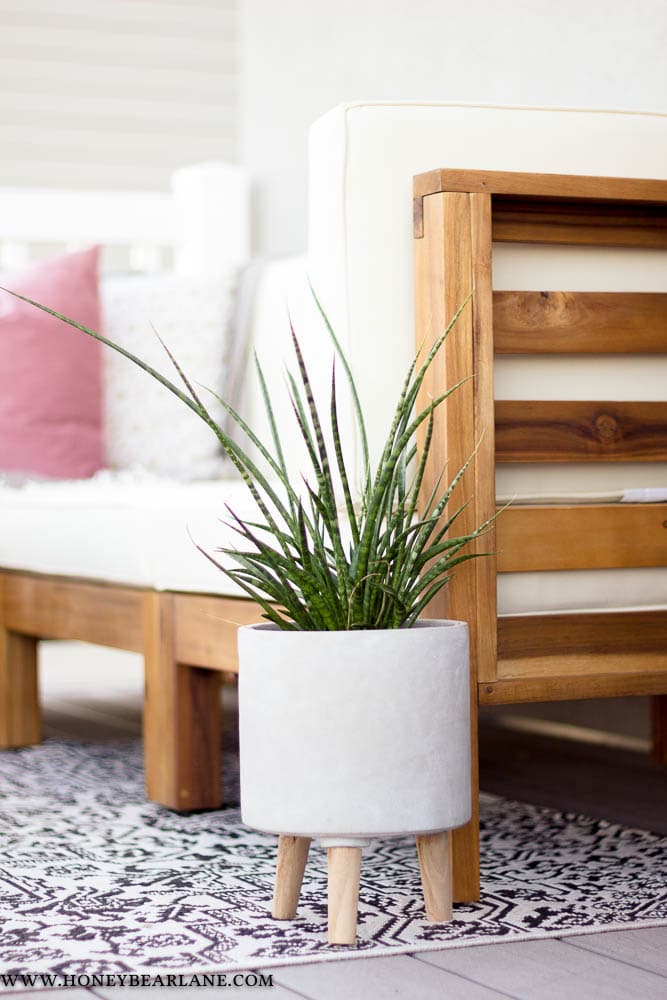 The sectional arrived in five large boxes, throughout a two-week period.  That was actually faster than I thought, since when I first purchased it it said it wouldn't ship until after Memorial Day.  It was a LOT of cardboard and many hours assembling, but overall it was pretty easy to put together.  They seem really solid.  I absolutely LOVE the color of the acacia wood.  I Scotch-guarded the cushions but they also have zippers so I imagine the covers can be washed.  I'm sure they will get dirty pretty fast since they are white.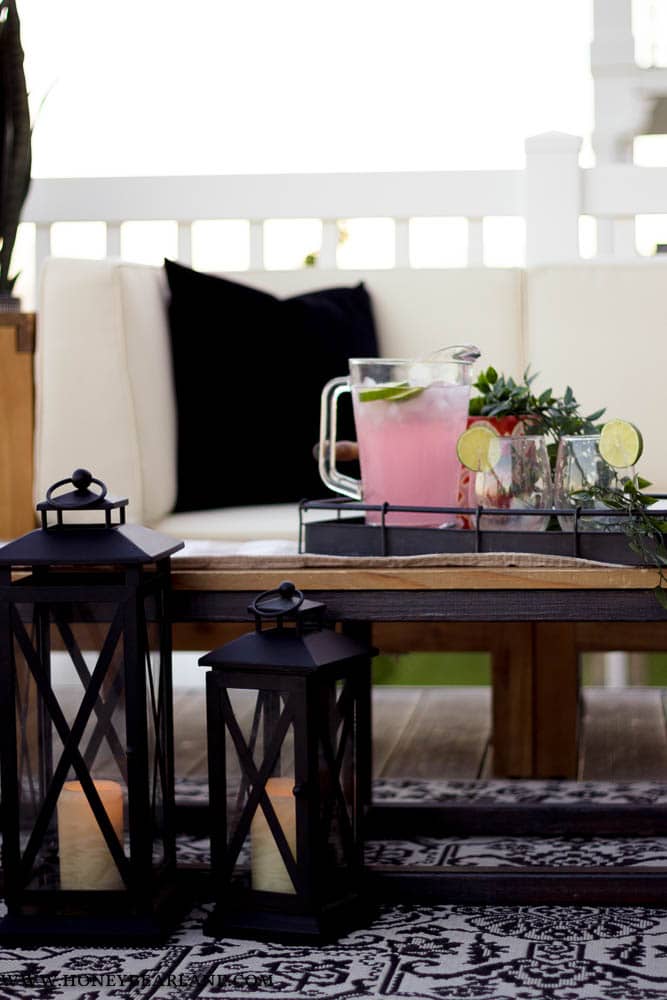 Right now it's styled with some of my indoor pillows and blankets, but I'm still gathering items for this space.  Here are some tips for styling your own outdoor living room:
Get comfortable and durable furniture.  This is a must!  The amount you hang out in your space largely depends on how comfortable it is.  My last outdoor couches were fine, but this new sectional is WAY more comfortable.  I love how it has back cushions all around, even on the ends.  It also needs to be durable enough to withstand the elements, unless you're okay with replacing your furniture every couple years.  I plan on buying a nice furniture cover to throw on these in the winter and during storms and such.
Have something for your feet.  Whether it be a little coffee table, firepit, or ottoman, you will definitely want something to let you put your feet up and relax.  I love the idea of a firepit because then you can keep a little warmer when it's chilly, you can roast marshmallows and make s'mores and it becomes the perfect little gathering spot!
Get a rug.  A rug will tie the space together and also define the area.  It can add visual interest, whether it be from a pattern or color, or both.  Best of all, it protects your feet from the hot surface of the deck or cement.  I always go for an outdoor rug which is made of specific material to withstand the outdoors.  Get something with a pattern to hide dirt spots or stains.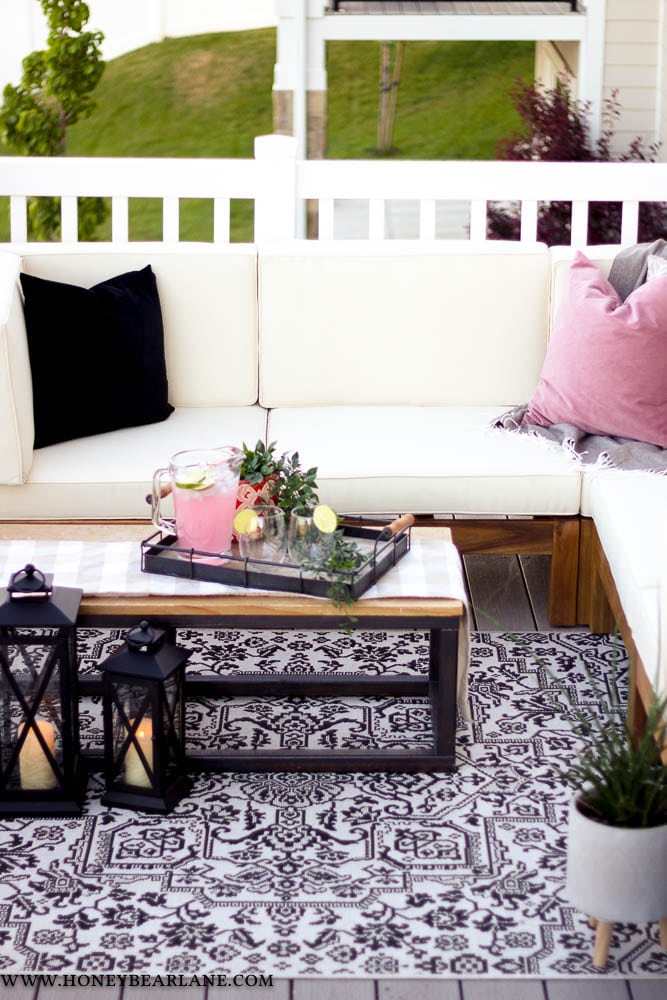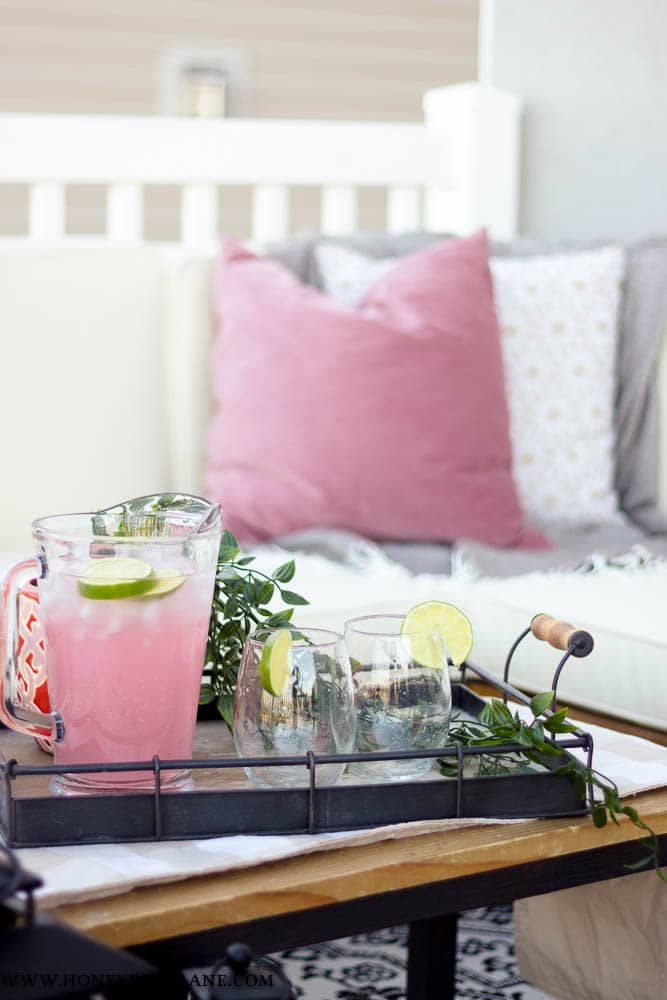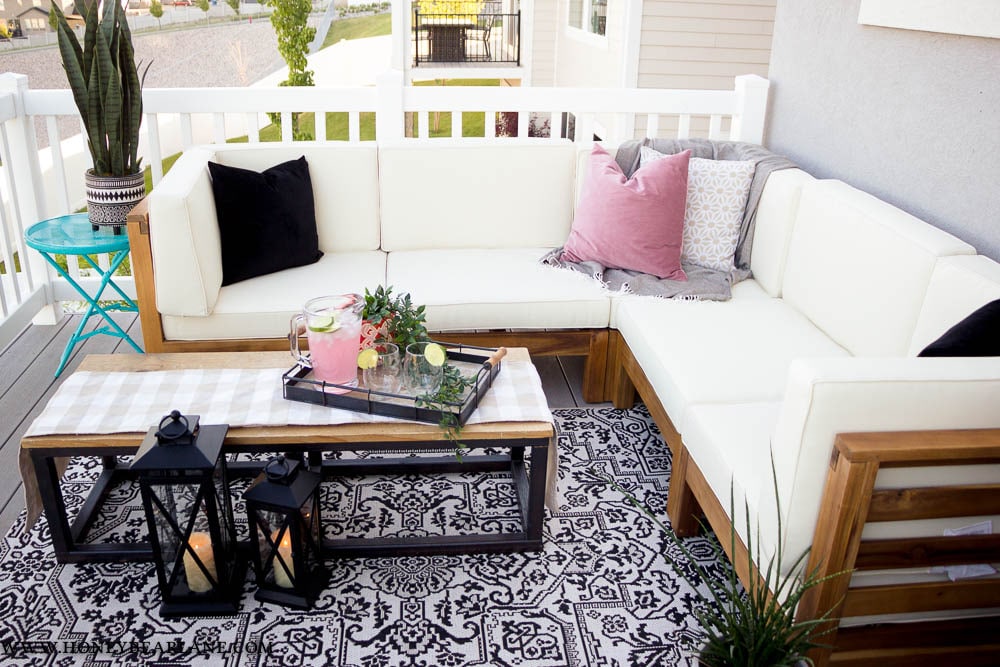 This photo is styled for this shoot, and what you don't see is all the other crap I shoved behind me.  We are in a major transitional stage right now, trying to finish the basement and renovating the laundry room.  We actually seriously need a space like this outdoor living room to relax and unwind.  I can't wait until it's all put together!
Search Joss and Main for all these items:
Check out these items to complete the look:
Click here to see more of Joss & Main's outdoor furniture!