Framed Large Pegboard Tutorial
I was thrilled to share my Craft Room Pegboard with you–and it turns out y'all loved it too!  So today I'm going to share the tutorial with you, although I have to say it's not very difficult!  But I know it's sometimes just easier to have someone spell it out for you, so here are all the nitty gritty details.  I also apologize that there are not pictures of every step–I was so excited I just worked and forgot to take pics!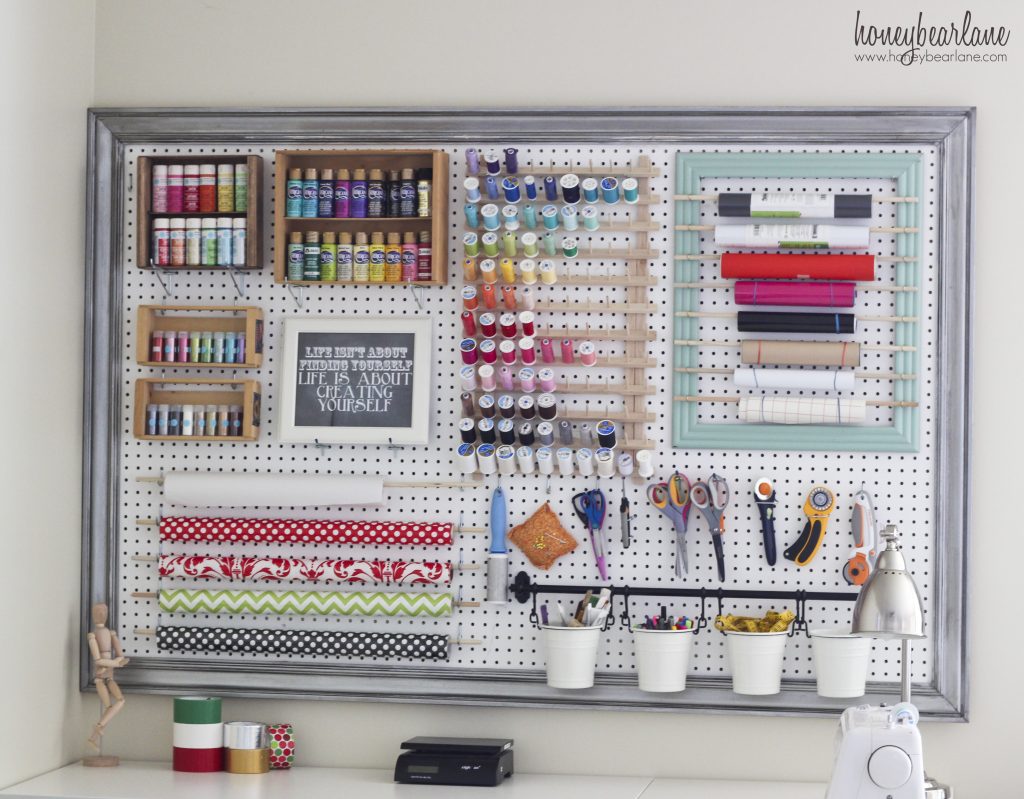 For this Project, you will need:
1 White Pegboard, cut to 6×4 feet (or whatever size you want it to be.)
4 Pieces of Crown Molding, flat on back, to about 8 inches longer than each side so you can miter the ends
Miter Saw
Paint in your color choice for frame
Gorilla Glue or Wood glue
Short finish nails or staple gun
Caulking
2 Pieces of scrap wood, at least 2/3rd the length of your board and 1/2″ thick
Long screws
You can find white pegboards at home improvement stores, they cost about $17 for a big 8×4″ sheet.  You can also have them cut it for you.  Shove it in your van along with the crown molding and drive home, anxious to start your new project.
To miter the corners, just lay your molding out on top of the pegboard and mark the intersection of where the molding meets.  Then using a miter saw (we just used the hand saw miter box kind–they are super cheap) cut the ends to be at the correct angle.  You should be able to get pretty close to them lining up, but don't worry if it's not perfect–that's what the caulking is for.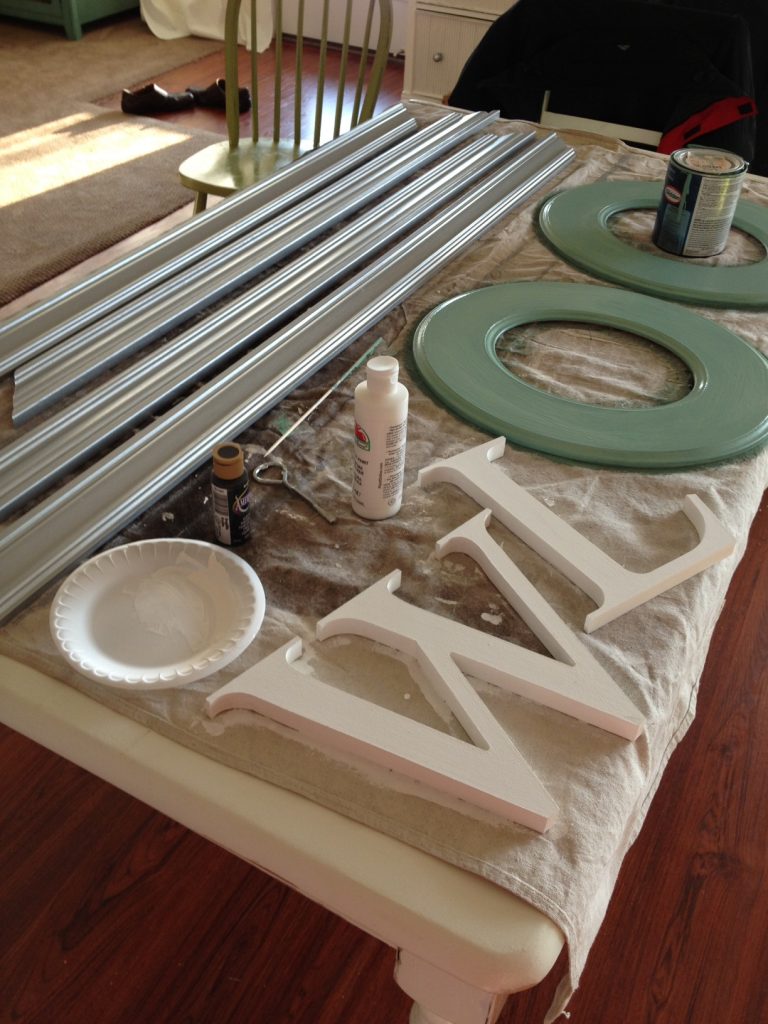 Paint the crown molding in your color.  I used Martha Stewart metallic paint and then glazed it with black glaze.  This gives it an old vintage frame look.  I was tempted to leave it white like everything else I do but I wanted some metallic accents in my craft space.  I love how it turned out!  Glaze is super easy to do–just paint it on, making sure it gets in the cracks really well, and then wipe it off.  And yes, I paint multiple projects at once.
Once your molding is dry, line it up on your pegboard so it all lines up.  Then use the Gorilla Glue to glue it in place.  Do this over a dropcloth or somewhere you don't care glue gets because it will seep through the holes in the pegboard.  I put a bunch of heavy books on top to help them hold in place.  Once that's dry, flip it over and either nail in the finish nails (in a spot they won't show through) or shoot staples through it so it's all secured.
After your frame is secured to the pegboard, use the caulking to fill in the cracks of the mitered corners.  Shoot the puff out and then make sure to wipe away the extra before it dries (I might have waited a little long to discover this and spend some serious time scraping away the excess.)  You can touch it up with some paint if you need–this was easy for me because I just used the glaze to darken the white caulking.  This might seem like an obnoxious step but I feel like it was worth it to make the frame look professional and finished.  (The picture is before I touched it up!)
The pegboard itself is now ready, but here's the big question–how do you hang this beast up?  This wouldn't be an issue for a small pegboard, since you could arrange the hooks on beforehand and then hang it flush to the wall.  But this board is HEAVY and trying to get all that hardware up on it and not fall out would be a nightmare.  Plus I wanted the freedom to rearrange the hooks as I pleased.  This meant we would need at least a 1/4″ gap between the board and the wall for the board.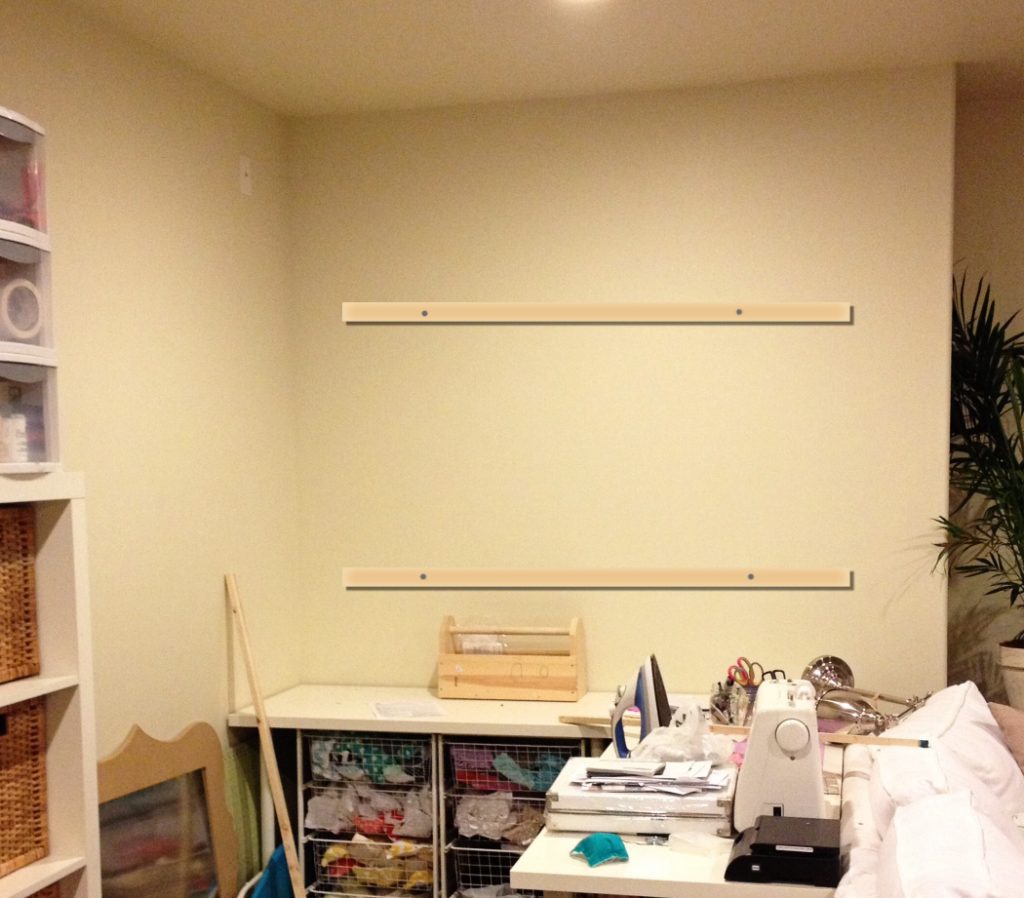 This is where the scrap wood comes in handy.  I bought the super cheap CULL wood at Home Depot (it's in the back by the saws and usually spray painted neon).  I didn't take a picture of the wood on the wall (dang it!) so I just used my photoshop skills to show you basically what we did.
My husband found the studs in the wall with a studfinder and then screwed the wood straight into them, one on top and one on bottom.  Then we held the board up and he screwed the board right into the scrap wood.  Now it's very secure and I can move the hardware as I please.  Plus since we are renters, this didn't require us to but in one of those ultra-heavy duty screws that leave a quarter-size hole in the wall.
For the pegs, I bought two of the pegboard kits at Home Depot–two because there were certain pegs I wanted.  I used large hooks for my wrapping paper dowels to sit on.  For the vinyl organizer, I drilled holes in the frame about 2.5 inches apart and used screw in hooks for my dowels to slide into.  
I bought the bucket set at IKEA. It was a little pricey so I recommend getting those $1 buckets at Target if you're trying to do it inexpensively. But I was really in love with the look so I splurged on it. It's in the kitchen section. And I had to attach this one before we attached the board to the wall because you have to screw it in from behind.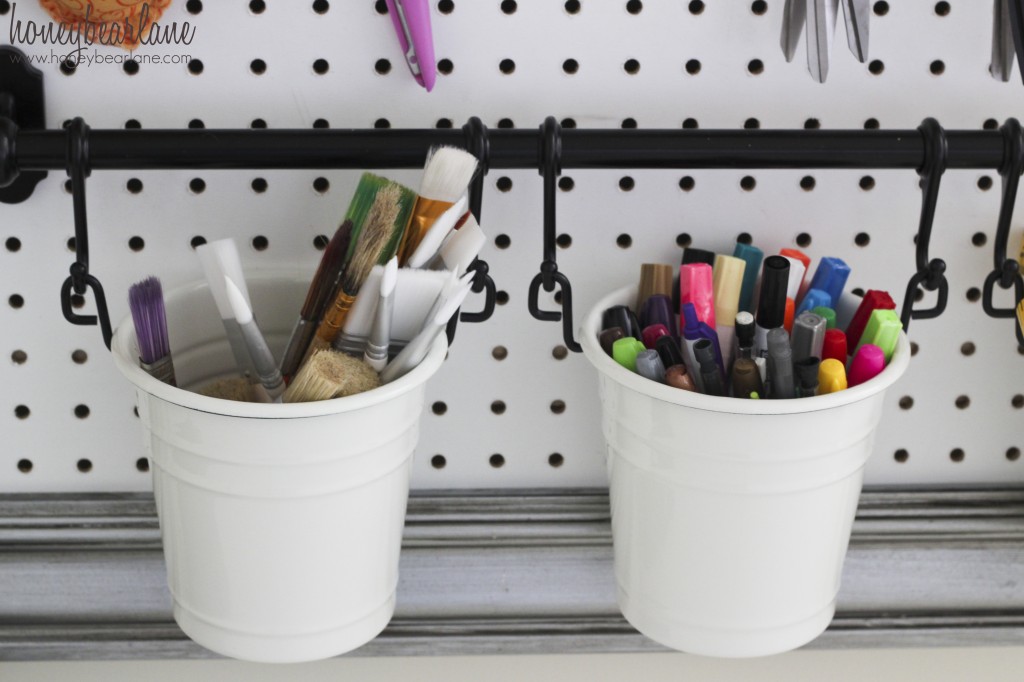 For the rest of the details on the other items, read the Extra Large Organizational Pegboard post.
Finally, I had a small area of space leftover after filling everything up and decided to put a framed quote up that I designed in Photoshop. Here's the file if you'd like it for your own craft room!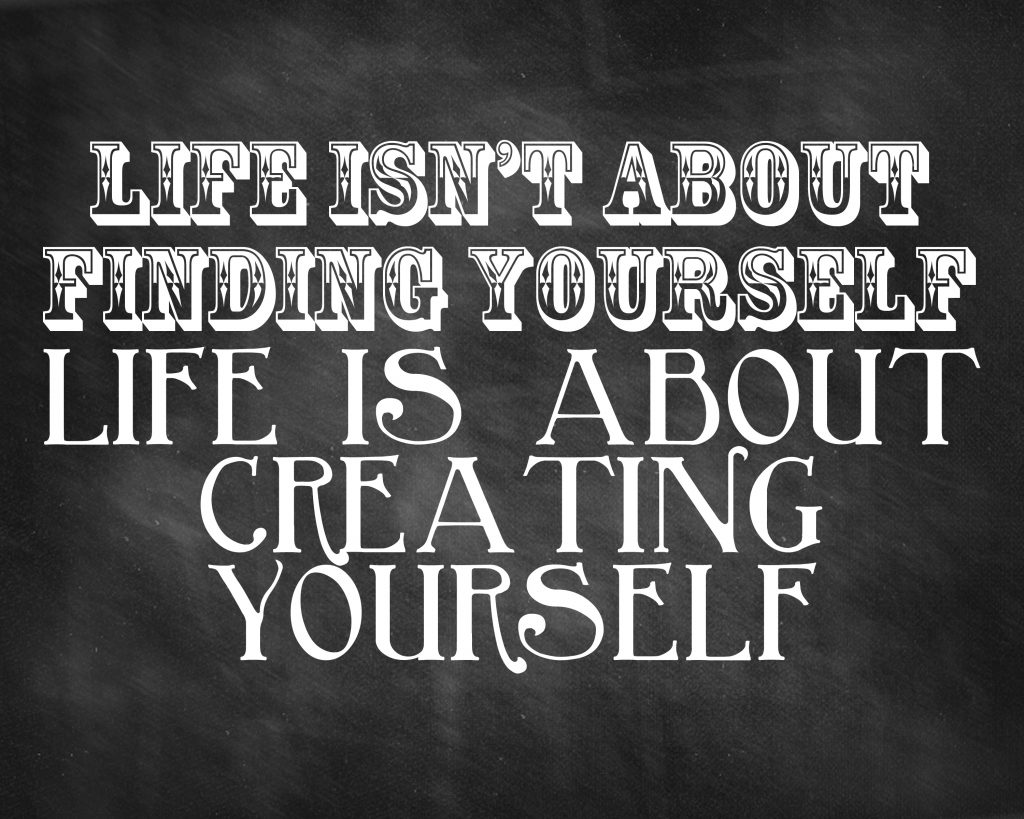 This project was fun and very rewarding. I highly recommend making yourself a HUGE pegboard–it's SO helpful for organization!