The basement renovation is done!!!  You can't even believe how happy I am to have a finished basement.  Anyone who has lived through any kind of renovation will understand this.  And I didn't even really need to live through it because we had a (mostly) functioning house during.  But having workers in and out of your house day in and day out for months at a time, especially during a pandemic, is so stressful.  Not to mention when they didn't show up and things didn't get done.  Mostly it went fine until we got to the end stuff which seemed to drag on forever.  And technically they still have to deliver a couple cabinet doors, but other than that we are done.
I'm ready to share pictures with you but first let me give you a caveat:  It's mostly empty and/or undecorated.  So the pictures won't be all that inspiring.  But it's similar to moving into a new house…it takes time to put your stamp on it and it takes money to decorate and get new furniture.  And we spent most of our money on said renovation.
The Stairs and Landing
When you first walk into the basement door you turn to go down the stairs.  We finished the stairs with carpet and wood caps.  This is a great way to get the wood stairs effect without paying for the wood stairs.  While I love wood stairs, I like having the carpet here because it's safer for my kids who run down the stairs at break-neck speeds.  We stained the banister to match the one upstairs but it took the stain a little differently and appears lighter and more brown.  We were also going to have the stairs end in a large semi-circular landing but we couldn't do it due to the ceiling height.  Tall people would end up hitting their heads if they turned to the right.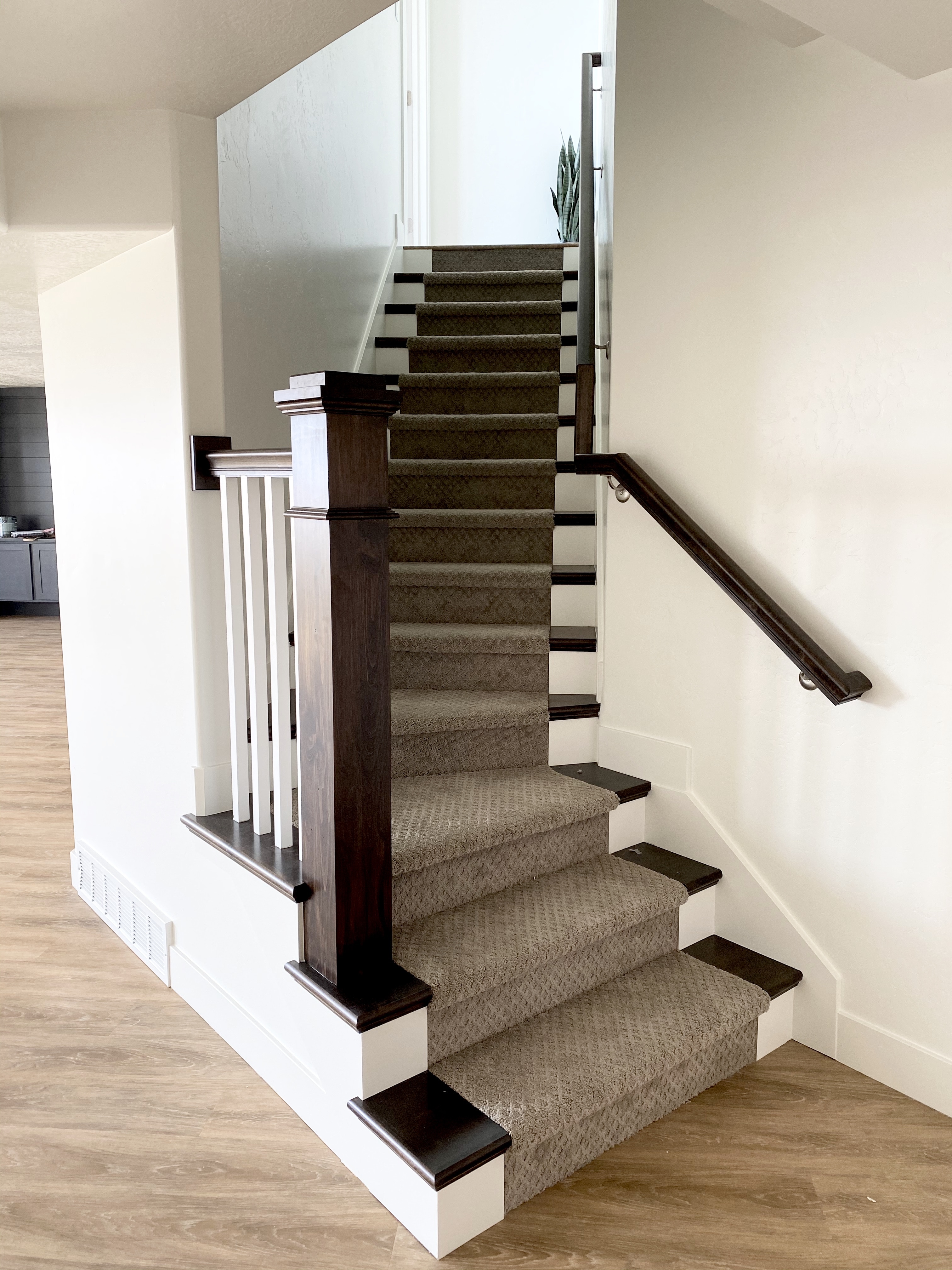 The landing is just a large open space that all the doors share.  I considered putting in a wall that we could add a barn door too, but we decided to keep it as open as possible since it is a basement.  I'm excited to find the right rug for this area and add some cool architectural touches.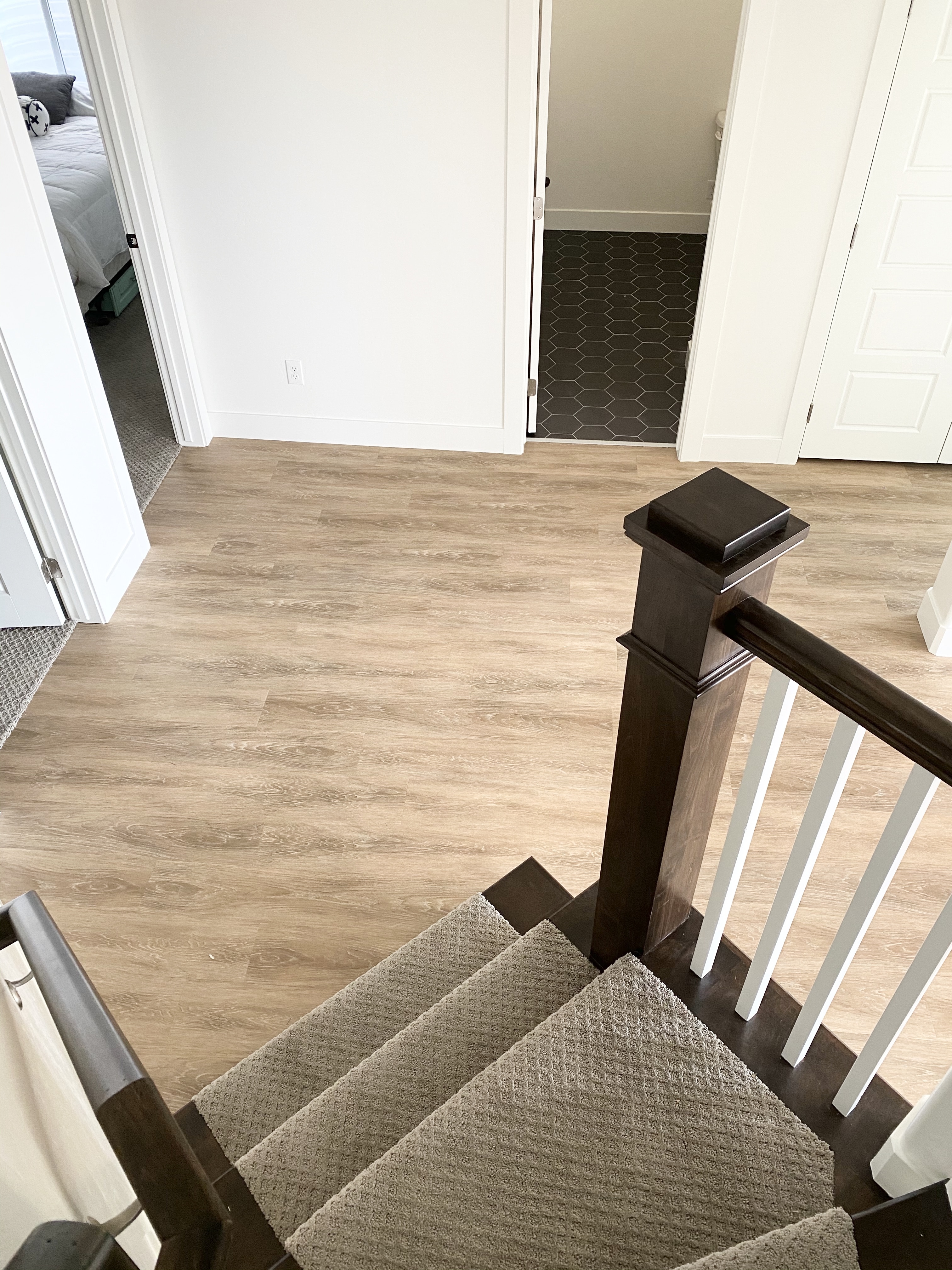 Living Room/Kitchen Space
Here is my mood board mockup for the basement living room, from my Modern Finished Basement Ideas post:
And this is what it currently looks like: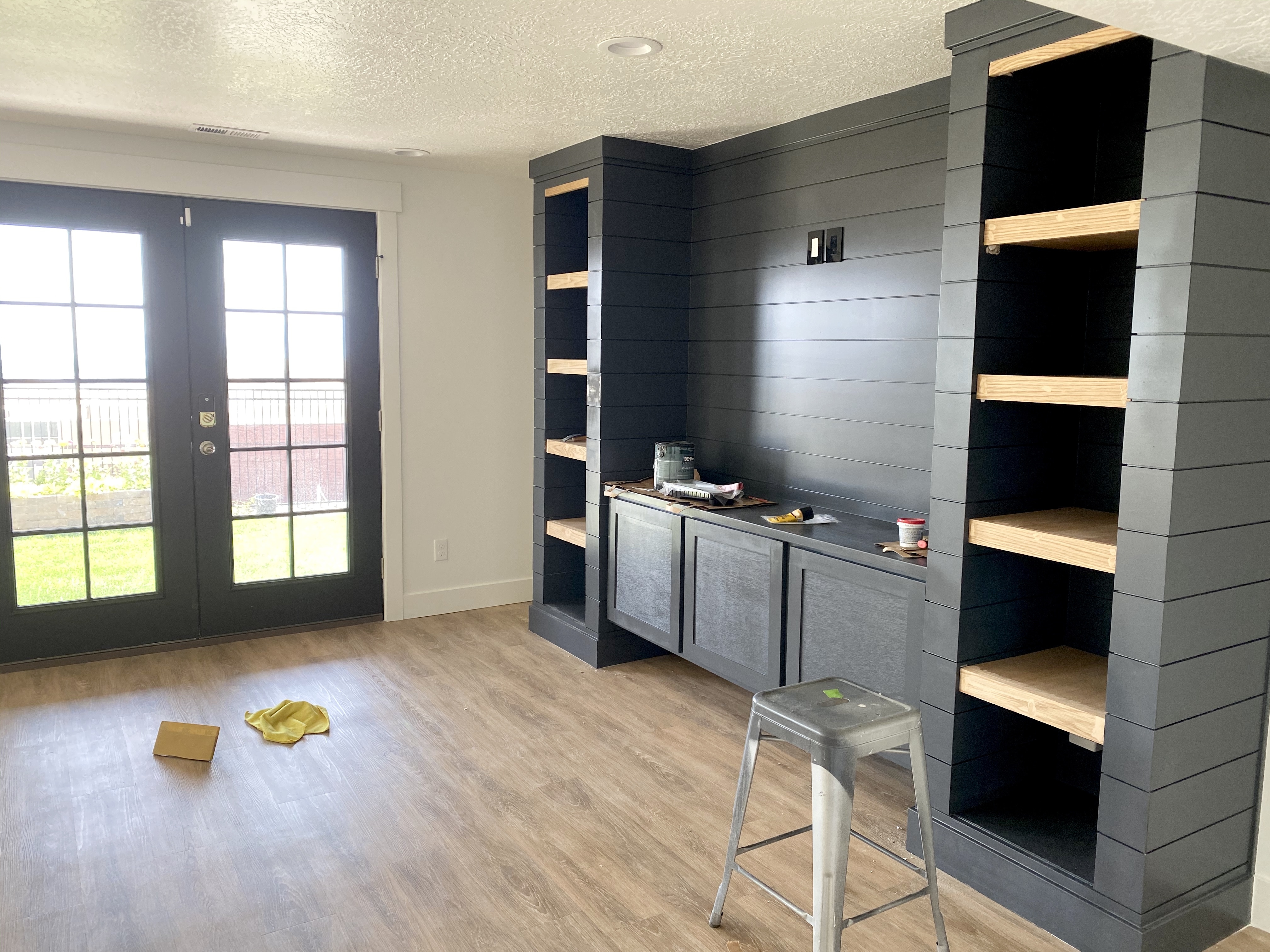 I built those shiplap media built ins myself, and I'm posting some plans really soon.  I'm still doing the final touchups and need to add knobs to the doors.  The couches above are the actual couches in my living room right now and we will be moving them down to the basement once we find the right couches to replace the upstairs ones.  I also have a rug in mind, and it's not this one.  I decided to go with a more colorful one since I wanted to take a few more risks, decor wise.  We switched our sliding door with some black French doors which was SUCH a good decision.  It makes such a huge difference in the space!
Here's a more expanded view of the basement family room which shows part of the kitchen area: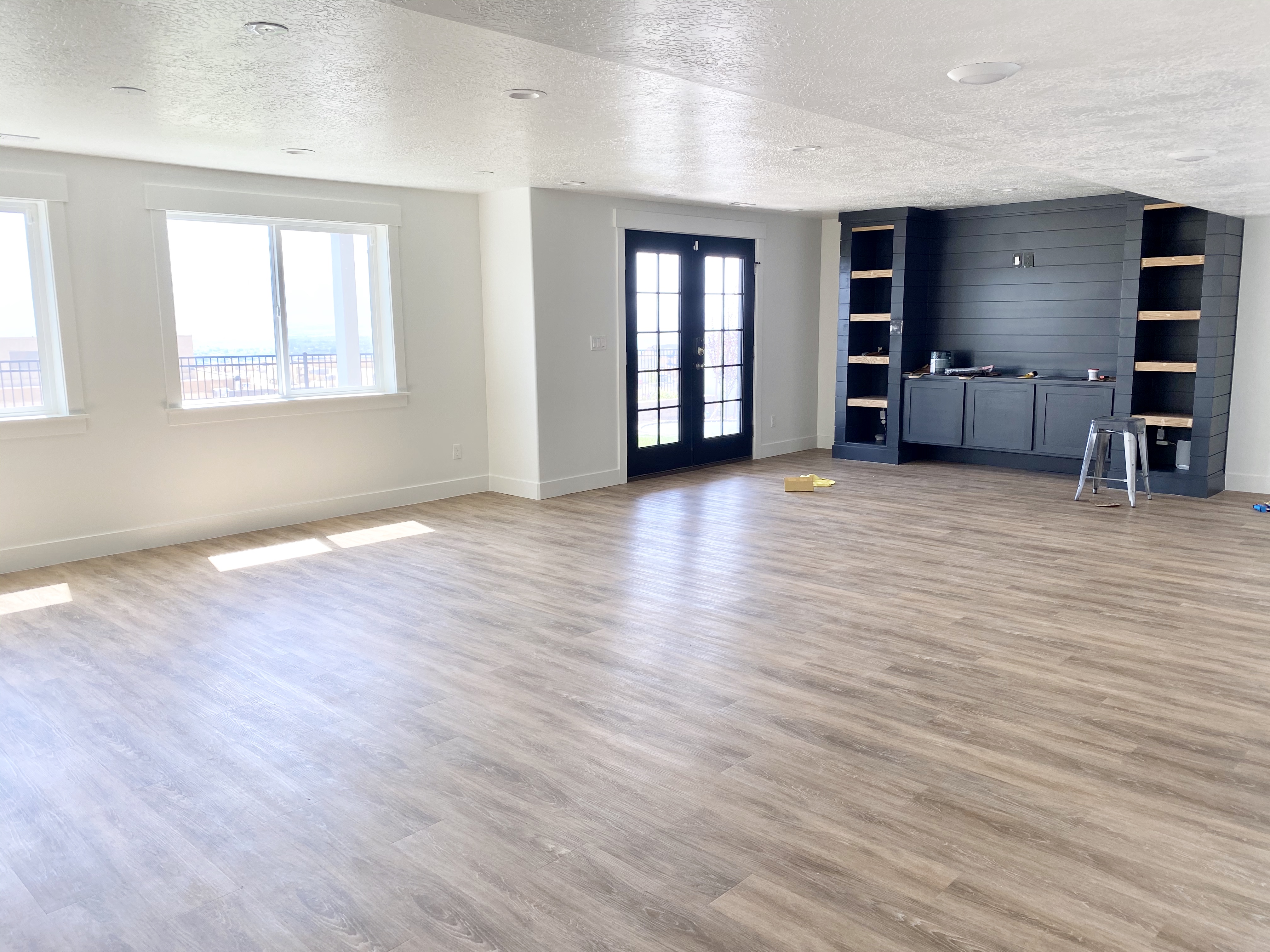 We have nothing in the kitchen, other than roughed-in plumbing.  The kitchen was going to add another 10k and we decided to do it ourselves later and use that 10k towards getting what we wanted everywhere else, since a lot of what we wanted were upgrades.
The Playhouse
Here is the mockup of the playhouse: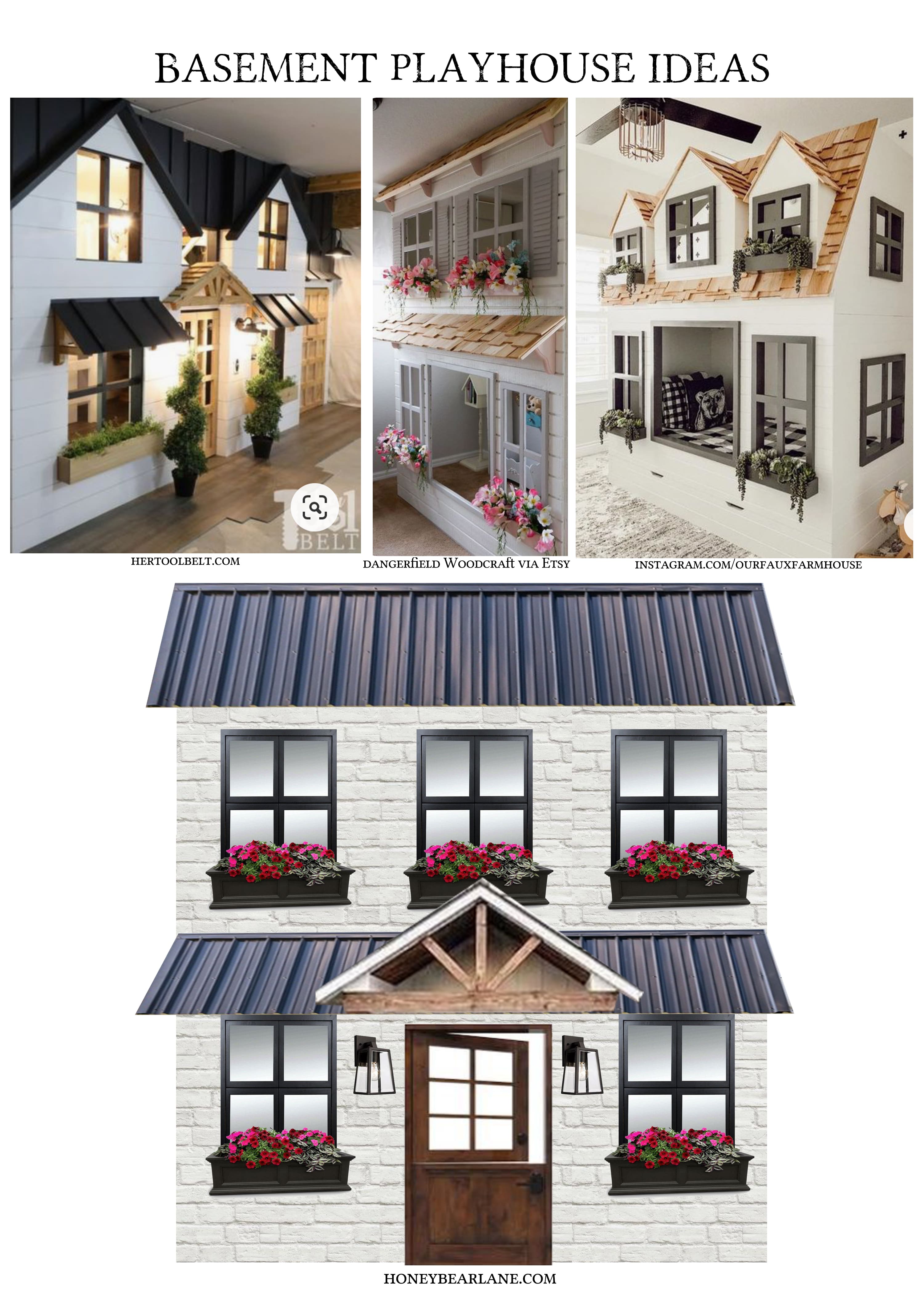 Here is the current playhouse: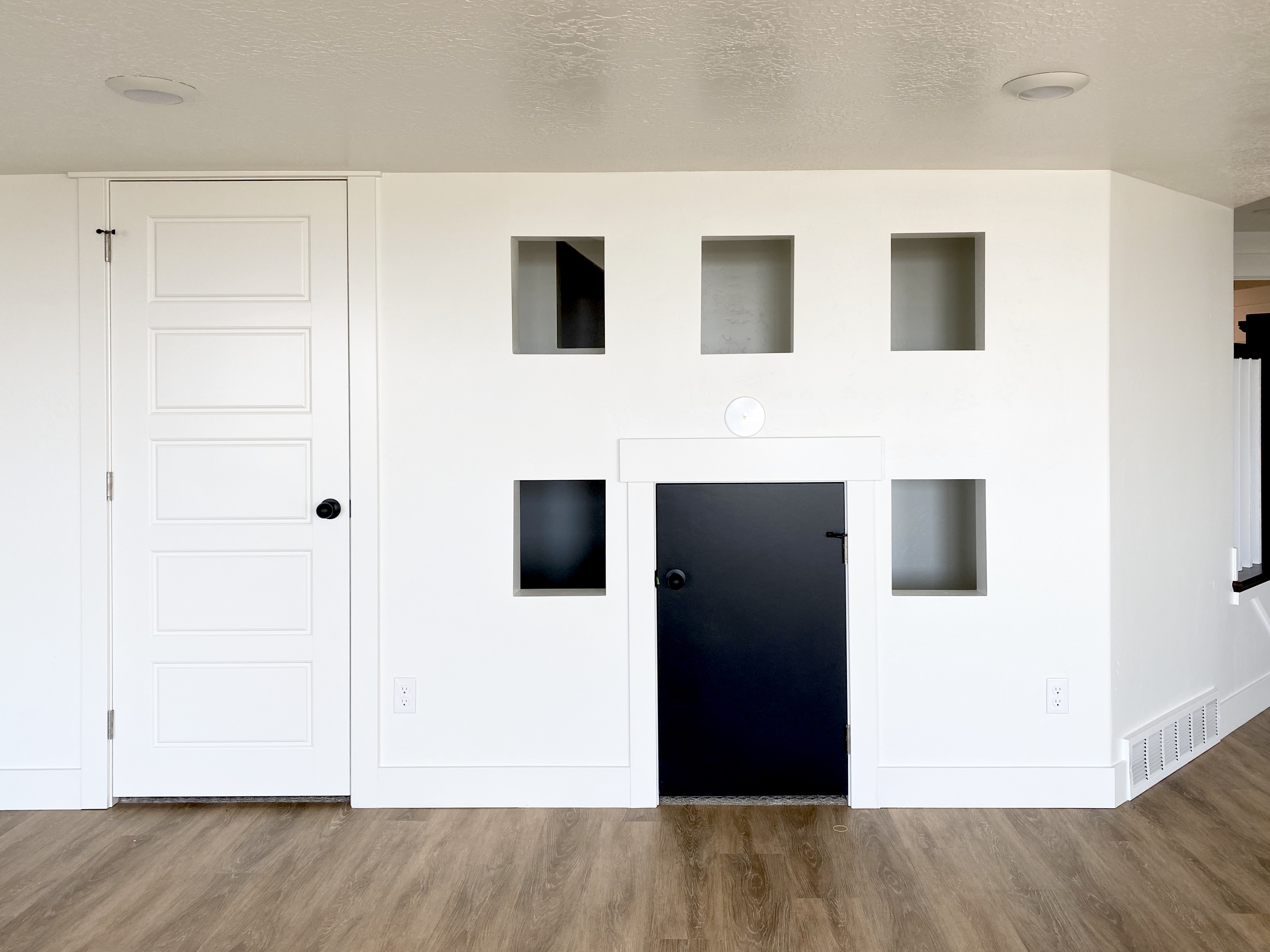 We didn't have space to put lights between the windows and the door, and obviously my door isn't a cute Dutch door with a window.  I am planning on doing everything else though, and what you don't see in the mockup is this fun interior: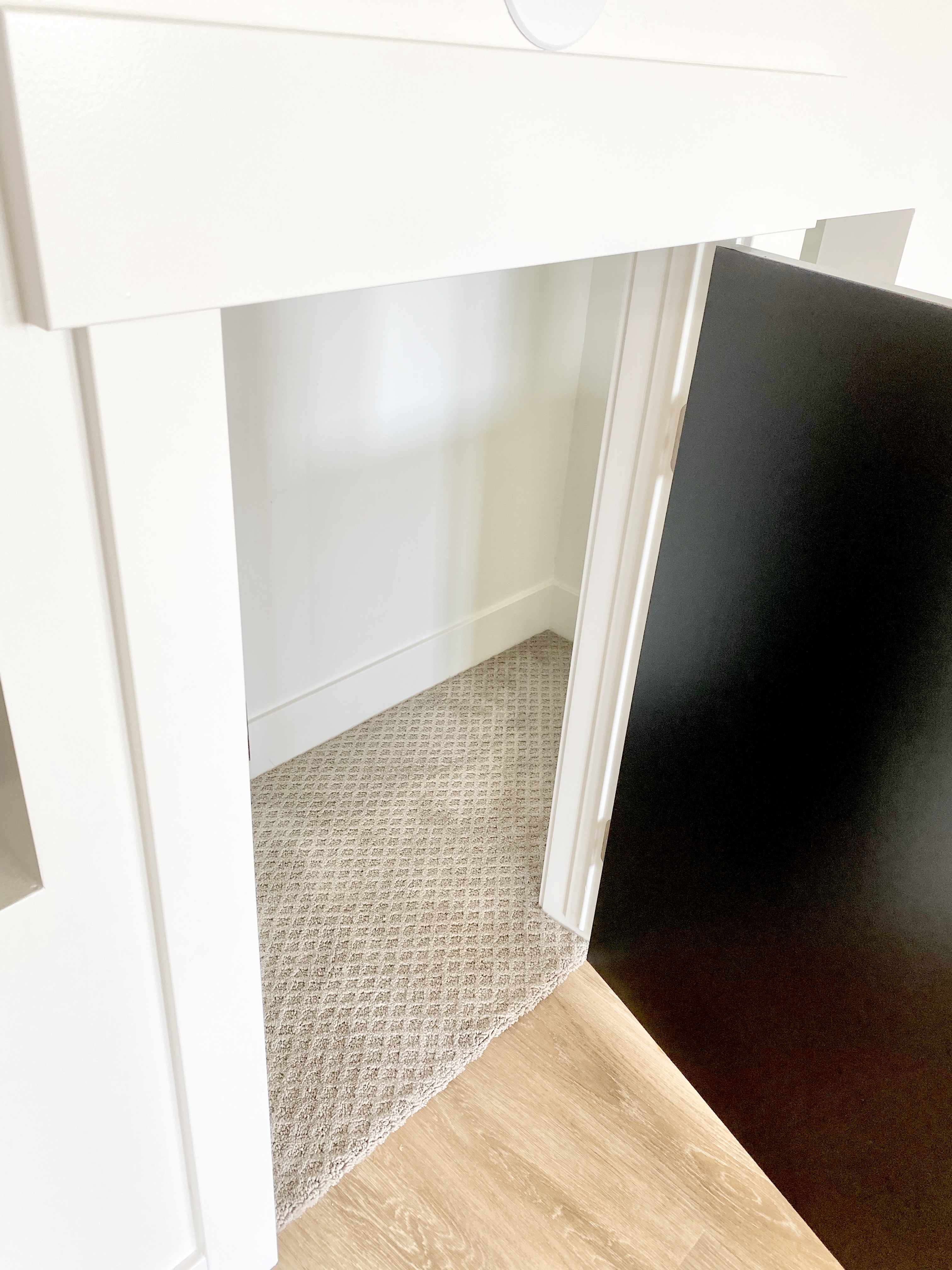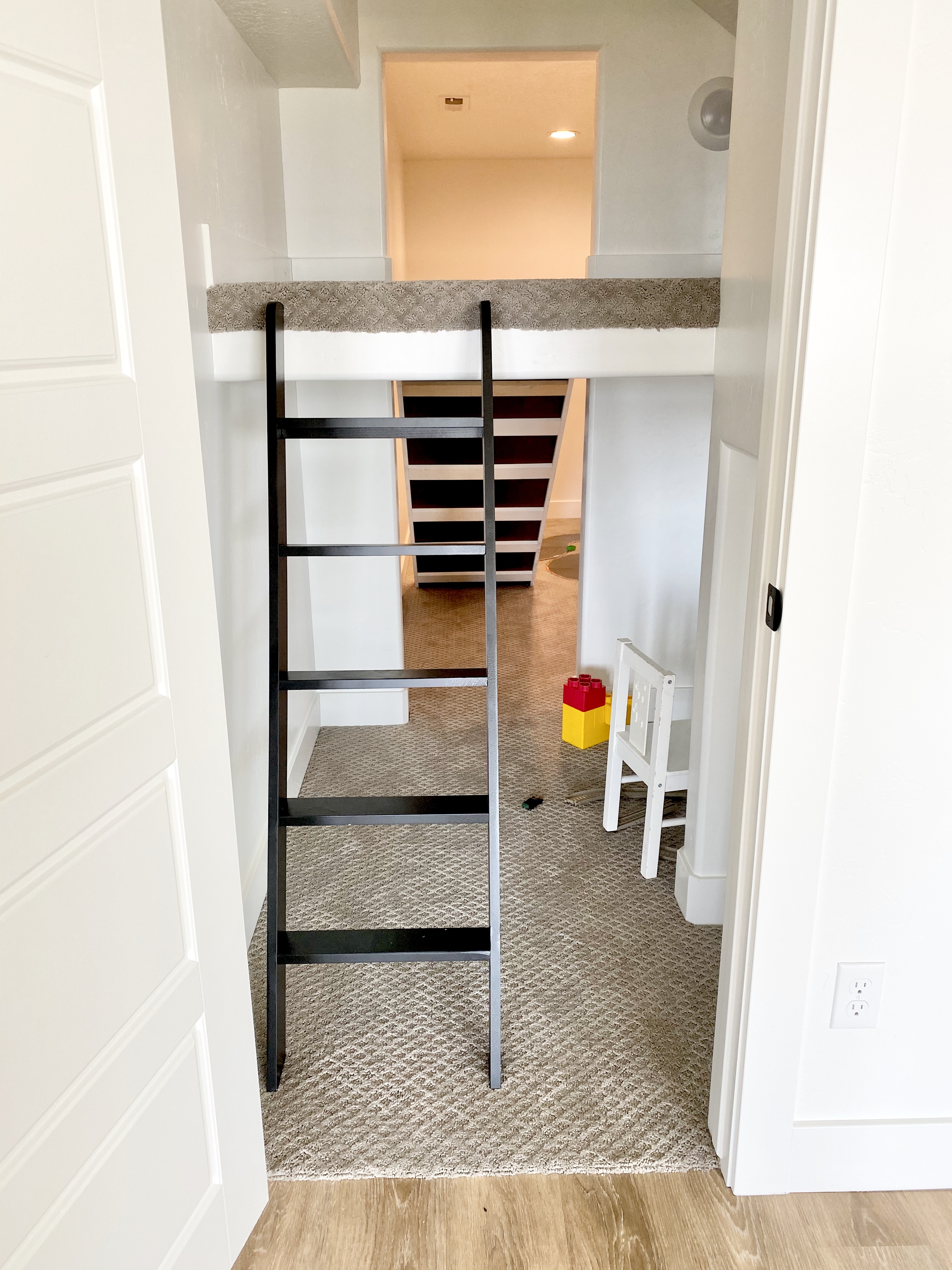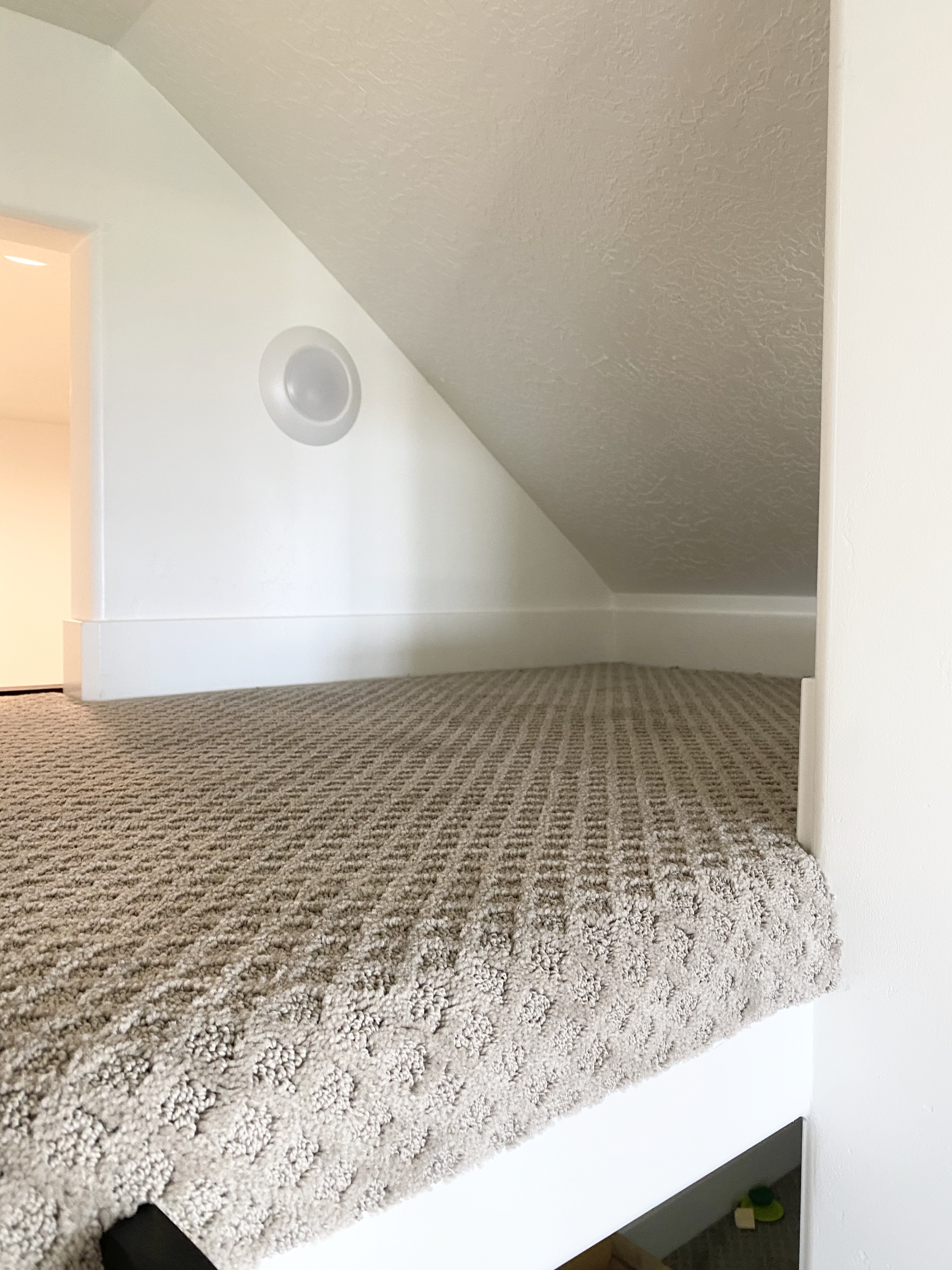 This is going to be a super fun project to make this house look like a real miniature home!
Finished Basement Bathroom
Here is my bathroom mockup:
Here is the current bathroom: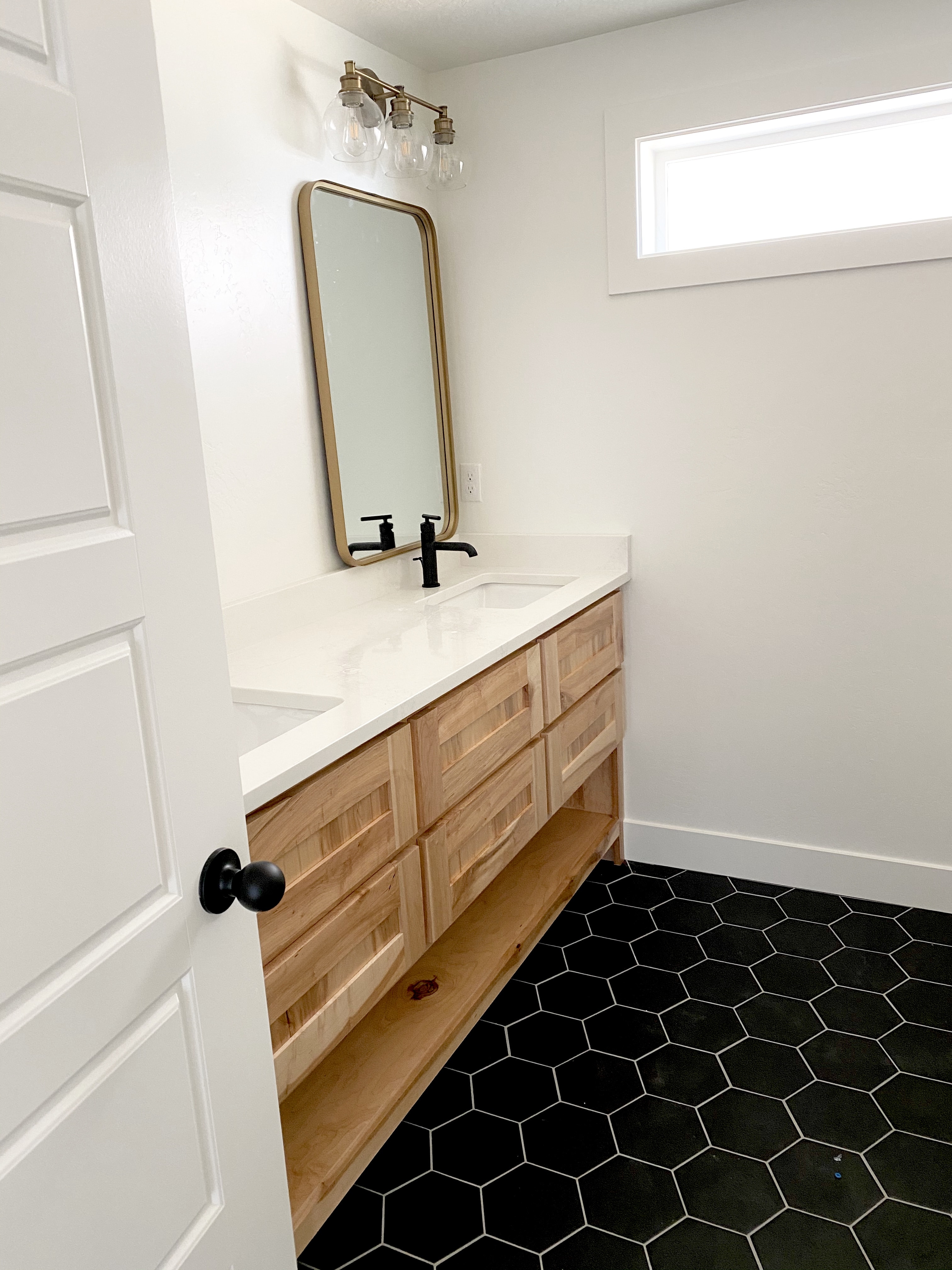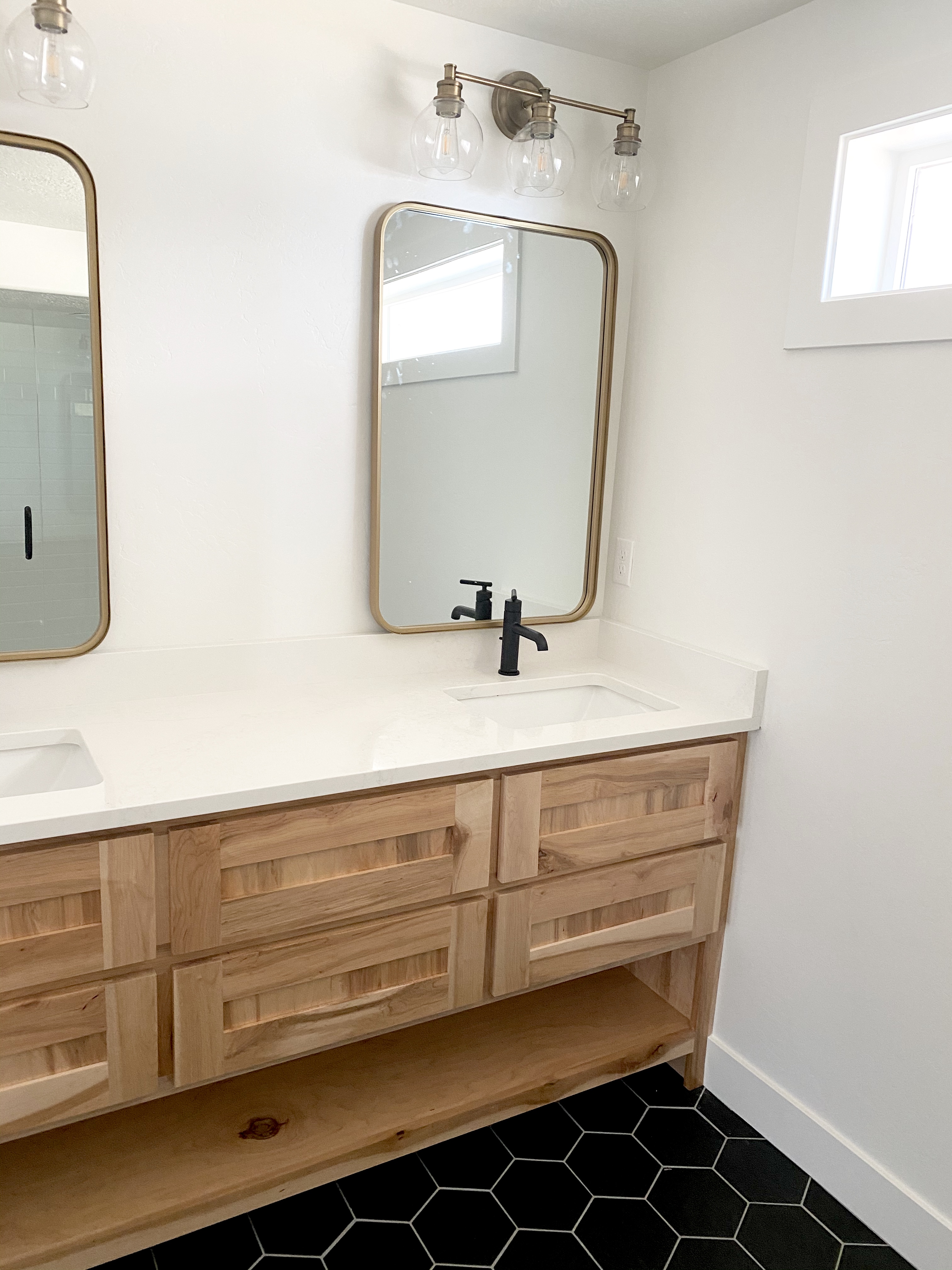 I'm super happy with how the vanity turned out!  It's a maple wood stained natural.  We still need to hang the mirrors and hardware but I'm going to put up a wall treatment soon which will make that easier.  I love the tile too!  We had the window cut out of the foundation which was so worth the money, with the natural light it brings in.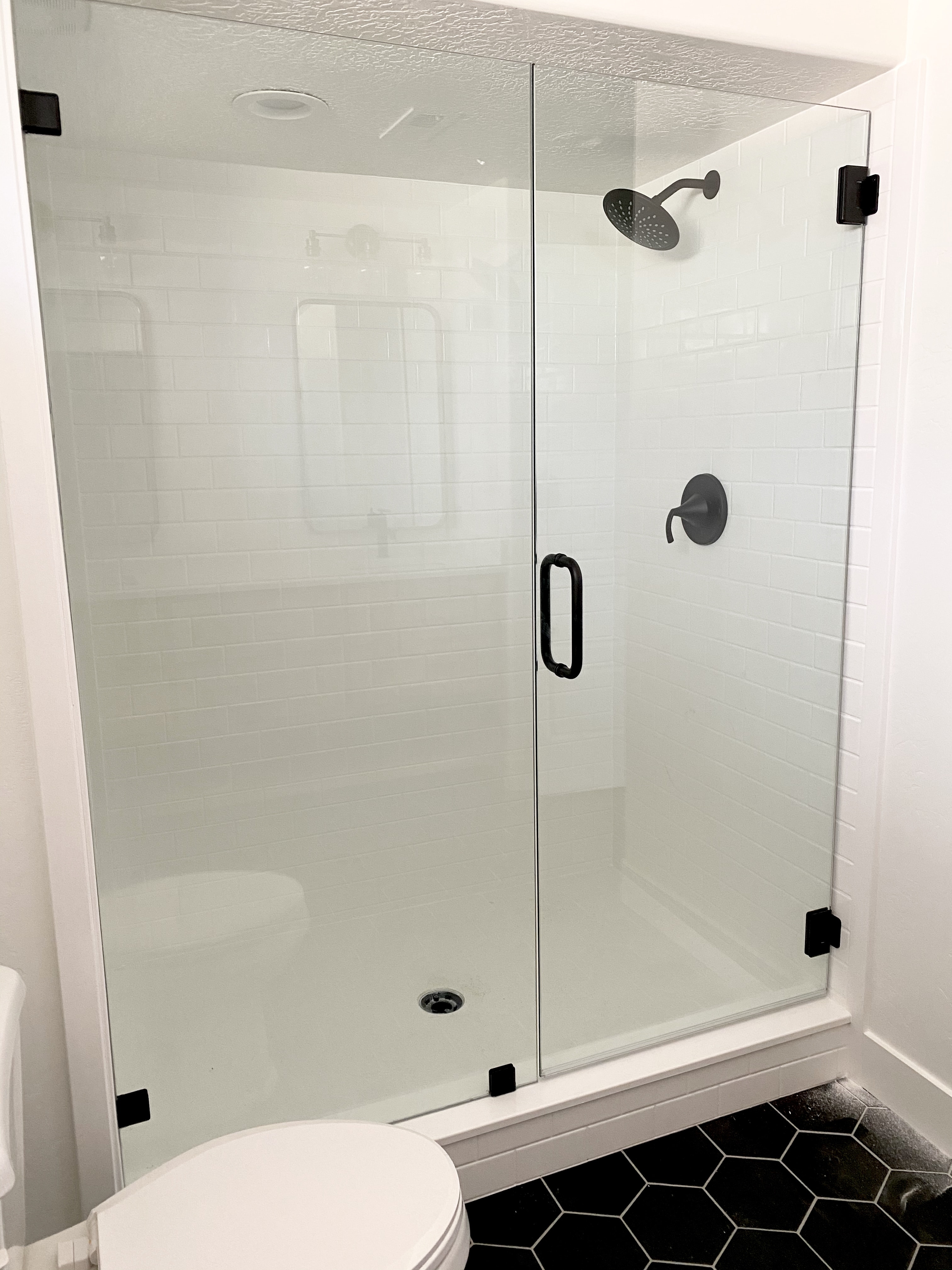 The shower is made from cultured marble stamped in a subway tile pattern.  I really tried to get the french style paned shower doors but they weren't available in a high quality version, and I didn't want to gamble on something shoddy.  So we got this super thick Euro glass with matte black hardware, which I am very happy with.  Ignore that white dust on the floor, I haven't had time to clean that from when they installed the shower door.
Here are pictures of the rest of our finished basement:
Gym (nothing in here yet):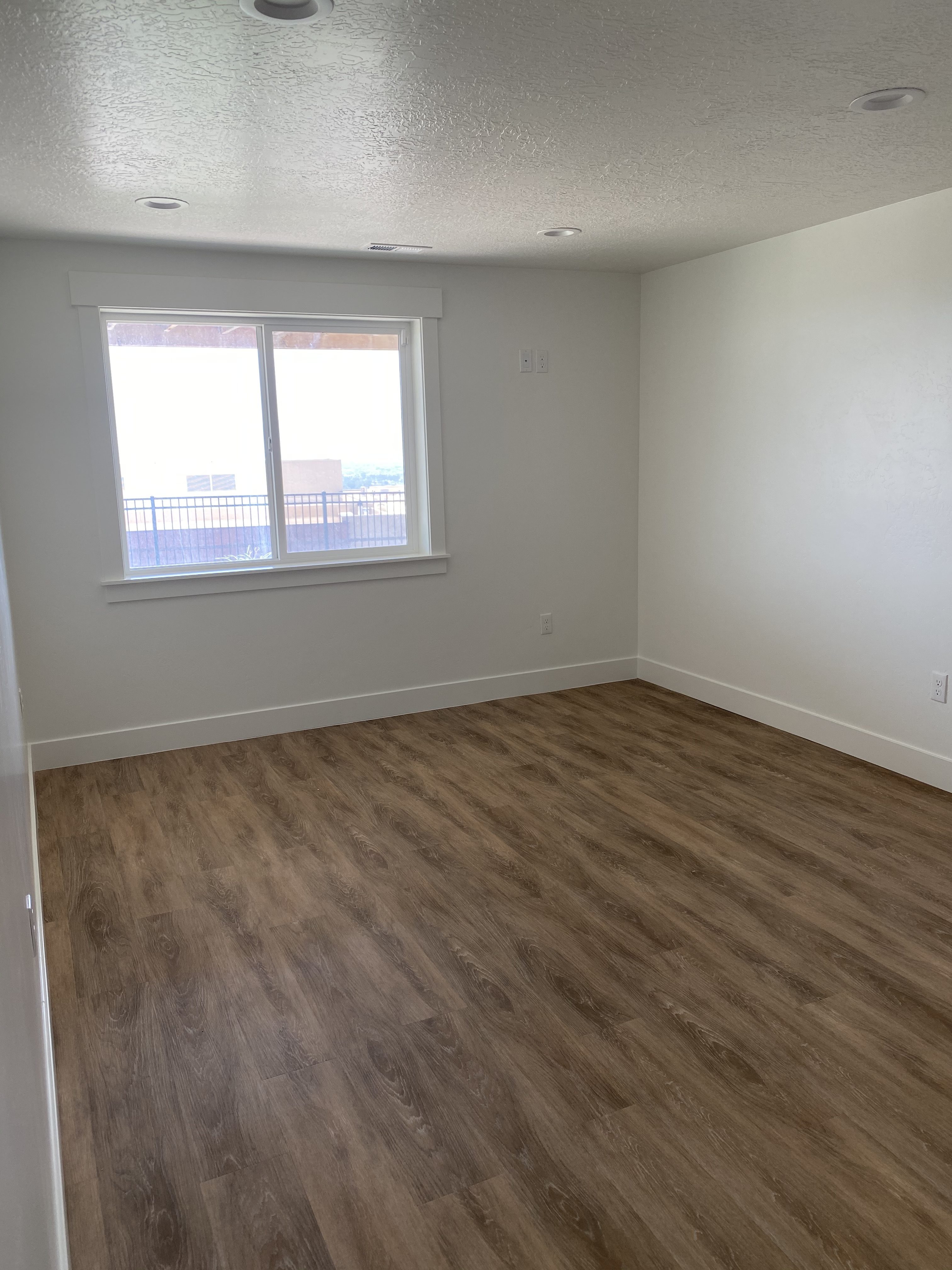 Bedroom #1: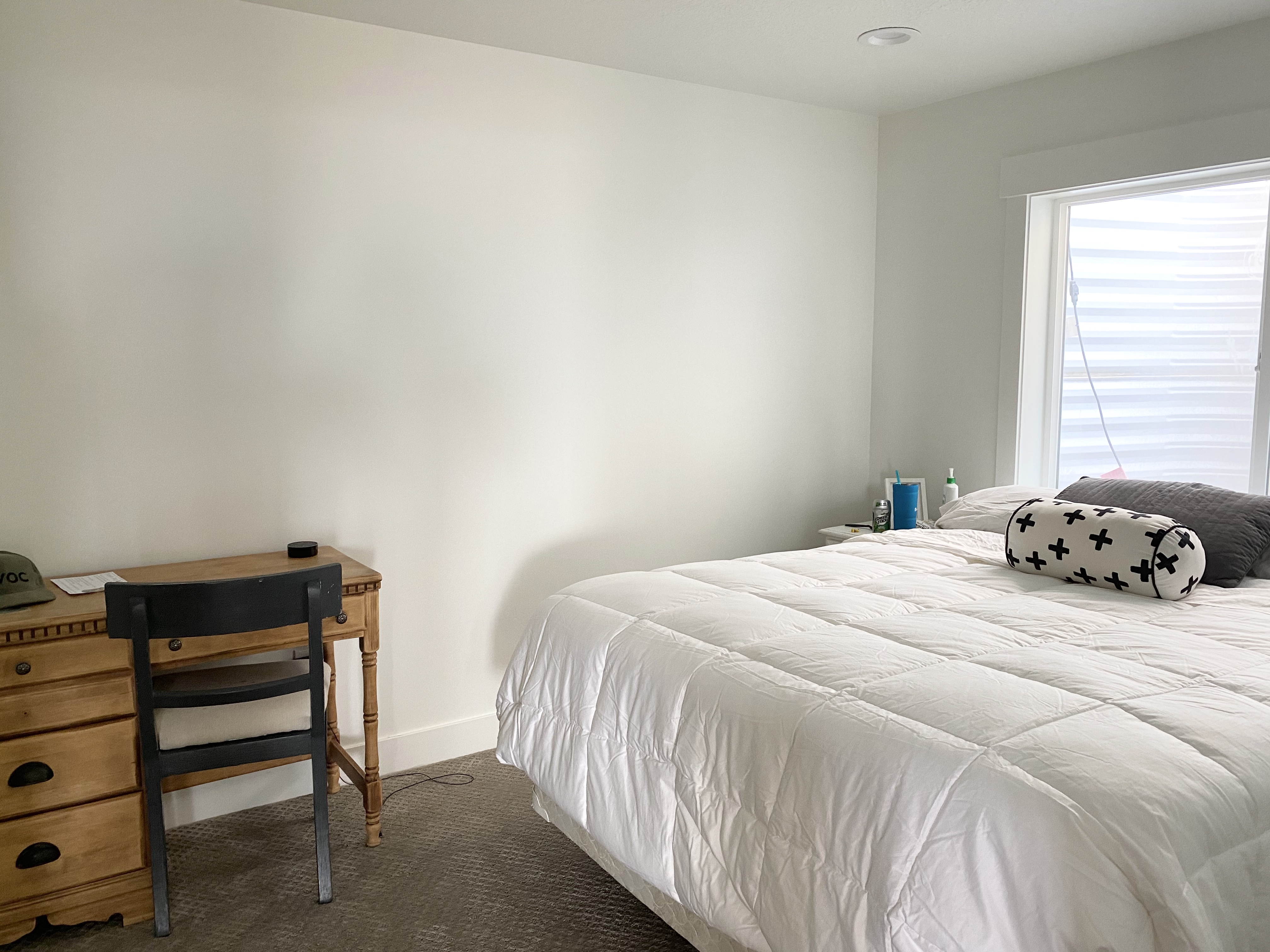 Bedroom #2: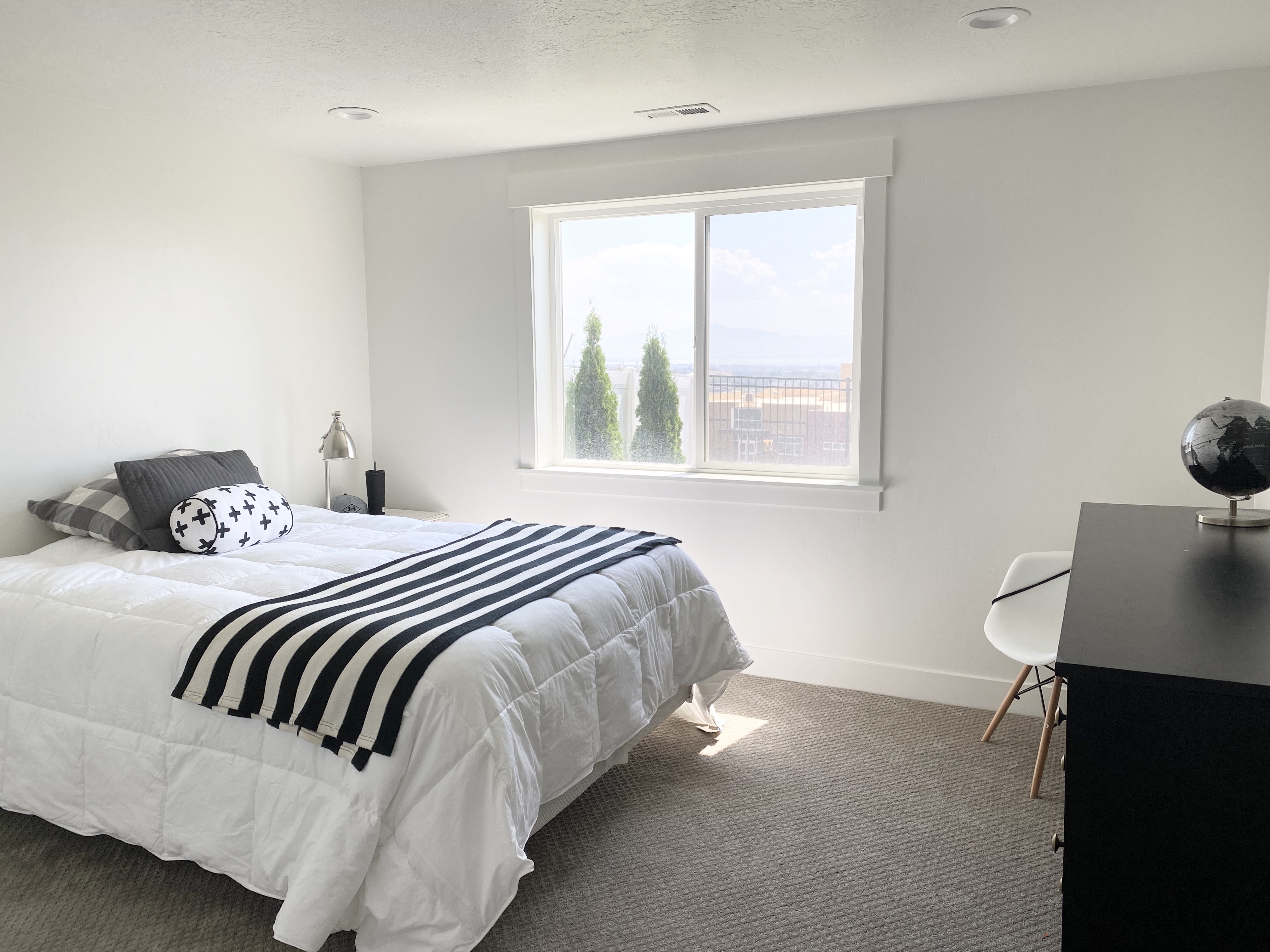 Game Room (it's a mess of toys but you can see the slide I built that comes out from the playhouse):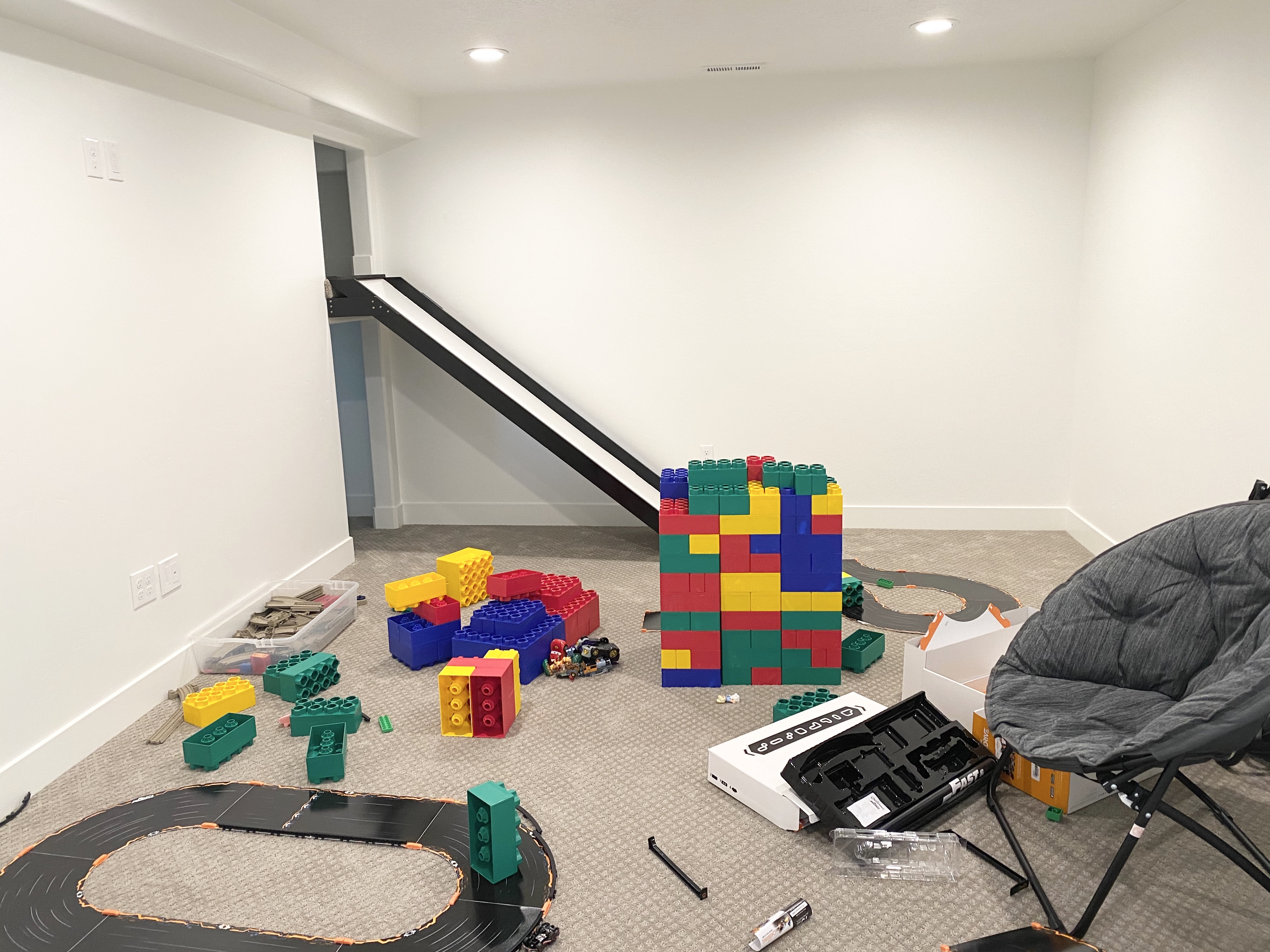 We have moved our two oldest boys down to the basement but we haven't moved much else yet.  I'm excited to do projects and share the progress with you as it happens!
Info About the Basement finishes:
Wall/ceiling Color:  Pure White Sherwin Williams in Satin (trim is same in semi-gloss)
Black doors color: Tricorn Black Sherwin Williams
Luxury Vinyl Plank flooring: Prima Hampton White Oak
Carpet:  Marquis 3022 in Castle
Paint color of shiplap builtins:  Cheating Heart by Benjamin Moore (same as my office builtins)
We used Millgate Homes in Utah to do all the work and they were great to work with.  Very professional and mostly stuck to the timeline.  They have all their own vendors and we worked with them to pick out our finishes.  We got the flooring from Westco Flooring in Lindon, Utah.  All our lighting came from Lighting Specialists in Lindon also.
Hey–What about your laundry room?  Didn't you renovate that as well?  I sure did, friend!  And I will be sharing those photos soon.  I freaking LOVE having that space opened up so much.  Can't wait to show you!