Mid Century Modern Living Room Refresh for Fall

This post is sponsored by Joss & Main, but all opinions are my own.
Now that the basement is finished and we did end up moving our upstairs furniture downstairs, we ended up needing something new for the living room. I am ready to start incorporating some of the more modern styles into my decor now. Decor style is always changing and evolving, so you shouldn't let yourself be too tied down by a certain style. For a long time I defined my styled as 'modern farmhouse' but now I'm starting to enjoy more of the more mid-century modern styles that are available, so while I still have a lot of more traditional and farmhouse elements, it's not too hard to start adding in some mid-century items here and there.  And I wanted to start with a mid century modern living room.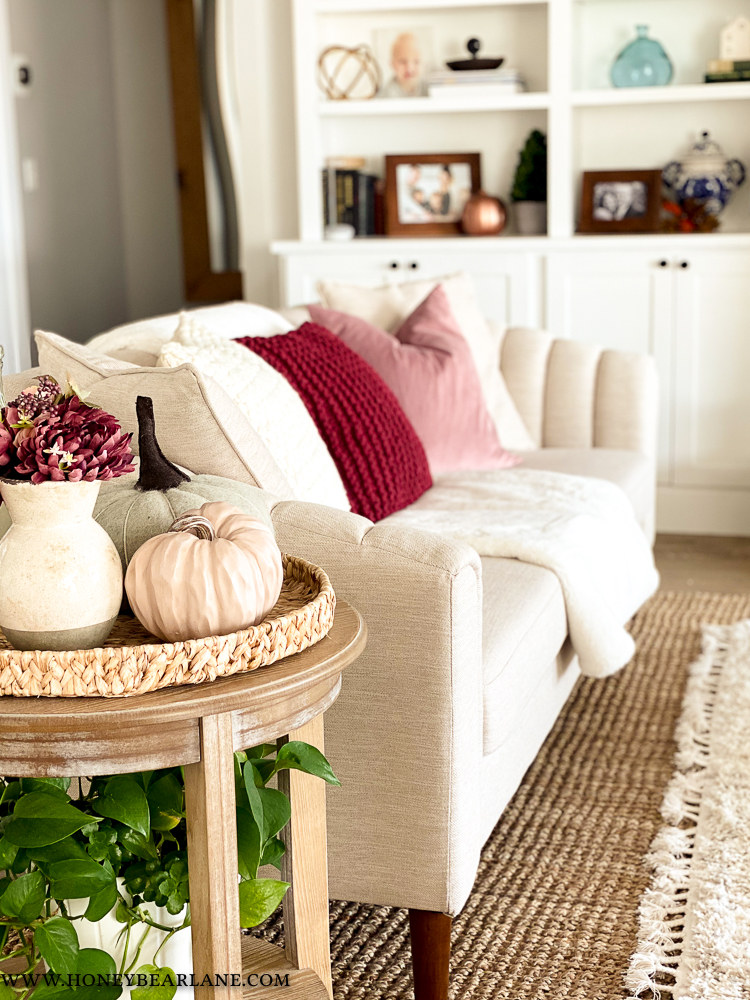 I wanted to see how the couch from my front office would look in the living room, so I moved it out there. I really liked the more tailored look. It looks neat and tidy while still having a comfortable and inviting vibe. It's a good marriage of traditional and modern–using traditional upholstery fabric in a modern couch style. This couch is an absolute winner! I bought it this last winter after searching for what felt like forever for the right furniture. I was on the Joss & Main site, one of my favorite furniture sites, and suddenly came across this sofa which was an awesome deal at around $400 with 100+ 5-star reviews. I spontaneously just purchased it. When it came I was pleasantly surprised to see what a great couch it was. So I didn't hesitate to buy another one when I moved it into the living room.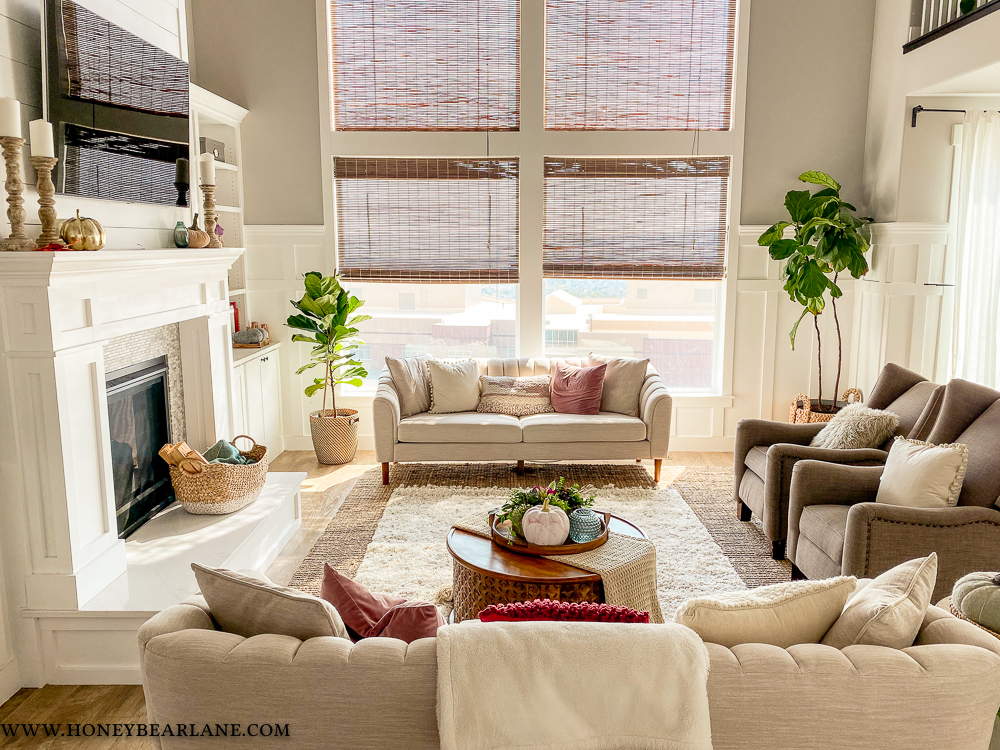 Along with the sofas, I got a new accent rug, coffee table, and decor. Most of this stuff came from Joss & Main, who provided me with a lot of it. I chose this round coffee table that has a beautiful wood detail on the sides. It was hard to get in this color because it kept selling out.  I absolutely love the movement it gives the room…grounding the space with the darker color.  It's the perfect accent for this mid century modern living room.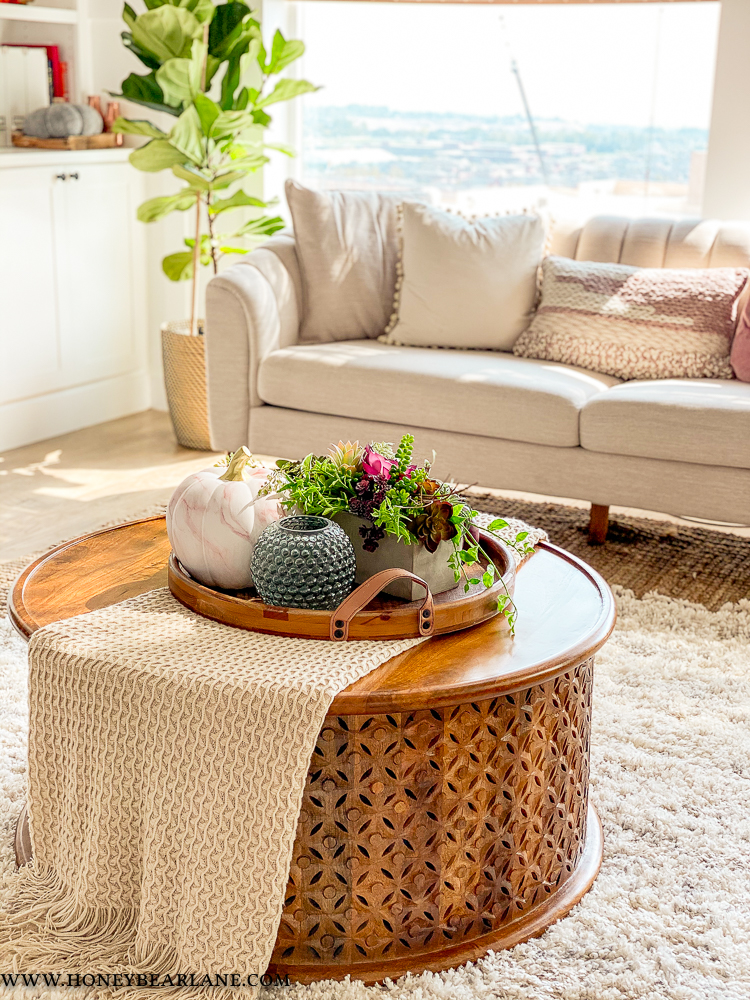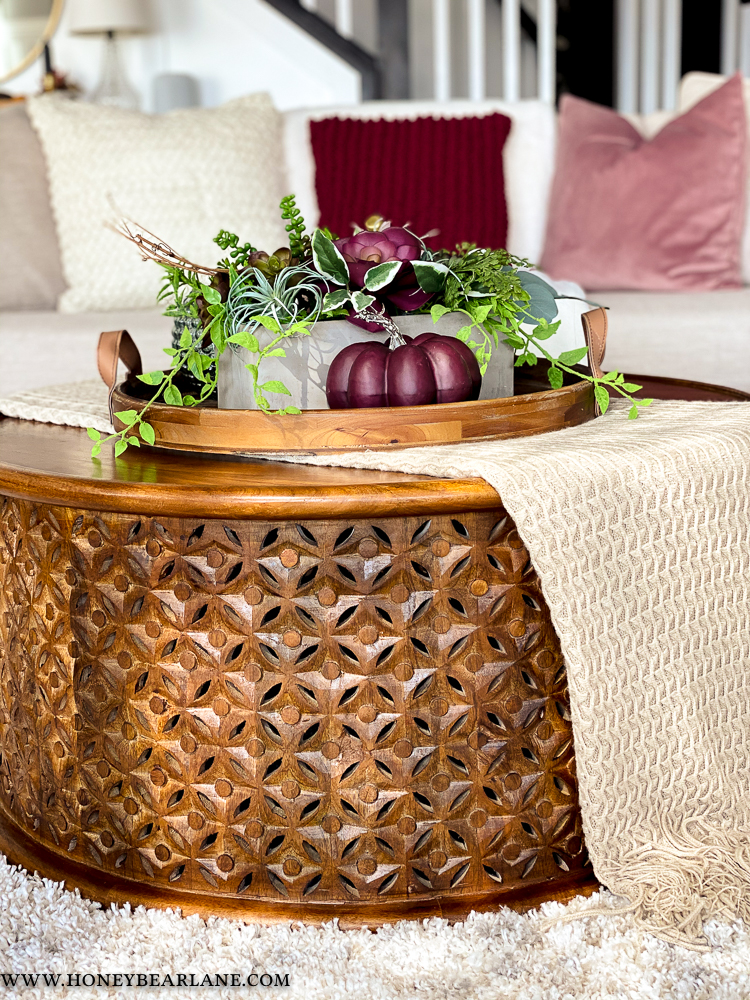 This fall I tried a new color scheme. Instead of oranges and yellows, I stuck with a blush color pink and burgundy. I found this super cute little pumpkin at Home Goods and it inspired the entire palette. Luckily these colors are popular right now so there was plenty of other decor which I could buy to go along with it.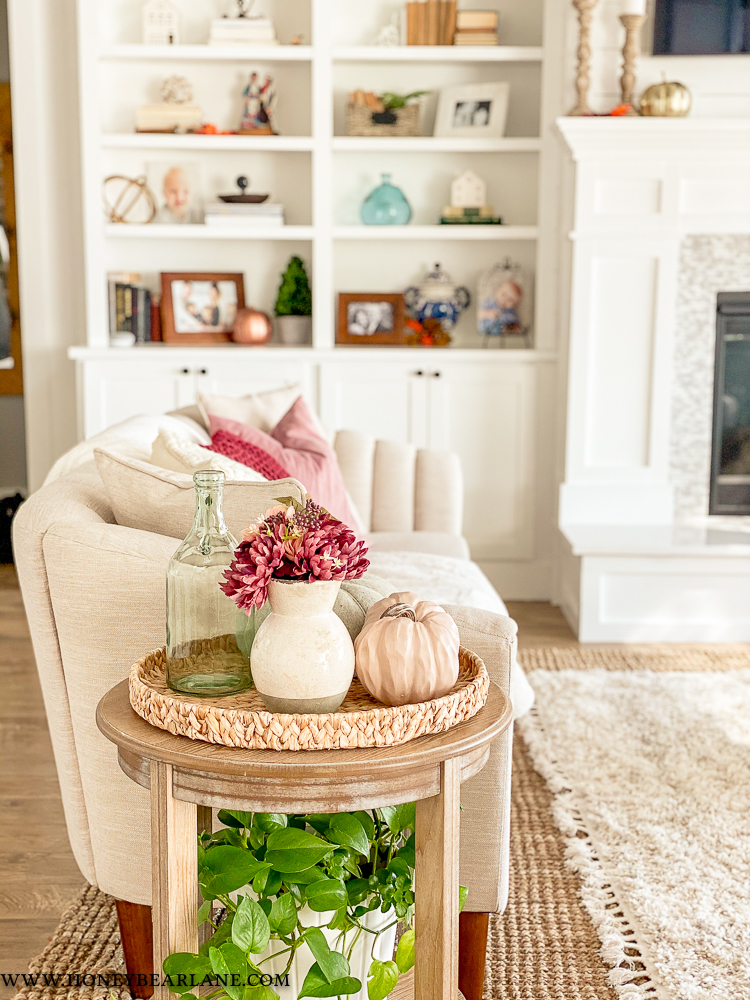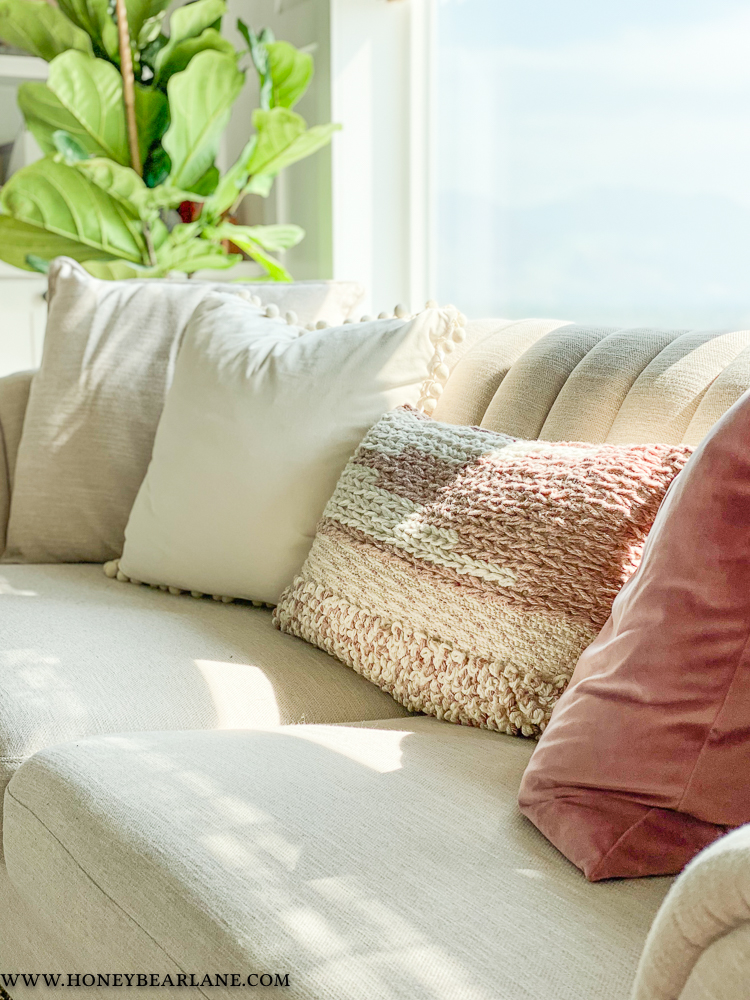 I love all the pillows I got from Joss & Main.  They are rich in texture and have a thick nap which is great for fall and winter.  They feel very sweater-y.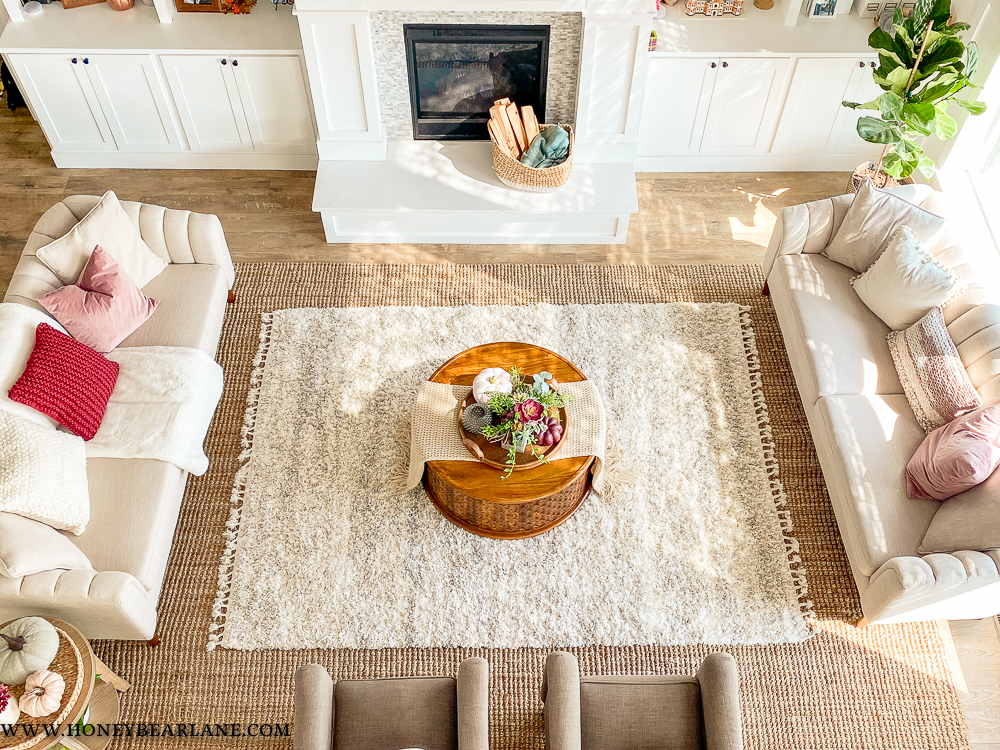 I also am a big fan of this new throw blanket.  I loved the texture online (apparently I'm a little obsessed with texture right now) but when it came it was thinner than I thought, but not in a bad way.  It feels more luxe.
I put together a little centerpiece for my new coffee table.  I had this old flower arrangement which I enjoyed, but the faux flowers in it were a little more frilly than I like, so I ripped them out several weeks ago.  I planned to add in new more modern florals, like some faux succulents, because I like the cement container a lot.  I found just the right ones at Hobby Lobby, along with the perfect round tray and the cute little burgundy pumpkin and glass vase.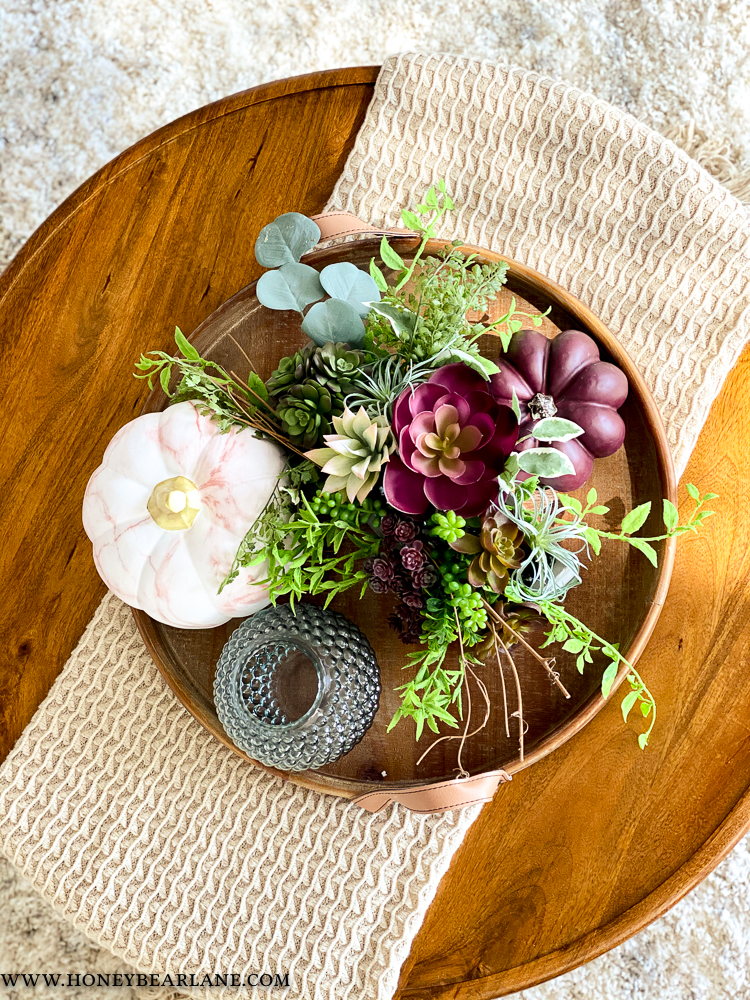 Items from Joss & Main
Other items
Shag Rug (RugsUSA)
Jute Rug (Overstock)
Coffee Table Decor from Hobby Lobby and Home Goods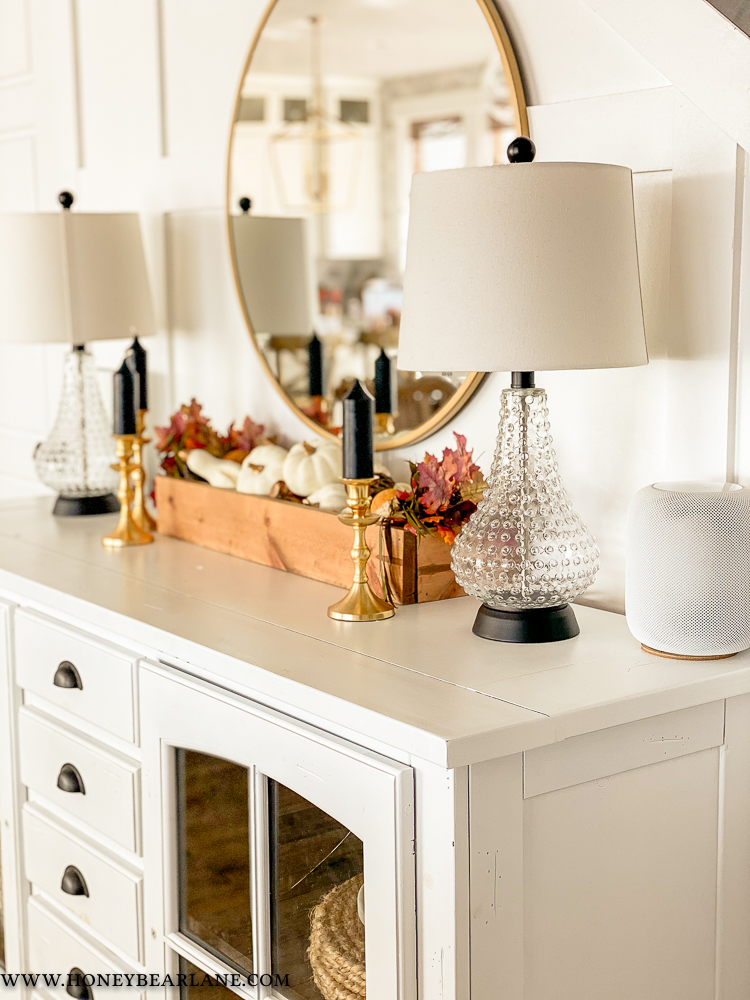 Just one last thing–I had moved my white buffet onto this back wall awhile ago, so it's a fun space to decorate.  I threw an old wood box I had, filled it with fall florals and faux white pumpkins, then added some charming candles around it.  I love the gold and black touches!
I super happy with my mid-century modern living room refresh!  It has a really modern feel to it but it's still really cozy and welcoming for fall.