Modern Finished Basement Living Room Reveal
The basement is finished and now my modern finished basement living room is too!  It's so fun to have a whole new area to decorate in the newest styles.  I also feel like I can be a little more adventurous because 1) I don't have to look at it all the time so I don't get sick of bold colors and patterns as quickly, and 2) it's more of a 'fun' space, rather than a grown up living space.  Ready to see it?
First, remember this mood board from my Modern Finished Basement Ideas post?  
Here is the finished result!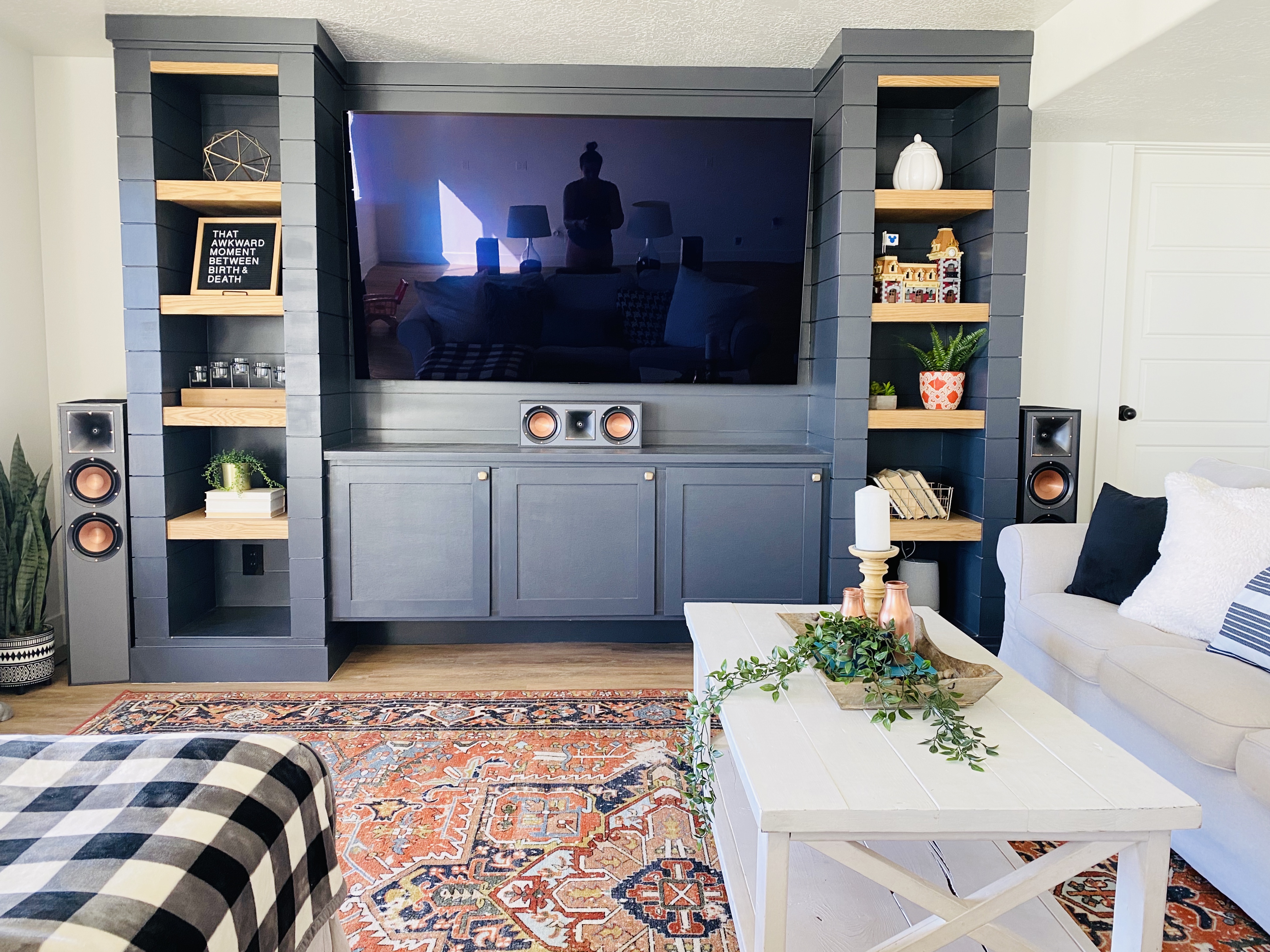 Hello there!  It's funny you can see my reflection in the TV.  This room was hard to photograph.  For some reason the gray builtins read really blue in the photos.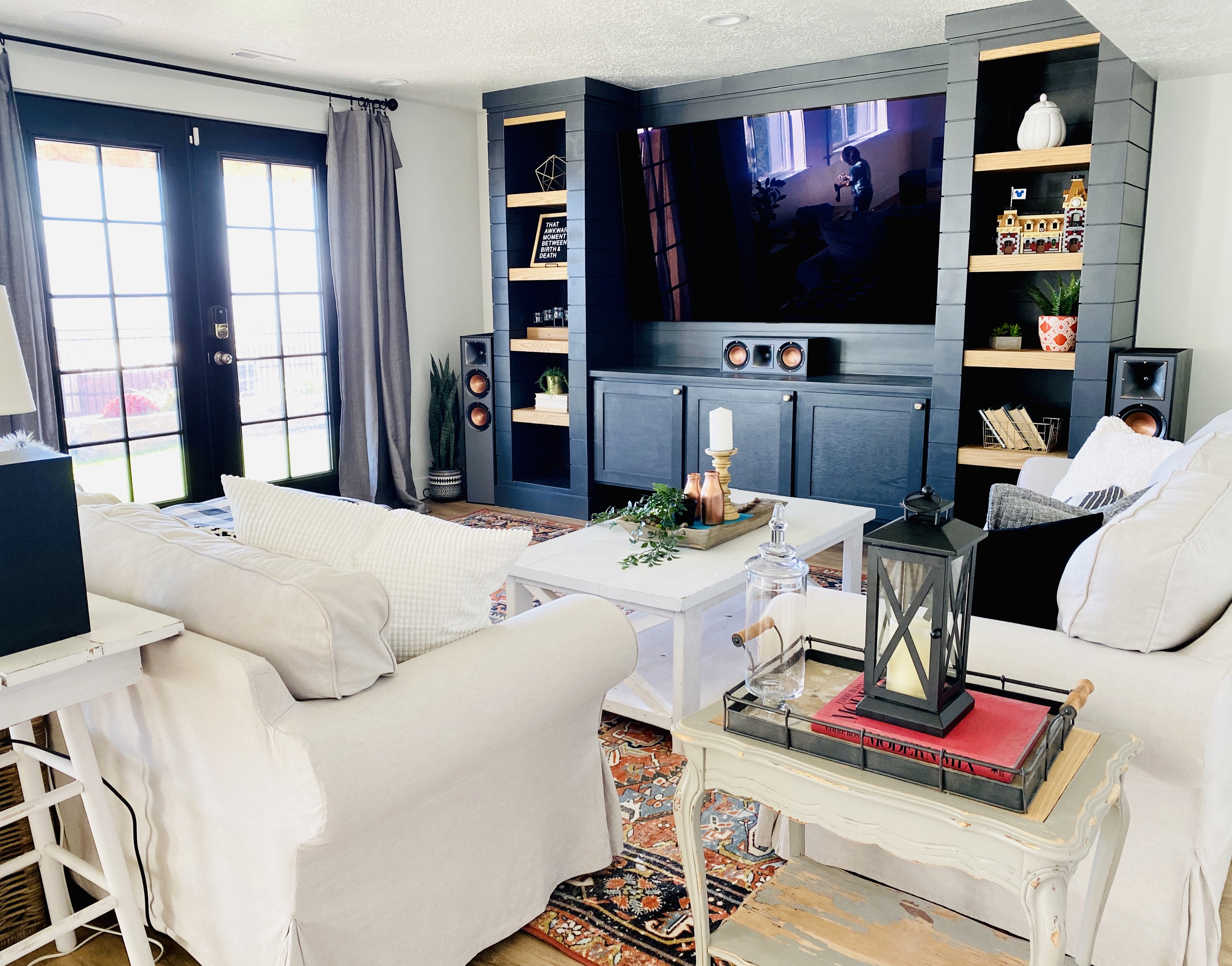 We did end up moving our upstairs couches down to the basement, and you can see what I replaced my upstairs couches with here.  We splurged on a good TV and surround sound system, since this is my husband's "theater."  But I have to say, it is pretty fun to watch a movie down here as a family, with all the surround sound making it seem like you're really there!  We got the television at Costco, and it was on sale so we got a good deal on it.  It was the 77″ OLED 4K LG smart TV.  It's a really nice unit, and what we love most about it is how vivid and clear the picture is.  My husband also found an awesome deal on the speakers, which he bought at both Costco and Best Buy.  We had it pre-wired to do four speakers in the ceiling so we installed those ourselves.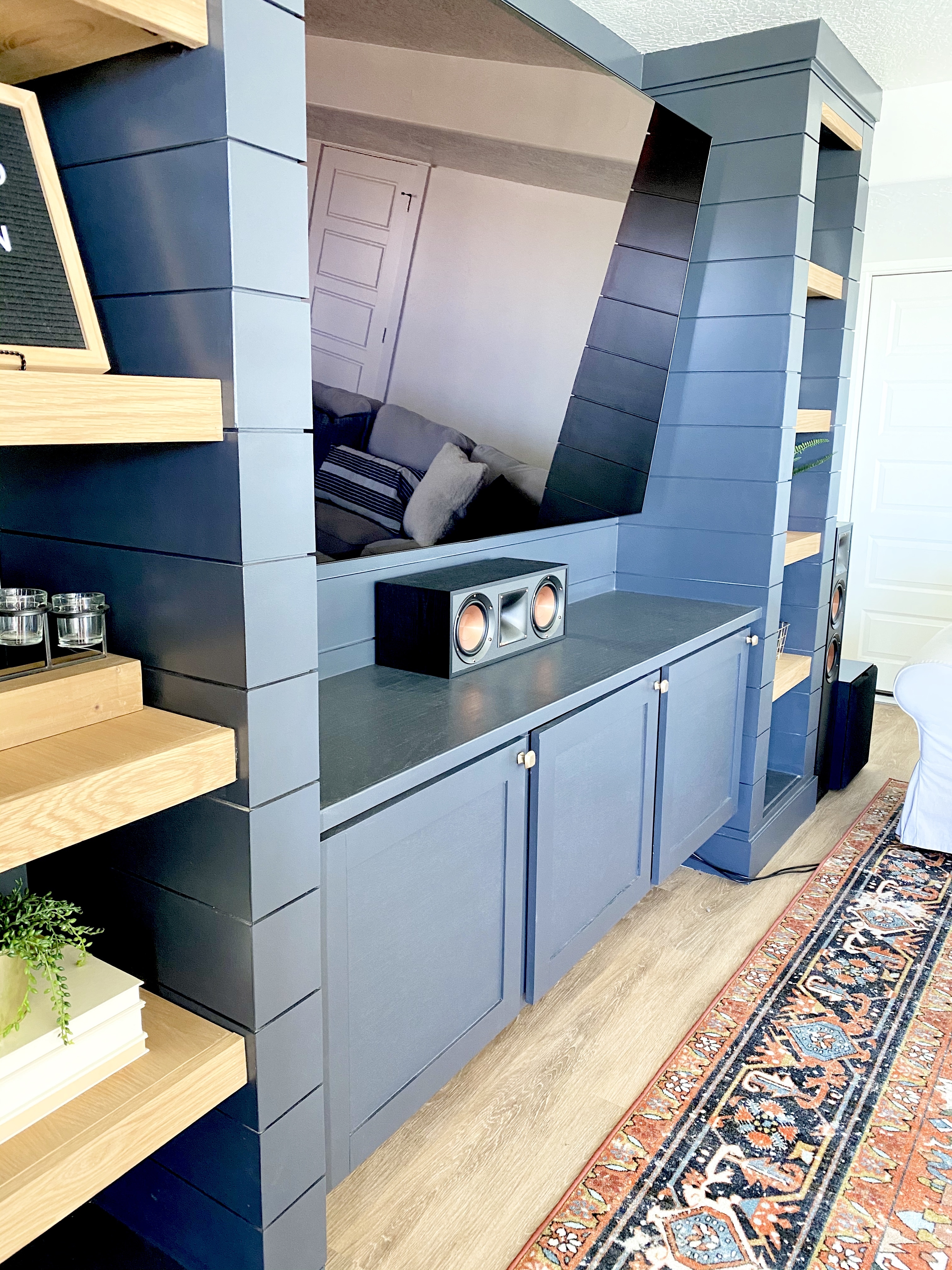 The big deal in this room is the shiplap built in media unit, which I built in July as they were finishing the basement.  I'm going to share those plans and the build details tomorrow so be sure to come right back!  It wasn't the easiest build, but it was soooo worth it.  It adds SO much to the space!  I love having the white oak shelves in contrast to the dark color.  And because I decided to paint the built ins dark, it makes it seem like the TV is even bigger.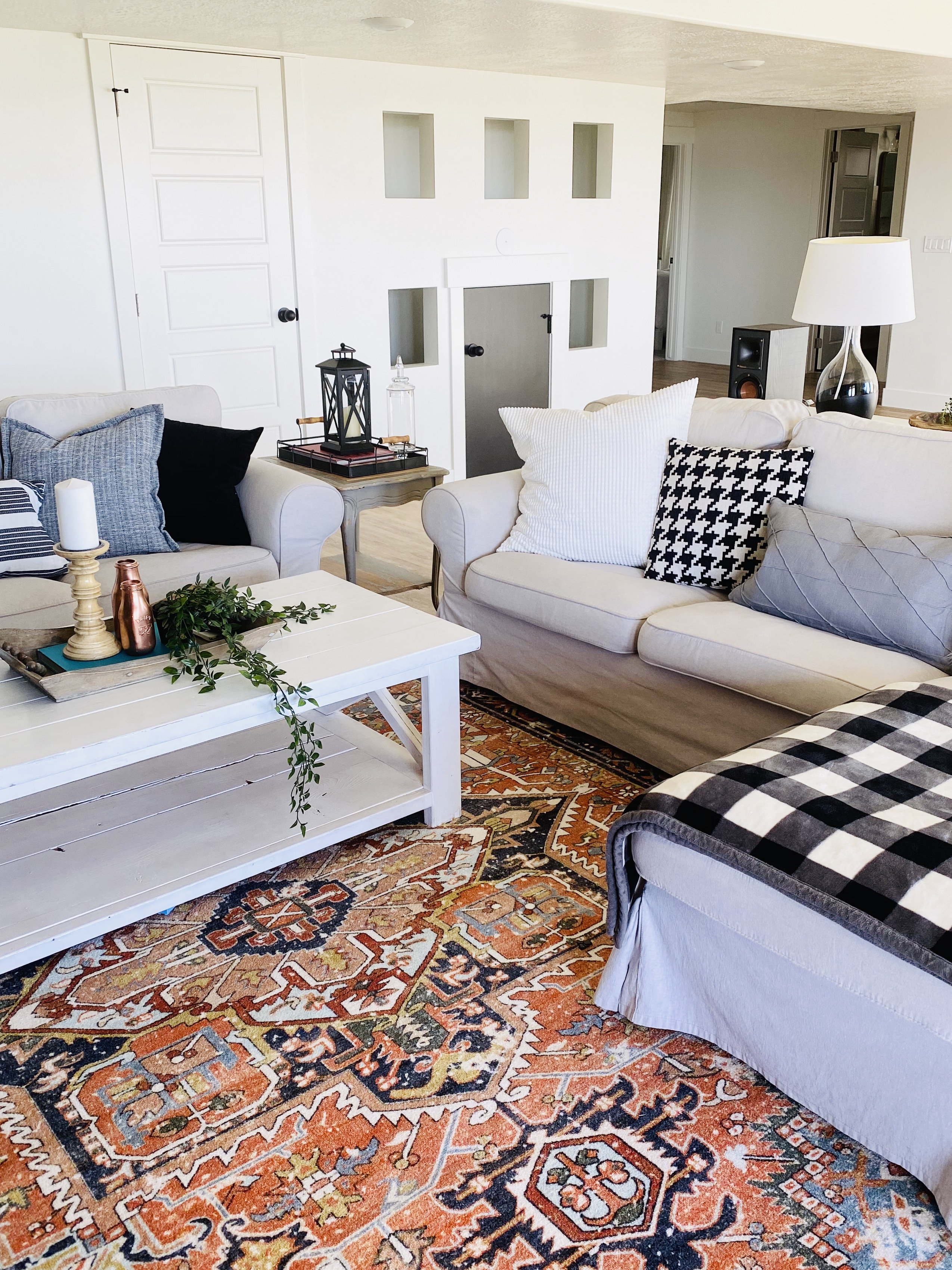 I also reused the old living room coffee table in here, which is fine for now, but I feel like it's a little big for the space.  I want to get a nice large ottoman instead because this room is all about comfort.  Actually all the furniture in here was previously somewhere else in my house, including the sofa table and side table.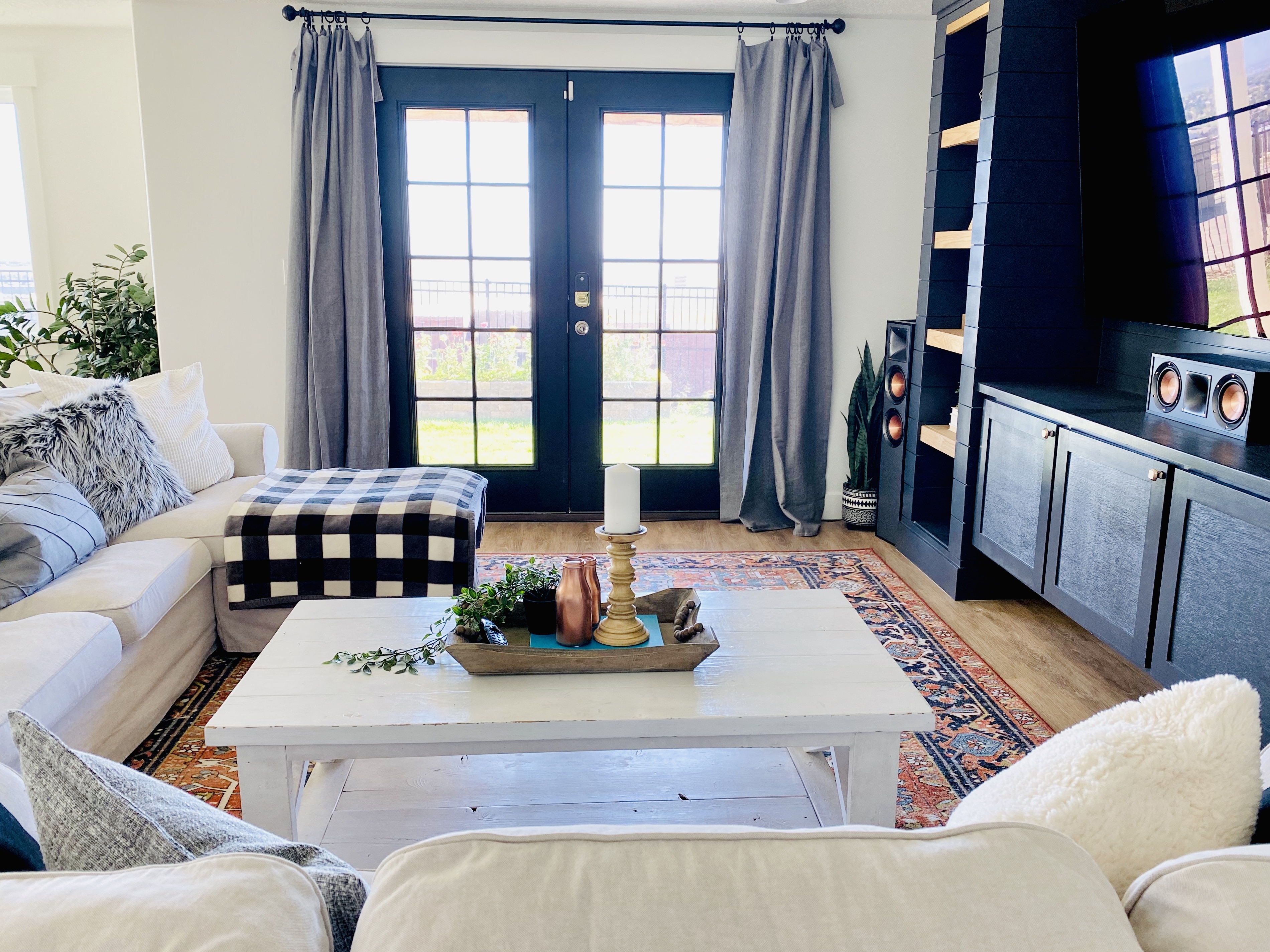 I bought this boho rust colored rug from RugsUSA.com which I do like, with a caveat.  It's pretty thin…like bathroom rug thin.  So with a large size like this 9×12, it was tricky to get it to lay flat.  I bought a rug pad to go with it, so after I laid both of them down, I had to get on the floor, pulling the rug tight and using two-sided rug tape to keep it in place.  Now it's great.  Because it was so thin, it was a pretty cheap price.  I love that they can do modern style rugs in large sizes for a cheap price…I mean, you get what you pay for, but after spending a fortune finishing the basement, it works for me!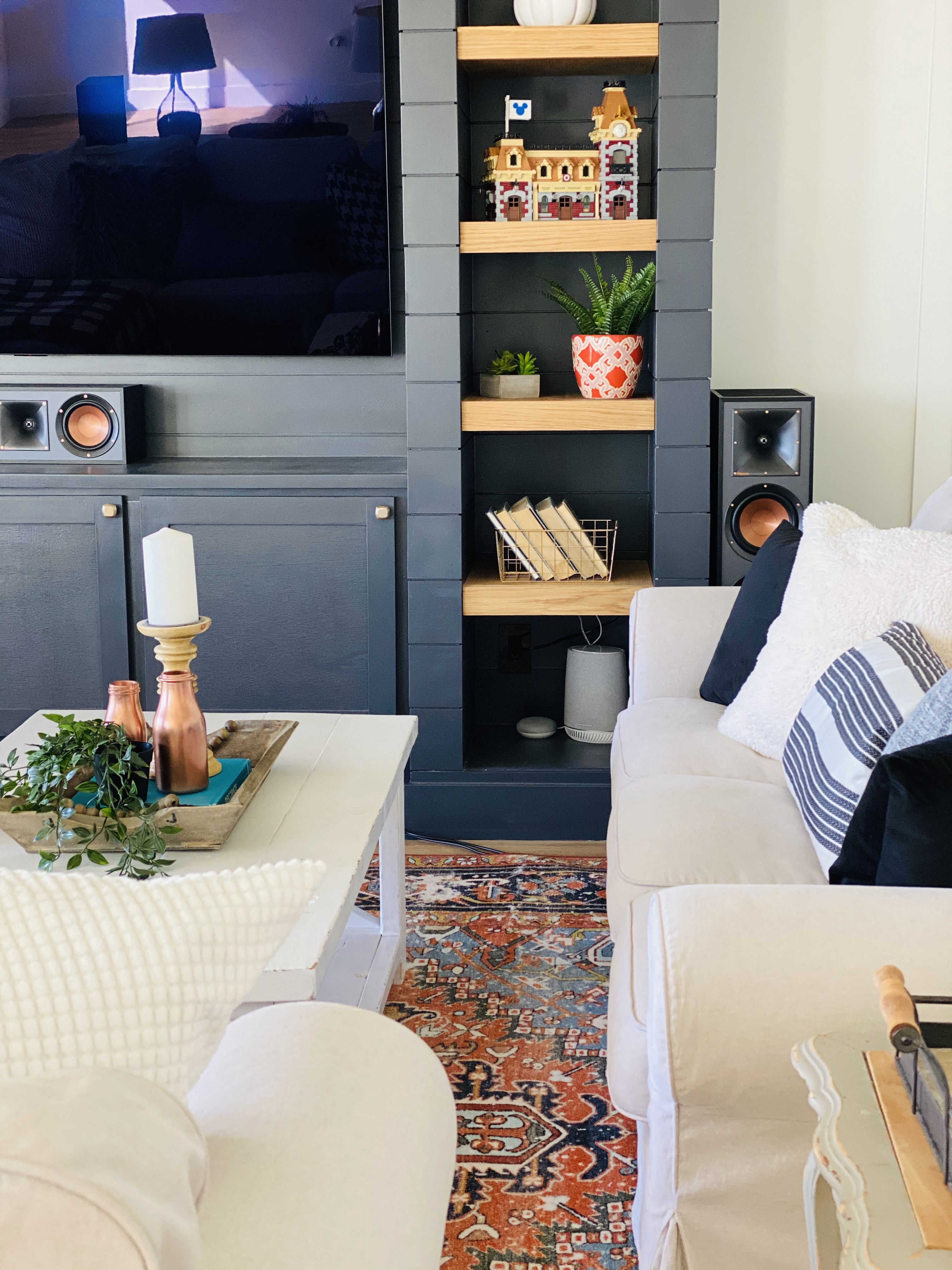 It has been so fun to have a brand new area in the house that I can decorate in all the latest styles.  One thing I wish we had thought through a little more was the surround system.  We might have been able to do something about the wires.  Getting a completely wireless sound system adds thousands of dollars to the cost, so we got one with wires and did our best to disguise them.  It would have been great to have some sort of outlet in the ground under the couch, but that was impossible to know beforehand and we were building on a cement slab.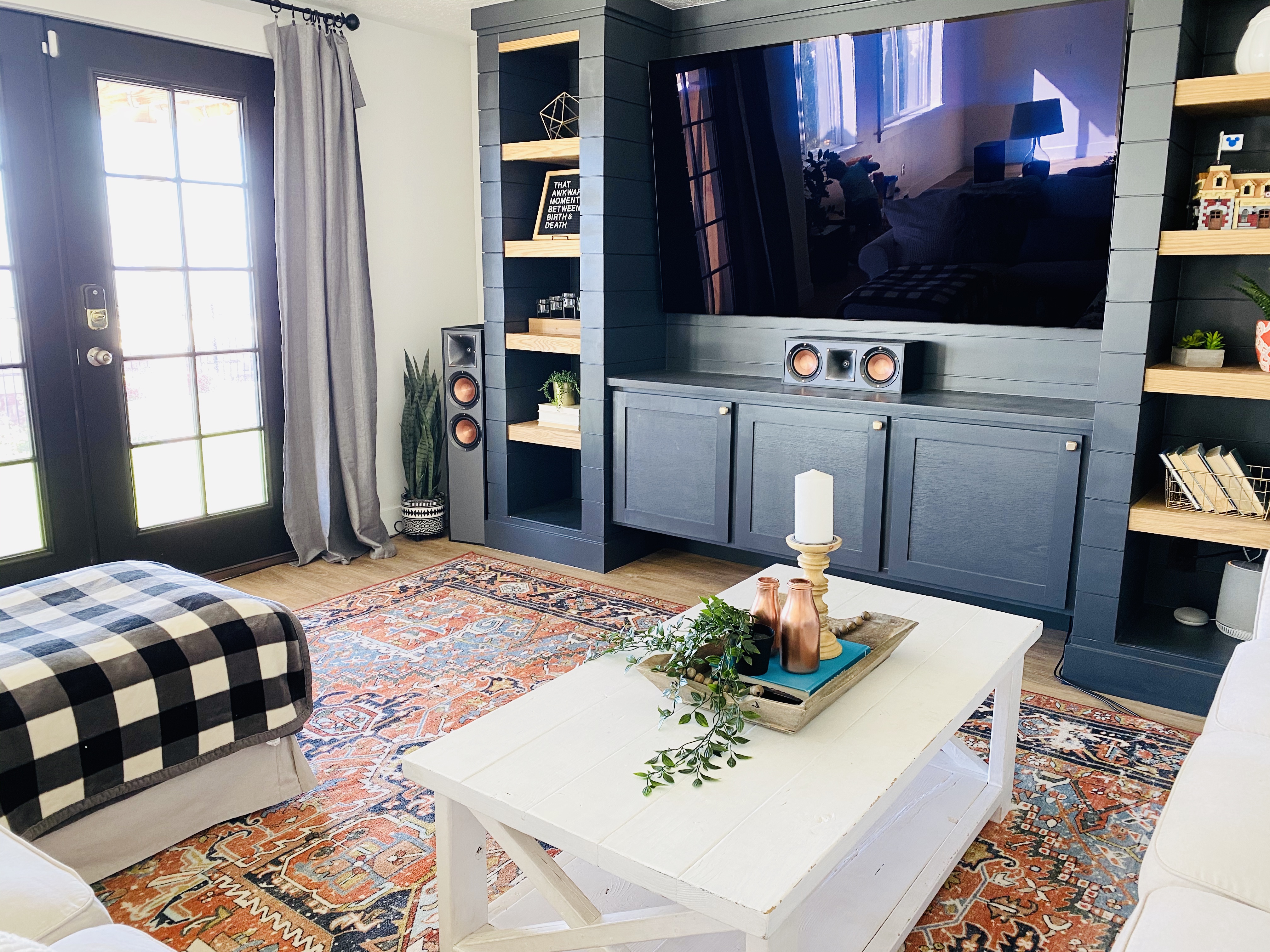 This is such a great room to have all finished.  Most of the rest of the basement is still pretty empty and boring, it's all just a long process.  And truth be told, I am taking a little break from DIY projects for a minute.  But I'm glad I got this done!  I will be posting plans on how I built the builtins very soon.  And in the meantime, we will just enjoy our finished basement living room.
Affiliate links below