The Perfect Mid-Century Modern Chairs

This post was sponsored by Joss & Main, however all opinions are my own.
I found the perfect Mid-Century Modern chairs for my front room!  I'm so excited about these simple yet adorable chairs.  I say adorable because they are petite little chairs.  They are the perfect chairs for a small space.  Mid-Century Modern style tends to have smaller and shorter furniture, which actually isn't necessarily always the most comfortable for sitting.  So I will continue to search for the perfect living room chairs to replace my recliners that are breaking down.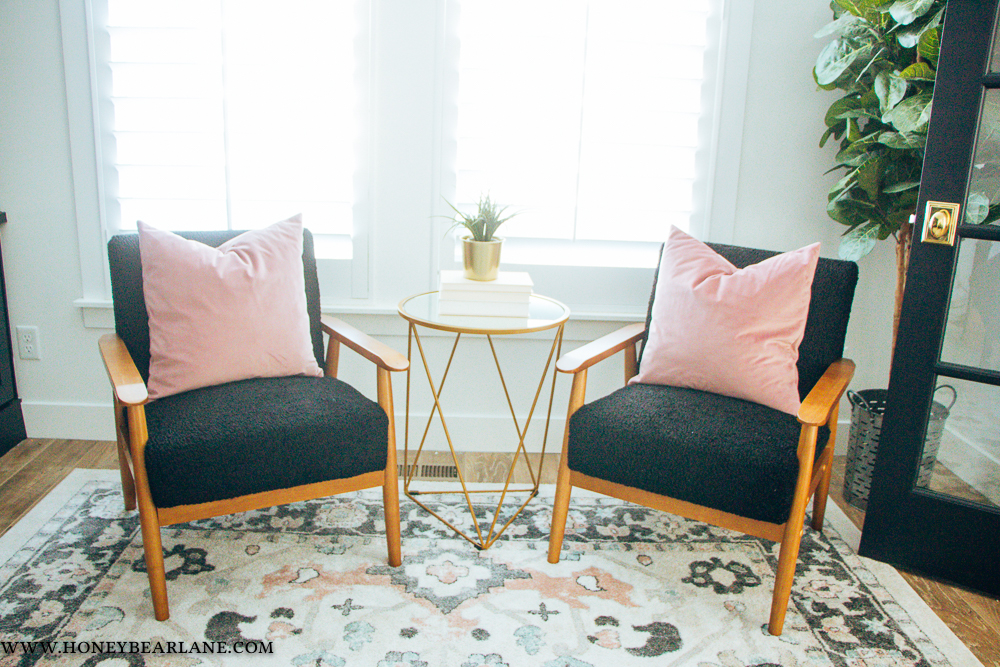 I do love these chairs for this particular area.  I needed something small and unimposing, and it doesn't really matter if they are super cushy.  I don't spend a ton of time in the front office because it is north facing and doesn't get much sun.  I prefer hanging out in areas of my house that have more sunshine.  But I spent so much time decorating this room and it is the first room that people see when they enter my home, so it's an important room.
I got these mid-century modern chairs from Joss and Main (are you surprised? Ha!) and they were an amazing price.  I wasn't totally sure about the black color, but when it came, I just loved the sherpa-like material.  It gives it a cozy feel.  Unfortunately I think these chairs (Sherman chair) are sold out on Joss and Main because I couldn't find a link to it anymore, but here are a few other similar chairs:  Ashbourne chair, Morris chair, and Clora Armchair.
And the side table!  I'm obsessed with this side table.  The mirrored top makes the room just have an extra layer of texture and visual interest and your eyes are just drawn to it.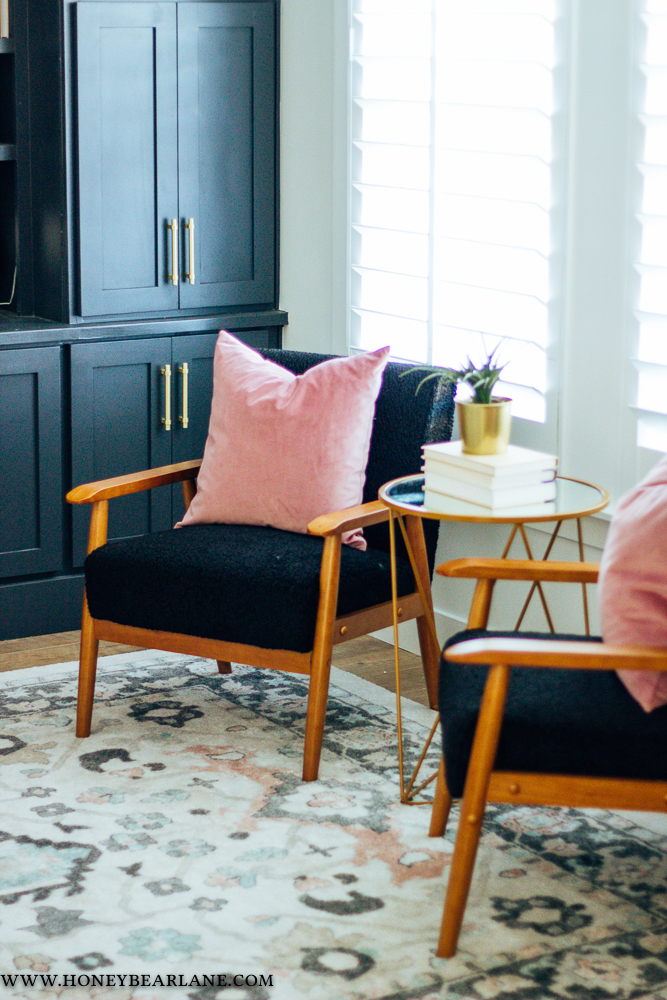 I can't decide if this room needs a coffee table.  I kind of like having less furniture in here so there's space to walk around the center, but sometimes it feels a bit empty.  One thing is for sure though, I am SO excited to put a Christmas tree in this room in a few weeks!  This room is the one room that stays clean most of the time and it's so relaxing to have an area in my children-riddled home that is away from toys underfoot and garbage on the floor.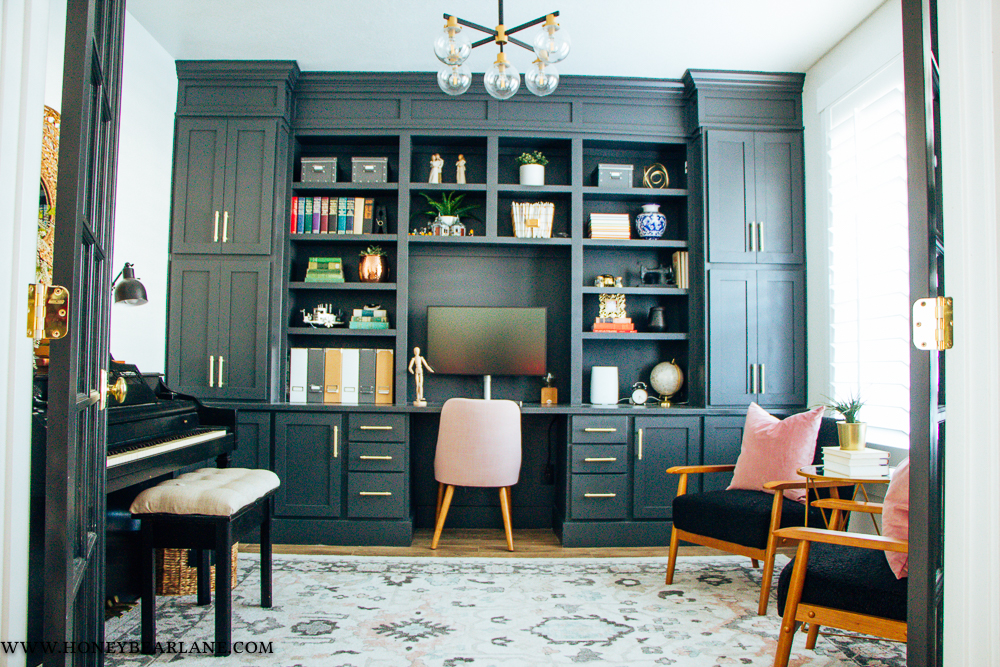 Joss and Main remains one of my favorite online home decor and furniture stores.  And with COVID-19, online shopping has become so important.  They continue to deliver, even when things say they won't be there for a few weeks, I have ALWAYS gotten my items earlier than that.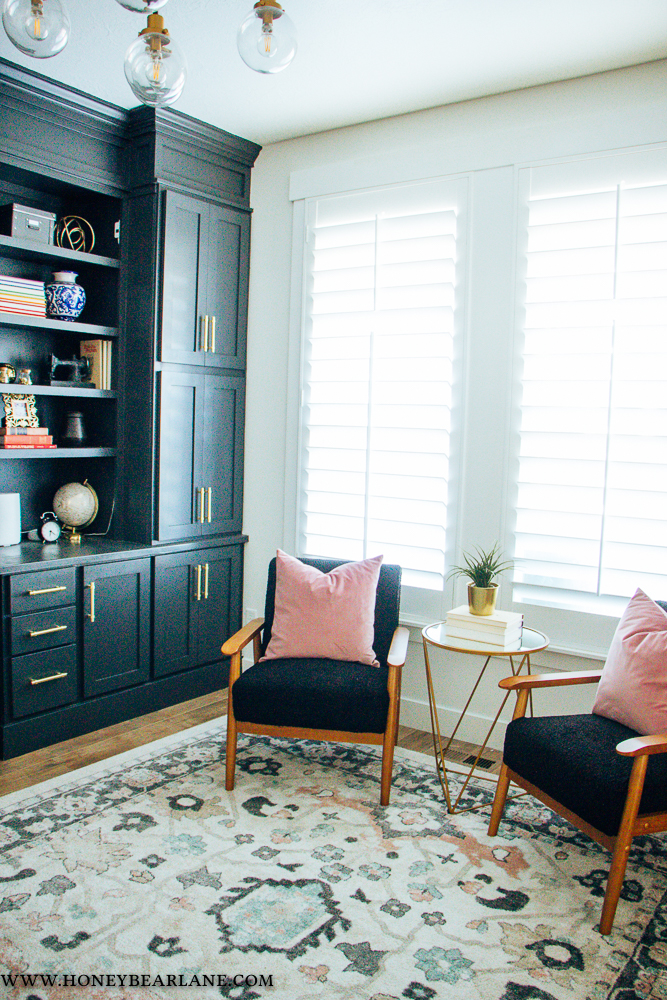 It's weird to think that at this time last year this room was halfway through the building process of the builtins, which you can see here.  It was a fun project, as my built-ins are, but I ran into lots of random issues and made mistakes so it took forever.  But I love the character that my little mistakes give it.  And now that I have found these most perfect mid-century modern chairs, this room is done and usable now!