Hello my friends!  2021 is here at last and so far…it's not much better than 2020.  But it has been busy.  I haven't had time to start any new projects in quite awhile, and I'm dragging my feet since I don't want to work in the freezing garage.  So I will finally get around to sharing this fun modern boho bathroom design I completed last August!
There are endless projects to be done in the basement.  It's actually quite overwhelming.  But I decided to get the bathroom done first because I knew I wanted to have vertical shiplap up on the walls and it had to go up before the hardware and mirrors did.  So the bathroom wouldn't have really been fully functional until that was done.
Working with real shiplap is actually quite enjoyable.  It just fits together so nicely!  To do the vertical look, you just cut them all the same length and turn it on its side.  Mark the studs and make sure to shoot into them when nailing the shiplap in place.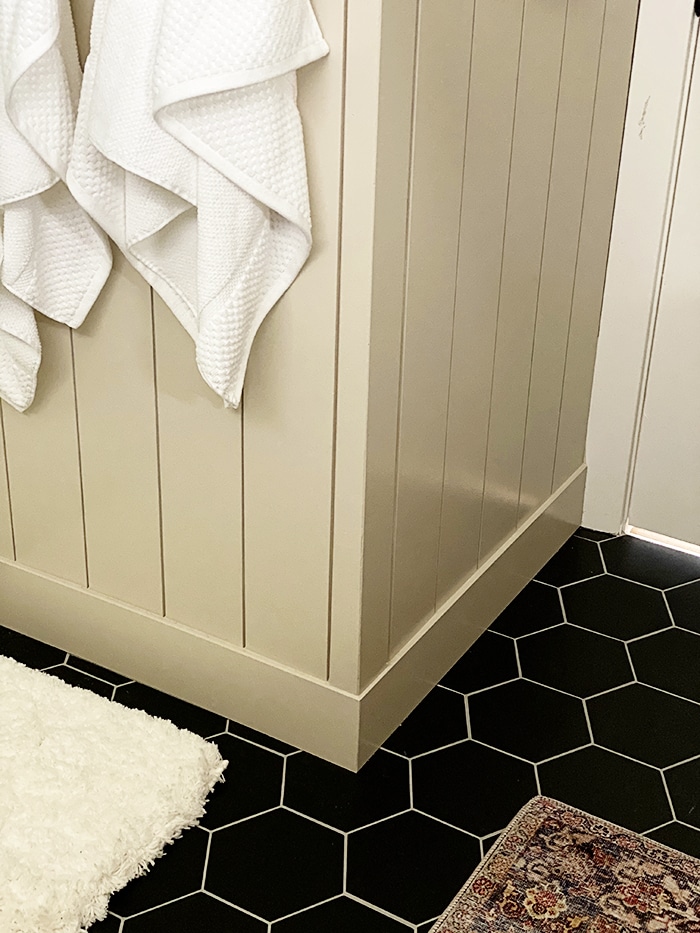 The hardest part was the protruding corner.  You could just rip two pieces so they are flat on the side, but then you'd see the seam (I personally think that's totally fine!) but I wanted to try for a mitered edge just because I'd never done one that long before.  I turned my table saw blade 45 degrees and cut the two pieces so they'd fit like a neat little box.  Then I lined them up and nailed them into place.  Simple!  For extra precision, you can hot glue the miter–which I can't remember if I did or didn't do.
The other issue was the fact that I placed the shiplap on top of the existing baseboard–which is 1/2″ thick and shiplap is 5/8″ thick.  So it was slightly thicker than the baseboard which looked a little weird. Plus with the protruding corner, all my home corners are rounded so the sharp 90 degree corner was on top of a rounded corner baseboard which looked super dumb.  Simple fix:  I added another baseboard piece on top of the existing baseboard!  It fit right under the tiny lip of the shiplap and I just nailed it in place.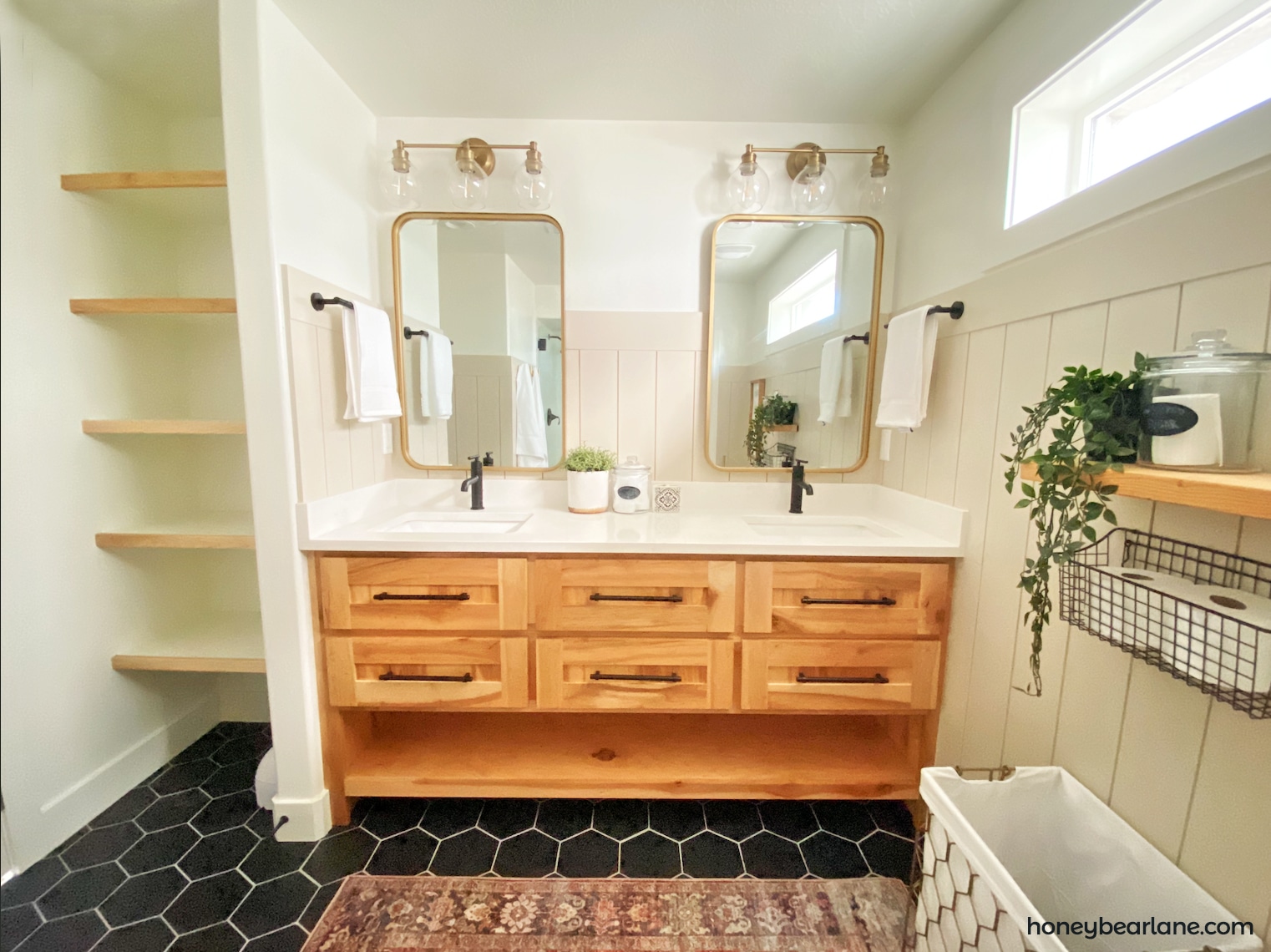 It was also a little tricky to hang the mirrors on top of the half shiplap wall.  I had to get two scrap pieces of MDF and nail them into the wall in the spot where they needed to hang.  Then I put screws into that MDF piece for the mirrors to hang on.
I love how much storage this bathroom has–you can see I haven't even come close to filling up those shelves.  I'm not even really sure what to put there right now because this bathroom is only used by my two pre-teen boys.  There is also a full empty linen closet right around the corner.  But I do need to get baskets for them just so they look pretty.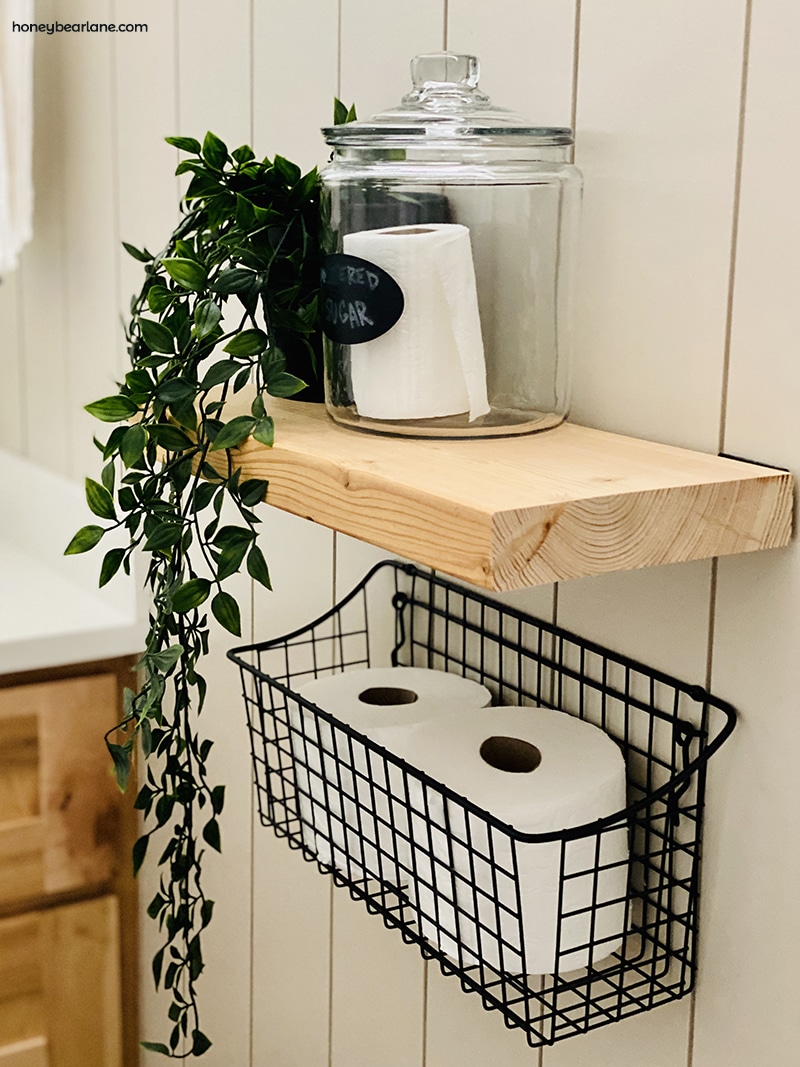 I did a super quick floating shelf by buying the floating shelf brackets and then drilling holes into a 2×8.  I had to be pretty precise with the placement of the drilled holes but once I did it it was so easy to just slip the shelf into place!  I didn't even finish it, just left it raw wood.
The shower down here is amazing.  I haven't actually used it but the fact that it's so large and spacious is ideal for teenagers who really only ever take showers.  I love the Euro glass too.  I really wanted the french paned glass doors but the only ones we could source seemed like not very good quality.
Bathrooms are hard to take good photos of because they are small.  So I apologize for the distortion in the wide angle shots.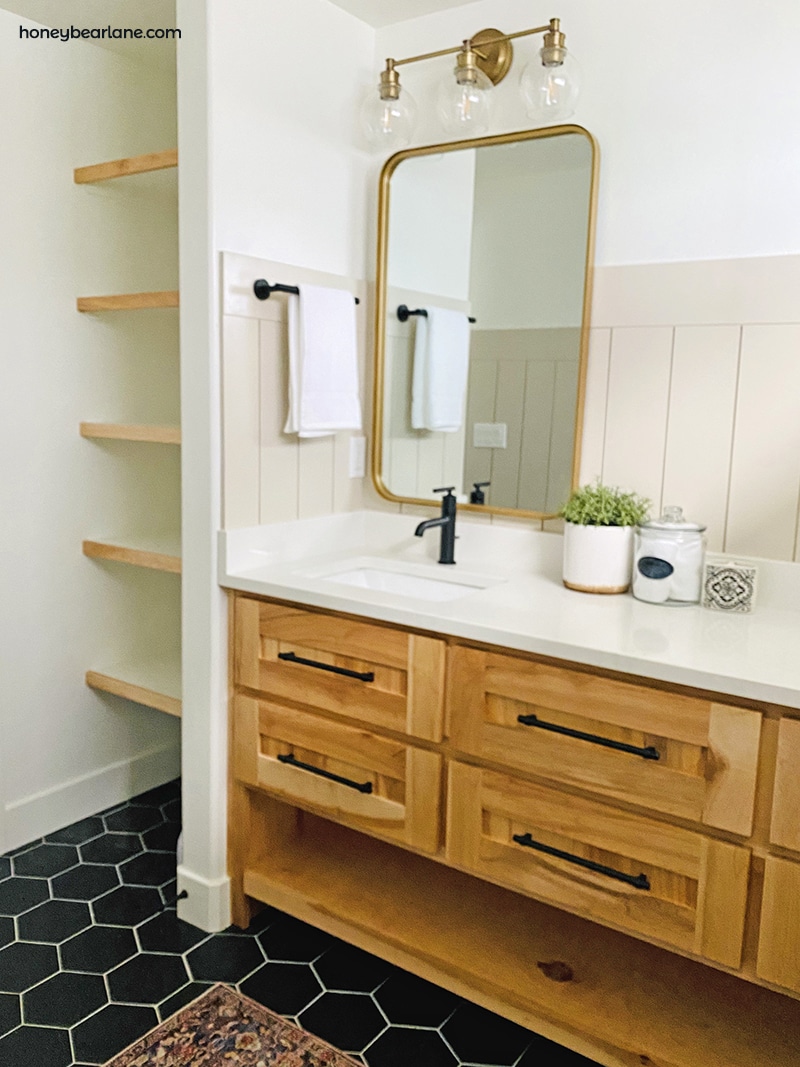 This modern boho bathroom was so fun to decorate!  It's fun to have new spaces to design in the latest styles.  I will link all the sourced items below!