The Perfect Flocked Christmas Tree
This post was sponsored by Joss & Main for this post but all opinions are my own.
As I pulled out my Christmas decorations this year, the first thing I got out was this flocked Christmas tree I bought a couple years ago from Walmart for $69.  I plugged it in and wah-wahhhh….half the lights were burned out.  It was looking so sad and short.  Short because it's only 6 feet tall in a 9 foot ceiling room.  I decided to get online and visit my trusty Joss & Main to see what they had in the way of flocked Christmas trees.
After I searched for a little while, I happened upon this highly rated super flocked Christmas tree.  It looked amazing!  So realistic in the way the branches fell and the snow looked on them.  I looked at the reviews (one of my favorite things about Joss & Main is the reviews and the pictures posted–so helpful!) and the tree looked beautiful in people's homes, even undecorated.  In fact many people said they didn't even feel the need to decorate it because it looked so great as it was.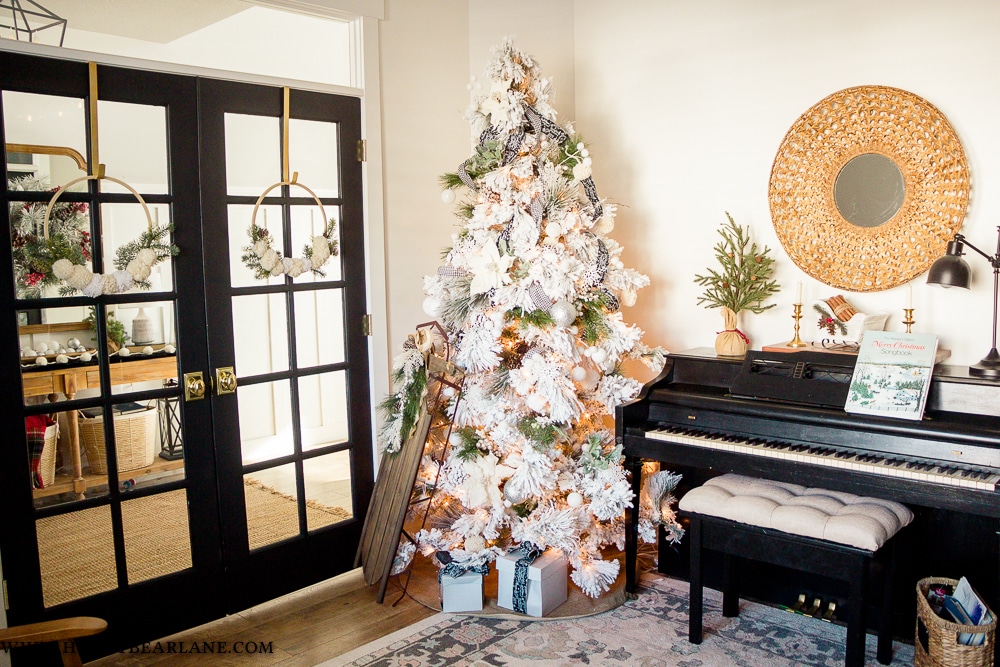 I ordered it and it came pretty quickly–about a week before it said it would (as has been my experience with all my Joss & Main purchases).  I brought it in the house and immediately set it up.  There was one weird thing with connecting the lights which I didn't quite figure out but maybe next time I put it up I'll get it.  I just ended up having to plug in two different plugs.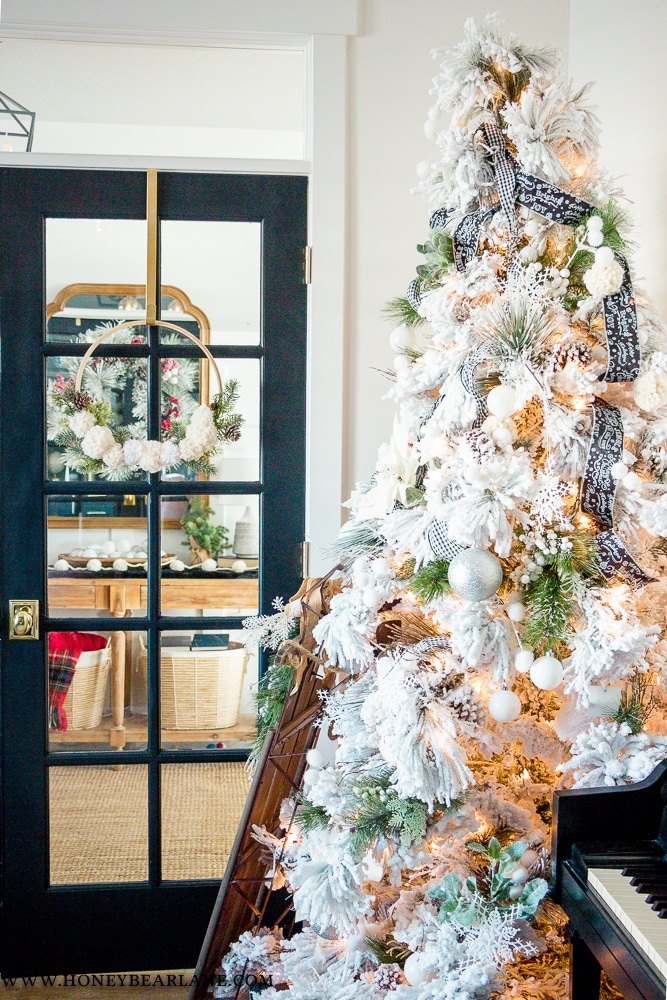 You assemble it like any faux tree, fluffing it and shaping it as you go.  It is extremely heavily flocked so of course it made a mess upon the initial setup.  However once I was done assembling, it really didn't shed that much anymore.  Most of the flocking is really on there.  Don't expect a soft fluffy snow–it's hard and firm.  It actually makes it kind of tricky to hang ornaments.  It's worth it though!  It even has snow covered pinecones in the tree.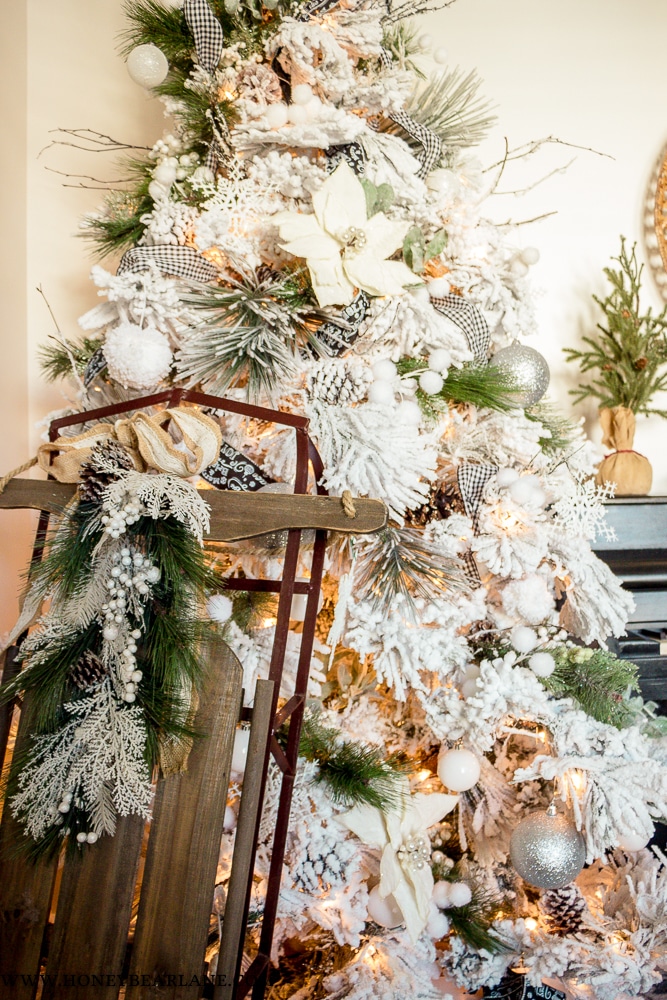 It always takes me a season or two to really figure out the best way to decorate a new tree.  I actually ended up weaving the black ribbon through at the very end, which I don't recommend.  Do that at the beginning and make sure your ribbon is long enough to go through to the bottom of the tree.  I was just using what I had so next year I'll probably buy a different ribbon.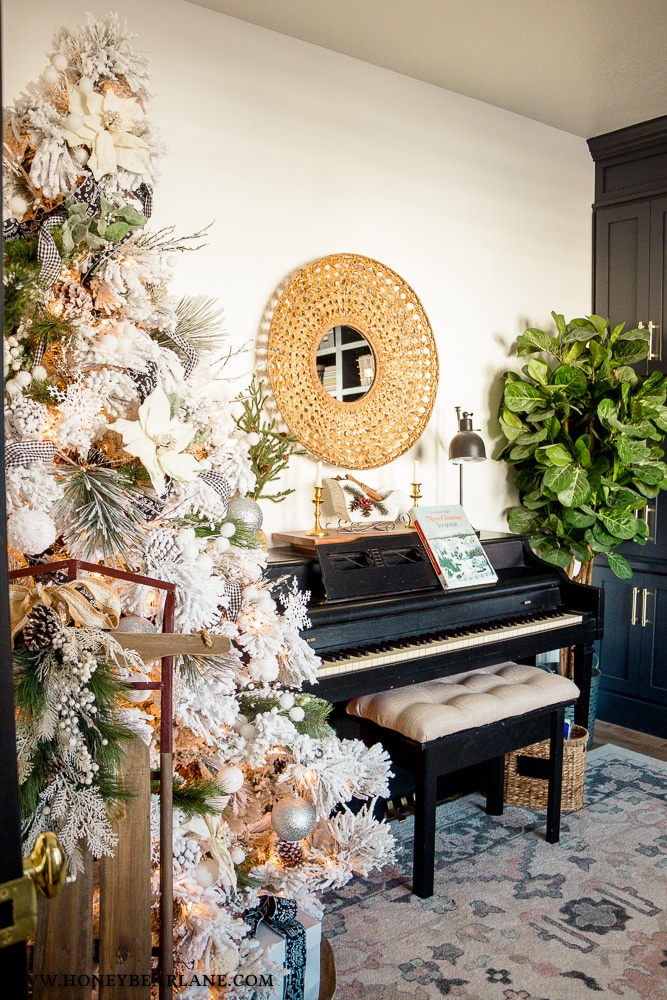 I decorated this tree with a ton of branch type decor rather than ornaments.  I stuck to a very neutral color scheme–white, black, cream, and greens since the accent color in this front room is pink.  I really love how it turned out, even if my ribbon is a mess.  I just think it's such a majestic flocked tree!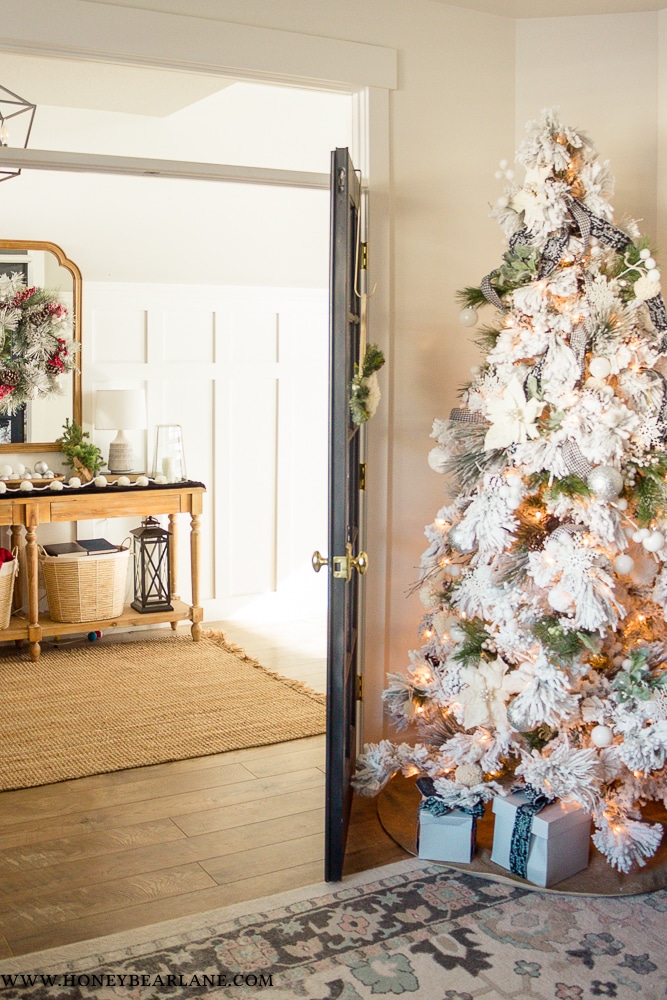 So just to compare the flocking on these trees…check on the tree on the left and the tree on the right.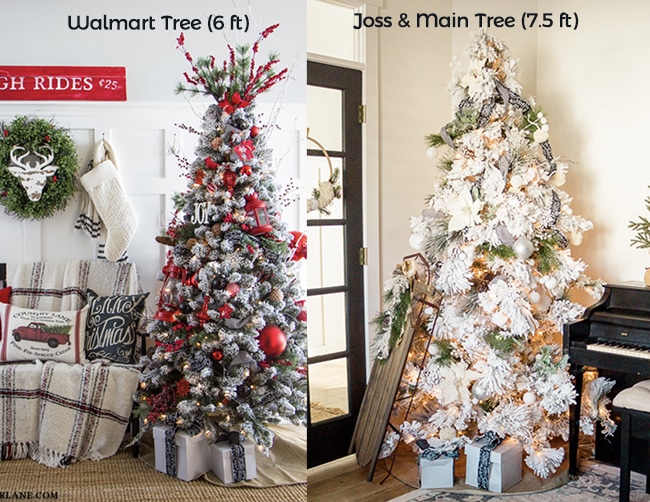 To be fair, I actually think I did a decent job of spicing up the cheap Walmart tree.  However I just felt like the flocking was subpar and the tree was just so short.  Plus it broke after three years!  I mean, I don't know how long the Joss & Main tree will last, but I'm hopeful it will last for many years.
Summary:  If you love the look of a flocked Christmas tree, definitely consider this one from Joss & Main.  I feel like the price is reasonable for the amount of flocking and realism you get.  It's just such a pretty tree, the pictures can't even do it justice!  It's currently sold out in the 7.5′ height but there are still 9′ and 12′ ones available.  I can't even imagine how gorgeous a 12 foot one would be!!  Check out all their Christmas trees here.
If you liked this post, check out my Christmas Home Tour from last year!