Modern Boho Entry Way Refresh
This post contains affiliate links–and while I may earn a small commission as a result of your purchase, I genuinely love all the products I recommend.  🙂
My entry way has evolved a lot over the years we've lived here, but I'm pretty happy with where it is right now.  It has nearly completed the transformation from farmhouse style to Boho entry way, like the rest of my house.  I was very committed to farmhouse style several years ago, but my style evolves along with the ever-changing styles of interiors, and I'm loving the modern Bohemian style right now!  Come check out this modern Boho entry refresh!
Before (this was actually like 5 years ago, but my piano was in there for awhile  as well.):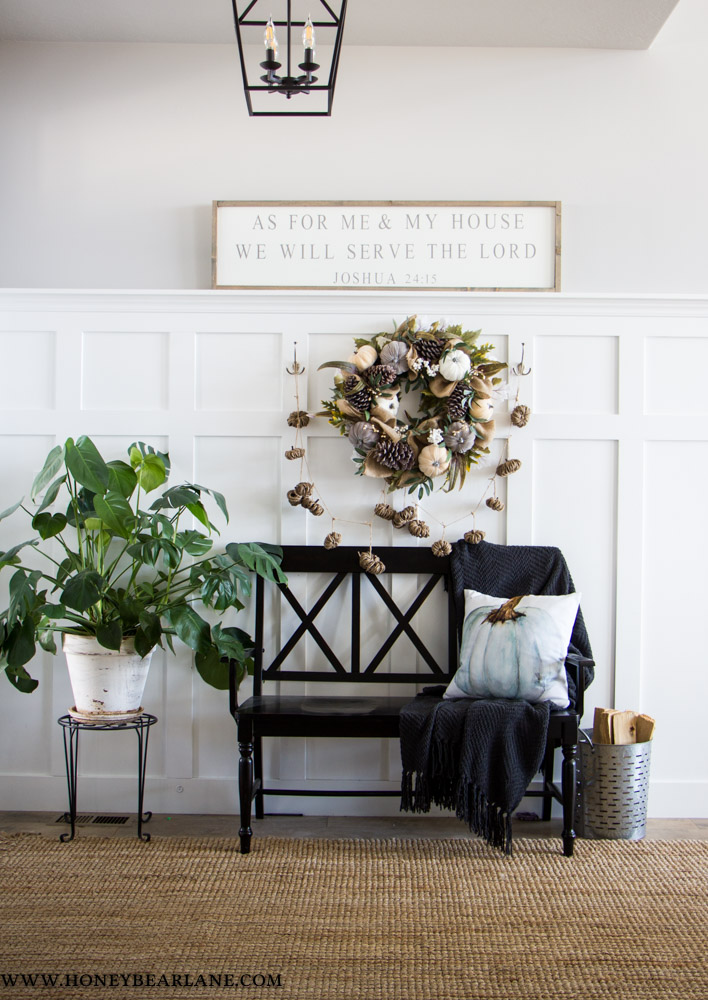 I moved my Everett table from World Market into the entry way when I built the barn door in the dining room–everything had to shift over–and at first it looked really weird and too big for the space.  But after we got used to it, I actually really liked it there.
I got rid of the hooks and debated for awhile about what to put in the spot on the wall.  I wanted to do a mirror but I had a mirror on the wall in the family room and a small mirror in the office, both very close to the entry.  Would another mirror be overkill?  The answer, my friends, was no.  Mirrors are awesome for decorating.  They reflect light and give the illusion to having more space.  Plus, unlike pictures and photos, they don't get dated and stop matching changing decor.  Although they do make it harder to photograph straight on.
After: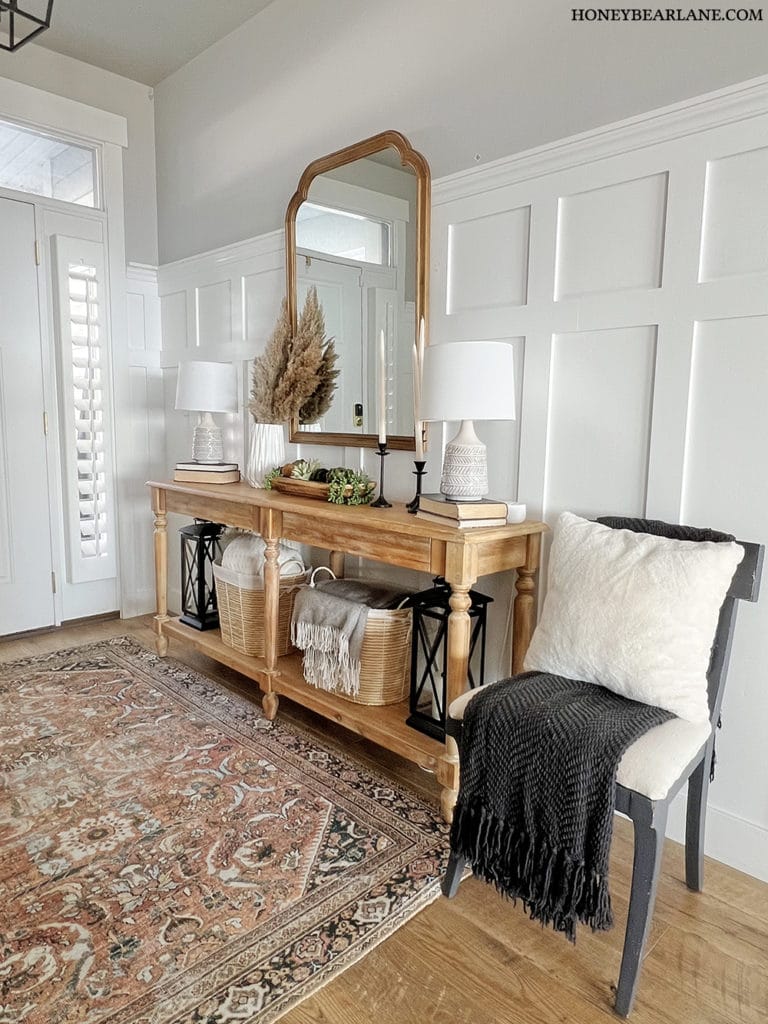 I found this large, beautiful mirror at Target.  Target is one of my favorite places to buy mirrors because you can get some really high-end looking ones at a fraction of the price.  I have several other Target mirrors in my home.  I actually thought the frame was gold online, but in person it's actually a medium oak.  I have since decided I prefer the wood.  I love the curved detail that isn't too feminine and it's traditional without being stuffy.
I found some modern boho lamps at Walmart, and although they were much shorter than I would have liked, I made it work by elevating them on a small stack of vintage books.  I keep the area simple by making the decor fairly symmetrical and placing a low dough bowl in the center.  On the lower shelf I have some large lanterns and baskets for pillows and books.  I actually hate decorating the lower shelf of console tables.  I would prefer to have something closed, I think.  I filled the dough bowl with some faux succulents and artichokes, as well as a couple of antique thing-a-ma-bobbies.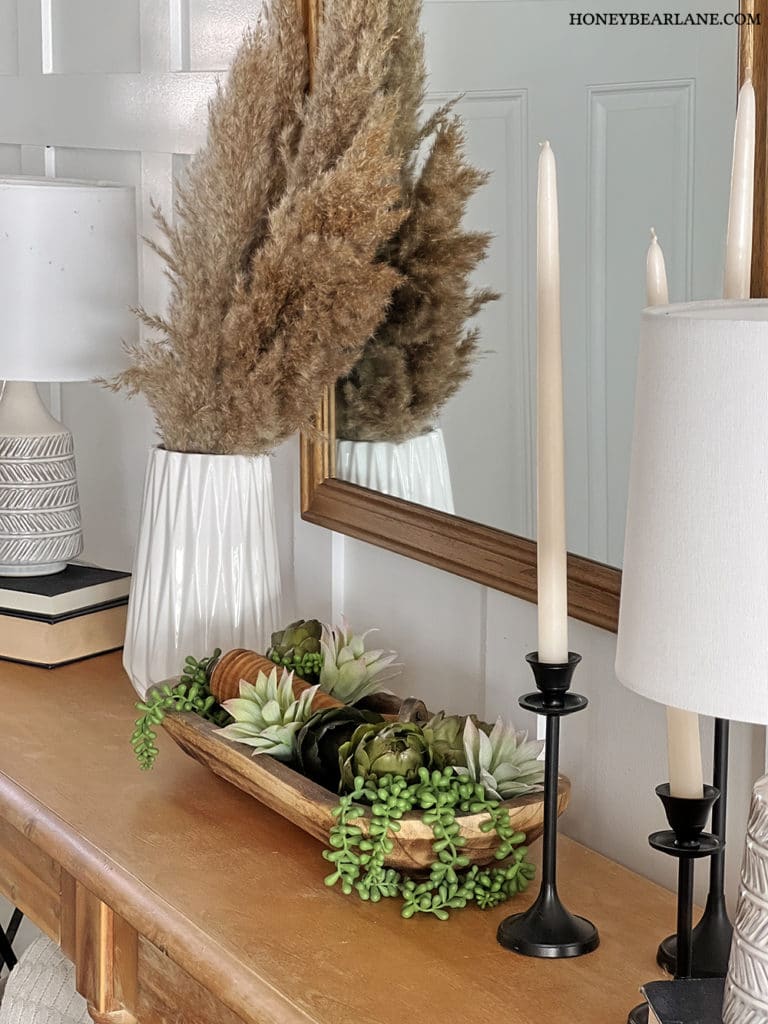 After several years of the faithful jute rug taking quite a beating, it was starting to unravel and actually trip people.  So I searched for another rug and decided on something with a pattern this time.  I got another Loloi rug from Overstock–I swear by these rugs!  They have beautiful patterns and wear SO well.  Since the pile is so low, virtually non-existing, it never looks matted down or worn out.  These printed type of rugs are really popular right now and for good reason.  I have one under my dining table which shows hardly any dirt or stains (and believe me, there are dirt and stains on there) and we can actually vacuum it with the hard floor vacuum.  I have 3-4 of these rugs in my house because I love them soooo much!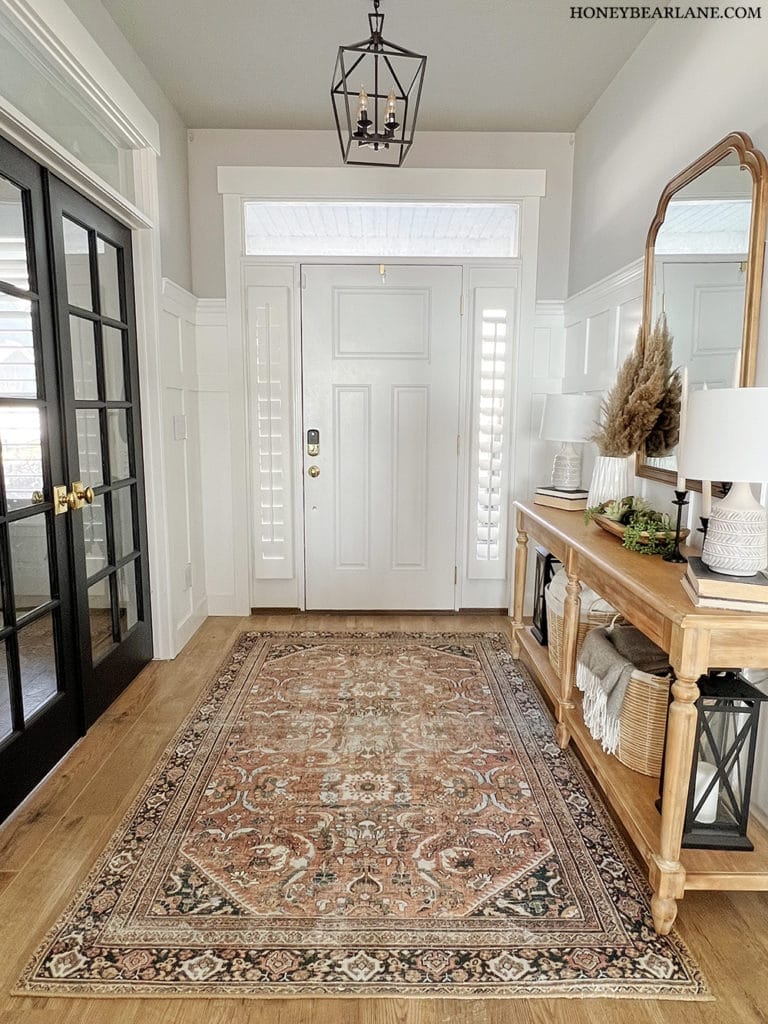 That's about all I did in the entry way but it made a big difference.  I like having the larger furniture in there because it makes the space feel more grown up and high-end.  I sometimes think about painting the color of the board and batten or putting up a wallpaper, but I get stuck because of how the entryway connects to the great room and the stairs.  I don't really spend enough time in the entryway to worry too much about it anyway.  I would love to paint the inside of the front door sometime though.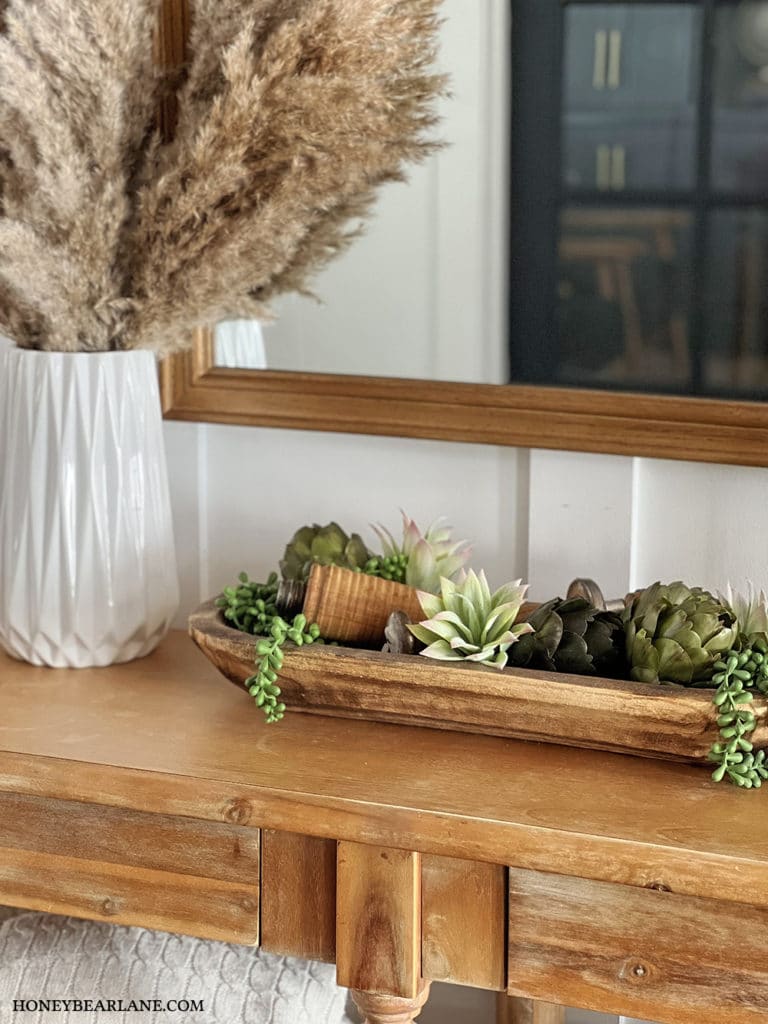 Home decorating isn't really something that ever is 'done.'  People ask me if I'll move once I'm done with my house.  The answer is no–that's not why I would move.  Because I have endless ideas in my head for changes to make and if I ever really did accomplish all of them, it would be time to start over.  It's strange to think that my house, our first house, might really be my only house.  But where we live is such a great location it would be hard to give up.