Junk Drawer Organization that Stays Put
This post contains affiliate links, please see my disclosure.
It's spring cleaning time!  Sometime it can be overwhelming, but I'm starting with junk drawer organization.  Everyone has a junk drawer in their house–that drawer where you put stuff that doesn't really have a home.  We actually have two in my kitchen:  one for the true "junk" and one that is mostly for my younger kids' art stuff (crayons, markers, masterpieces, etc.)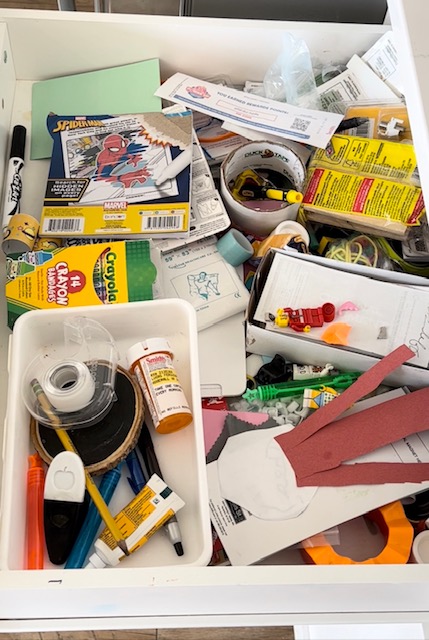 The rest of my kitchen drawers have stayed pretty organized over the seven years we've lived in our home, thanks to these awesome wood drawer inserts from Rev-a-Shelf.  I love that they are custom fit to each drawer so there is very little shifting around and stuff stays put.  You always see drawer organization with those little modular bins that are supposed to make it super easy but in my experience those never ever fit perfectly and end up shifting around like crazy.  Especially the tiny little square ones.
Check out this video for the short version of this organizing journey. I hope it inspires you to do a little junk drawer organization of your own!  If only we could just snap our fingers and have all our junk be gone in real life…
The first step is to just take the drawer out and dump it on a kitchen counter.  You just have to get everything out.  In my case, things had even wedged themselves in between the back of the drawer and the bottom panel and were actually pulling the drawer apart.  I had to even glue and clamp one of them so it wouldn't completely come apart.
Next I organized the junk by separating into little categories (the technical name for piles).  Push pins, rubber bands, endless pens and pencils, etc.  After everything was sorted, I could put some of the piles away–like toys that had found their way into the junk drawer or about 40 hair ties.  I also threw away a LOT of stuff because if it had been getting ignored in the junk drawer for the last several years, I clearly didn't need or miss it.
I ordered two new Rev-a-Shelf inserts from Build.com and they only took a few days to arrive.  Then I measured the inside of the drawer and used my table saw to trim them to size.  This is definitely the most intimidating part of this simple organization project but well worth it in my opinion.  Once you have these wood inserts in the drawer, your drawer will stay much more organized for the rest of your life.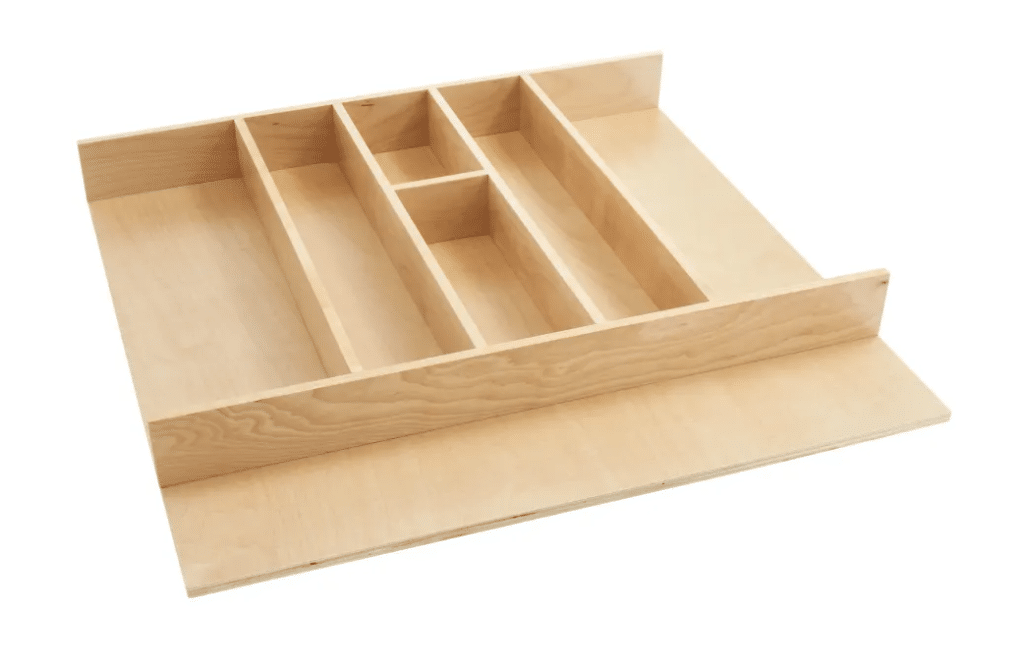 I also still ended up ordering more of the little modular organizing boxes because I had so many little piles of things and the wood insert didn't have small little spots ("…then I'll put that box inside another box…") It might seem like overkill, but like I said, it will stay put.  And that's the title of this article, junk drawer organization that STAYS PUT.  Doing this small chore is actually SO annoying and if you don't have to do it ever again (except for basic upkeep) you will thank me later.
I used a lot of the pieces from this set from Amazon which was an amazing deal and now I have a bunch more to use in my bathroom drawers.  So it's actually encouraging even more organizing projects.  I tried to only keep stuff in this drawer that is stuff we need to use on the regular–pens, tape, scissors, screwdriver, measuring tape, etc.  I actually even moved some of my kids stuff over to this drawer because it was so much more organized that it opened up a ton of space.
And here is the final result…isn't that satisfying?  Sometimes I open it as I walk past just to look at the prettiness of it.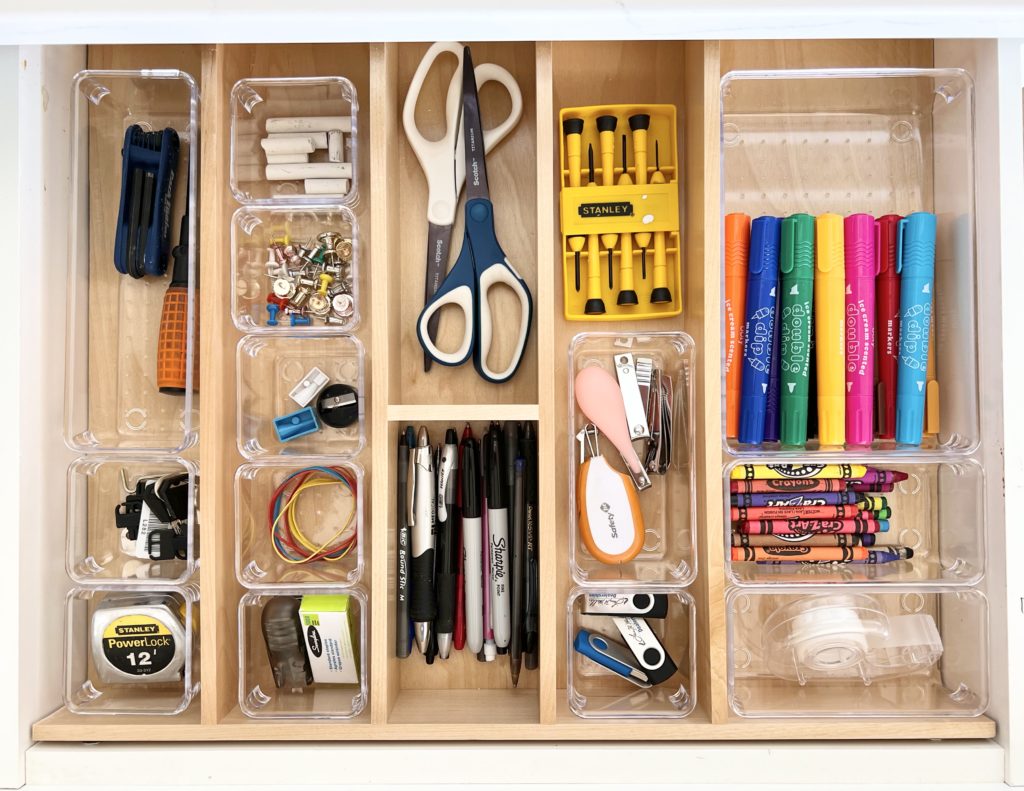 Check out these other posts on organizing!