So it's time to talk about the top part of my DIY Mudroom Bench.  This part was actually pretty easy and painting was the longest part (isn't it always?)  But once you get past the first part of the actual bench, this part will seem easy.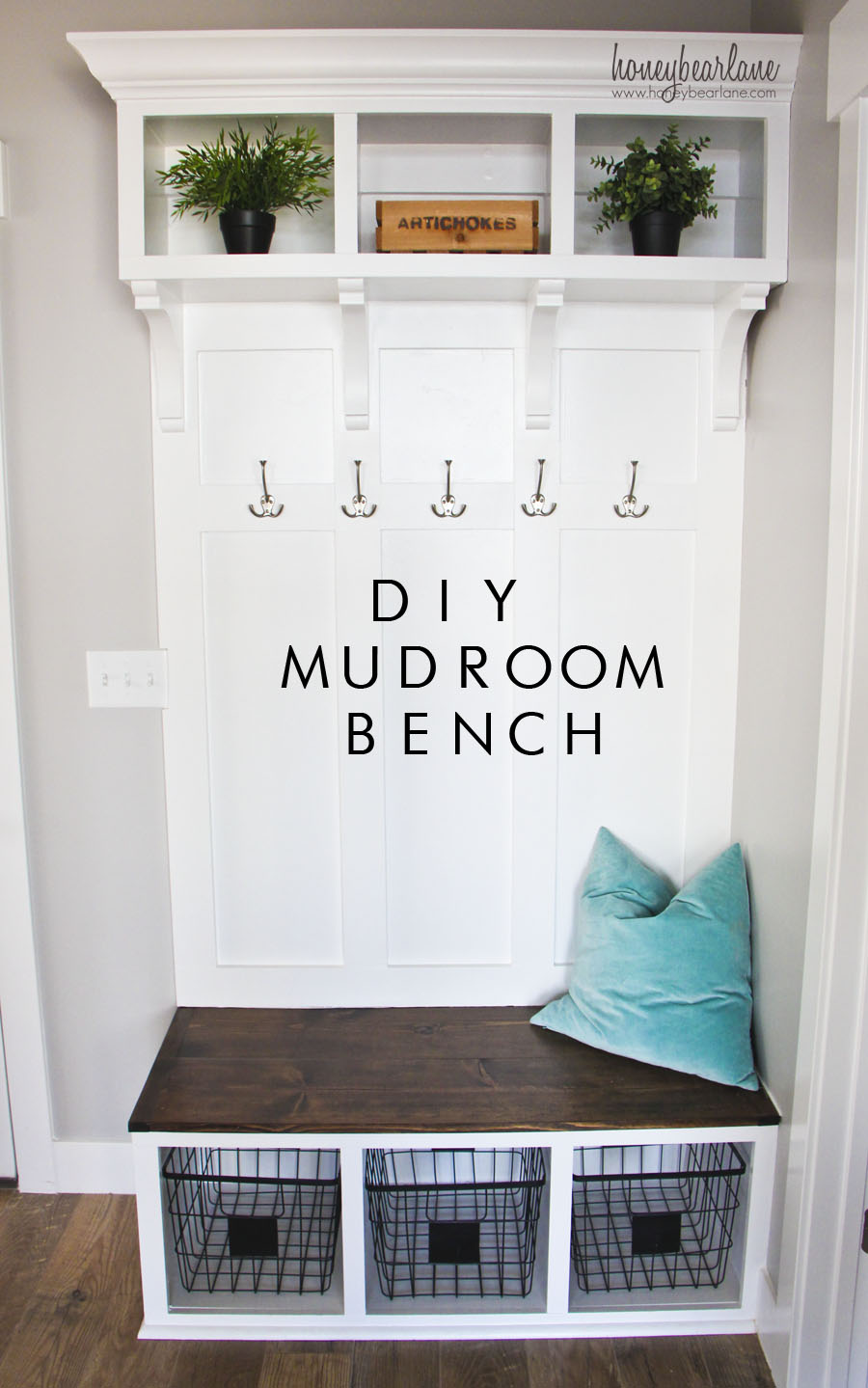 All the supplies you will need were listed in my DIY Mudroom Bench Part 1 post.
So first I laid a piece of 3.5×48″ MDF across the bottom and then trimmed it to be the same length as the bench.  I actually cut two of these, one for the bottom and one for the top.  I put some caulking on the back and then used 1 1/4″ nails in my nailer to shoot about 4-5 nails in each piece, laid out like in this picture.  Seriously, board and batten is the easiest thing ever once you've done it.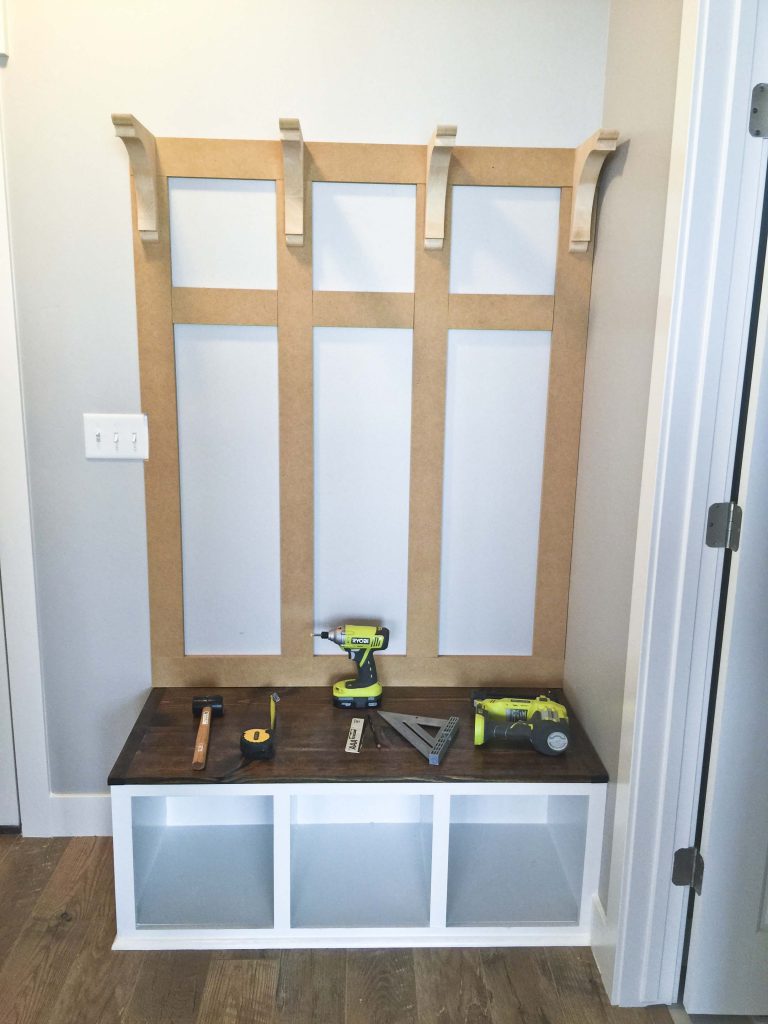 The next part was the corbels.  This was tricky because they are hung by little screw hangers on the back.  I had to be very precise in my measurements to make sure the top of the corbels was at the top of the board and batten.  I measured it and then put two screws in the top center of each batten.  But here's a little tip:  use a rubber mallet to bang the corbels in place.  It's hard to get the corbels on but using the mallet, it will just glide them right in place and leave them nice and tight.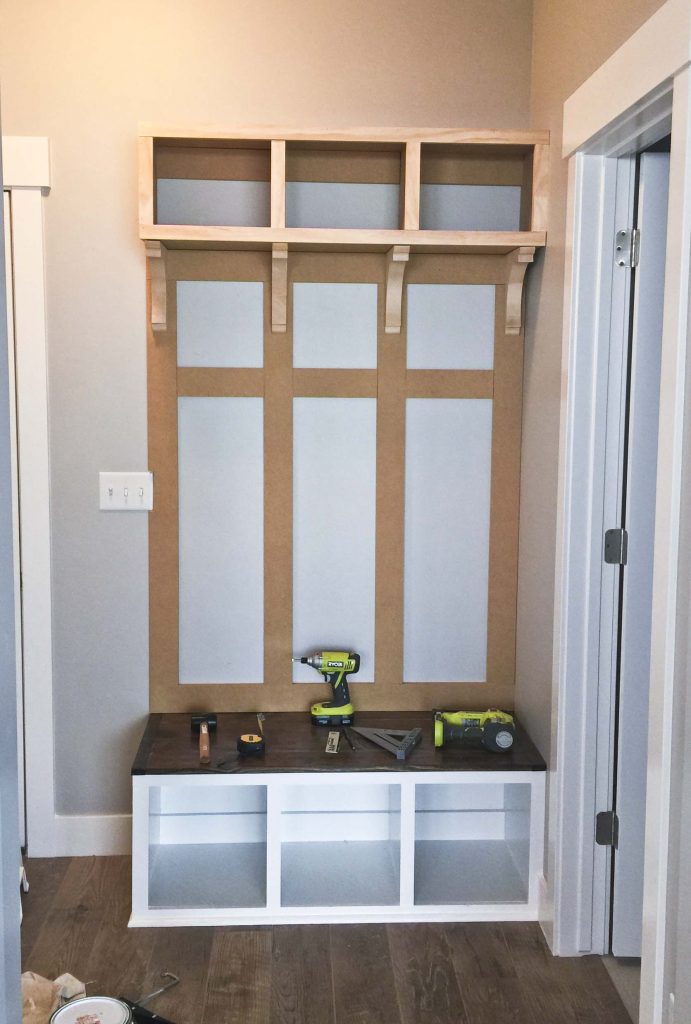 Finally you need to build a top cabinet.  Built it exactly like the bottom bench but with only one set of braces on the back.  And I made the bench about 7″ less deep and 5″ less tall.  This went a lot faster because I could use my miter saw instead of the circular + clamps + Ripcut.  Anyway, then using a buddy or being He-Man like I was (ha!) lift it onto the top of the corbels and B&B.  Push it over to wall and screw it in the studs.  Then add the face frame and lattice.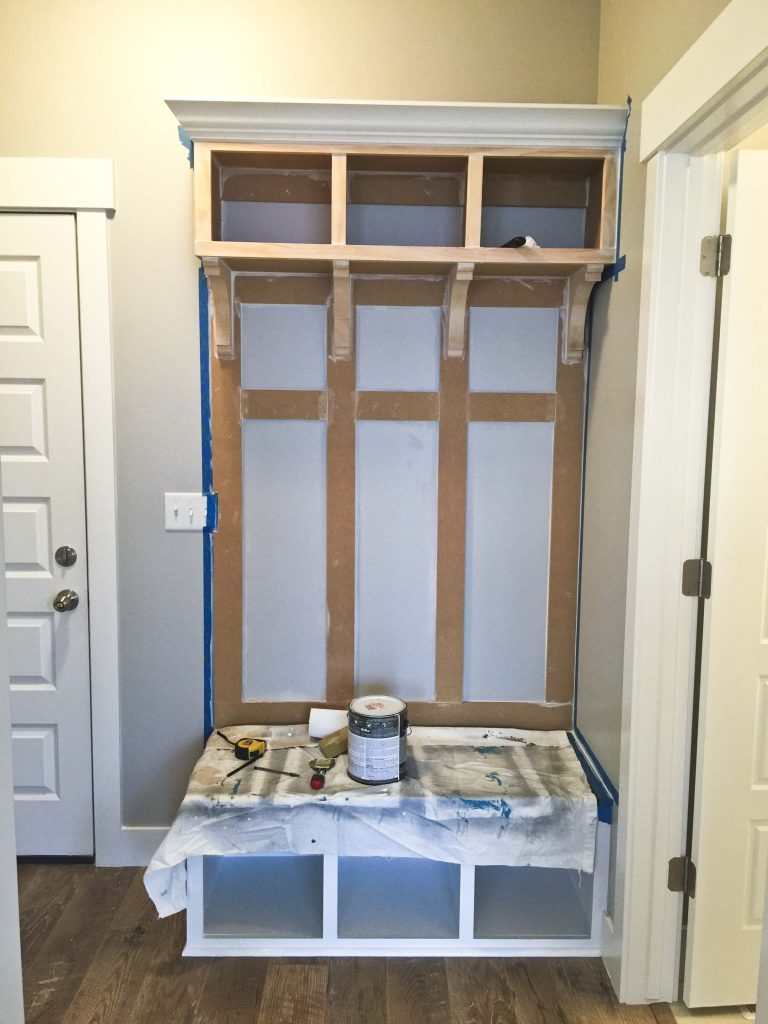 I was tempted to just be done at this point but I knew it needed that final touch–crown molding.  I am not wild about crown molding and the angles and whatnot, plus I really didn't want to go back to the store again.  But I did and I'm so glad because it looks so much more finished with it.  Please watch this tutorial on cutting crown molding because it will save you hours of frustration.
Painting Secrets
Finally fill all the nail holes and caulk the edges.  A little secret for perfect caulk lines-put painter's tape down before caulking anything that will be joining with another painted surface (like the wall).  Caulk and use your finger to swipe it down, then remove the tape.  Otherwise you can just caulk a thin line and use your finger to swipe it down but make sure no ridges are left behind because those are hard to sand down later and will be noticeable.
Paint the rest of the unit–Again I did three coats of primer and then 2-3 coats of latex paint.  Also another tip when removing painter's tape after latex paint has dried, use a razor blade along the edge of the tape and you will get a perfect line when taking off the tape instead of tiny little pieces of ripped tape that you will want to slit your throat with.
Once it's all dry, go ahead and screw in the hooks!  And you are done with your most amazing DIY Mudroom Bench.  And then you can show everyone, including your contractor, and brag about how awesome you are and that he shouldn't think you are crazy for wanting to rip out the mantel he put in your brand new house because look at what you just built.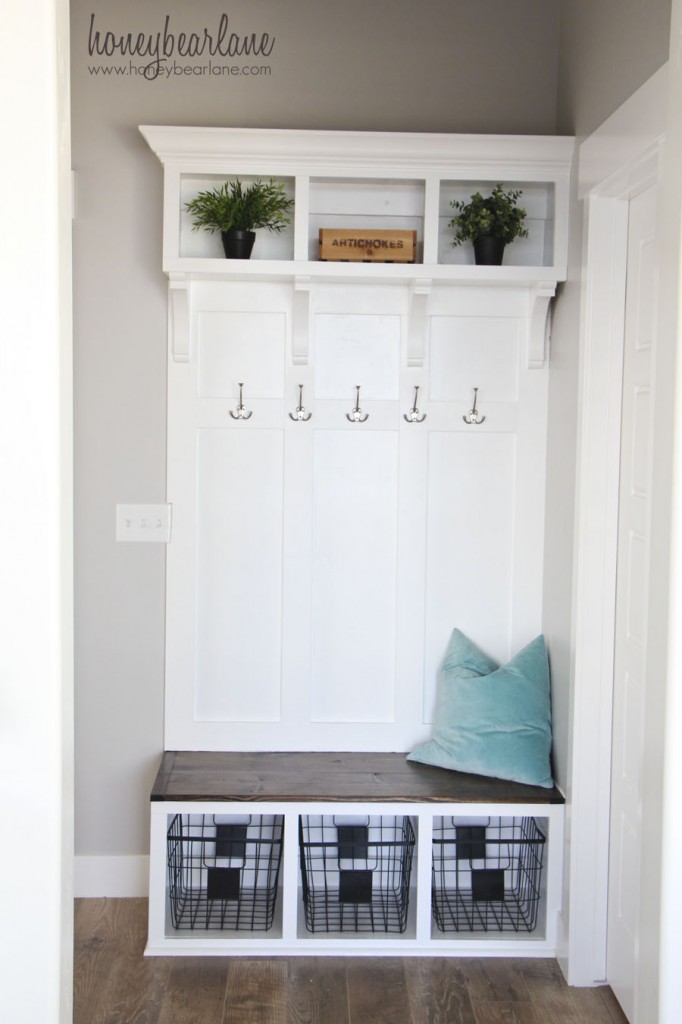 And finally if you just skimmed this post, don't miss my post DIY Mudroom Bench Part 1!