DIY Rustic Winter Wedding
My sister got married at the end of December last year.  She had a pretty short engagement–only two months.  And as the go-to crafty person in my family (and with my parents living in Boston) she kind of hired me as her wedding planner.  And since she was so ambivalent about what she wanted, I took charge.  We planned a beautiful rustic winter wedding after her and her fiance's laid-back semi-granola style.  They both enjoy the outdoors and are easy-going.  So I felt like the rustic style fit their personality and it's very popular right now (making it easy to find the right stuff for it.)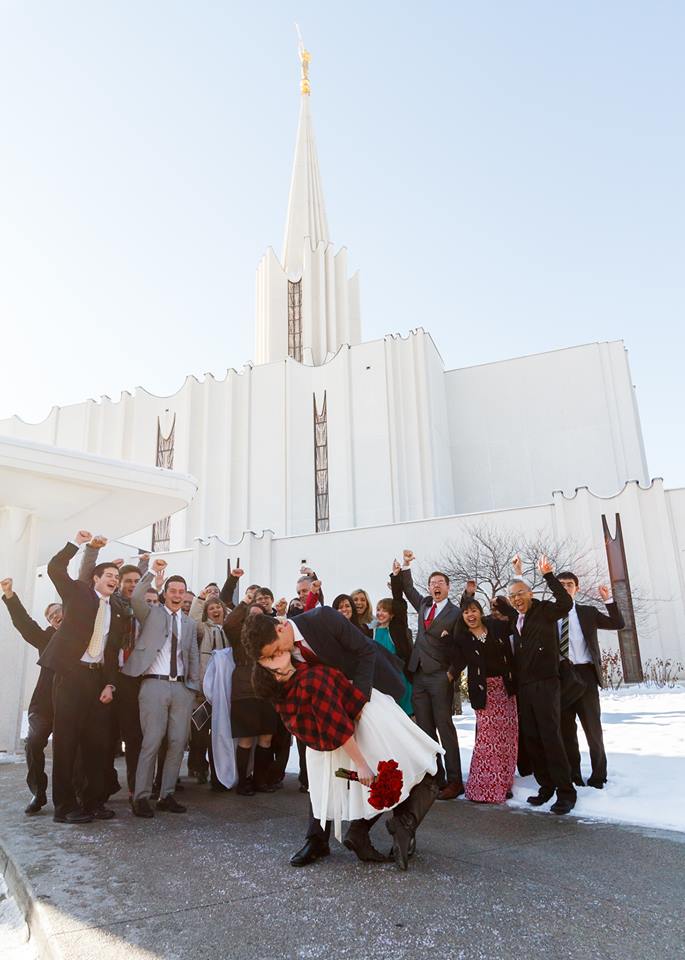 We had a pretty limited budget so we had to get creative.  I wish I had more pictures but these are the ones from the photographer and are much better than mine.  I was so crazy busy trying to execute the reception that I didn't really have time to take pics.  I love this picture above though.  They were married in the LDS temple in South Jordan, Utah.  Isn't it gorgeous?
The first goal was to find the venue.  This was very hard since December is a popular time to get married in Utah (being in between semesters and so many getting married are college age) and also they only had two months to book anything.  We ended up rearranging things and having the reception the night before her ceremony instead of the same night.  A little different, but I've heard from many people who did it that way and loved it.  I found a perfect venue for the theme–a historic barn called Wheeler farm.  It was super affordable to rent and also came with all the tables and chairs.
The themes were outdoorsey, nature, red and black plaid.  She had a dress made that was knee-length which she wore with boots.  Our sister-in-law also made this adorable capelet in red and black buffalo check flannel.  All our flowers were red and white with a few green accents (roses, hydrangeas, daisies, kermit mums and a few others.) We did all the flowers ourselves which saved a lot of money.  I just went to Costco on the morning of the reception and bought about $150 worth of flowers.  Several people came over that day and helped make little arrangements for all the centerpieces.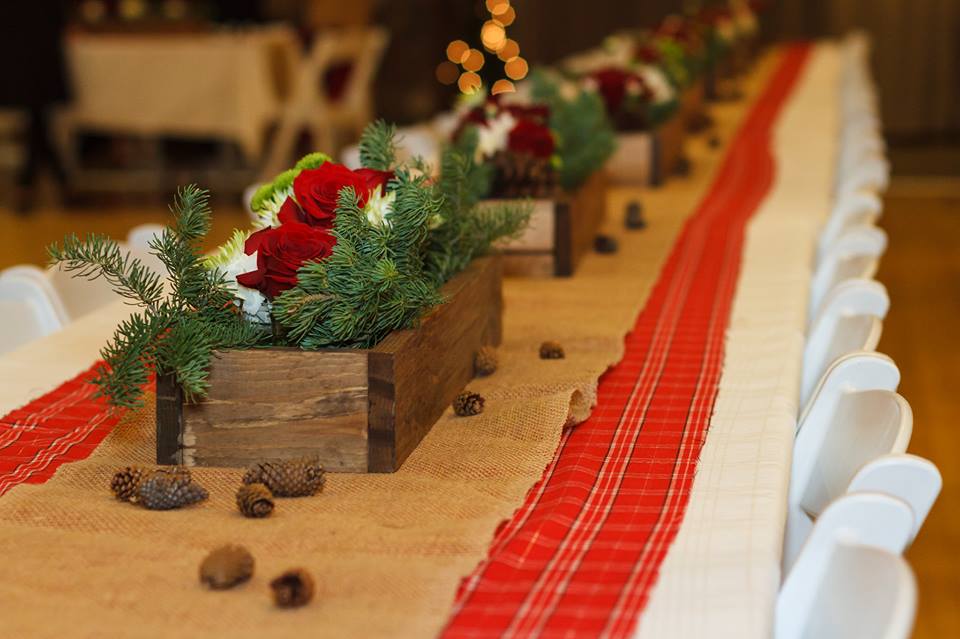 Centerpieces:  I made about 20 2 ft boxes out of wood and stained them all in Minwax Early American.  Then we rounded up about 60 jelly jars from me and a family friend and placed them in the boxes.  We added flowers in them and filled in the blank areas around the jars with evergreen which we literally took from a live Christmas tree we tore up.  I also added in some large pine cones for more depth.  They looked beautiful.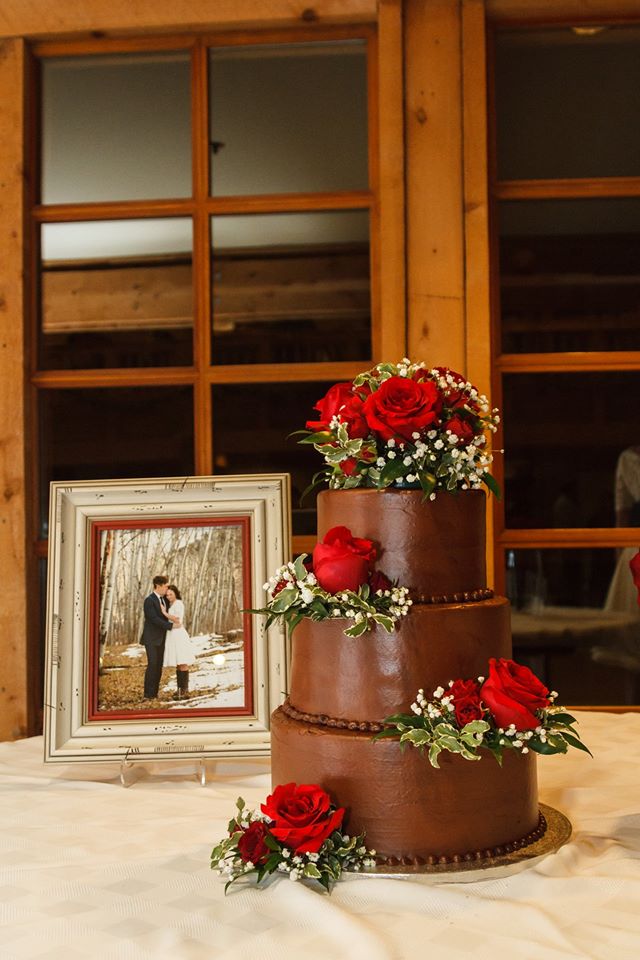 Food:  My mom arranged it to be catered by a friend of a friend's company so I didn't worry about the food.  Another family friend made the cake, so I decided to add a little hot chocolate and cookie bar…these are always so cute.  We kind of underestimated how popular it would be and ran out of stuff quickly.
Decor:  I laid out the long rectangular tables in two rows on either side of the ballroom, end to end.  This was to allow room for dancing in the middle.  I made a head table in the center side, near the fireplace.  We hung rustic letters A + L that I made with some reclaimed wood and nails.
The tables had white tablecloths with a plaid runner layered with a burlap runner.  I got the burlap on Saveoncrafts.com for a great price.  I also bought a bag of tiny pinecones which we sprinkled up and down the tables.  I rounded up a bunch of garland with white lights and we swagged it all around the sides with a borrowed large wreath at the head of the room.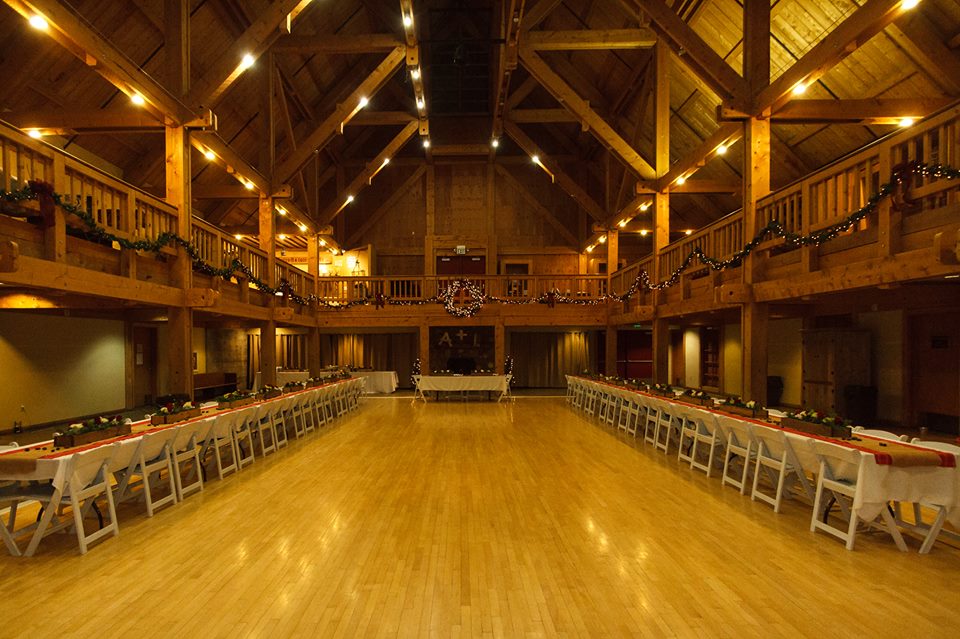 We set up the dessert tables by some pretty french windows and had the buffet on the other side of the room so we didn't have too much traffic in one area.  I also prepared some ice luminaries that I copied from Pinterest (you freeze a balloon full of water and then melt a little space for a LED tealight to sit.) and they were cute although night quite as Pinterest-magical.  They were a little lopsided.  Additionally, we painted some wood signs for the Hot Chocolate bar.  My sister-in-law also made a special sign-in book that read like a scrapbook.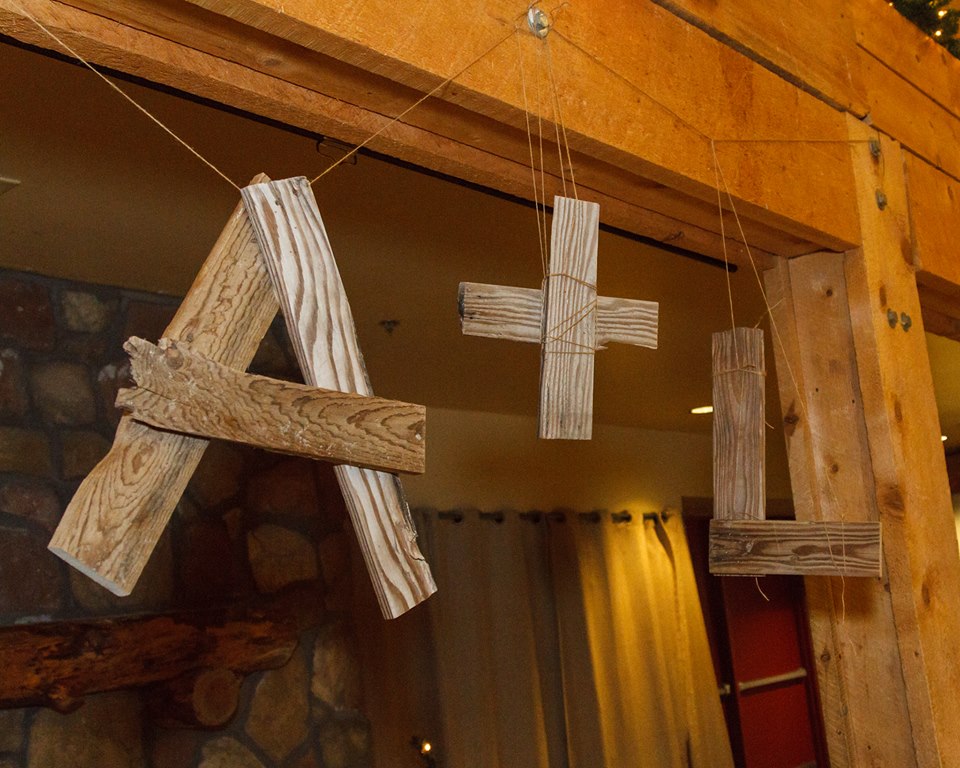 Clothes:  I wish I had pictures of this but all the nieces and nephews were all matching in cute little plaid skirts and bow ties.  All the bridesmaids wore black skirts with white blouses and a plaid scarf.  The men wore dark clothes and a black skinny tie.
The wedding had its glitches, like all weddings do.  Nothing will ever be perfect.  But this wedding ended up very close!  Almost everything went well, turned out beautifully, and I didn't forget anything.  Which was amazing, given that I had just moved and had Christmas literally the week before.  I'm super happy for my sister and her husband is such a great guy.  They are so perfect for each other and now they are living in Europe for an internship.  What an awesome way to start a marriage!  So fun!
This wedding turned out great, was beautiful, and was very low cost, as far as weddings go.  I'm always very proud of making awesome things for very little money.  Just goes to show that you can still have a great time with spending less money.
Big thanks to Moments Photography by Allison for these pictures.