We have lived in this brand new house for about two months.  And the entry was…okay but I really wanted to add my own touch.  And apparently everything I touch turns to board and batten.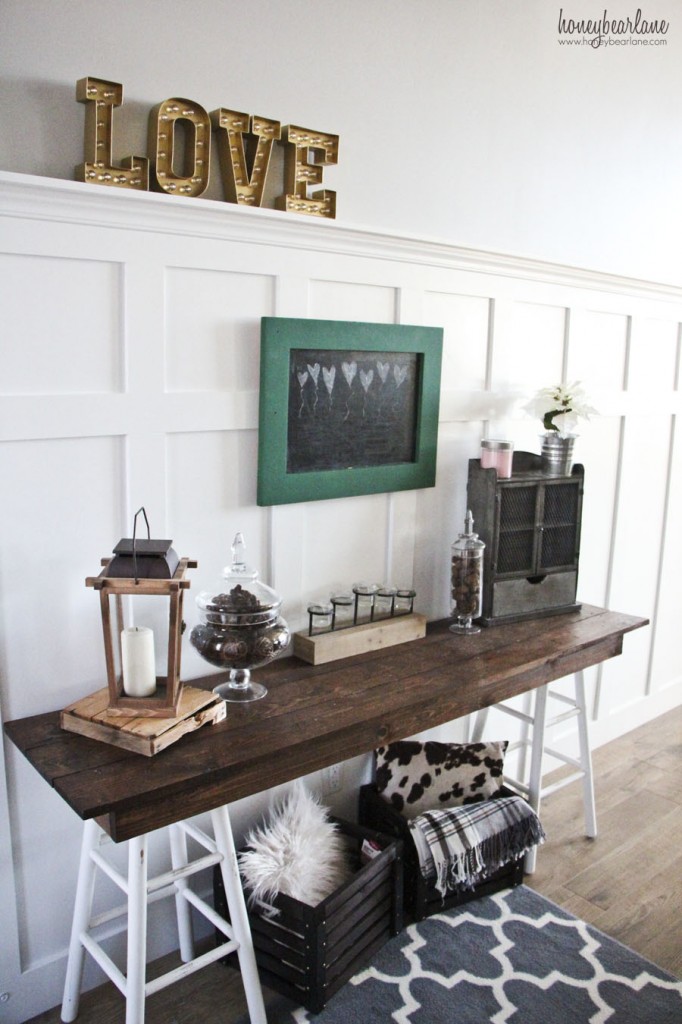 But seriously, we love board and batten.  It will literally be everywhere in a few years of living in this house.  It just takes your house from blah to beautiful–adding another element of architectural interest to your home.  So that's what I started with for my rustic entryway.  (Get a Board and Batten tutorial here!)
When I approach a blank space and I'm planning it out, I usually try to think of how I can jazz up the walls.  This is important–the walls are literally the foundation of the room.  (Or technically the floor?) But anyway don't skip the walls.  Don't just throw some pictures on it and call it good.  Walls deserve some attention.  This doesn't mean you have to put some elaborate wall treatment on all walls, but at least one wall should have something unique about it.  A focal point to a degree.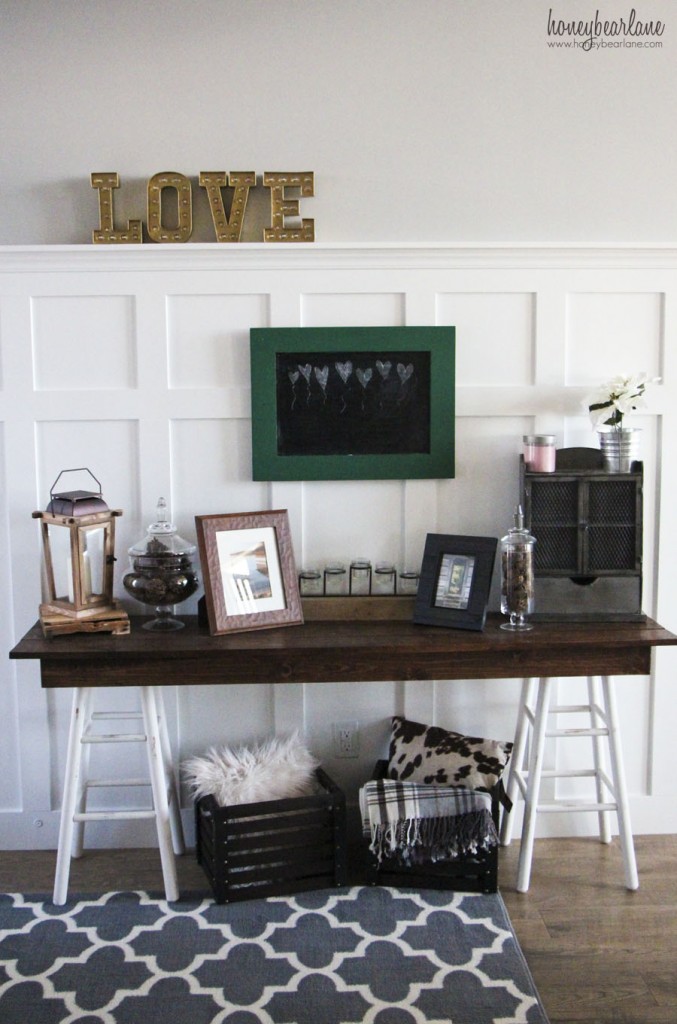 But you could paint it or plan out a gallery wall or both or whatever.  I chose to do this board and batten with a shelf, so I can change up the decor easily.  I hung my chalkboard on the wall because I usually have that in my vignettes so now it's a permanent fixture.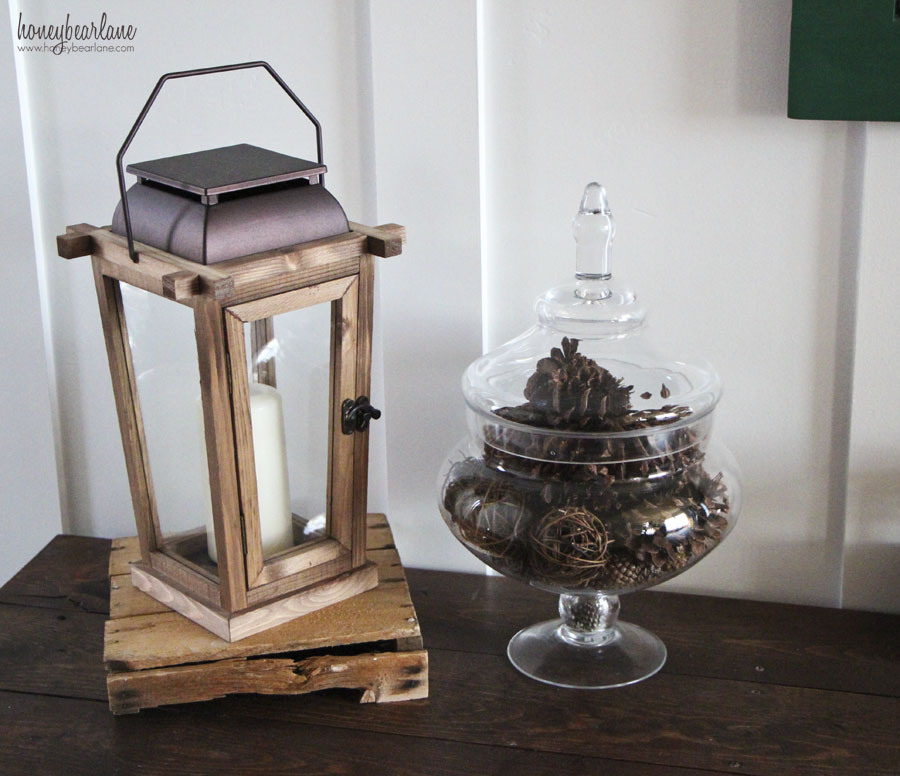 Since it's winter and Valentine's, I decorated with pinecones and other rustic elements.  I adore this lantern (BHG at Walmart) and it's also a staple in my entry.  I keep my apothecary jars as well so I can switch out the filler.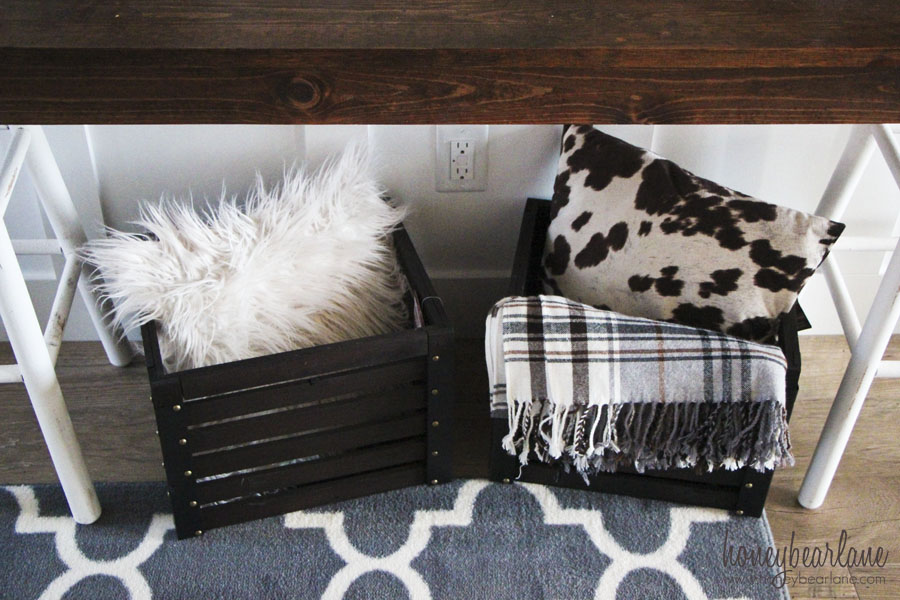 A recent addition was these milk crates which match my dark railing so well (which you can't see but trust me.) I can keep extra things in there like pillows and blankets or it could also be a great place for guests to put shoes.
I bought this small metal cabinet thing a couple years ago at World Market.  It adds a little more of that rustic feel I was going for.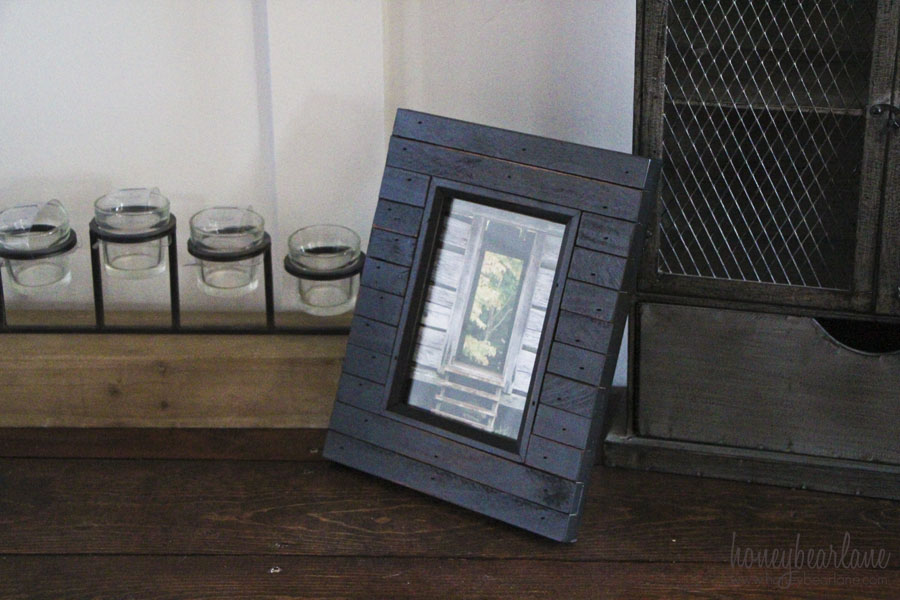 If you want rustic, you must add this candle holder to the grouping. And also this frame because seriously, it's like an old cabin in the woods.  Something cool about the BHG at Walmart frames?  If you don't have the right photo for the frame yet, you can just flip the paper insert over and it has a picture on the back!  Tada!
I usually like to add more green to my groupings, but this entry is on the north side of the house and doesn't get hardly any light.  Plus it was pretty full, but I can add some faux plants in the spring.  It's easy to make things rustic, just keep your eye out for weathered wood, darker colors, and natural elements.
Want to win a $100 Walmart gift card so you can get some of these super cute accessories? Enter below!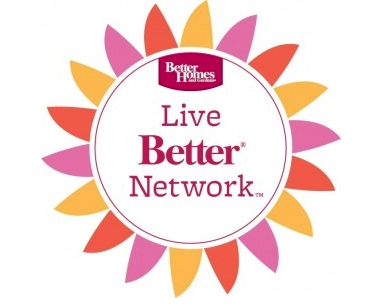 Follow them here:
Twitter: https://twitter.com/BHGLiveBetter
Facebook: https://www.facebook.com/BHGLiveBetter?ref=br_tf
Pinterest: http://www.pinterest.com/bhglivebetter/
Instagram: http://instagram.com/bhglivebetter_
This post was sponsored by the BHG Live Better Network. I received compensation from BHG at Walmart. All Opinions are 100% my own.