Meaningful Holiday Home Tour
I'm so excited to be part of this holiday home tour, hosted by Laura from Meaningful Spaces. I've been preparing my home for weeks as part of this but a huge part of the process was also a dining room transformation (which I'll have to share with you later.) And I confess, although most of it came together, I ran out of steam/time/money before Thanksgiving. But I'm still pretty happy with how it turned out! I'm also excited to finally let you get a good look inside my house because it's a little hard to photograph the layout. So I took some different kinds of shots this time around to hopefully help you understand and feel like you're walking through it with me. And this is a pretty long post so get settled in for lots of pretty photos!
P.S-if you want a real live tour of my home, I'm doing a Facebook Live for Hometalk on Dec. 23rd!
Let's begin…
Here's my entry. I wanted to kind of deck out my entry this year because so many people who come over only ever see the entryway. I feel so strongly that my home is a reflection of me (since decorating is my living!) I want people to get a feel of that right when they walk through the door.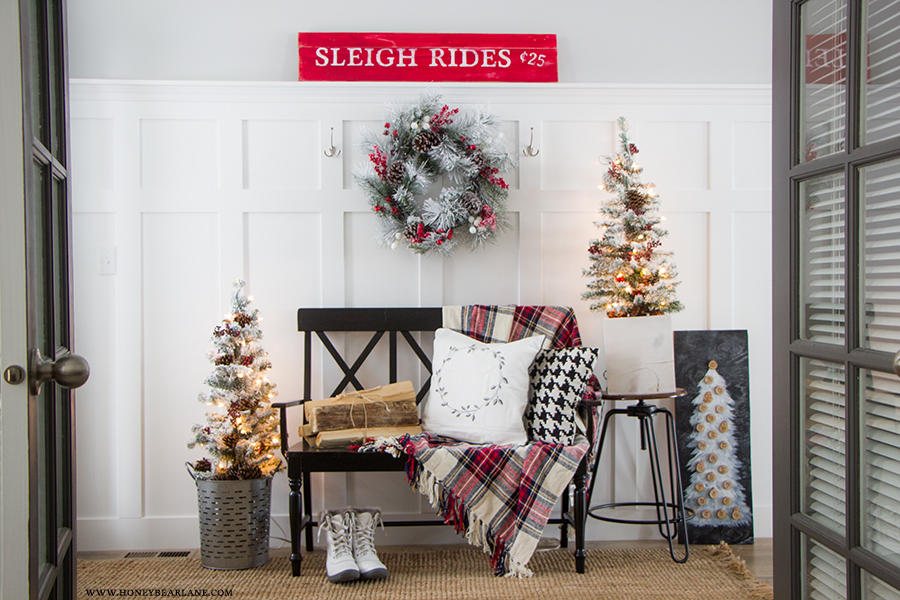 I revamped this entry back in September–got a new bench and a new rug and now the style is much more me. I adore this jute rug from RugsUSA and I do think it's getting softer as it gets broken in. I got the bench from Walmart as well as the stool next to it (I'm an ambassador for Better Homes and Gardens brand which is sold at Walmart so I have a lot of stuff from there!) I actually also got the little trees from Walmart and flocked them myself (tutorial coming soon). The Sleigh Rides sign I made myself also and I love the pop of red! The pillows are from IKEA and Walmart, the plaid blanket is also Walmart.
Rug: RugsUSA
Bench: Walmart
Stool: Walmart
After the entry you will see the bottom of my stairs and beyond them is the rest of the main living space, which is very open. That was the main thing we loved about this floor plan, although in retrospect maybe it's a bit too open. It can get very loud with our kids!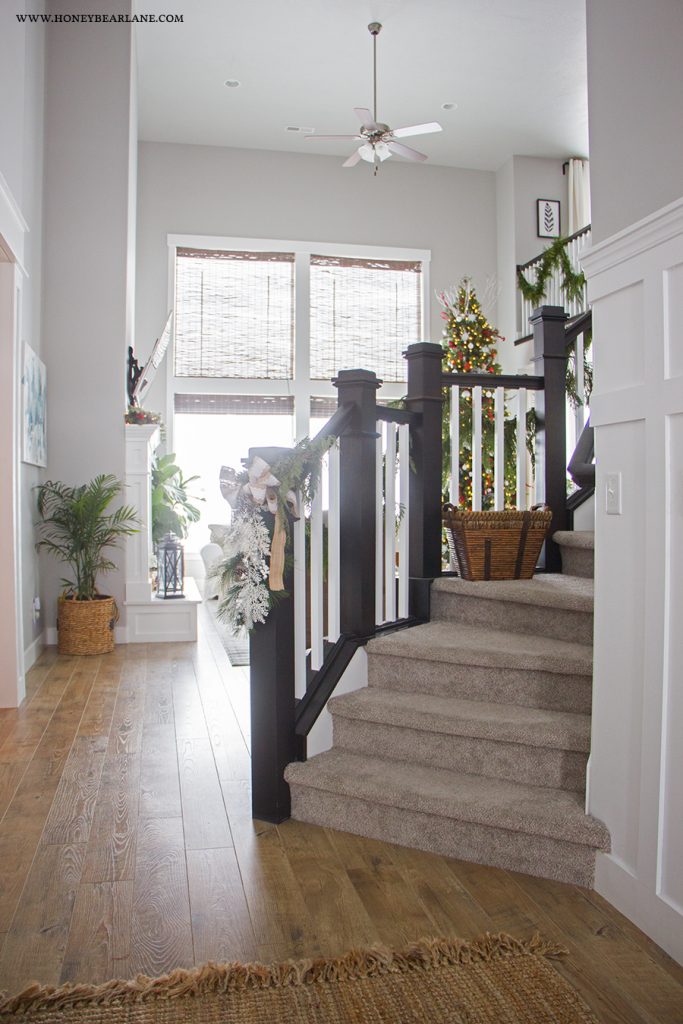 For my banister, I swagged a cedar garland along the entire thing and ended it this pretty spray and bow.
I'm shooting these living room photos from the stairs and the loft so it's more of an overview. And hey, there's an artsy photo of the Christmas tree and couch just because it's fun.
So my living room recently got a new rug as well and I love it! My last rug was okay but the pattern was too bold and I struggled with decorating with it and loving it. I wanted a vintage rug that was muted and neutral but not too light and plain so it could still hide dirt. I debated amongst this style for a long time wondering if it would be too light and get ruined quickly. I've had a white rug before and it lasted like a second before it was stained and ruined. I saw this 9×12 rug on Overstock for $170 and I thought for that price it didn't matter too much if it got ruined. I went for it and so far I really love it. It's plenty busy to hide dirt but muted enough to be neutral and it brightens up the room a lot. It's fairly thin but I have a rug pad under it to make it more cushioned.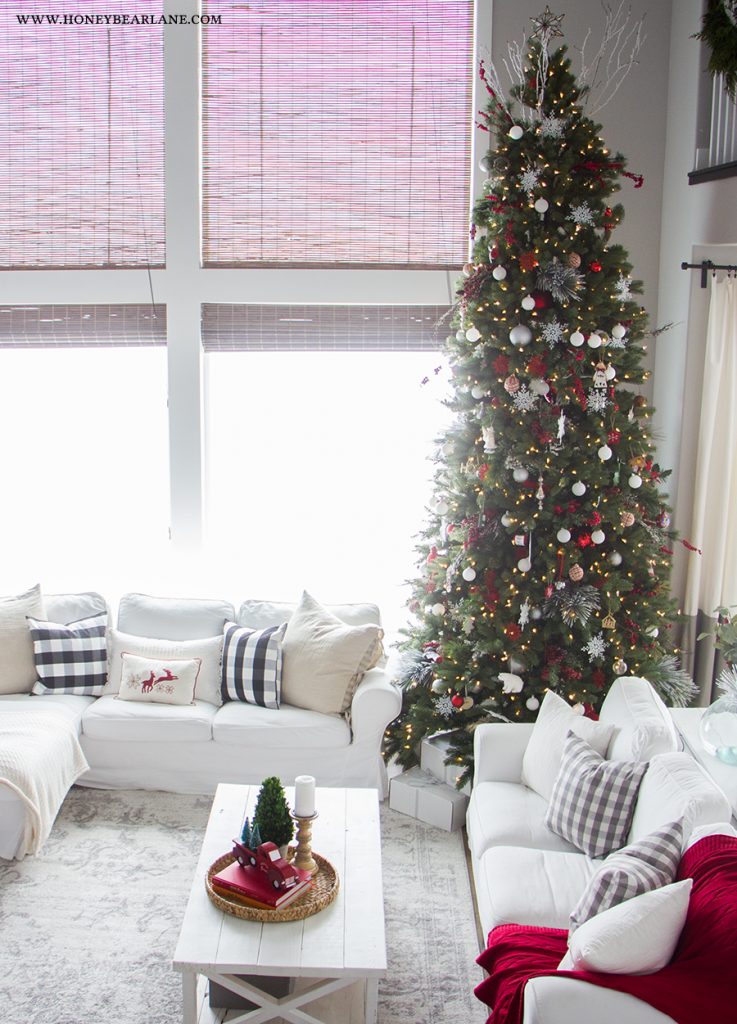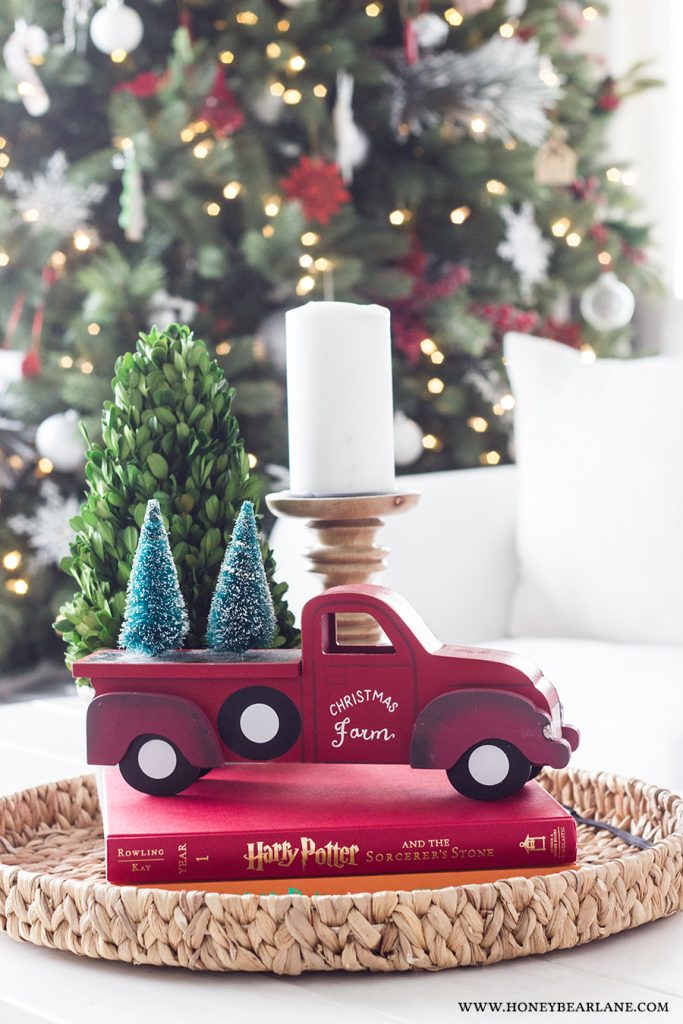 Our tree is 12 feet, we got it from Costco last year. I wrote a review of it here. I decided this year to keep it simple, only doing red and white and a little bit of silver, no garland at all. I bought a bunch of flocked florals from Michaels and stuck them in the tree first. The overall effect is gorgeous and I really love it.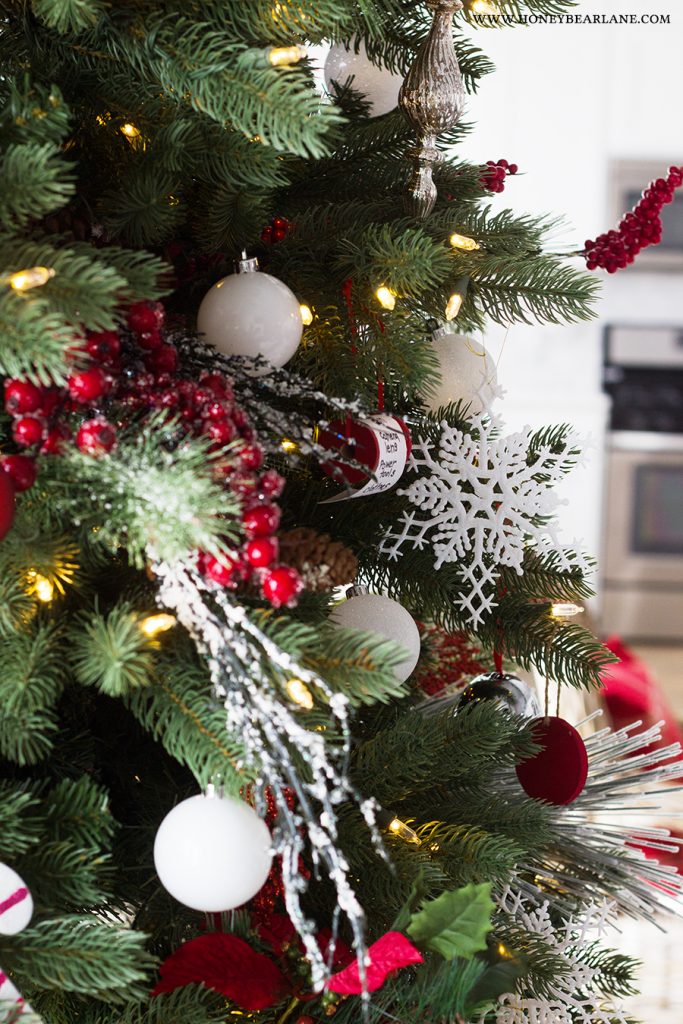 On the side console table I found a new use for my red faux gate. I hung this little reindeer on it for now along with some pretty garland and other things. I love the apothecary jar with Epsom salts and bottle-brush trees.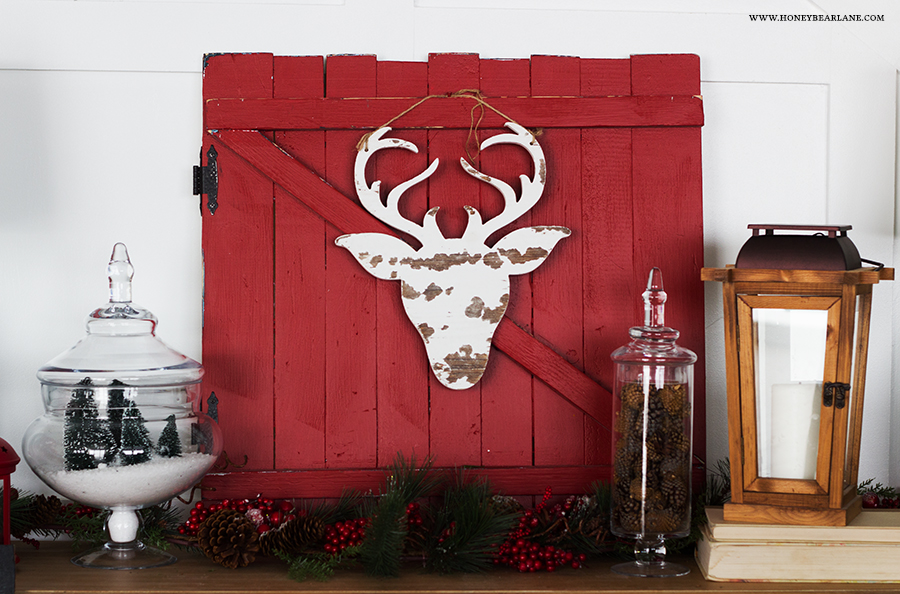 I also purchased some really realistic garland (at the 70% off sale) at Michaels for the mantel. I kept it fairly simple since our TV is there. But my husband has promised that we can move the TV to the side once we do built-ins on either side of the mantel.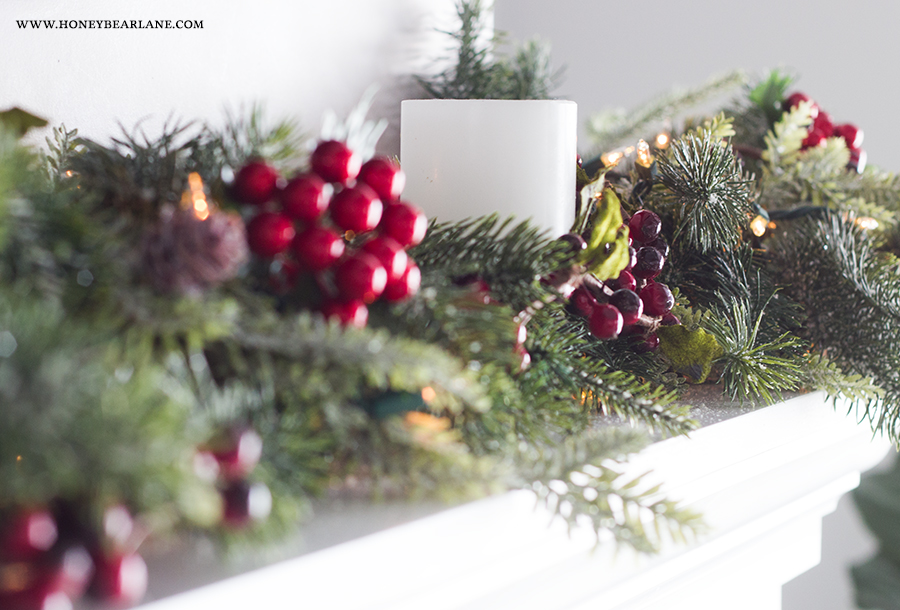 Couches: IKEA
Recliners: Walmart
Rug: Overstock
Console Table: World Market
I purchased cedar garland to drape up the stairs and across the banister on the loft. I love how gorgeous it is but it's also so dry! Anyone have good tips to preserve the life of it? Every time one of my kids bumps it it sheds like crazy. I would love to purchase an artificial cedar garland but I have yet to find the perfect one.
Behind my couch is this sofa table which is a table I built a long time ago from barstools and wood. It sat outside for awhile and got a little warped but I gave it a coat of paint and now I love it again, warp and all. It looks SO farmy.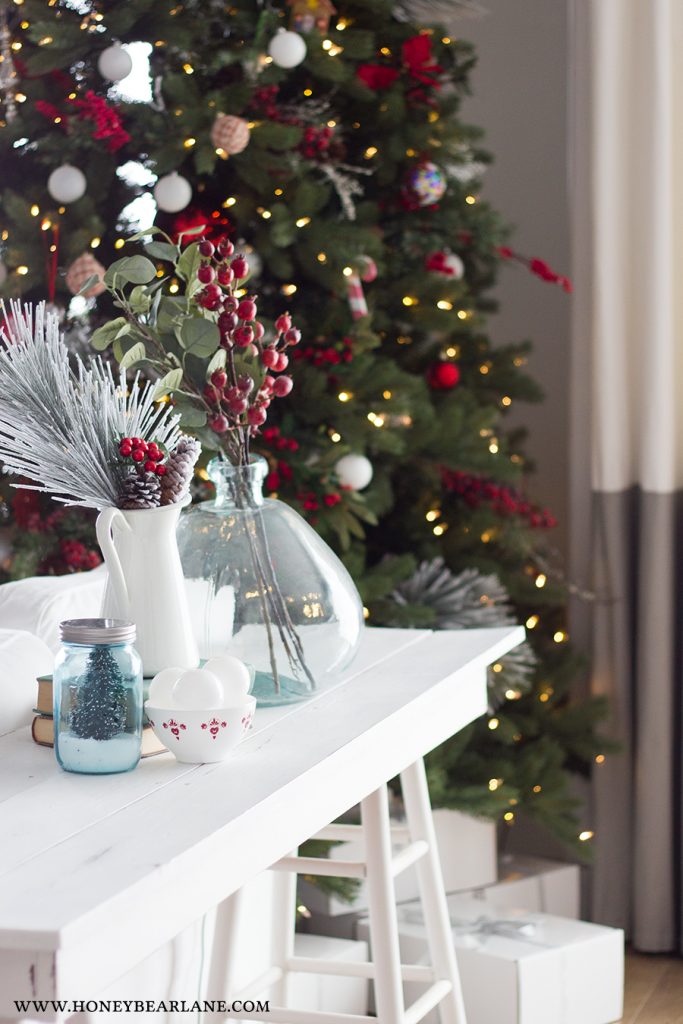 Accessories on the table:
Mason jar: Walmart
Pitcher: IKEA
Small bowl: IKEA
Aqua vase: World Market
Stems are from Michaels, Hobby Lobby, and IKEA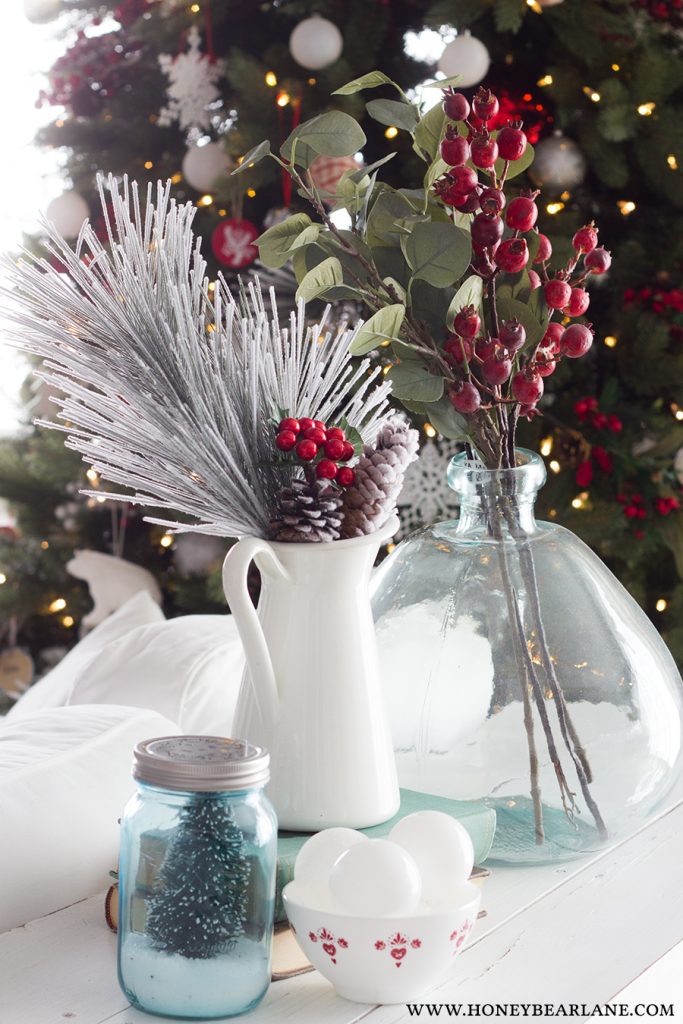 My dining room farmhouse table is always fun to decorate, but I kept it somewhat simple without place settings since the rest of the house has a lot going on. Once those roses die, I'll probably fill the vase with pinecones or something. And that wall! My shiplap wall which (shh!) I'm not supposed to 'reveal' yet but well, there it is. I'll give you the full details on that in a future post. I'm still playing around with the styling of this wall and those shelves. I made the rustic stocking holders, check out that tutorial here.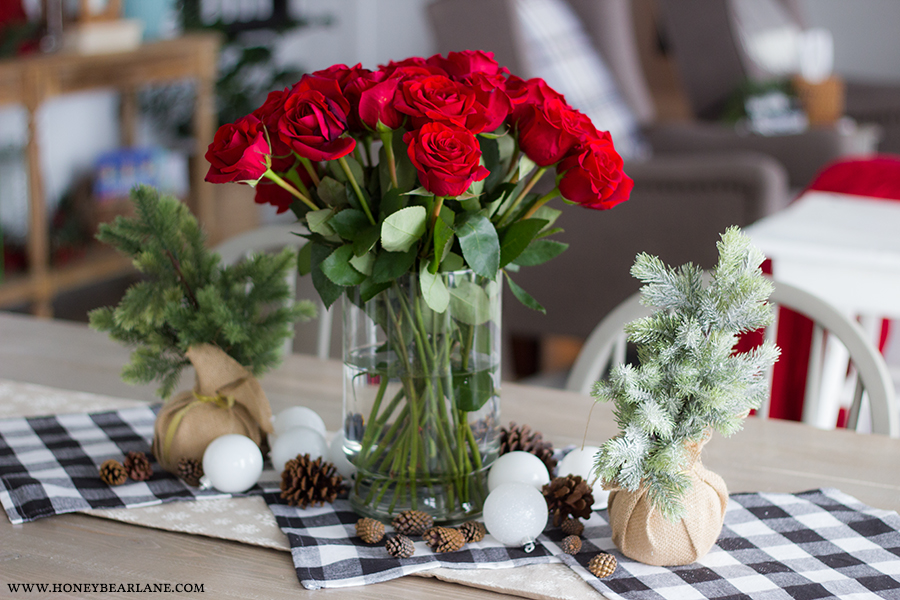 I haven't gotten to decorate the kitchen yet, but I'm saving that for another home tour post coming up in a few days. Let's go into the Master Bedroom…
This is just around the corner also on the main floor which is great but also kinda crappy sometimes. My baby sleeps upstairs so I have to trek upstairs every night at 3 am. And he woke up just in time for this photo shoot so here's his happy smiling face for this cute picture!
My bedroom is pretty simple right now. We have plans for it but all my plans include a lot of wall treatments and I'm not going to get to it for awhile. So this is it for now and I still like it.
Wreath: Target
Gray Euro Shams: IKEA
Red pillows: Target
White lumbar pillow: IKEA
Duvet: Crane and Canopy (it's the ruched one but I flipped it over because I wanted a clean look for awhile.)
Baby: Handmade by me 🙂
I also made the headboard and the side tables are from IKEA. I'm planning on upgrading to a King bed soon though and we'll need smaller nightstands. My husband is always so exasperated with how much I change out the furniture haha!
That's the tour for now! Congrats–you made it through! Decorating my home at Christmas is such a tradition for me because even as a child I was always the one to take charge with the Christmas decor. My mom isn't super interested in doing anything but the tree so I was thrilled to take over. I used to spend hours on Black Friday just decorating–hanging garland and lights and playing Christmas music. Creating a full Christmas ambiance around the home is the essence of Christmas to me. I was overjoyed when I was invited to this meaningful Christmas home tour because decorating my home for Christmas really IS so meaningful.
Be sure to check out the other houses on this Meaningful Holiday Home Tour because everyone is super talented at decorating and will be so inspirational and full of holiday spirit.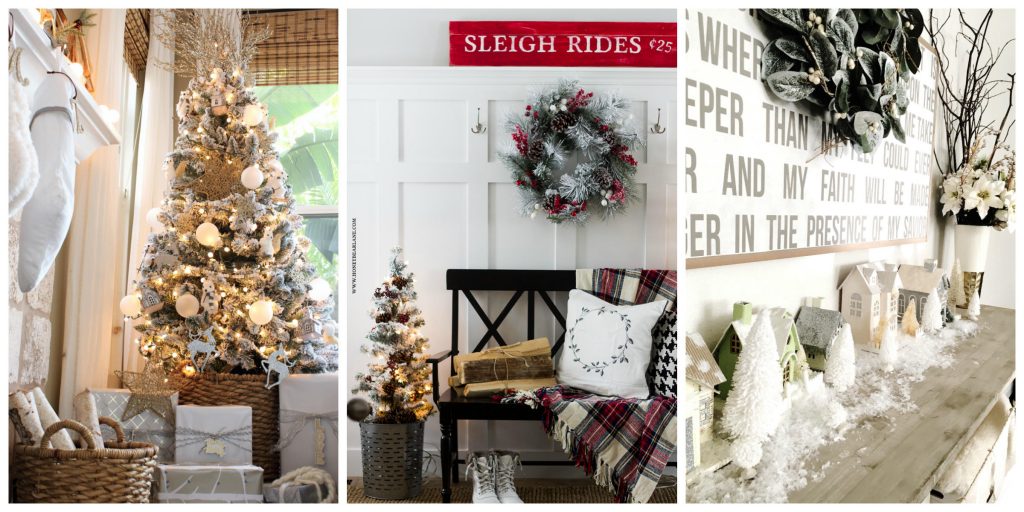 Meaningful Spaces/Honeybear Lane/So Simply Design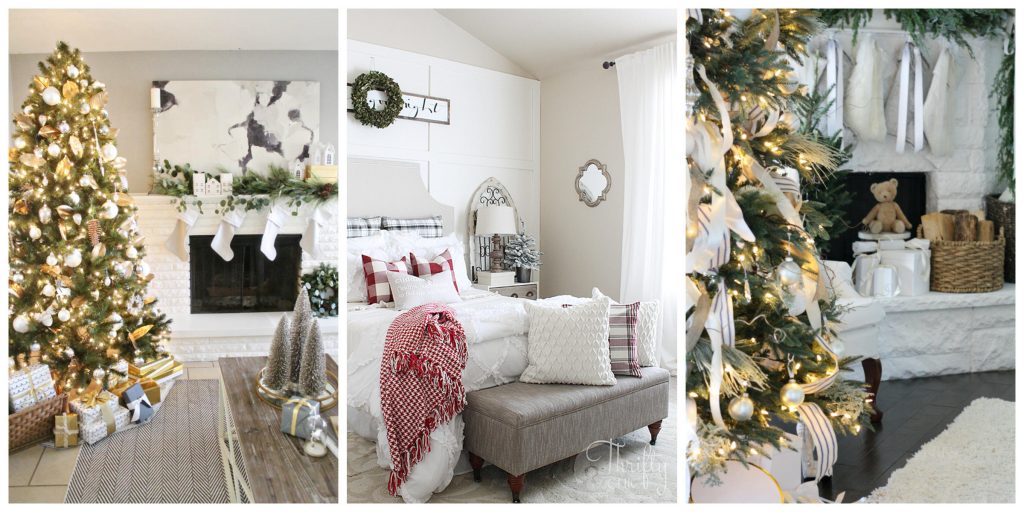 12th and White/Thrifty and Chic/Rachel Elizabeth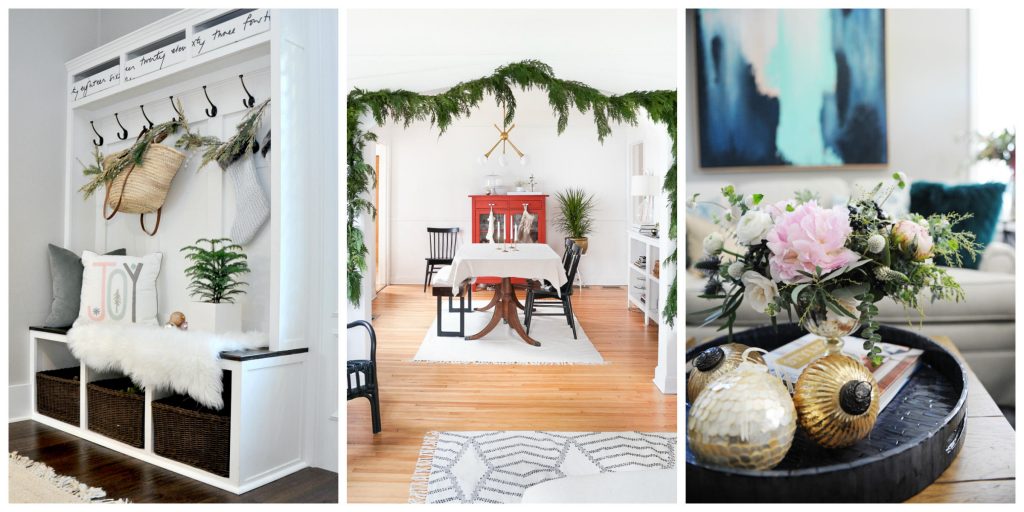 House Updated/Francois et Moi/Pink Peppermint Design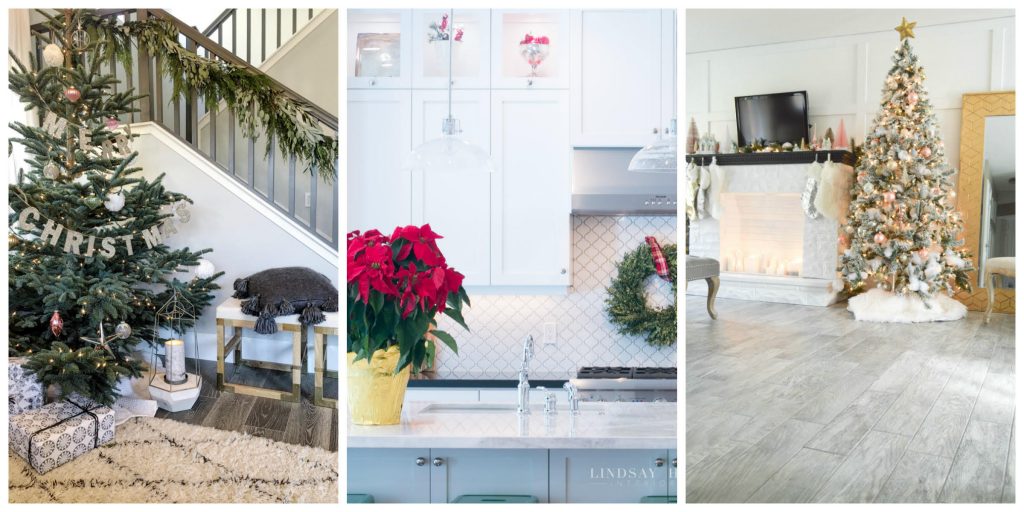 Lavieest Belle Design/Lindsay Hill Interiors/Let's Dazzle Darlings