I haven't shared my craft room with you since I moved into my new house. Honestly the craft room is usually a big disaster because it's kind of our catch-all room right now and my kids love going and helping themselves to craft supplies. But because of this big craft room blog hop that I'm participating in, I was forced to clean it up and organize it and finally share my craft room makeover!
When I first moved in, I arranged the furniture like this and hung my pegboard up. It was okay, but it took up a large portion of the room and we needed the room for other things, like the piano I wanted to buy. So I decided to rearrange the furniture and hang some shelves. I wanted to keep all the craft stuff to one side, so that meant I had to get both tables to fit against the wall.
Before: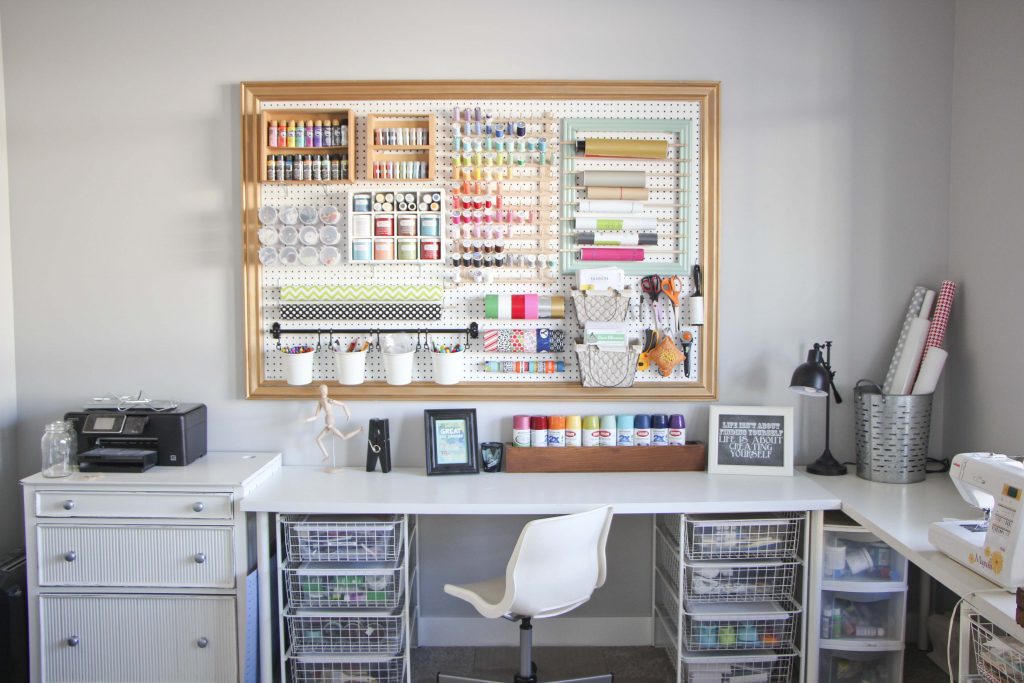 I realized that I could have the table tops and get rid of the legs and just use the wire basket towers as the base of the craft tables. The two tables end to end were still too long for the wall, so I used my circular saw to cut off the extra length. When you do this, just make sure to put tape on the line you want to cut because it will help prevent the laminate from chipping. I cut it and then it fit like a glove!
After: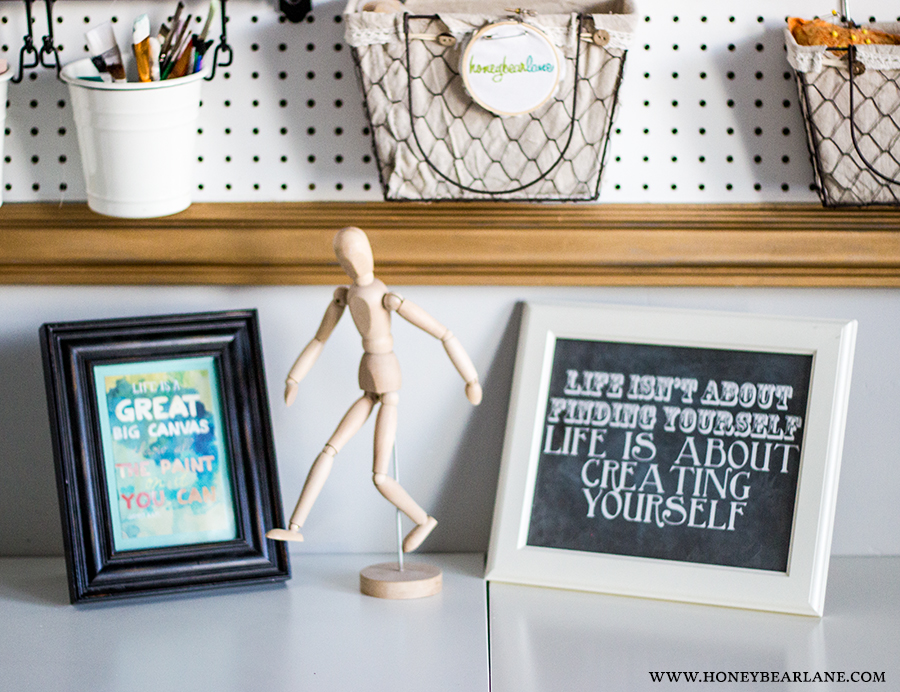 I hung the shelves and used some wood boxes I had to store my paint and ribbons and such. I had the intention of painting the shelves and boxes white but I just haven't gotten around to it yet. So this is it for now. And I have too much craft supplies to leave a lot of open space for styling. So this is what it is right now, and I'm actually happy with it.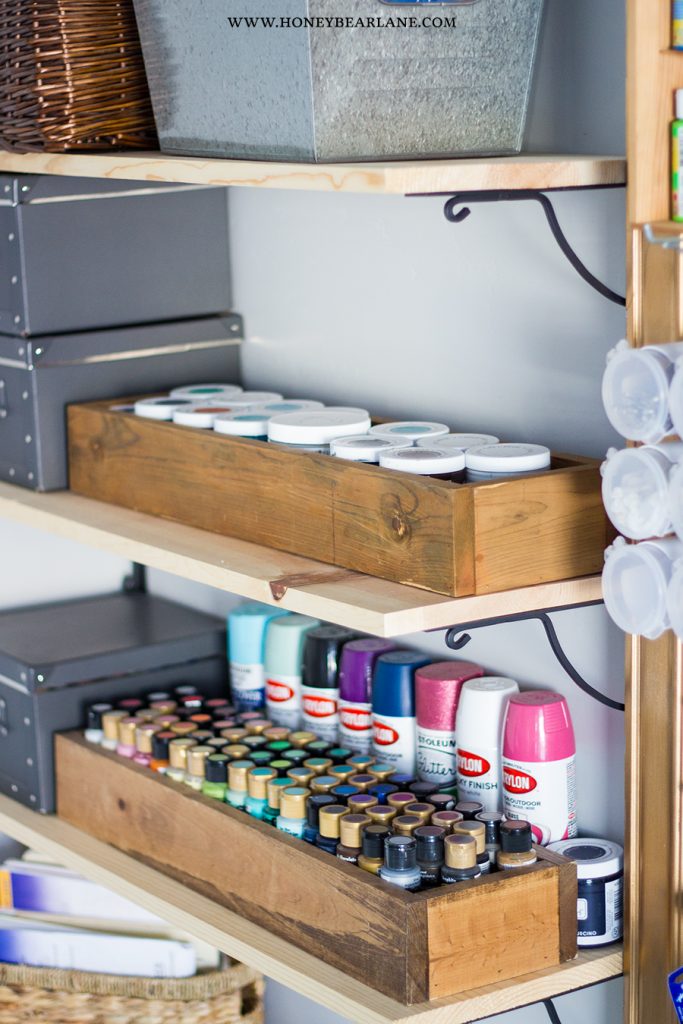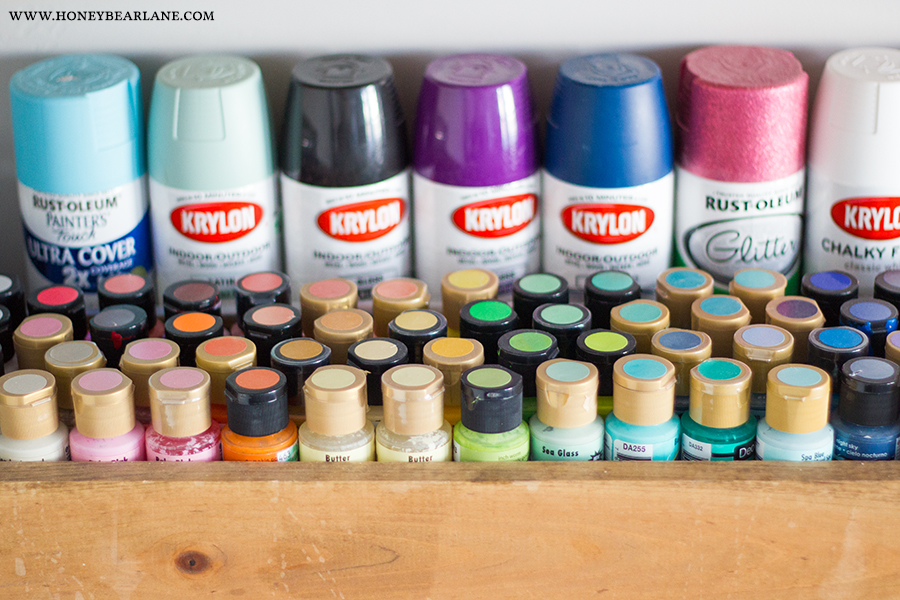 I organized all my craft supplies and put them in plastic shoe boxes and used my label maker to label them. This has made it so much easier to find things. Plus I don't love the look of all the plastic bins so storing them in the wire drawers is a good solution.
I have a bunch of pictures of this craft room so I'm just going to post them and you can take a peek…enjoy! If you see something you like and want for your own craft room, I've included a list of all my resources at the bottom.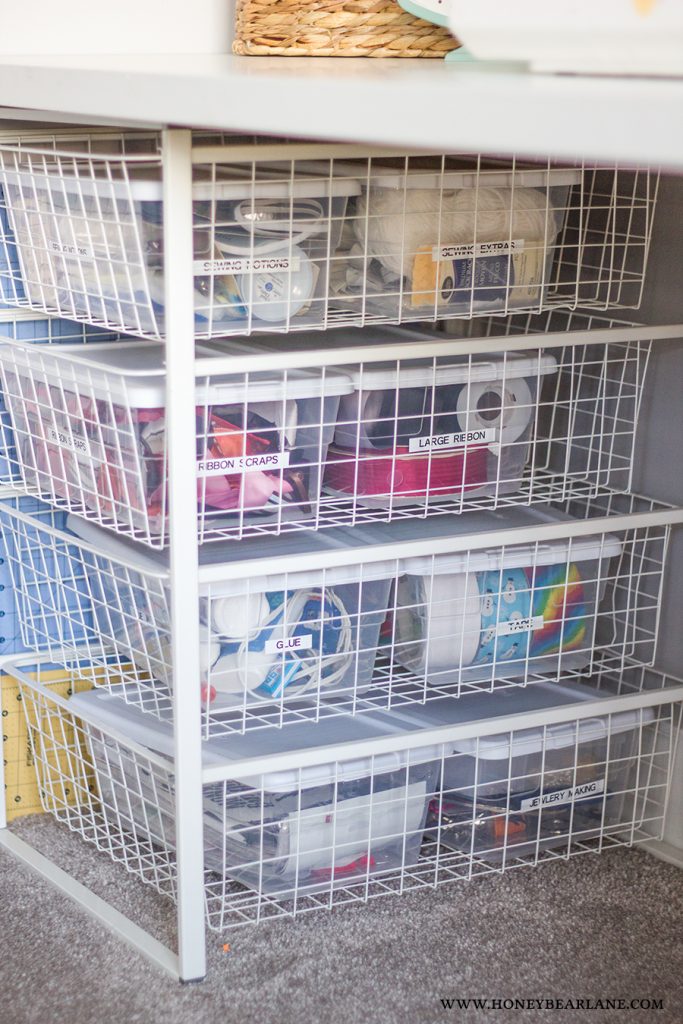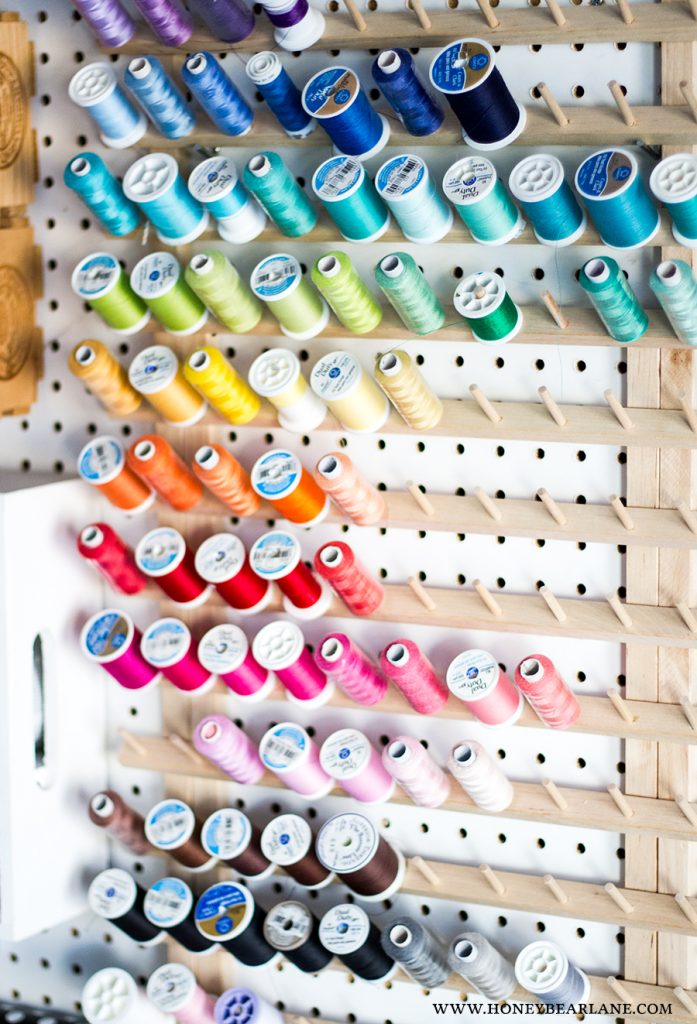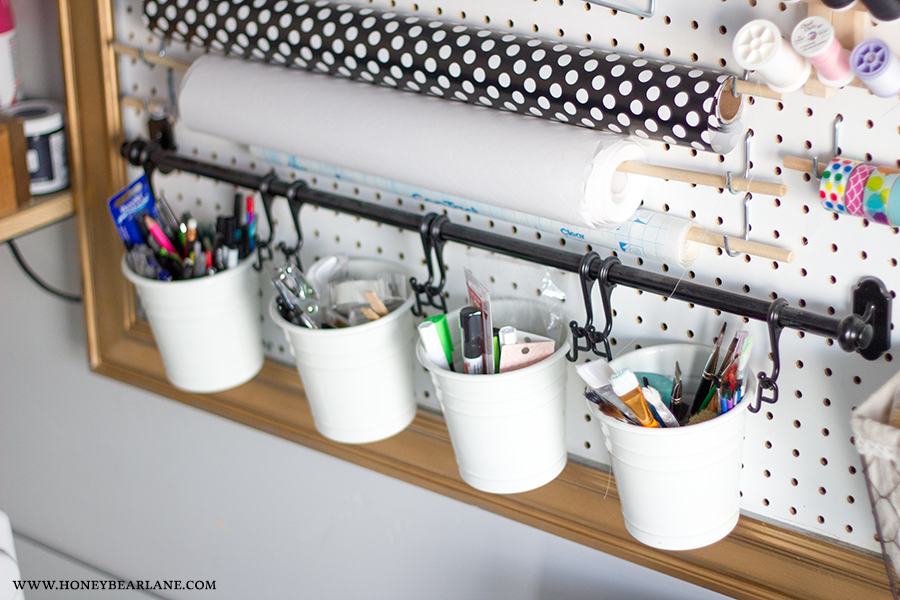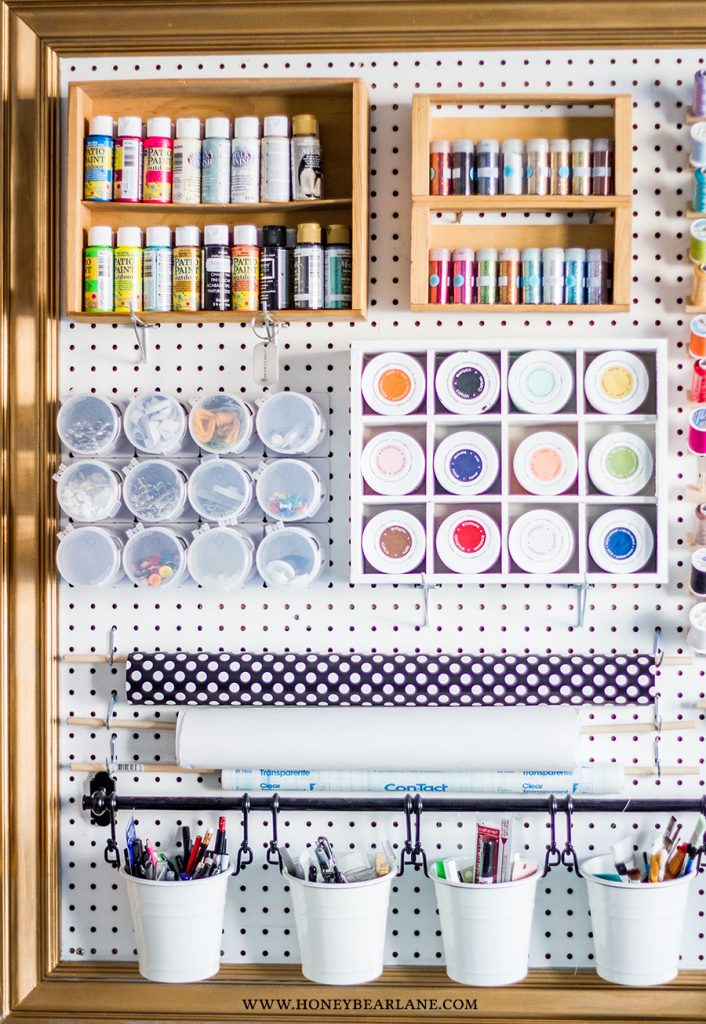 Pegboard details: I first made this giant pegboard in 2013 and it has been such a great organizational solution. I painted the frame with gold leaf paint a couple years ago because I just love gold 🙂 I put my paint and glitter on old wine crates. I used the IKEA Fintorp wall bucket system for pens, paint brushes, and other things like that. It's been a really great addition to the pegboard. I used a lot of wood dowels for wrapping paper, vinyl, and washi tape. I have a giant thread holder held up by pegboard hardware hooks…well everything is held up by pegboard hardware. I also received these Smart Jars which are the perfect thing for small things like buttons, safety pins, sewing machine feet, embroidery thread, etc.)
Items used in this space (affiliate links, see my disclosure):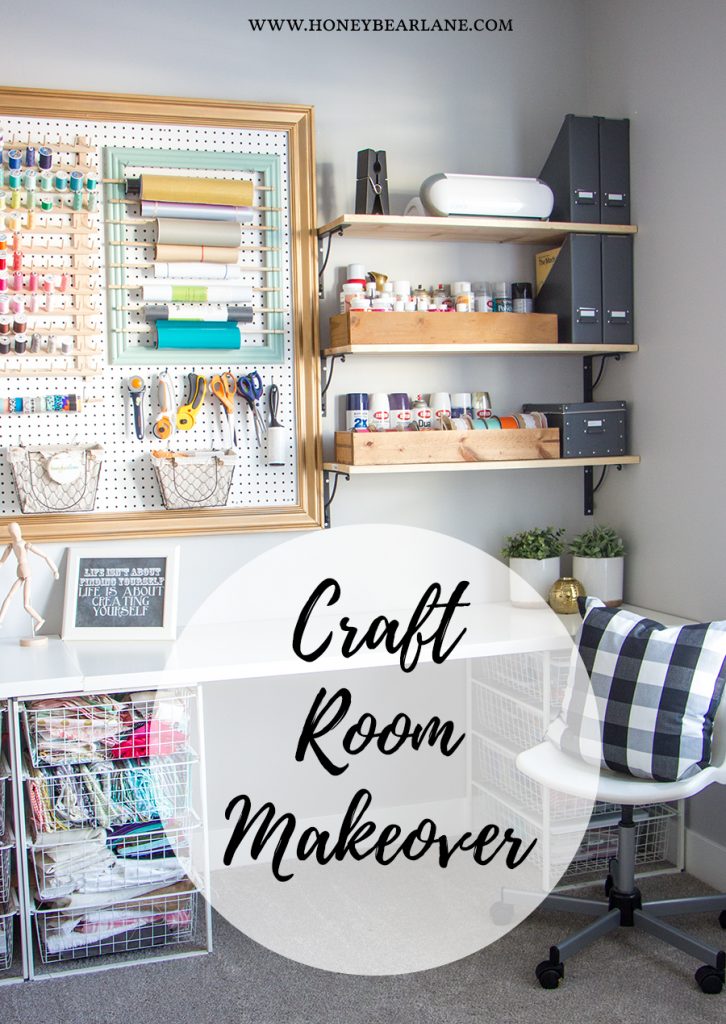 Our long term plan: We have some serious changes planned for this room. We want to take out the carpet and install laminate. Then we want to make an entry way on one of the walls for easy access to the kitchen. After all that, we want to build a wall of built-in bookcases, add wainscoting and maybe some wallpaper. So you can see it's going to be a serious project and one that's probably not going to happen for a few years! And then eventually we are going to do more cabinets up in our loft and all the craft supplies will go up there.
Be sure to check out all the other amazing craft spaces in the blog hop!