Build Your Own DIY Outdoor Furniture
It's getting a little warmer, so it's time to start thinking about our outdoor spaces!  I've wanted some outdoor furniture for my deck for a long time but it's pretty expensive and with so many projects, I couldn't get around to building them…until now!  I built this outdoor couches in one afternoon with less than $100 in lumber.  I sanded and stained them the next day and they were all done!  You guys–DIY outdoor furniture is the way to go!
For my diy outdoor furniture, I found these plans online and they were extremely easy to follow.  I thought about doing a sectional which was our original plans, but all the sectional plans I found seemed to require a lot of time, which I didn't have.  Plus I liked the idea of no one having to sit in the corner which can be an awkward spot, especially in company.  I will build a table for that corner in the future and then people can have a spot for their drinks or whatever.
DIY Outdoor Furniture:  Supply List
(affiliate links, see my disclosure)
For One Couch
Step 1:  I got the lumber the night before and made all my cuts the next day.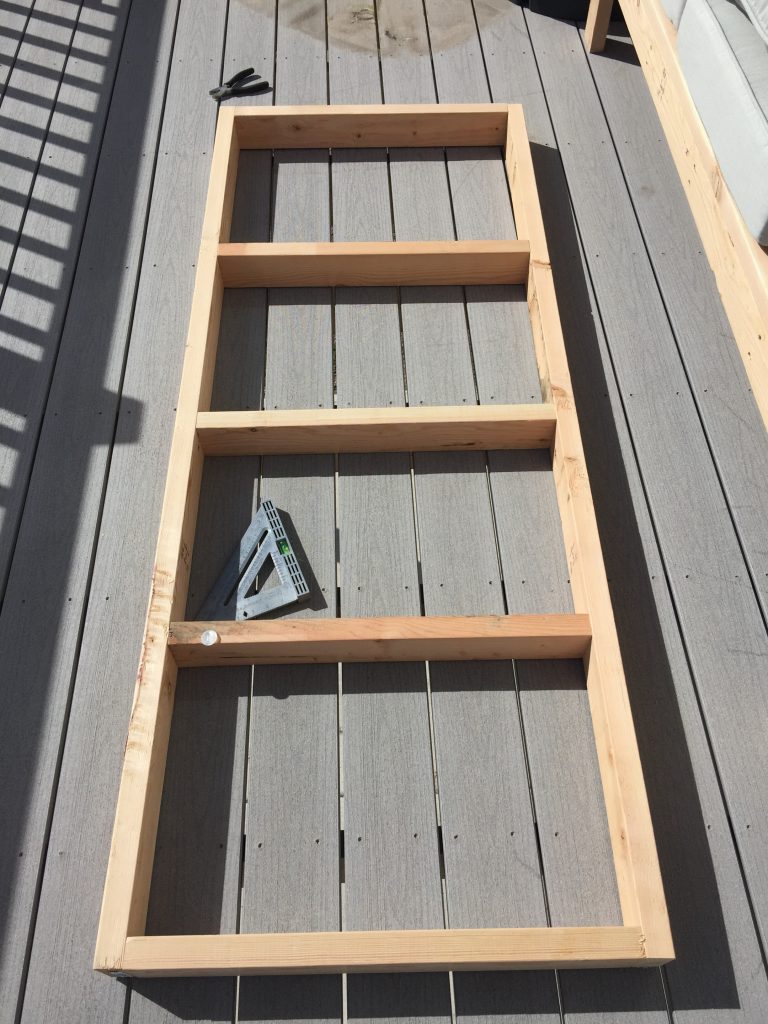 Step 2:  You start by making a base, similar to the ones I make for storage shelves.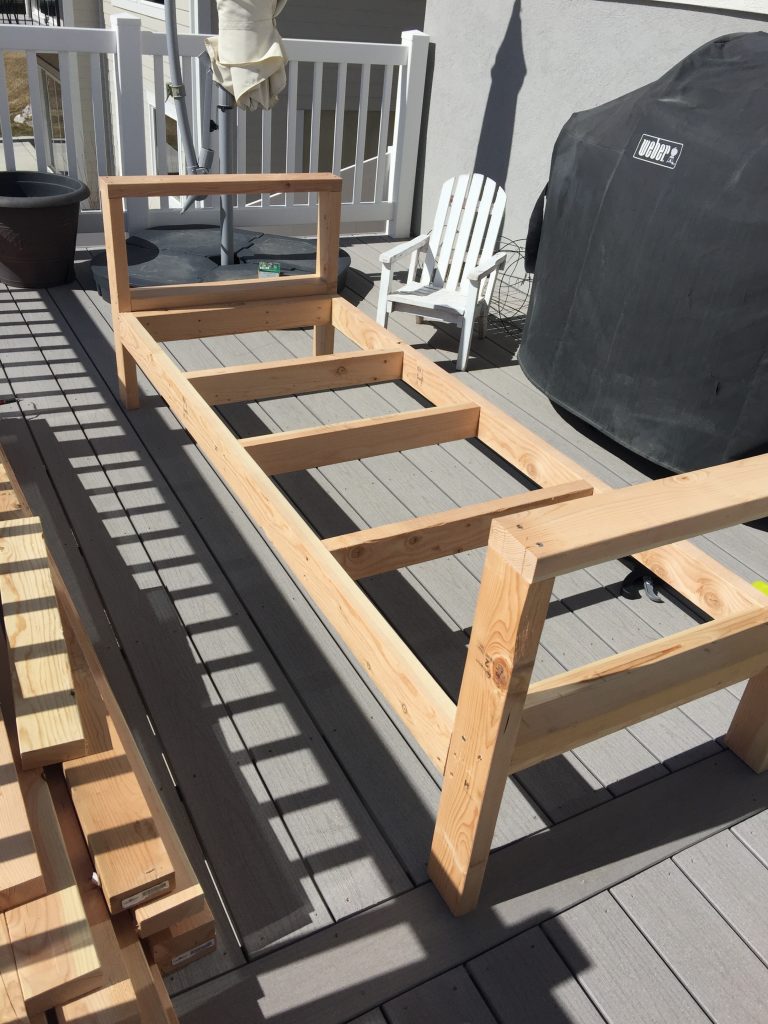 Step 3:  Then you make two arms and attach them to the base.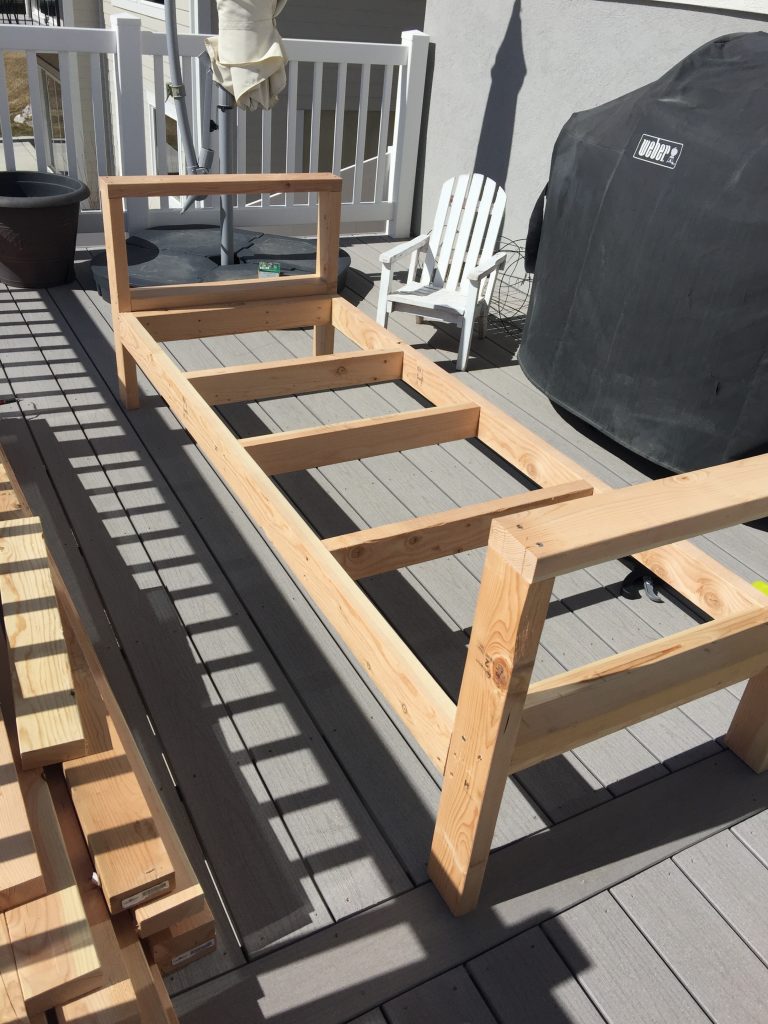 Step 4: Lay six boards across the frame and screw them in.
Step 4:  Finish with one more board in the back, attached with a Kreg Jig.  The rest of the frame was assembled quickly, using self-tapping screws.  Seriously, it could not be easier!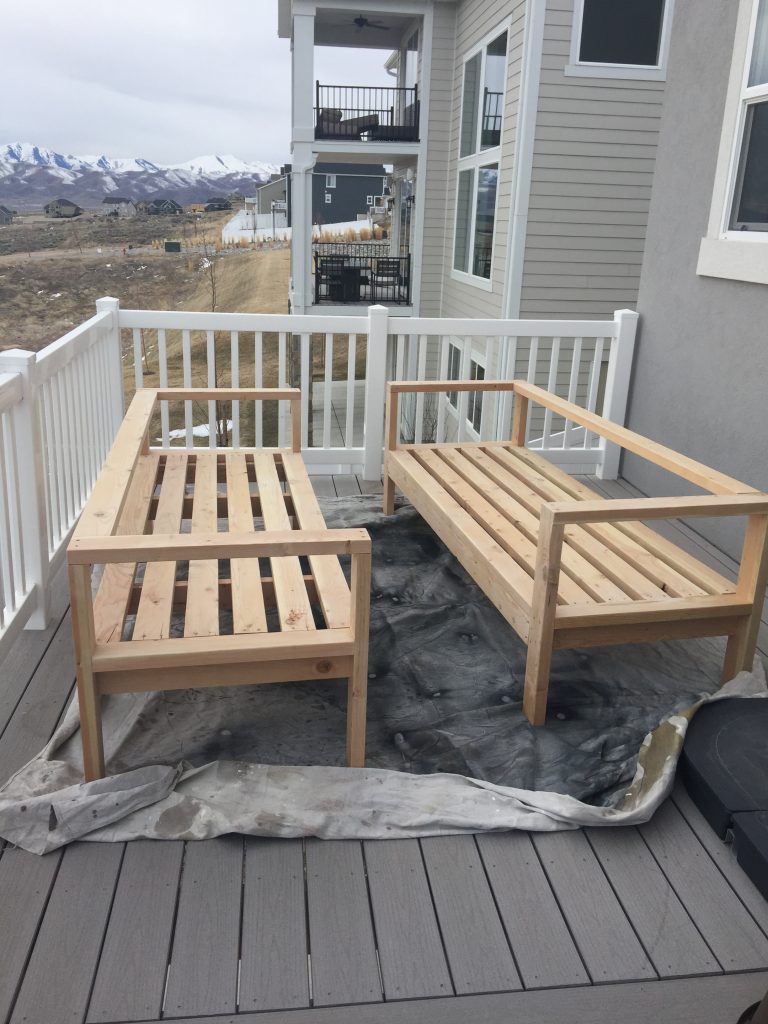 The next day it snowed.  Yes, that's life in Utah!  One day it's 60 degrees and the next it snows.  So I had to wait until it melted to stain it.  I purchased this new stain by Rustoleum called Carbon Gray.  I kind of bought it on a whim but as I thought about it later, I decided I wanted the couches to be dark gray.  I was hoping that the Carbon Gray stain would be dark, but I didn't have high hopes.  I was pleasantly surprised when I opened the can and started staining with it and got this gorgeous dark gray color!  I seriously love it.
I also purchased some Thompson's water sealer but I'm going to have to wait to seal it until the nights are a little warmer because it said that it will become tacky if the temperature is lower than 50 degrees at night.
The cushions were the easy part!  I knew that Better Homes and Gardens makes deep seat cushions at affordable prices so I headed to Walmart and purchased my cushions in a neutral gray.  I also purchased the deep seat back cushions that matched. The fabric is a great outdoor fabric that has a 5-year no-fade guarantee.  I'm going to get some of that sticky velcro and put it on the cushions and the frame so they don't blow away.
Shop this space:
This is just the start for my little outdoor space!  I am so excited to add a few more pieces of furniture and some plants, and maybe a fire pit.  We have such an amazing view and we haven't been able to really enjoy this space yet until now.  Building this DIY outdoor furniture was actually really easy and fast.  I put the couches together in one afternoon and stained them another afternoon.  You could easily do it in one day!
If you enjoyed this post, check out my other popular DIY posts!

Build a Farmhouse Table for less than $100
Hack an IKEA Expedit into a Media Storage Unit