This is a sponsored post written by me on behalf of FrogTape® for IZEA. All opinions are 100% mine.
Here's a quick project that totally transformed the look of my kitchen and it just took a couple hours using supplies I already had. It's a pantry door makeover! I painted my pantry door dark gray, the same as my French doors. I guess I'm super into painting doors lately–it's just a fun accent to add to any space.
Here's the before so you can get a good comparison:
Here's the after! Makes a pretty dramatic impact doesn't it?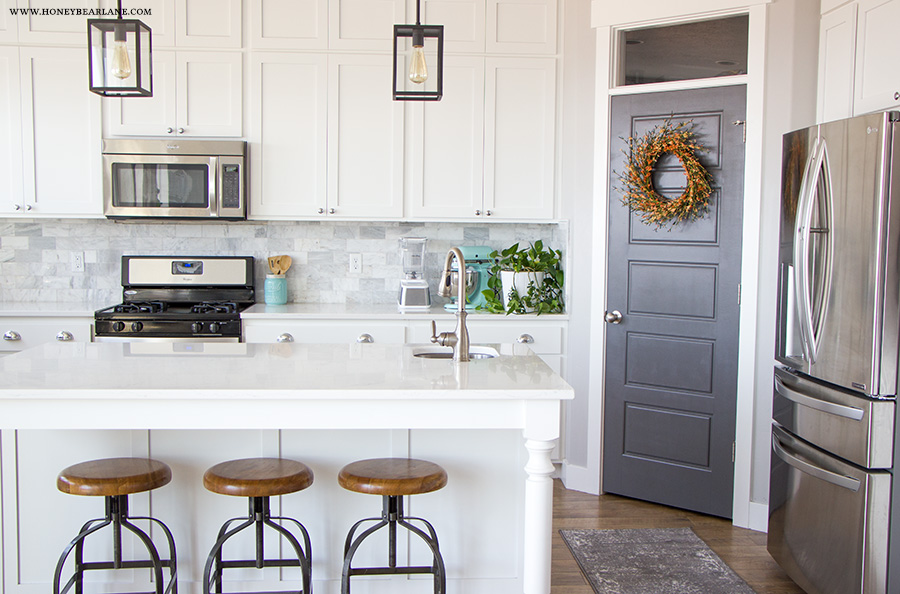 List of supplies I used for this project:
FrogTape® Multi-Surface painter's tape (I love this tape because it has such a strong bond and I achieve really good results).
Gray paint
4″ foam roller
Sanding pad
First I used FrogTape® Multi-Surface painter's tape to tape off the areas I didn't want to get paint on them, like the trim around the door and the hinges.
I slid a drop cloth under the door and then used a screwdriver to remove the doorknob (it's just easier to do this than trying to paint around it, but you could use tape on the doorknob also if you prefer).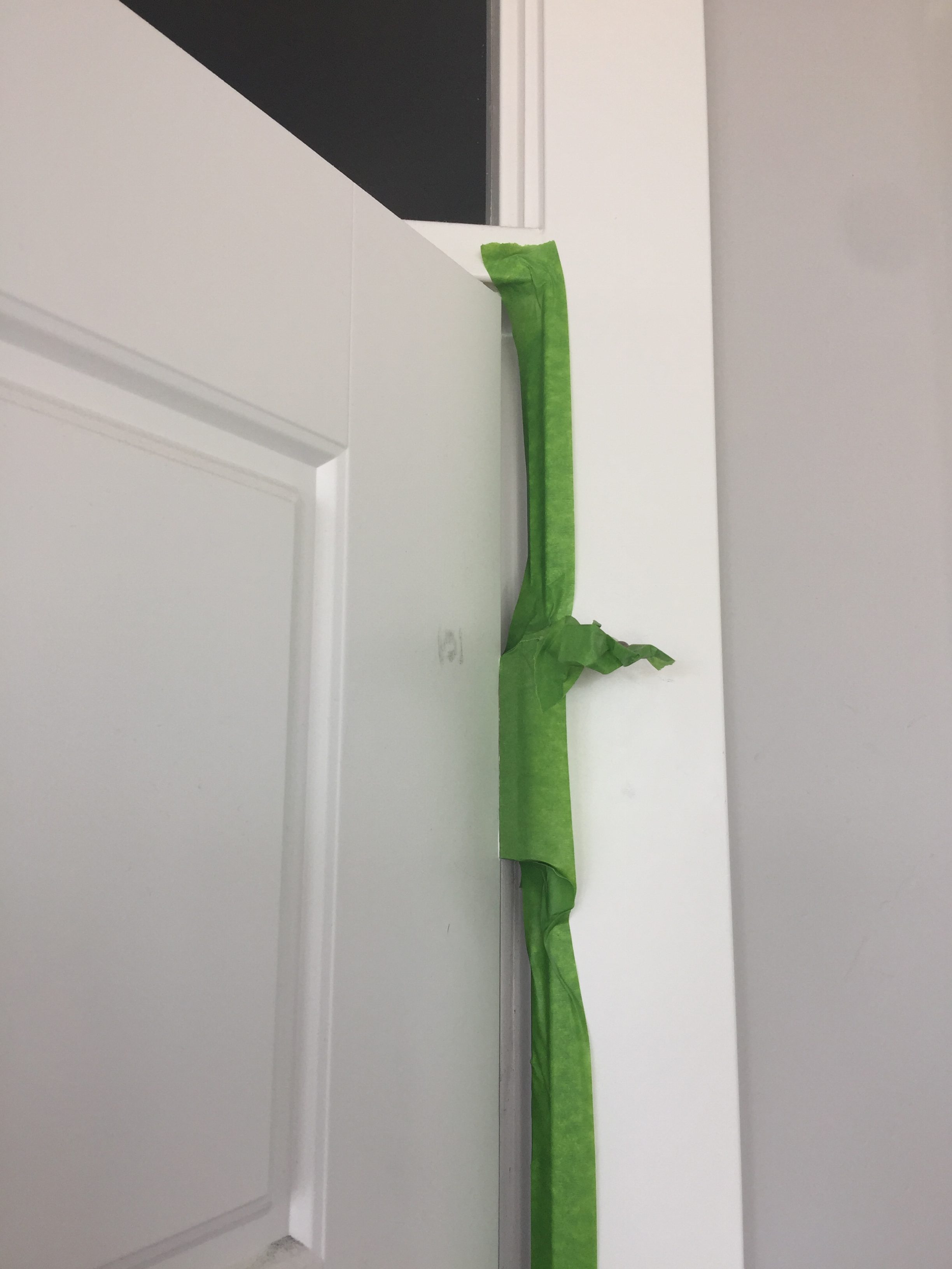 Next I used the foam roller to paint the door. Foam rollers are a good way to get a smooth finish, but be careful to not get bubbles. I noticed with the foam roller I was using it produced a ton of bubbles and I'm wondering if it was the brand I used (just a cheap brand). I've never had that problem before. So make sure you paint carefully to smooth out any bubbles before it dries that way.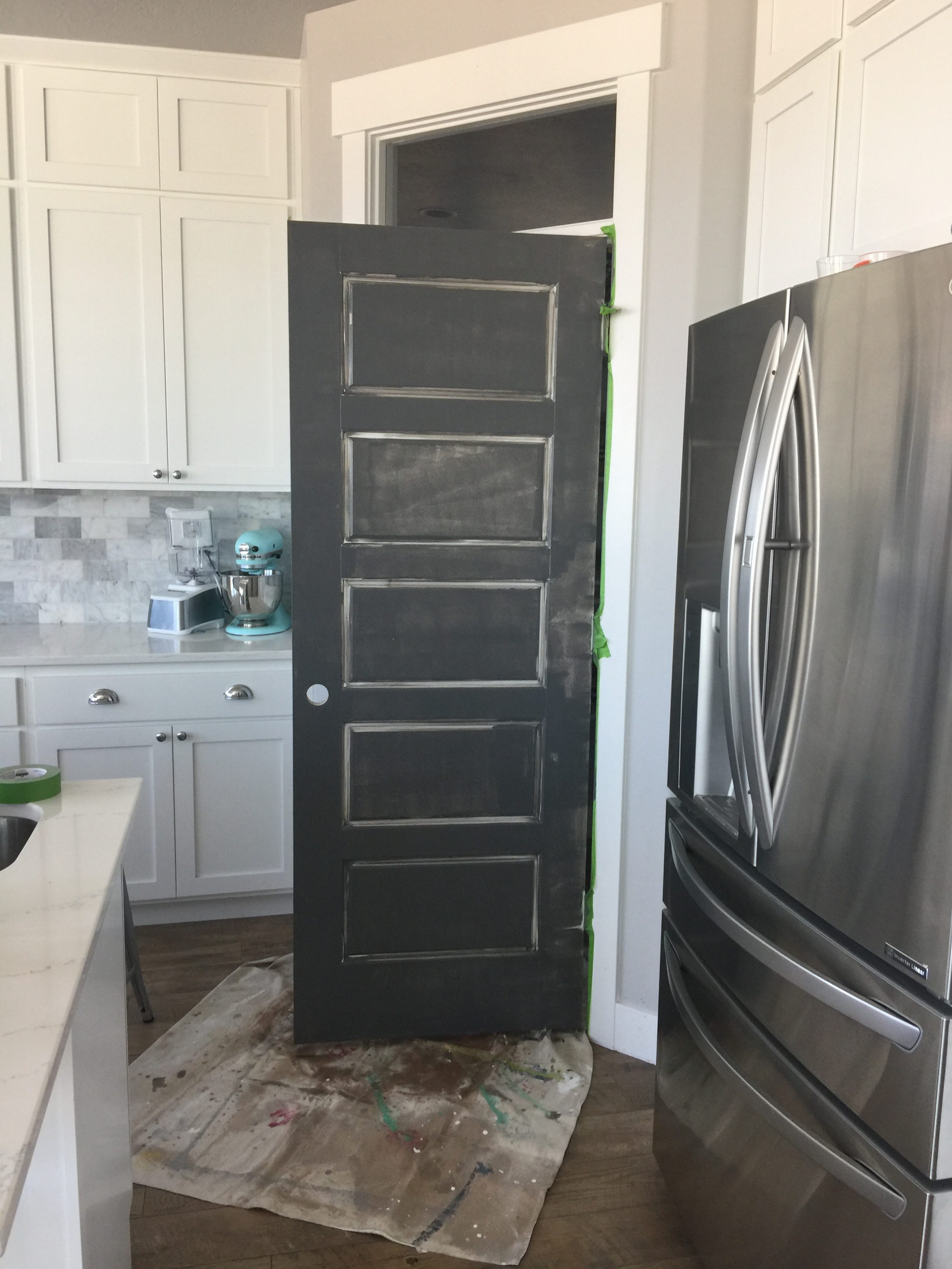 I sanded the paint job carefully in between coats so it would be a smoother finish. It took several coats for me because I think this foam roller wasn't very good and was causing some issues. By the time I was nearly done I actually wasn't loving it because I could see so many inconsistencies in the paint job. With more sanding and a very careful final coat, it came out pretty well. And it took me a little while to get used to because it really changed the look of the kitchen!
I removed the tape while the paint was still wet (with latex paint if you wait until it's dry you could risk ripping chunks of paint off when you remove the tape) and it did a great job protecting the trim and hinges. I put the doorknob back on and then hung a pretty wreath on the door and I gotta say…I'm loving it more and more!
Huge thanks to FrogTape® for providing me with the tape for this project! Visit their site and social media outlets to learn more about FrogTape® Multi-Surface and FrogTape® Delicate Surface painter's tape and check out the 2017 FrogTape® Design Trends.
FrogTape onFacebook
FrogTape onInstagram
FrogTape on Twitter
FrogTape on Pinterest