You might not realize what an impact a little project can make, but it does. Like with my French doors makeover!
In my entry hall you have a wall on the left and French doors on the right. These lead to my messy craft room so the French doors have blinds on them. Someday that room will be all fancy and pretty and clean and I'll take them off.
When we first moved in, the doors looked plain white, which I can't find a picture of. And as much as I love white, since I added board and batten to the wall around it, I wanted the doors to contrast. I had some beautiful dark gray paint (Benjamin Moore Kendall Charcoal) and so I carefully painted the doors. They look pretty good right? This picture was taken two years ago…that plant in the corner has doubled in size!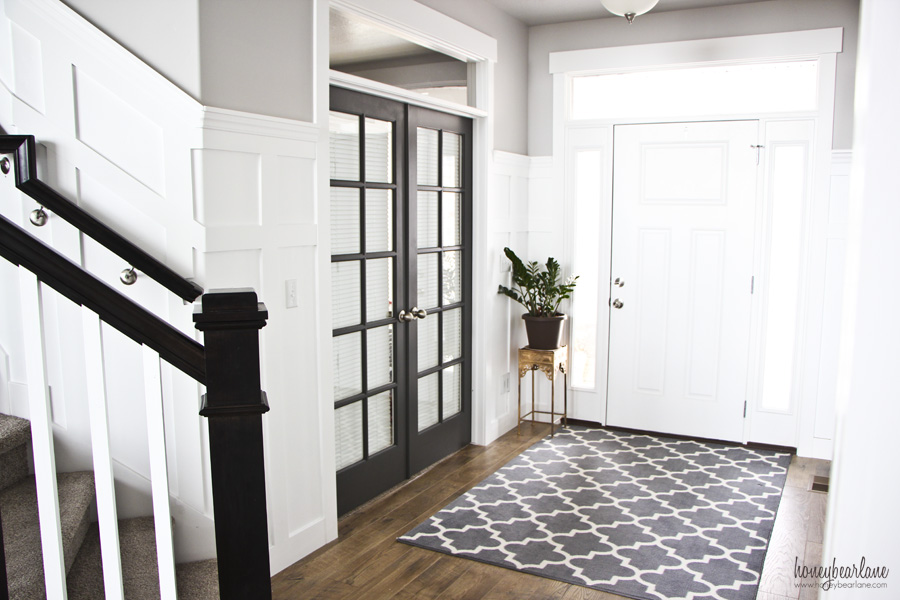 Something I'd always wanted on these doors was some pretty gold doorknobs. Big thanks to Schlage, because they provided these gorgeous doorknobs! Door hardware is used in every room, making it the perfect accessory to help tie the entire home's look together, not to mention that its also the perfect finishing touch to complete a room's look, and is a low-investment and high-impact project that can be done in a day.
It's easy to change them out, just a matter of unscrewing and screwing. However when I unscrewed the dummy knob (the doorknob that purely decorative and doesn't turn) I discovered a big white spot where I didn't paint it before.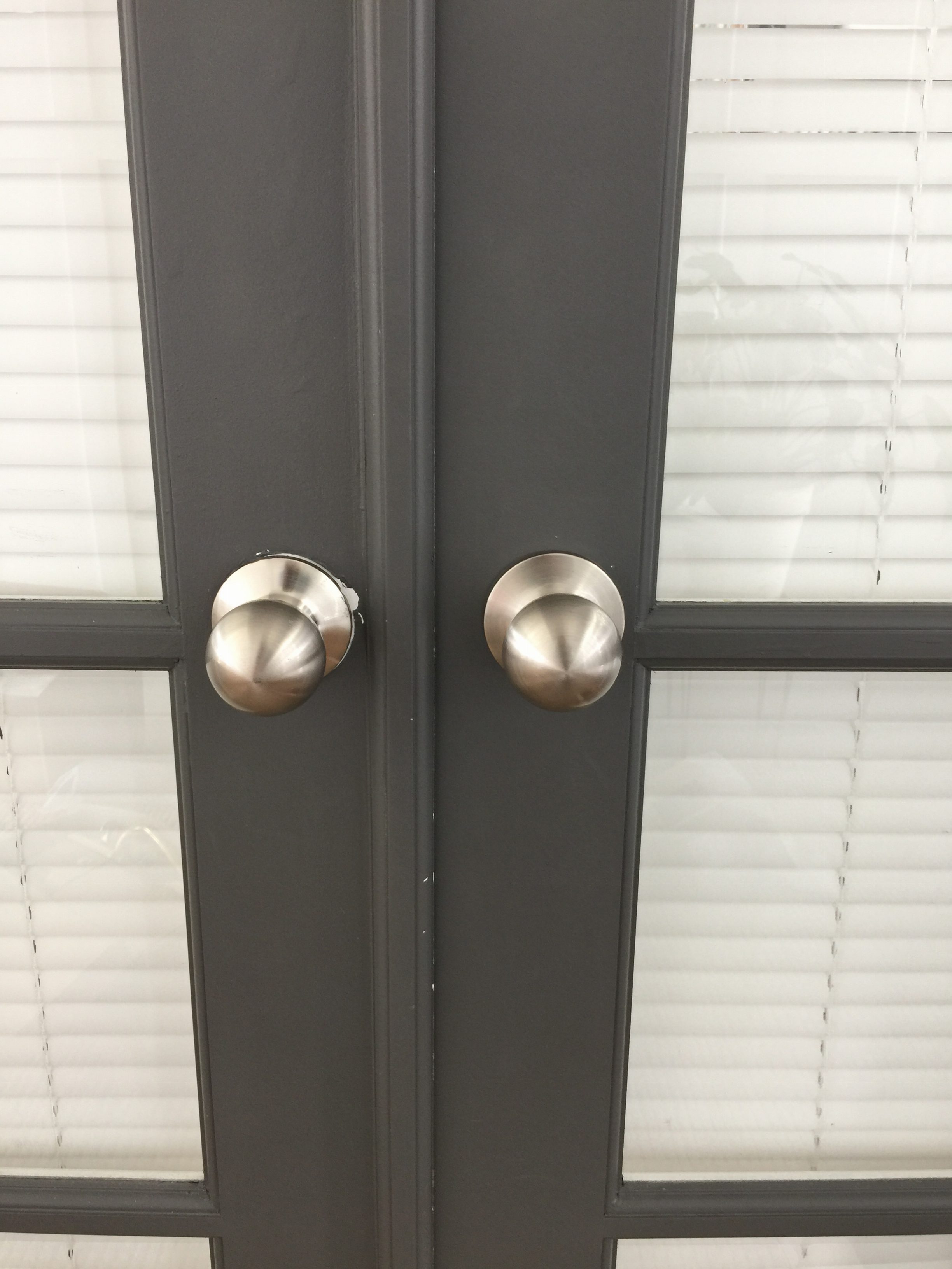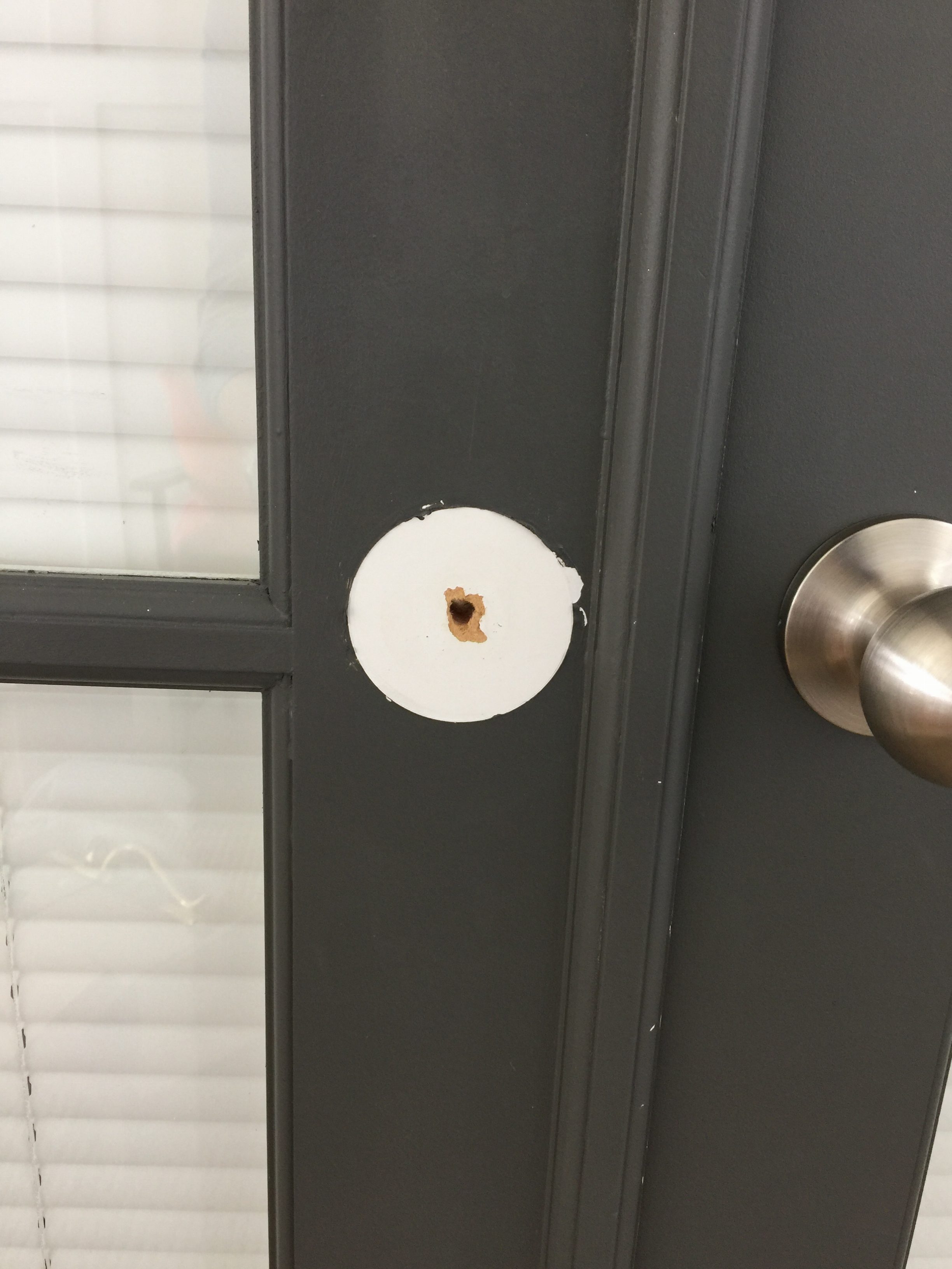 I pulled out my leftover paint and quickly painted over it, as well as touching up a few other spots. But something annoying happened–the paint was slightly lighter now! I don't know what happened, I stirred it really really well. So now my beautiful doors were splotchy as could be.
No door makeover would be complete without new pretty hinges! Since I was going to switch them out anyway, I decided to take the doors off completely, remove the hinges, and then take them outside to spray them with my paint sprayer. This is the best way to achieve a very smooth and even finish without any brushstrokes. Having to do this again was a huge hassle, but I'm actually glad they have a nice evenly sprayed coat and now they look brand new and hopefully if they chip they won't show white so easily now.
When they were done, I brought them inside, attached the hinges and re-hung the doors. Here's a helpful hint for rehanging doors: screw the hinges onto the door first. And the hinges really complete the look–I'm so glad I changed them!
HOW TO GET PAINT OFF GLASS THE FAST WAY
Instead of taping off and covering each window pane which would take forever and half the time something goes wrong anyway, I opted to just spray directly onto the glass. Latex paint won't stick to the glass and easily comes off–but don't try this with oil-based paint or other kinds of paint! First you get a microfiber rag wet with dish soap and warm water and you rub it over a few panes so it begins to work on loosening the paint. Then, using a paint scraper (plastic is best so you don't scratch the glass) at a narrow angle, scrape the paint to the edges and it will easily come off. If any is left on, you can re-wet it with the rag and scrape it again. After you're all done with that, you can spray the glass with glass cleaner to clean it all up.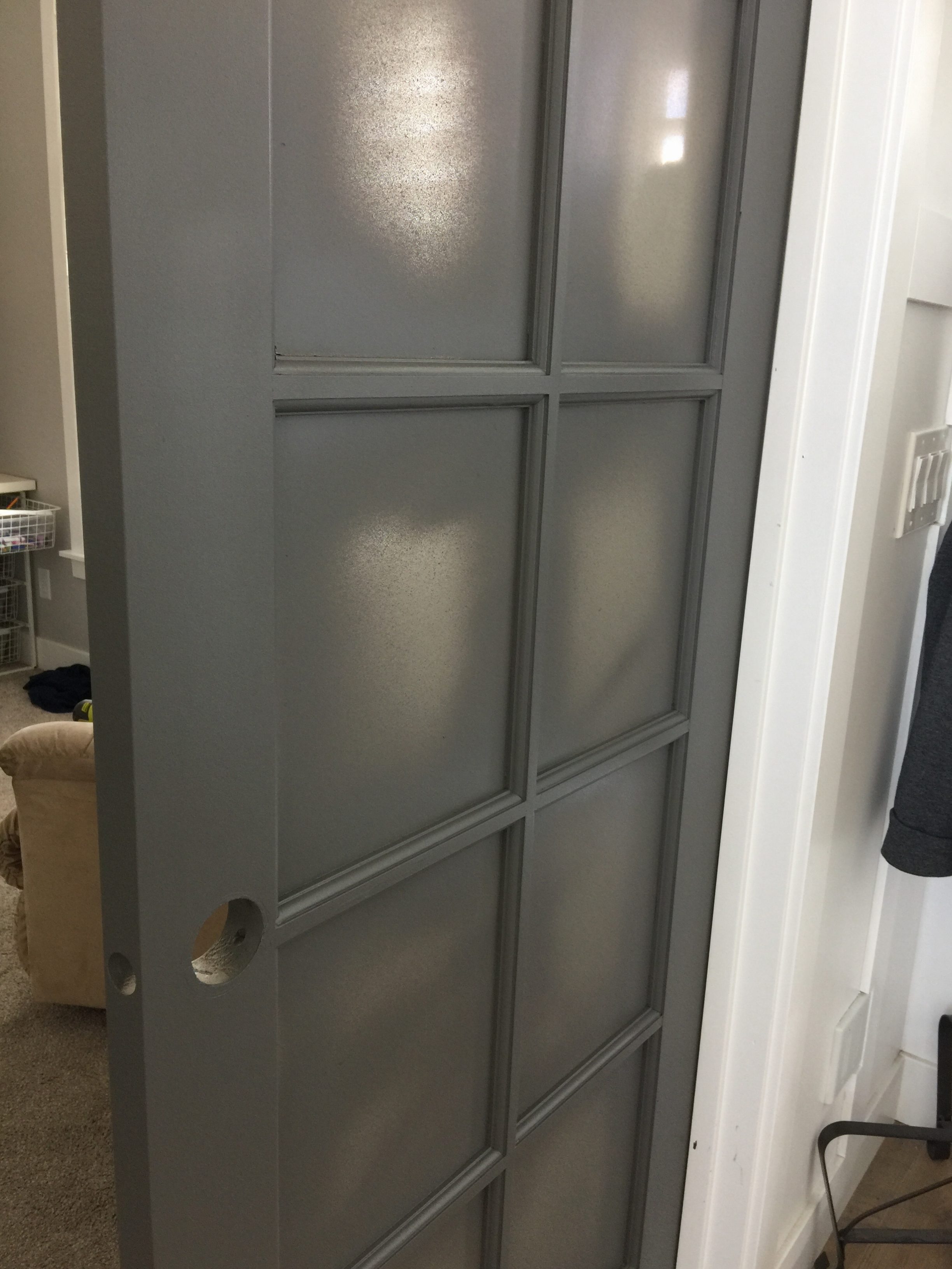 Once the doors were ready, I simply followed the instructions on the new hardware and put it on the door. It's pretty isn't it?
Schlage door hardware is available in a bunch of designs and finishes so whatever your style is, you can find something to match! It's a super easy project that makes a huge impact and takes only a few minutes to install right out of the box.
I'm partnering with Schlage this year on a few more hardware updates so get ready to see some pretty cool changes!
This is a sponsored conversation written by me on behalf of Schlage. The opinions and text are all mine.