A hallway is a random spot to makeover and frankly I didn't even think this hallway needed any jazzing up. It goes between my bedroom and my bathroom and literally no one ever sees it except for me and my hubby. Here is the before…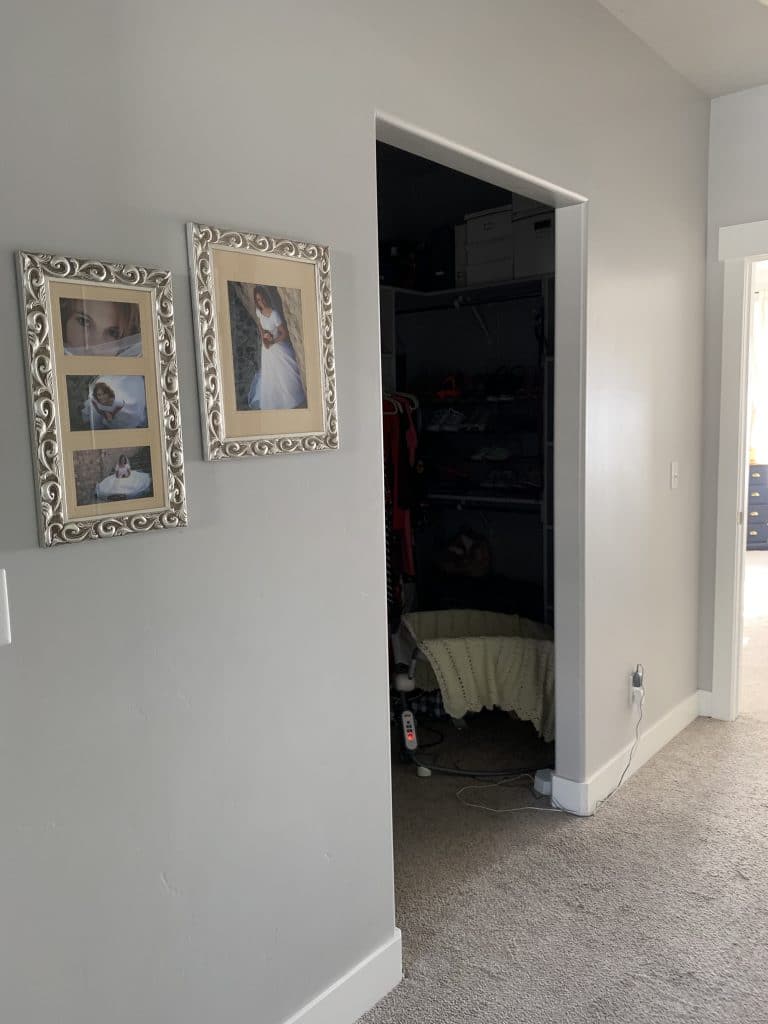 I recently did a linen closet overhaul and this is that same hallway. So now the rest of the hallway looks gorgeous and I love going in this space! I can't wait until we can rip out the carpet and replace it with laminate.
I knew I was going to build a barn door for this closet entryway so I knew that first I would have to frame out the entry.
I cut off the baseboards first and then framed it out by putting 1/2″ MDF on the inside of the doorway. Then I used pre-primed trim boards to finish out the rest (on both the inside and outside of the closet.)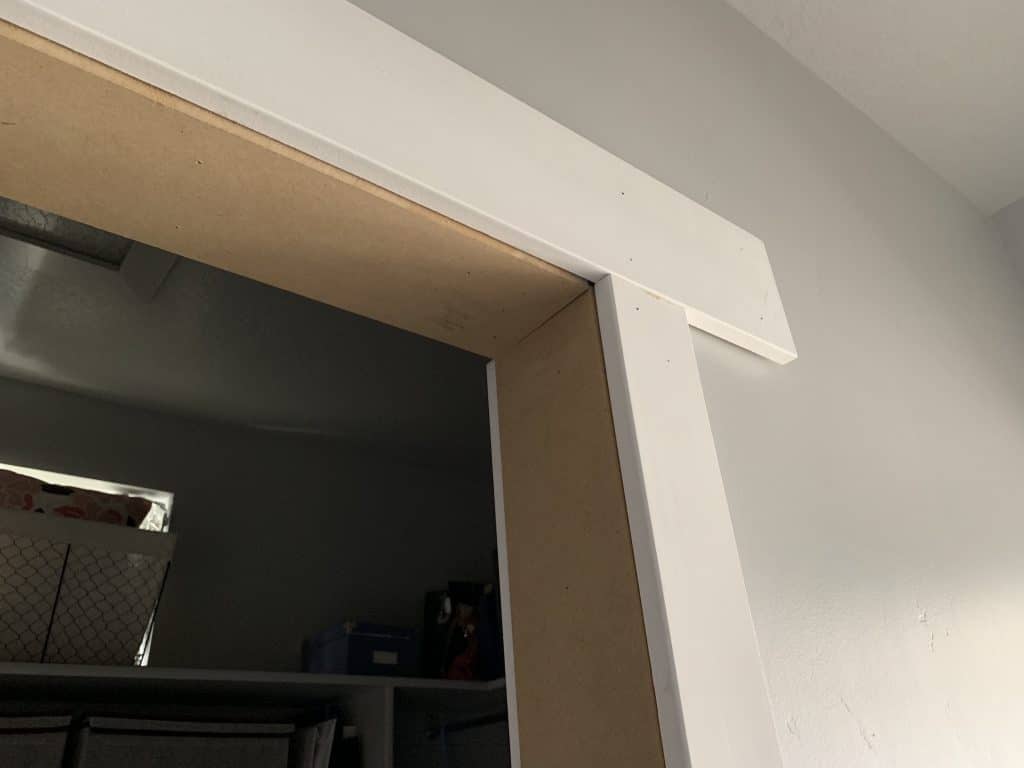 For the outside header, I placed a full 8′ header board on top so I could use that for the barn door hardware. I secured the header with 2 1/2″ screws into the studs so it could support the weight of the door.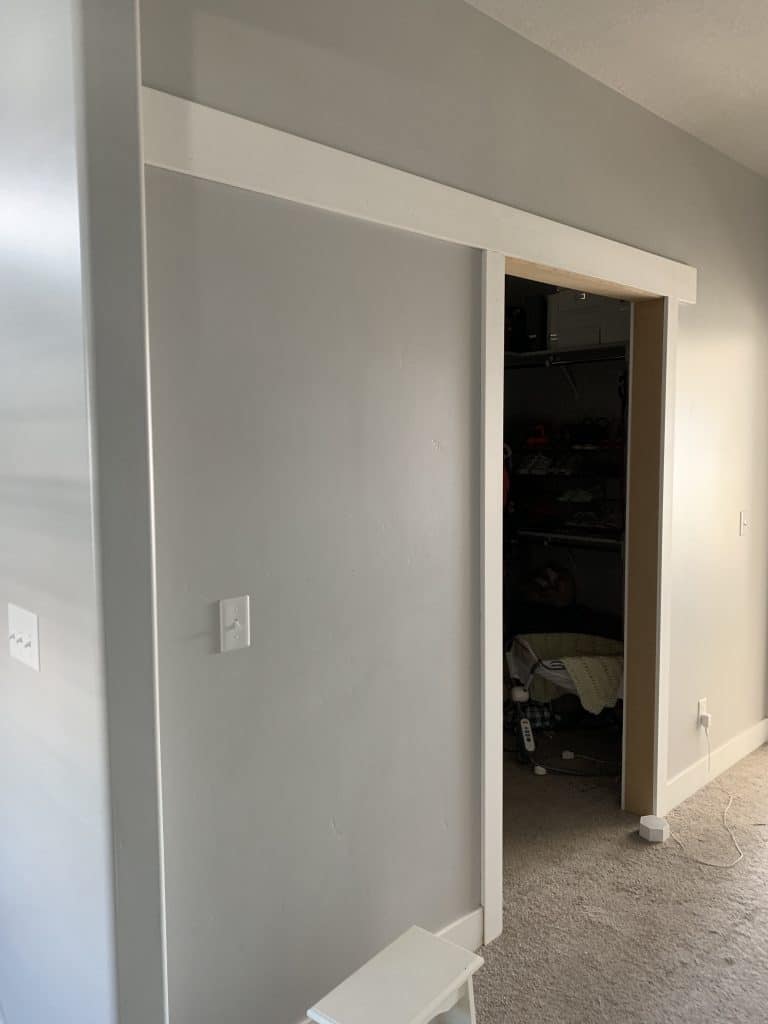 In addition to trimming out the doorway, I also decided to throw up a half wall of shiplap. I had some leftover 6″ underlayment that was from previous shiplap projects and I had just enough for this space. It went up pretty quick! I filled the holes, caulked, and then painted the entire wall white.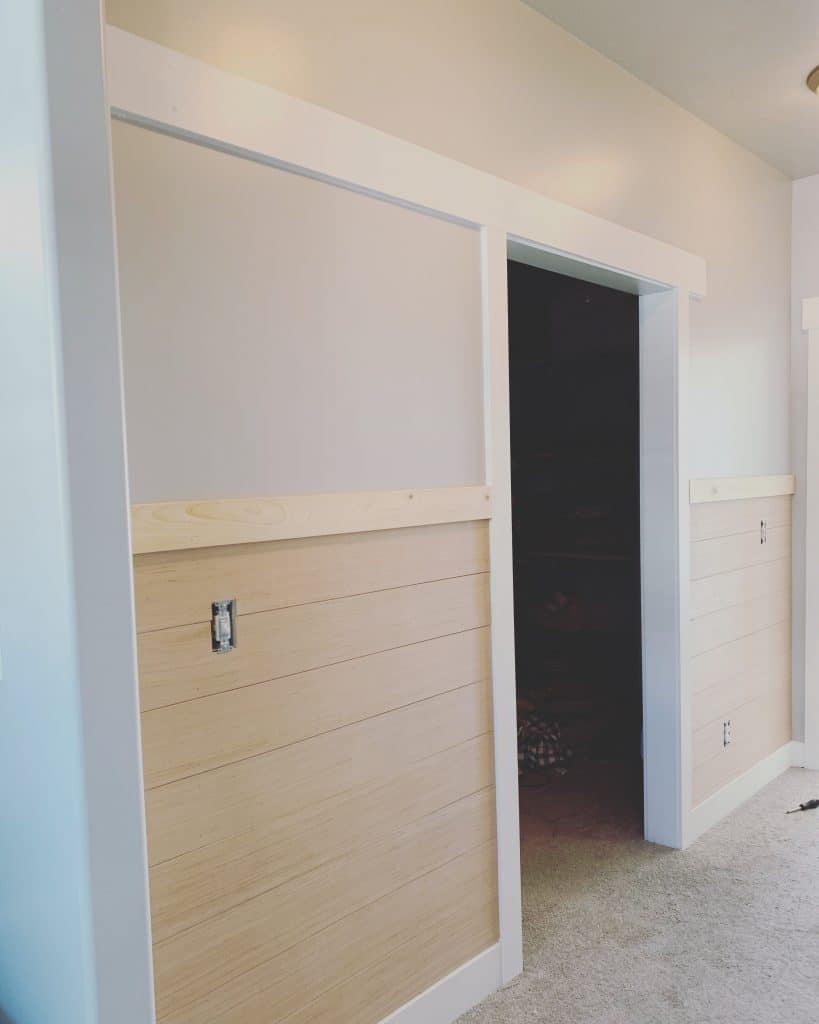 After that was done, I built the barn door. I'll share the plans with you in a future post, but here's a hint–it was pretty dang easy! I hung the barn door with some hardware I bought from Amazon.
Update: Click here for the free barn door plans!
(Affiliate Link) Barn Door Hardware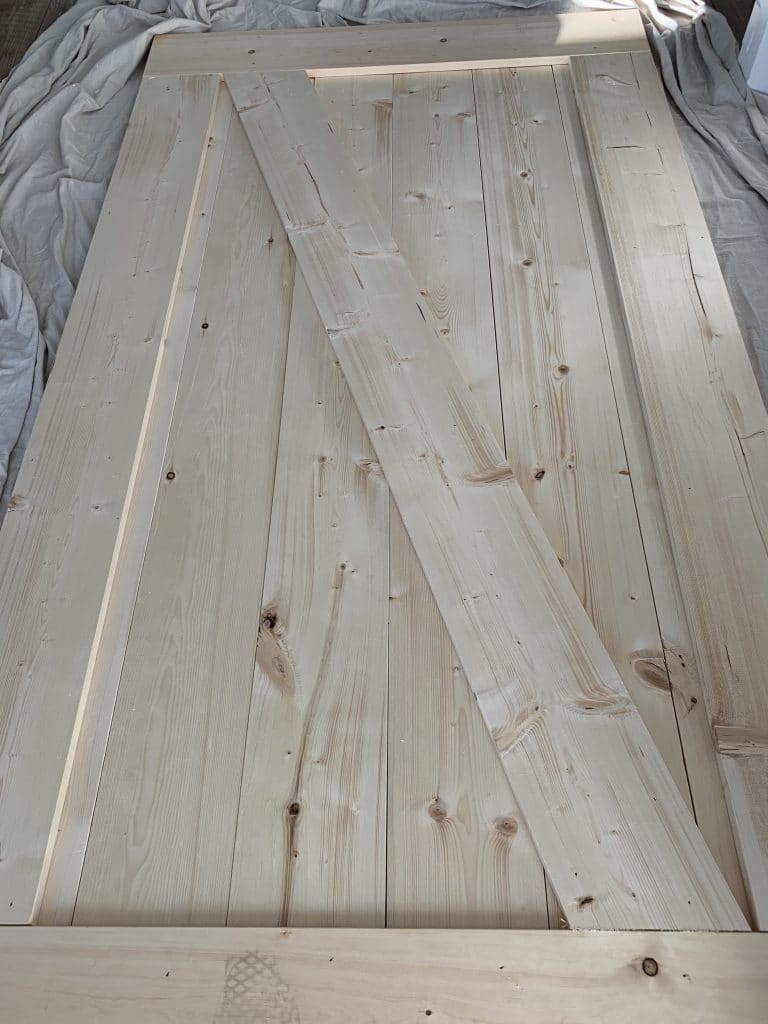 Are you ready for the after picture yet? Here it is!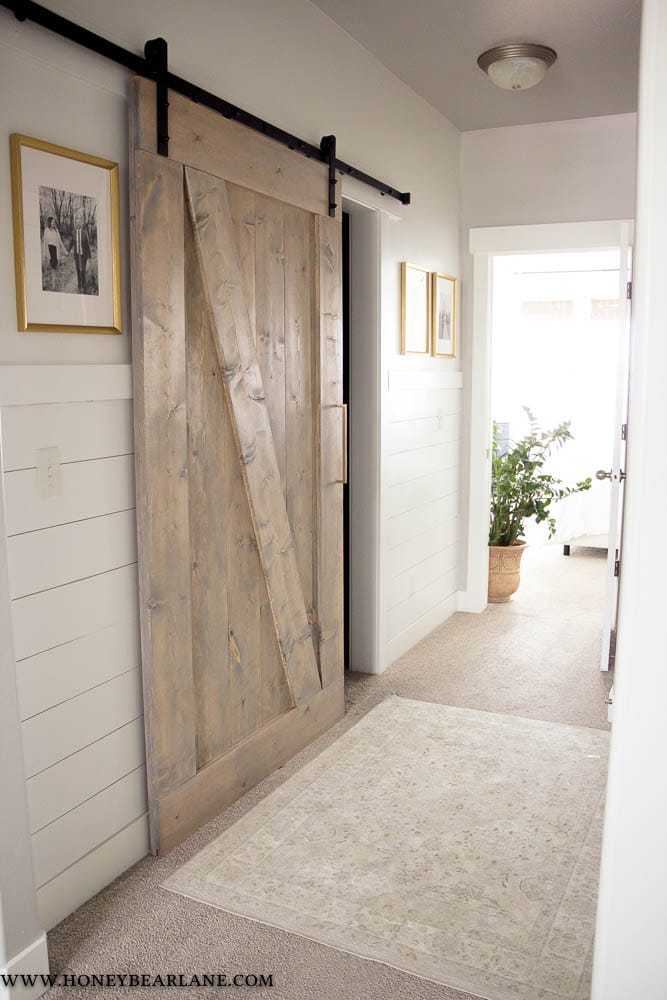 Isn't that beautiful?! I just love it. Like I love it so much more than I thought I would. Honestly this door project was more just about function than looks, but I LOVE the character and style it adds to this drab hallway!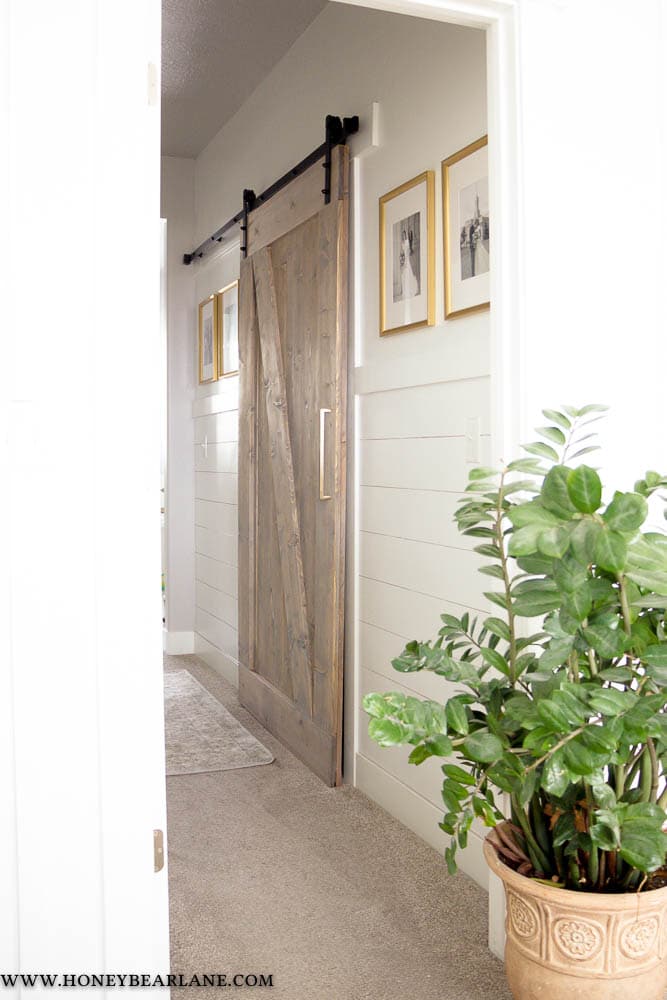 I printed four black and white pictures of me and my hubby and framed them in these gold frames from IKEA. They add a lot of glam to the hallway as well and matches the door handle I got from Ballard Designs.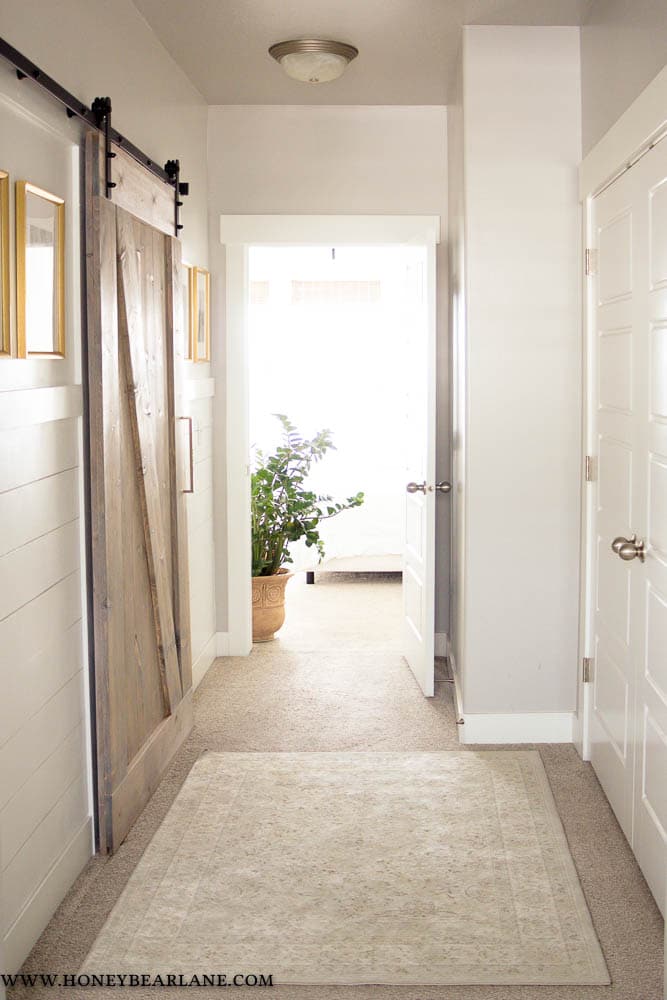 I love this hallway makeover. Except for the carpet…I seriously hate it. It looks okay in this picture but it was poor quality to begin with and now the traffic pattern is so worn down. I'm thinking it has one more year tops and then it gots to go. Also the boob light. Blech.
Shop This Space!
Stay tuned for the free Barn Door plans!
Check out also these door ideas: