8 Ways to Keep Your House Clean During the Holidays
This post was sponsored by Endust, all opinions are my own.
There are two times of the year when you can count on my house going to pot–the first is anytime I do a major DIY project (so basically once a month haha) and the second is during the holidays!  I HATE it though, it makes me crazy to have a messy house, especially when people come over.  So I compiled this list of ways to keep your house clean during the holidays because these little tricks and tips are super helpful cheat methods to save you time and keep a tidy house.
Employ your family:  I can't stress this enough–make your kids and spouse help with the housework!  They might already and that's great.  But I have a bunch of friends who have several capable kids, yet they are doing all the cleaning themselves.  Your kids are more capable than you might realize.  My 18 month old even helps me unload the dishwasher haha!  But having your kids help out as much as possible really saves time and keeps them busy.  And it helps them learn how to work and how to take pride in keeping a neat living space.  Sometimes it takes the right kind of motivation to get it done, and sometimes they don't do a great job, but stick with it and before long you will have trained a cleaning army.  There is no way I could keep my house clean by myself, so my kids have to help.
Have the right cleaning supplies.  I'm not going to tell you exactly what to go out and buy because everyone has the things they love.  But there is one product that I've recently come across that really helps keep the dust at bay–it's called Endust.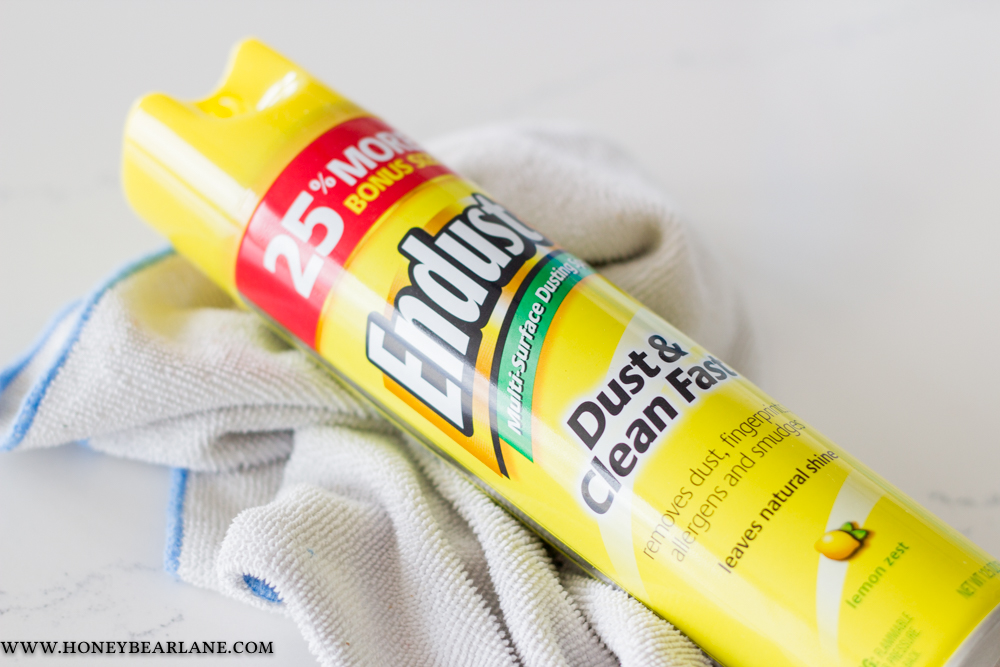 Oh and guess what I found out…it's not just a dust spray, it's a multi-purpose cleaning spray as well.  So basically you can tackle your dust and dirt at the same time.  Sigh…I have SO much dust in my house, no matter how often I try to get rid of it.  But once I started using Endust with a microfiber cloth, the surface not only looked amazing and clean but it also stayed that way for much longer.  Check it out…
Before: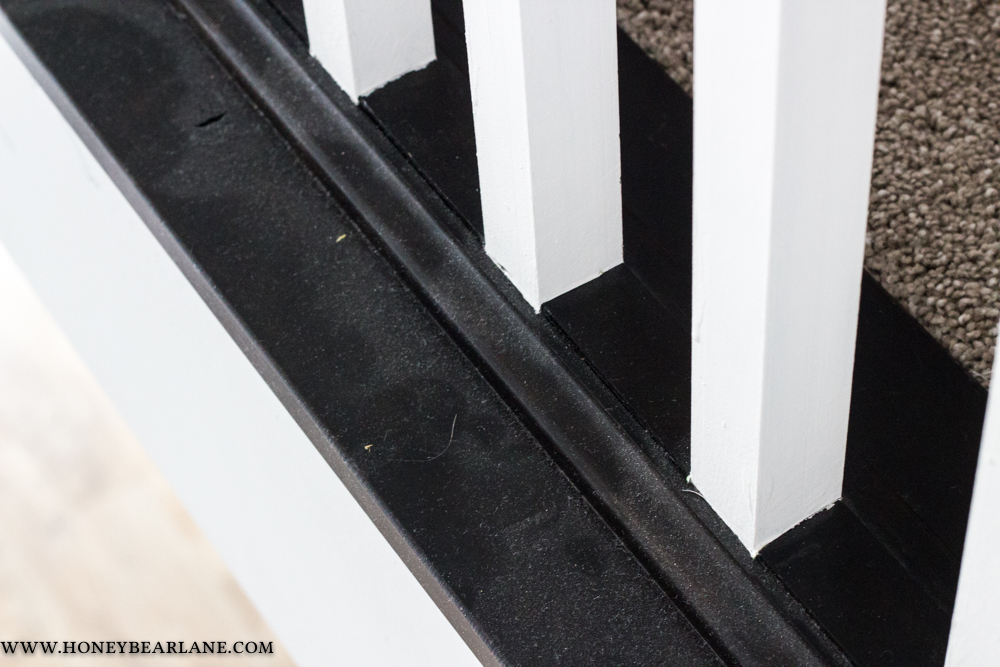 After: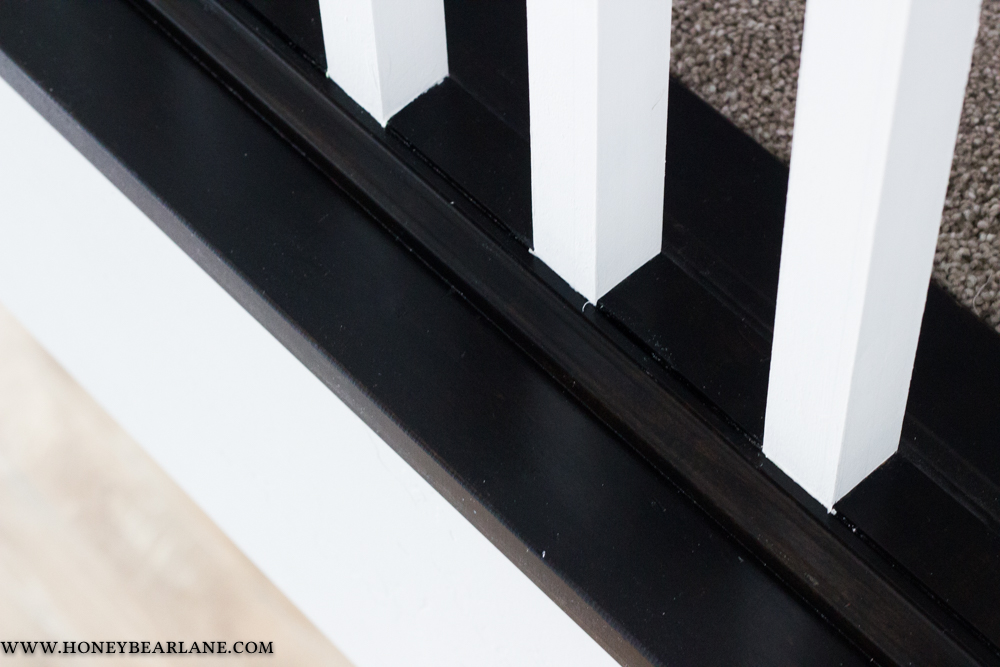 What I love about Endust is going back to my first tip–you can easily give this spray to your kids and give them the job of dusting.  They can spray this and dust and clean and it will look great!  And maybe offer it to them as a 'money job' as we call it, an extra job to help them earn a little money for the holidays.
Keep all your supplies in caddies.  We have this little caddy that is specifically for cleaning bathrooms and it makes it easy for my 9-year-old to just grab it and take to the bathroom.  I don't like keeping it in the bathroom because of my toddler, so the handle is great for carrying around.  But you could make several of these and keep them all around the house for a quick cleanup.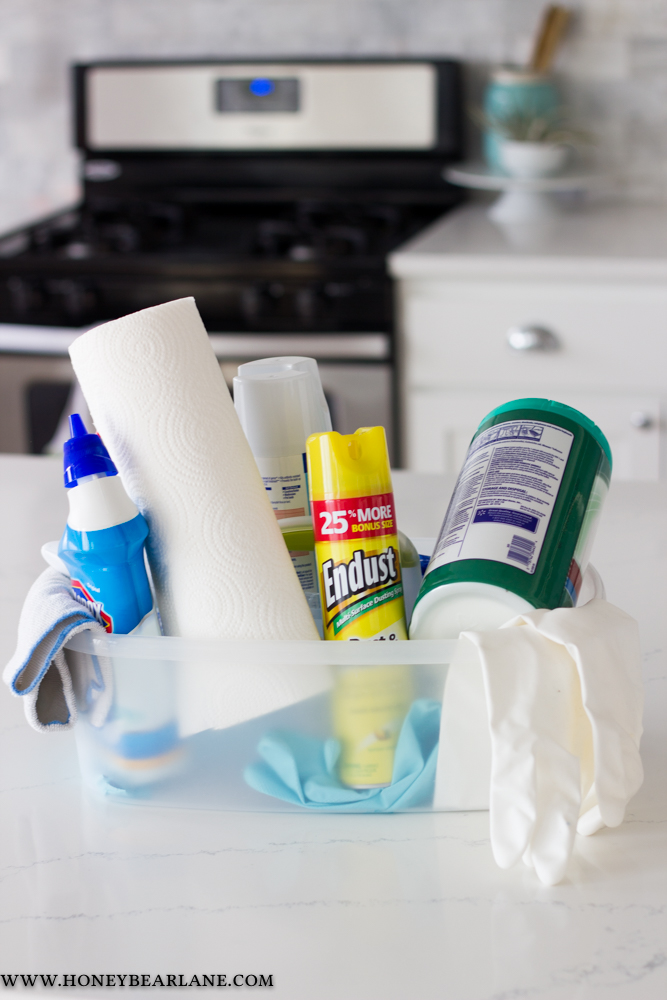 Make kitchen cleanup brainless.  For me, this means cleaning wipes, and organized pantry, and lining the refrigerator shelves with sticky paper.  The wipes make cleaning counters a snap.  Keeping my pantry organized makes it so easy for cooking and knowing what food I have available.  If it starts to get messy I make cleaning it up a priority because I know it will be so much more stressful once it's too far gone.  Line the fridge shelves with some kind of sticky paper–that plastic wrap stuff or whatever works for you.  With all the holiday cooking you won't have time to clean out the fridge so if something spills, just throw away the shelf liner!
Baskets, baskets, baskets.  I have SO many baskets around my house.  They are just so great for holding whatever.  I keep one in my living room for throw blankets.  I have one in my kids room for stuffed animals.  I have one in my bedroom for diaper changing supplies.  And the list goes on and on.  My pantry is filled with different kinds of baskets.  I just can't stay organized without them!  Make a basket filled with card games for guests to get out when you host get togethers.  Have a basket on the coffee table with some interesting books to flip through.  Have a basket of treats in the kitchen for friends and family to snack on. Whatever you usually do, just throw it in a basket and it will stay looking neat.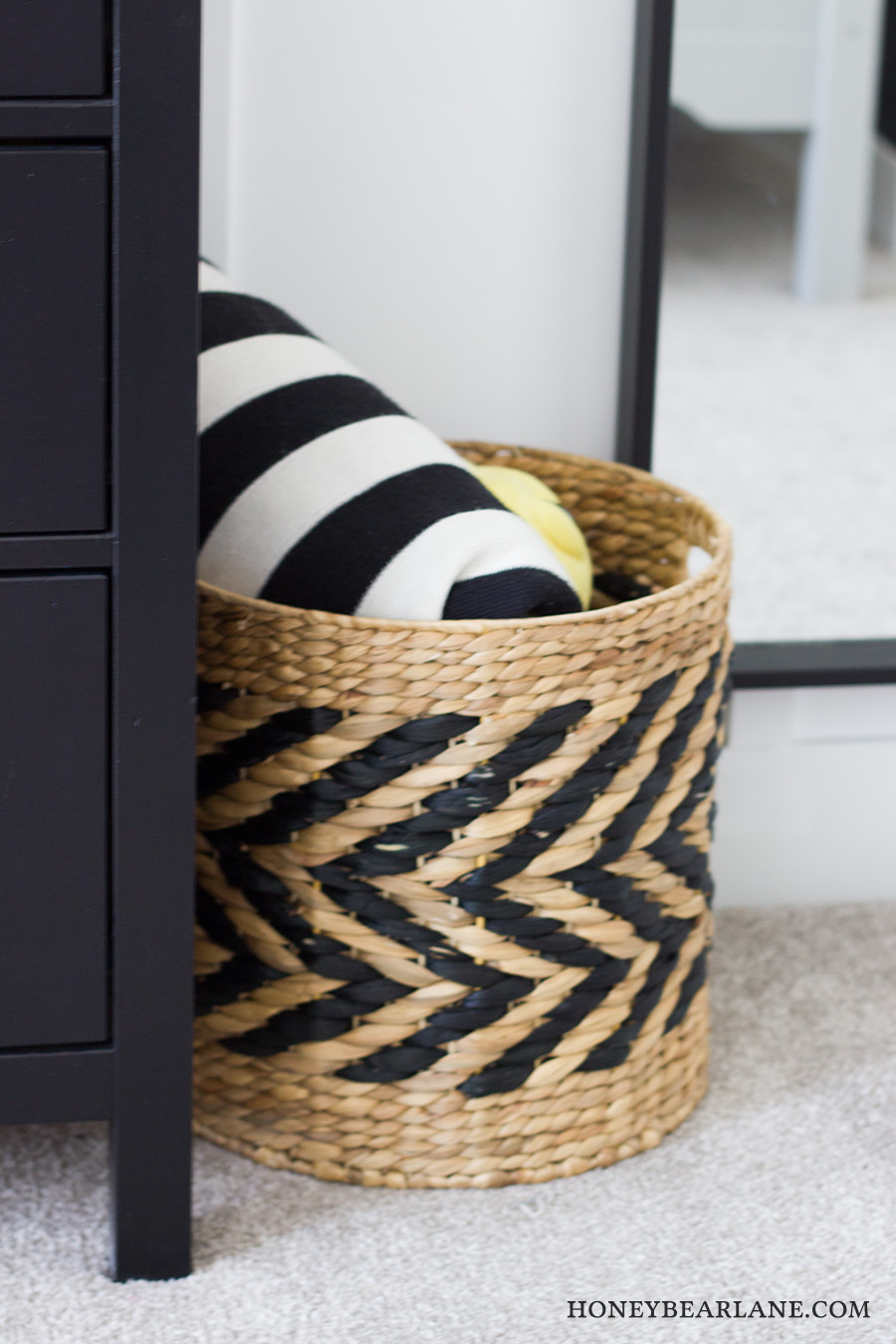 Vacuum daily in high traffic areas.  When you have a little time throughout each day, whip out the vacuum and go over high traffic areas.  The dirt that is on them will just get tracked throughout the whole house if you don't tackle it each day.  Nothing makes me happier than to have a freshly cleaned floor and carpet.  And if you have a robot vacuum, be sure to program it for a daily sweep!
Make a chart of extra jobs for kids and spouse.  When you're so busy just trying to keep up with the daily grind and cleaning, sometimes the deep cleaning gets ignored and starts to build up.  Like my car right now, for example.  So what I usually do is make a list of these extra jobs that need a little more attention and assign a monetary value to them.  My kids want to earn money but I don't want them to think every time they do a job they should get money.  Some of the jobs they are just expected to do.  Anything that I assign value to, they can earn money by completing.  Like if my son wanted to earn a dollar, I would tell him to go clean out the inside of the car, or whatever.  Having these money jobs helps kids be more motivated and you get your extra jobs done!
Have nightly chore time.  We started doing this in the last few years and it has been SO nice for me.  My kids are old enough to help with dishes and whatnot so every night after dinner we do jobs together.  And by 'together' I mean my kids work and I supervise–hey I just made dinner!  My oldest loads the dishwasher and wipes counters, my second unloads the dishwasher and cleans the floor, my daughter cleans the table and the living room, and my husband puts away the food.  By doing this every night, it helps me not have to do everything and we can start out the next day with a clean kitchen.
Hopefully these 8 tips can help you keep your house clean during the holidays!
If you like this post, you might like these other cleaning posts:
SaveSave
This is a sponsored conversation written by me on behalf of Endust. The opinions and text are all mine.
SaveSave