Farmhouse Master Bedroom Reveal
Sometimes when I plan what I want to do for a room in my house, I think about it for literally years.  We have lived in our house for almost four years now and our farmhouse master bedroom has slowly gotten some upgrades.  We got a new bed from One King's Lane…
Then I bought some new nightstands because our old ones were too big and crowded up the space.  We had them before as a storage solution but we didn't need that in a nightstand anymore.  I got these from Overstock.  They are the perfect height with a little bit of storage but not so much that it will just collect junk.  They were also a really great price!
What I ultimately wanted for this space was something like this mockup:
Except I can't yet mockup skinny board and batten that goes all the way to the ceiling.  But I decided that is what I wanted.  And after I saw this gorgeous master bedroom from Lilypad Cottage, I knew for certain I wanted it.
I love the tranquility of blue and white in a bedroom, and how this looks very farmhouse but with lakehouse vibes as well.  We don't necessarily live next door to a lake, but you can see Utah Lake from our house and sometimes I pretend that it's actually an inlet to the ocean.
I thought that doing all the changes I wanted for this room would be best done all at once, someday when we have the time and money to move everything out of the bedroom, rip out the carpet and install new flooring, and do all the trim work to the ceiling and walls as well as the painting.  Obviously that would be a huge ordeal and we would be sleeping somewhere else in the house for a while.  And obviously with me about to have a baby, now would not be the time.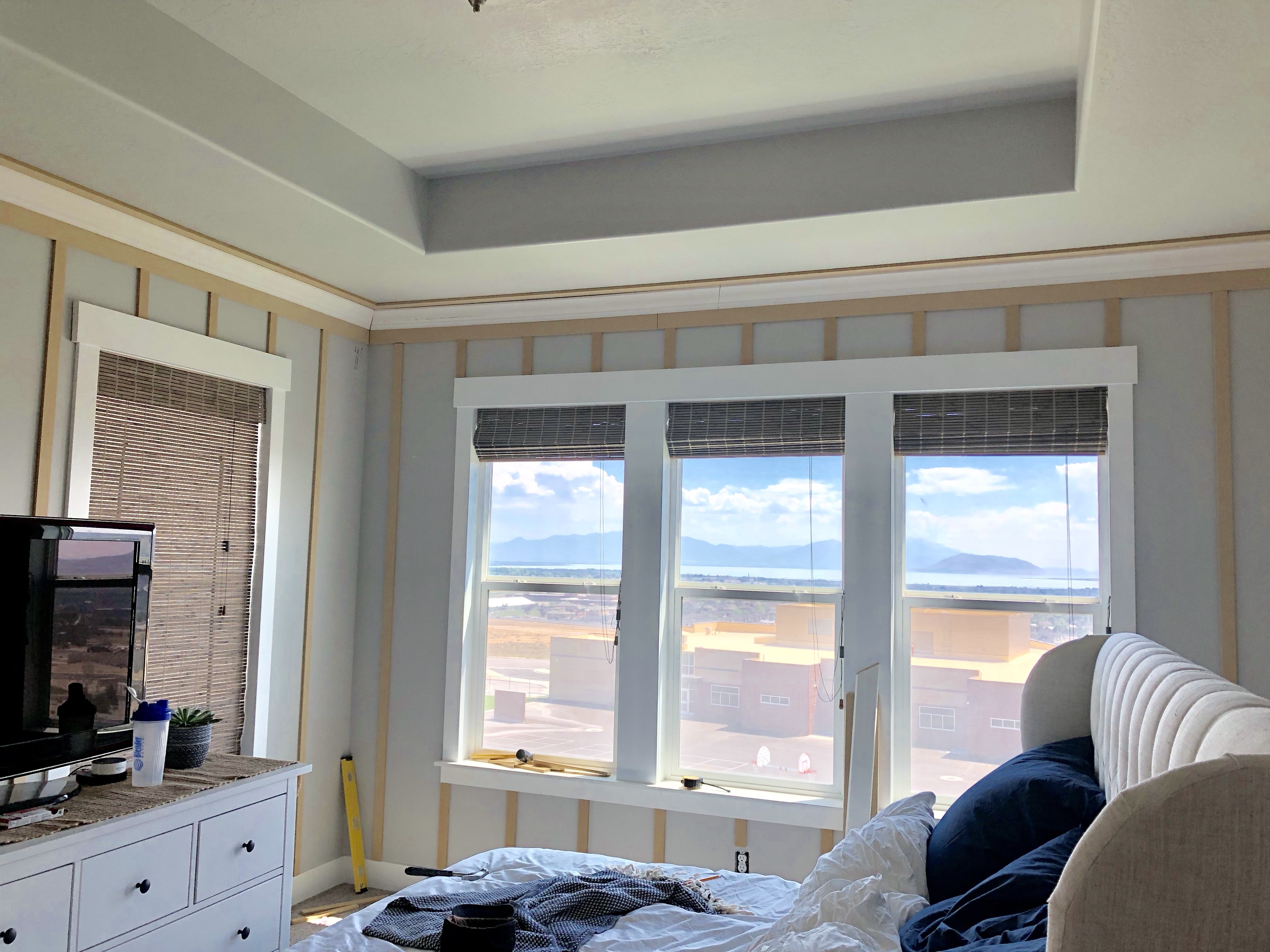 I bought some new navy accents and switched out some art and I thought I could be okay with those changes.  But I really, really wanted to do at least the board and batten. So my friend came over and we cranked it out and painted it.  I also did some pretty crown molding.  I'm not gonna lie, it was exhausting and hard to do at 35 weeks pregnant but it was a good way to pass the time and I'm SO happy with the results!  My bedroom is just so pretty to look at and now that I'm going to be spending so much time in there because of the new baby, it will be fun to look at and be in.
Click here for a full tutorial on floor to ceiling board and batten
Here it is now!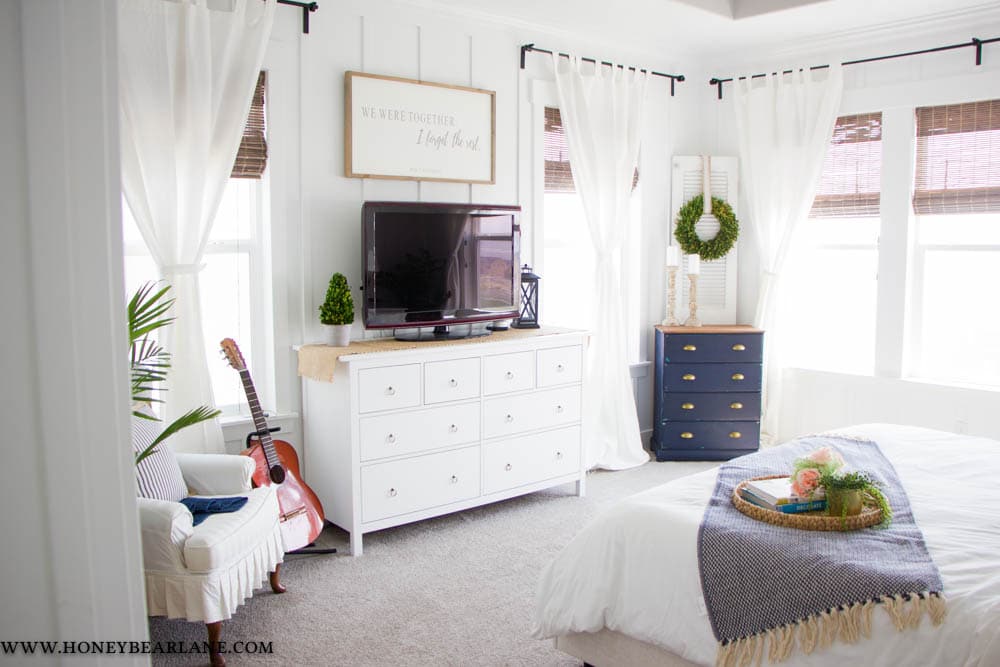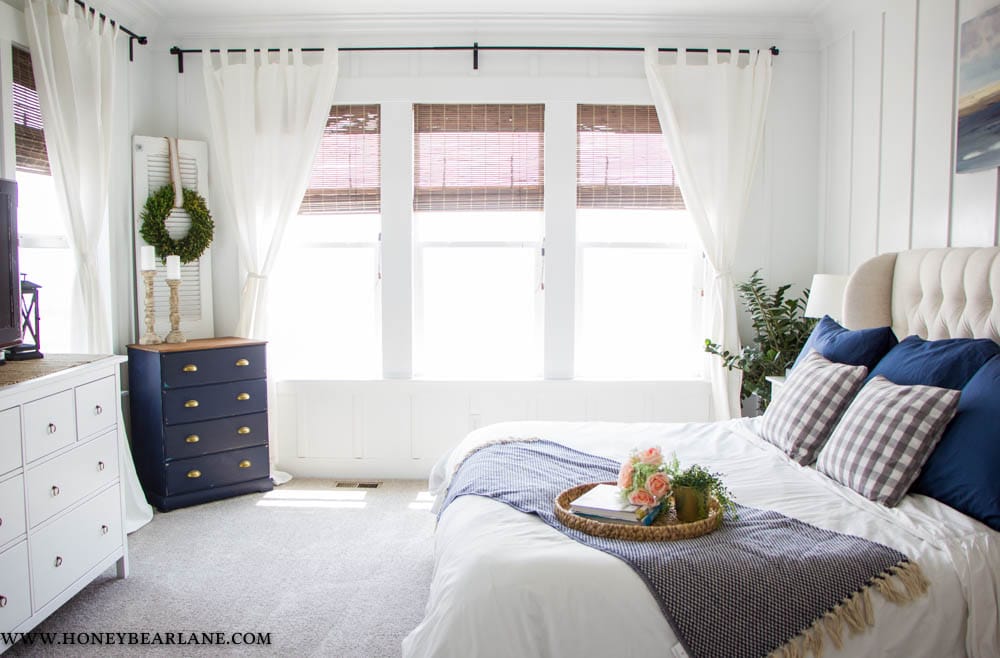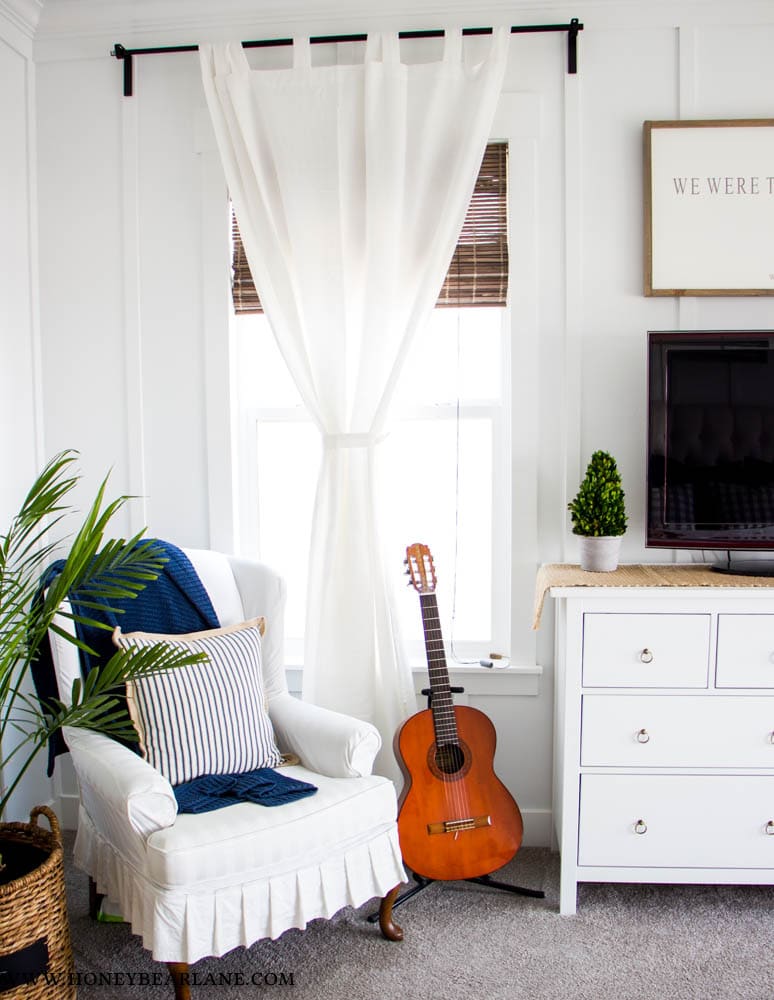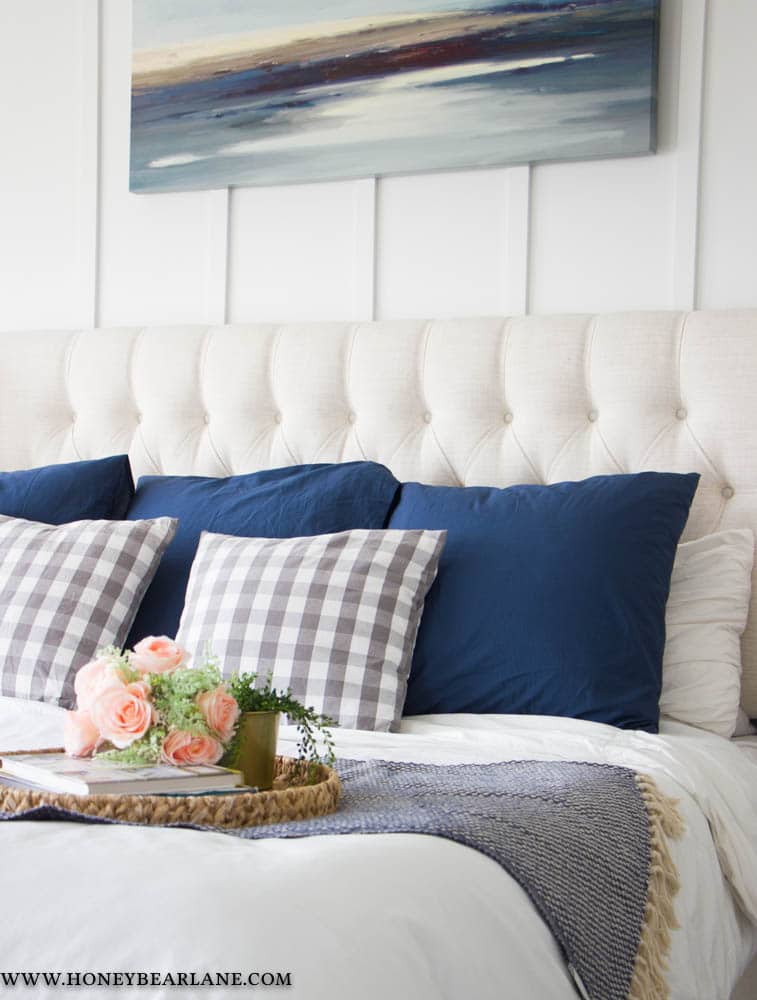 I'm not completely happy with the pillow situation on the bed but that's something I can easily deal with later.  I absolutely LOVE the blue throw I got on the bed from Target, it's just so pretty and I love the texture.
Next Steps
When we get some time, we will be replacing the side table lamps with some sconces that will be mounted directly on the wall.  I love that this frees up the space on the nightstand so much.  We'll have to find the perfect sconces, and probably do them plug-in style.
The ceiling is still gray and plain, but that will be the next phase of my room makeover and then I can switch out the boring light fixture.  I also want to replace the closet/bathroom door with a pretty barn door.  The last thing will be to remove the hideous carpet and replace it with the laminate that goes through the rest of the main floor.  The carpet has held up really poorly in here.  So even though it's only a couple years old, the traffic pattern is totally obviously worn down.
That's the beauty of building a house as a DIYer.  We saved a lot of money on upgrades and custom work because we knew I would do a ton of the stuff myself.  And I have done so many projects at this point, I am living in a house that I love and that I have poured so much of my own blood, sweat, and tears into.  I honestly would be heartbroken at this point if we had to move!
Sources:
SaveSave