One of my first projects in my new house was a DIY mudroom bench.  We desperately needed a place to put our coats and boots, especially since we moved in during the winter.  I was feeling a little intimidated by a project of this caliber, since the only wood working projects I'd done up until now have been small tables.  For some reason the idea of building cubes terrified the heck out of me!  I turned to the internet to help give me the confidence I needed to start this project.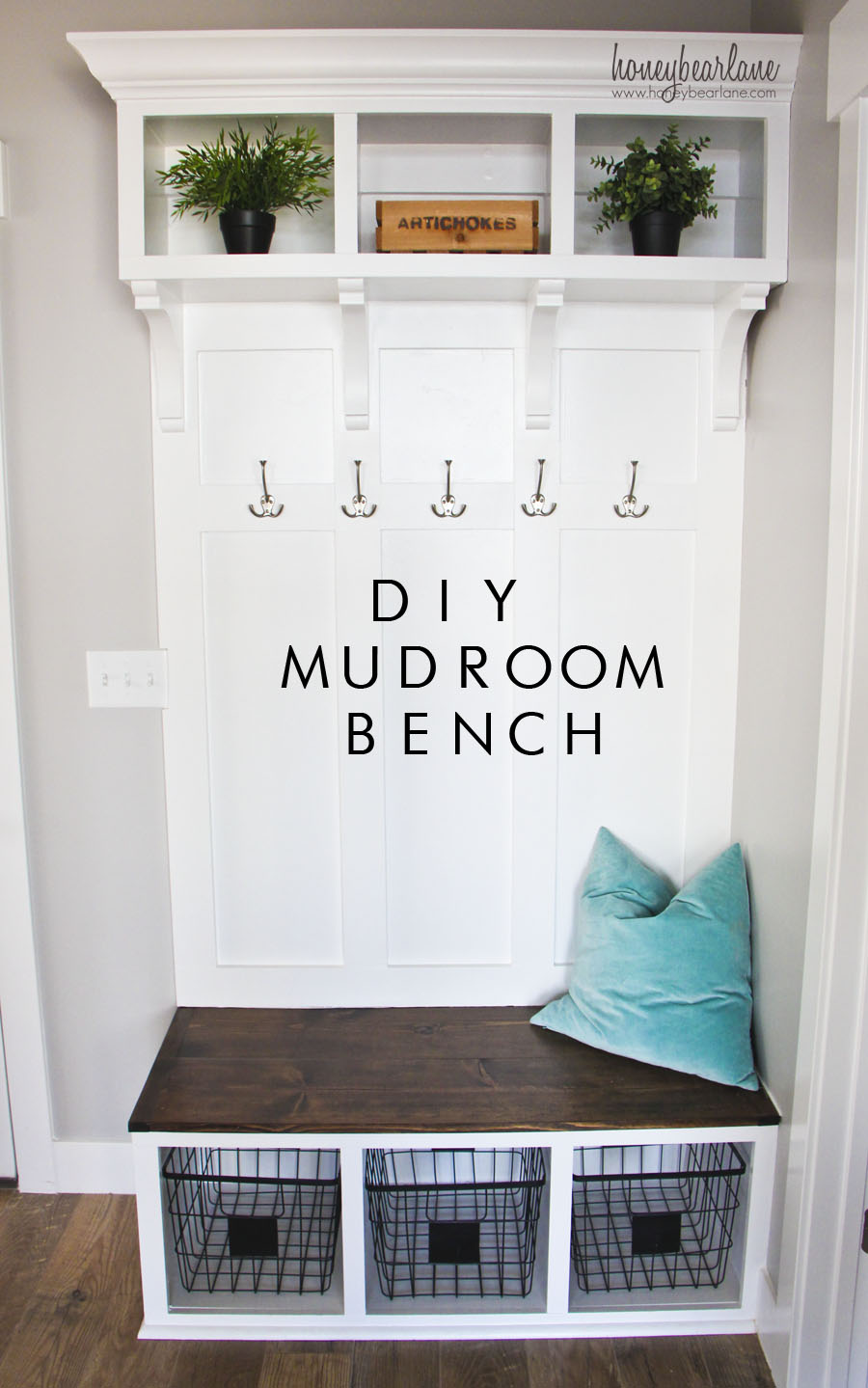 I completed this 100% by myself, no help from any other person.  I took the time and care to try and make it look as professional as possible.
I think it turned out awesome and I love, love, love it!  I love the way it turned out but I also love the practicality of it, it is so helpful for all our coats and backpacks which had been living on the coat closet floor along with the vacuum and other miscellaneous stuff.  It was starting to smell like wet boots.  Blech.
I took my inspiration from Beckie's recent mudroom bench and this other blog called House Updated.  I studied these two tutorials and devised my own bench based on the space I had and whatnot.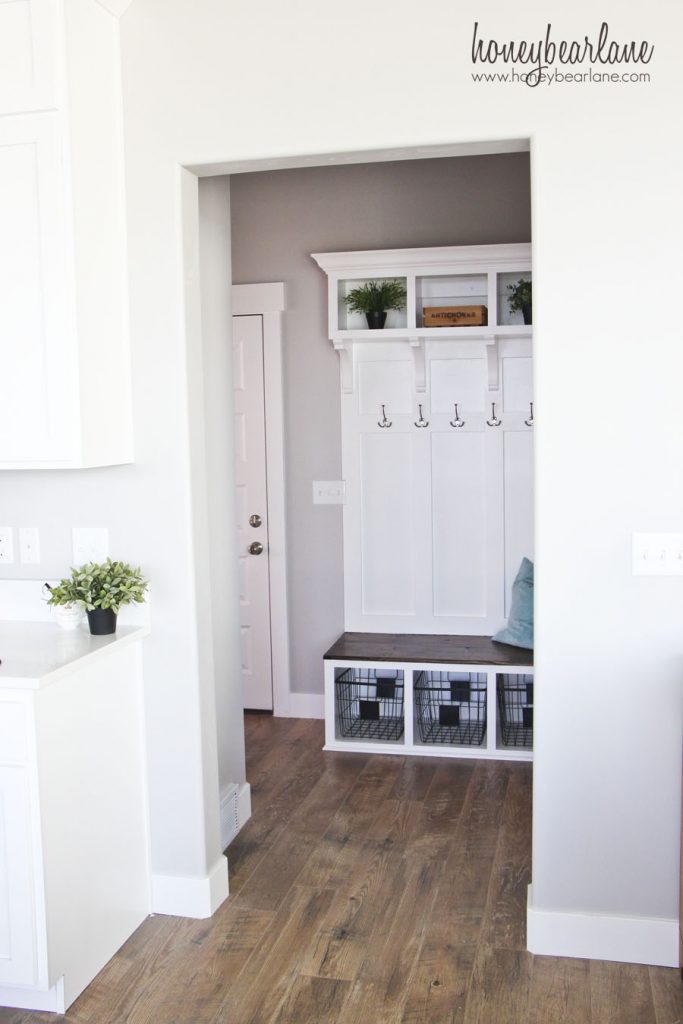 Determining what kind of DIY mudroom bench to make:
We have kind of a weird space for a mudroom.  The door from our garage opens up into this small foyer which has doors to a laundry room, coat closet, and a powder room.  Then there is a tiny little corner for a mudroom bench, which was an option when we built.  But we wanted to save money when we knew we could do some things ourselves.  The garage door opens up and you look straight at the coat closet door.  You have to walk diagonally to the passthrough into the kitchen.  So I couldn't carry my bench all the way to the edge of the door because it would make walking the diagonal path more difficult, especially if you were carrying a large thing.

I first took lots of measurements.  I found the basket I wanted to use for the bottom, which was 13″ wide, so I based my base measurements off that.  I could tell you all the measurements but you'll probably have to do your own anyway.  Let me know if you want the exact measurements and I will add them later.
Here is a graphic to help you see what I did:
For this DIY Mudroom Bench:
I had 3/4″ MDF for everything except the bench top, face frame, and corbels.  I had Home Depot cut the 4×8′ boards into strips of 17 inches, 10 inches, and 3.5 inches.  I could cut everything I needed from those sizes and it made it way easier to transport.
The best thing to do is to plan and draw everything out, down to the last detail and then draw a large rectangle and plan out your cuts as well.  That way you can use your board the most efficiently.  I also recommend leaving a little room for mistakes.  It was really handy to have some extra stuff when I made some cuts a little too short or whatever.
Supply List
You will need the following:
(Some affiliate links below)
2 4×8′ sheets of 3/4″ MDF
4 Pine Corbels 9.5×9.5″
4 8′ Select Pine 1×2's
1 8′ Lattice
1 8′ Crown Molding (MDF)
2 Pine 1×10's
1 5′ quarter round
Kreg 1-1/4-Inch Pocket Screws
White paint (I matched to my trim) Make sure it's satin finish
Rust-Oleum Zinsser Bulls Eye 1-2-3 White Water-Based Primer
Sanding bar
Caulking
Wood glue
Screws for Corbels at least 1 1/4″ length
Screws to screw unit to studs at least 2″ long
Nail filler
Painter's tape
5 hooks with screws
Tools I used:
4 Saws:  Large miter saw, circular saw with Kreg Rip-Cut
(I highly recommend one of these!), Dremel, and Jigsaw
1 Nailgun (Ryobi Brad Nailer
with 1 1/4″ nails)
Mallet
Kreg Jig
Drill & Driver
Razor blade
Paint roller
Whew!  Look at that list.  I'm not gonna lie, this project cost me more than I projected, but I did have to purchase all the paint new.  I think if I had more of the basic stuff on hand, it would have been closer to $200, but it was about $300.  The corbels I got were kinda pricey.  But I still saved money doing it myself.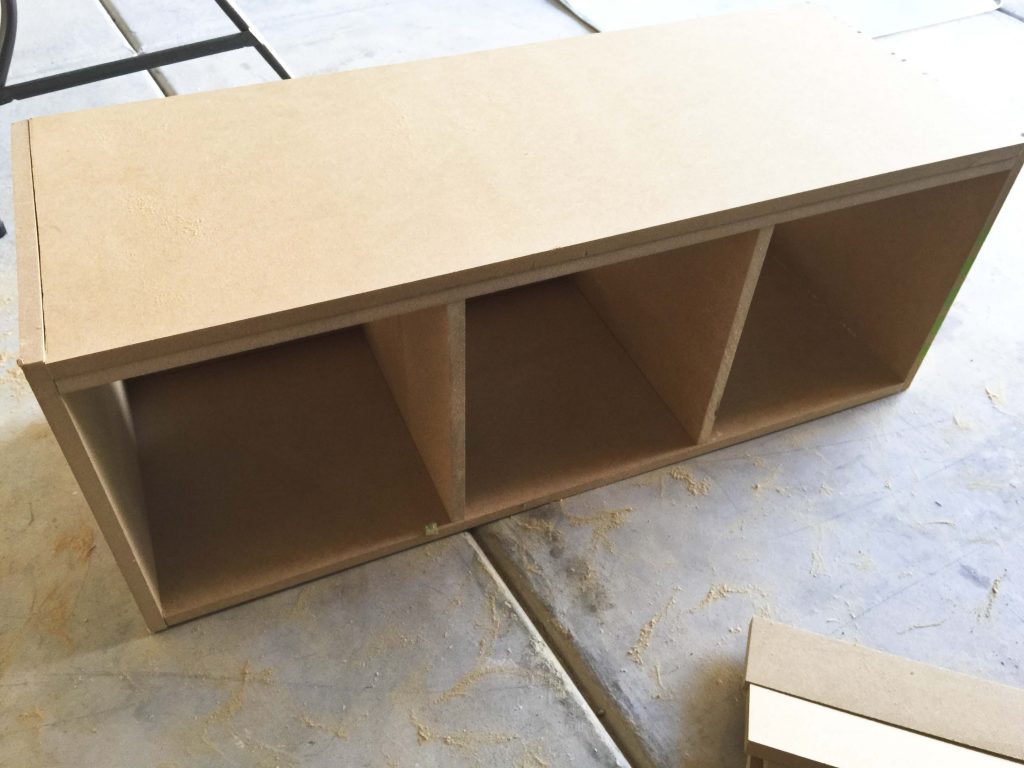 First you will assemble the bottom box.  I cut my wood to the length I wanted, since it was already the right width.  I cut the sides of the bottom box into a square and then subtracted 2.25″ from that length for the dividers so I could have room for the top and bottoms of the box (there is a double thickness on the bottom.)  That's 3/4″ x3.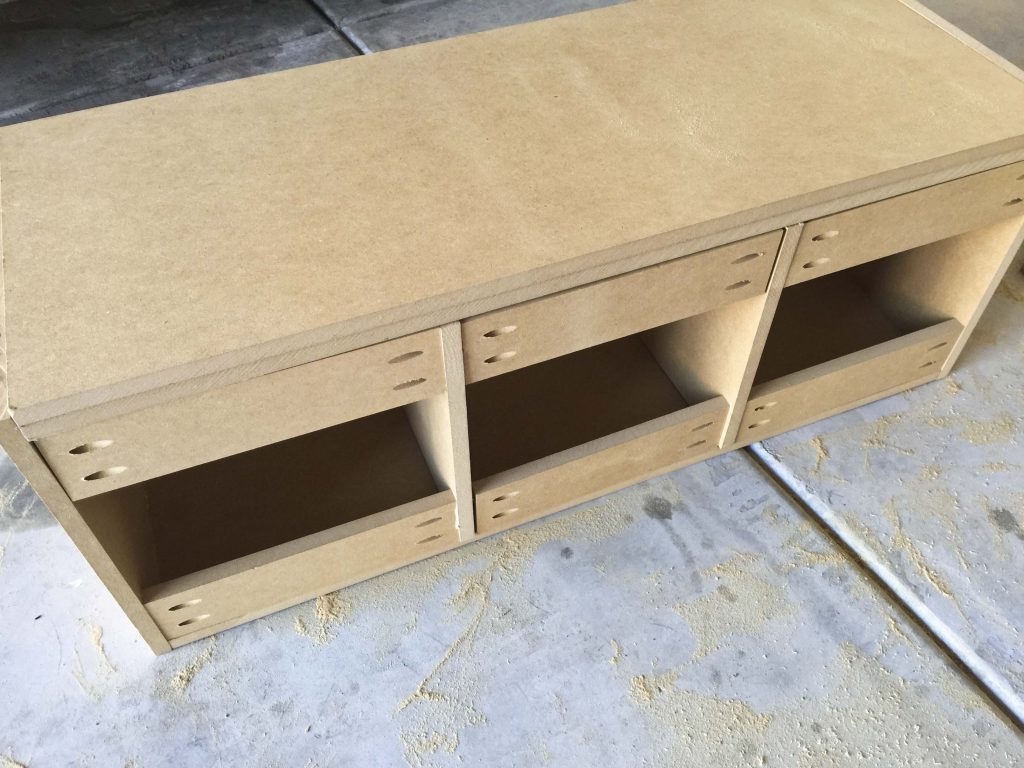 I drilled pocket holes on the top and bottom pieces and attached them to the sides so that the holes would not be visible on the sides.  Then I added braces on either side (the braces are the same width as each cubby opening) and then a divider on the other side of the brace, and finally another set of braces in the middle.  I attached these with pocket holes as well that are in the back, so also not visible.
I tipped it over and slid the extra bottom piece in the spot that fit perfectly.  It was cut just so that I had to use a rubber mallet to pound it in place.  Mallets are awesome.  I dragged the whole thing inside the house and got it ready to put in place.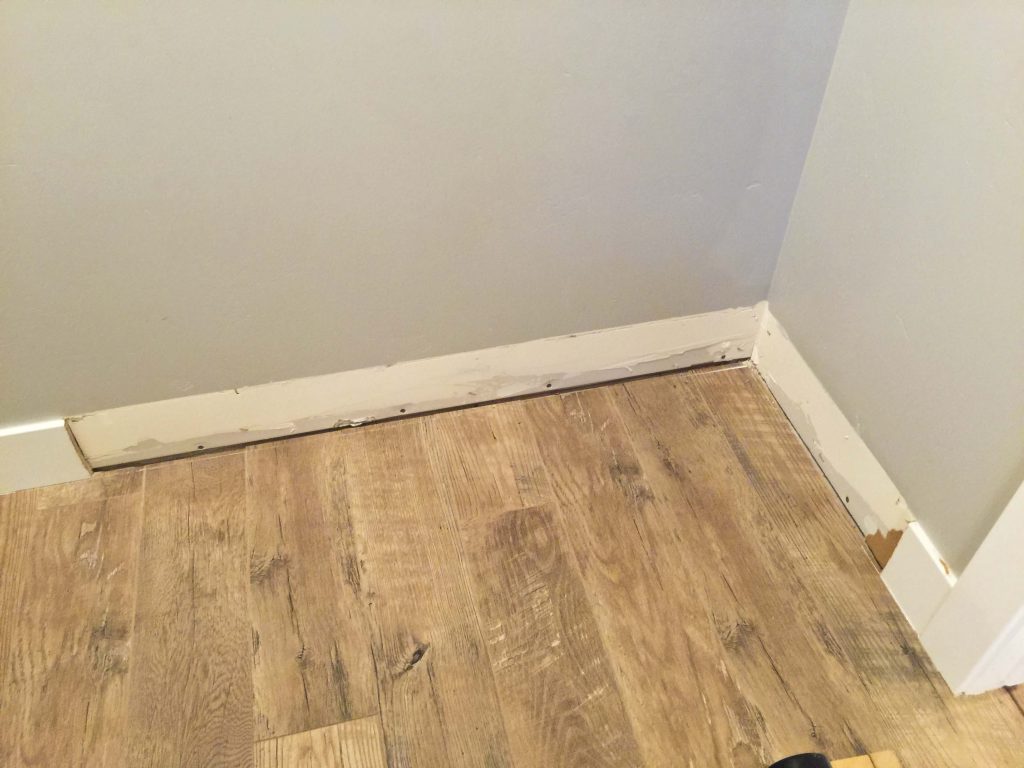 To put it in place, I had to use a Dremel saw to cut the baseboards.  Mark where the baseboards meet up with the bench and then move that line in an extra 1/2″ where the baseboards will be removed so the bench fits perfectly in and looks built in.  I had to also use a crowbar to pry the baseboards off.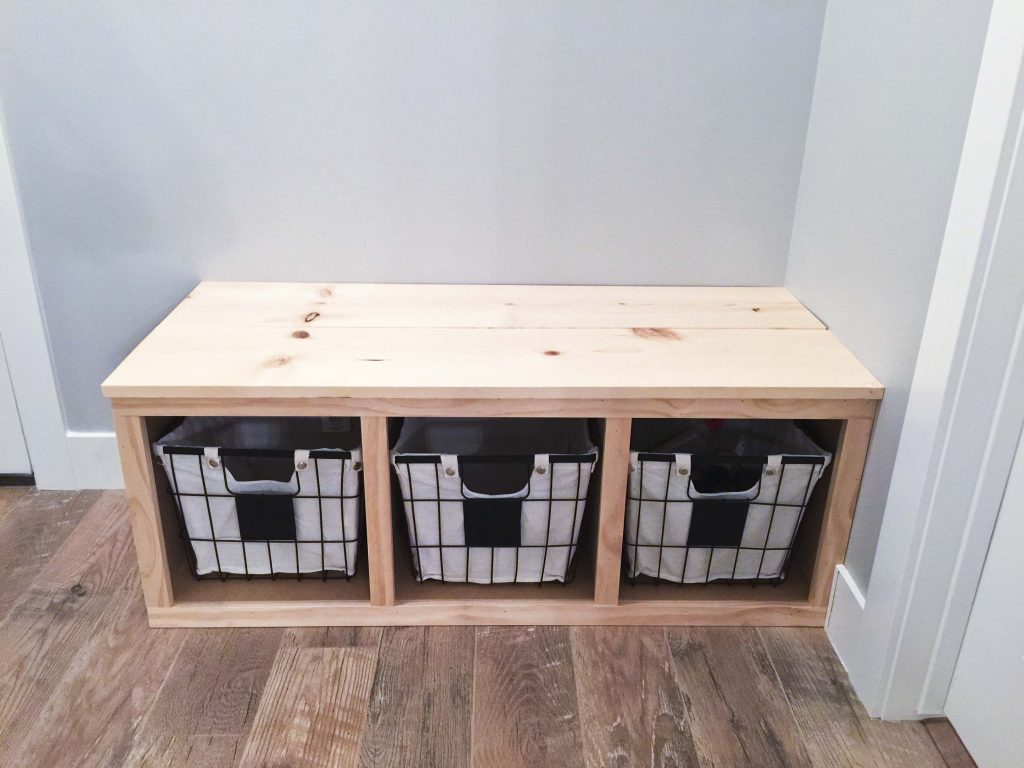 Once the bench was in place, I found the studs in the wall and screwed some long screws in from the braces so it would be really stuck to the wall.  Then I cut and added the face frame and lattice (on the side where you can't see), using glue and a nail gun.  I also added a quarter round to the base.  Make sure the the lattice on the side is above the quarter round (the quarter round isn't shown in this pic.)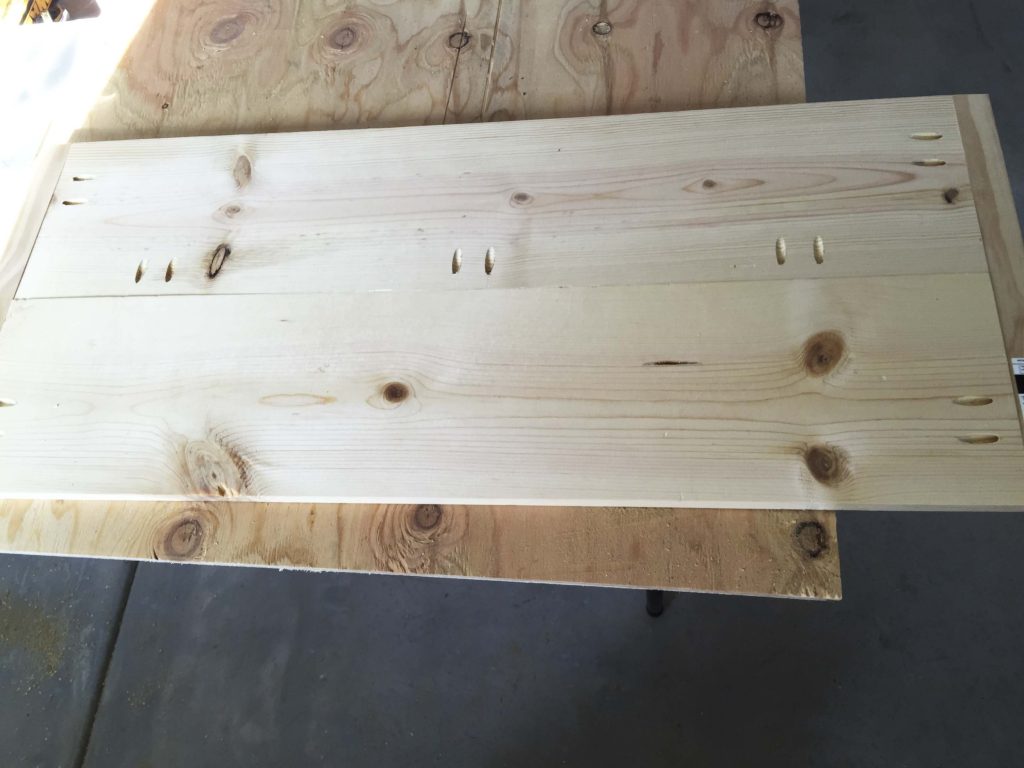 To make the bench top I took two 1x10s cut to size and trimmed the ends with more 1×2 wood.  I put it all together with pocket holes and sanded it really well.  I stained it with Minwax Dark Walnut (using pre conditioner first) and sealed it with polyurethane.  I did about three coats of that and let it all cure for a couple of days.  I stained it in the basement instead of the garage so that the wood had time to adjust to the new environment and not warp.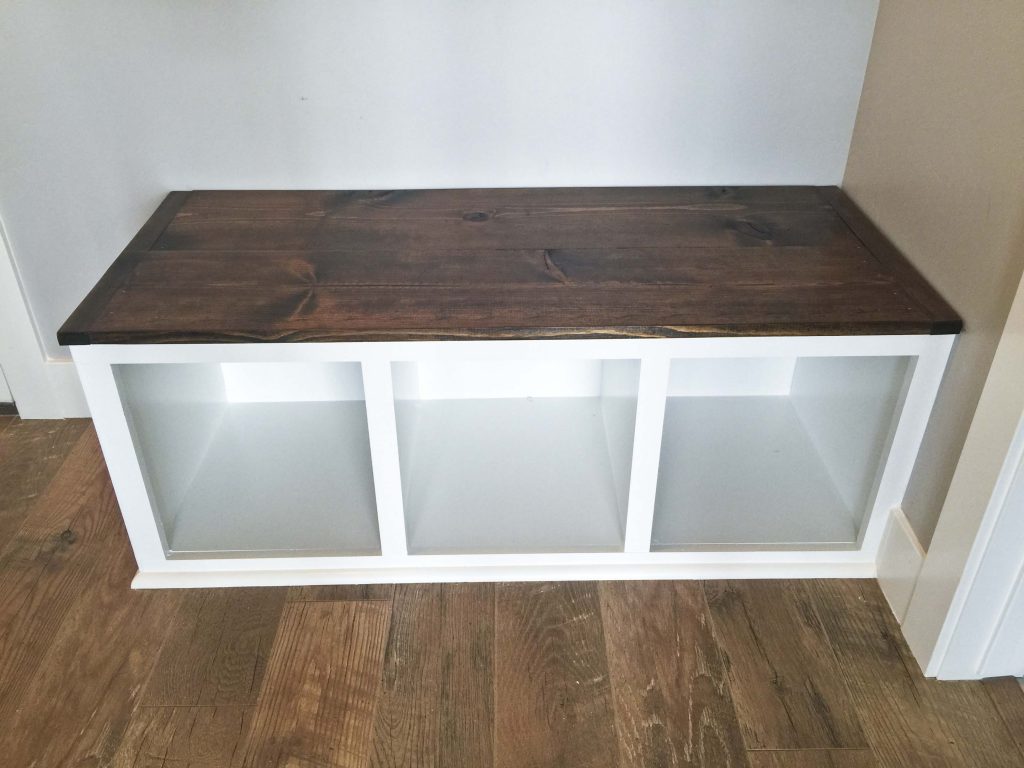 Finally it was time to caulk and paint!  I used several coats of primer and then a Behr paint that was color matched to my trim.
Stay tuned for DIY Mudroom Bench Part 2–the top!
SaveSave
SaveSave