Spiderweb Triple Chocolate Pie
This post is sponsored by Eggland's Best, all opinions are my own.
This is the most decadent triple chocolate pie–using three different layers of chocolatey goodness.  It's like a million calories and super rich, so eat it in small slices.  But it is SO good!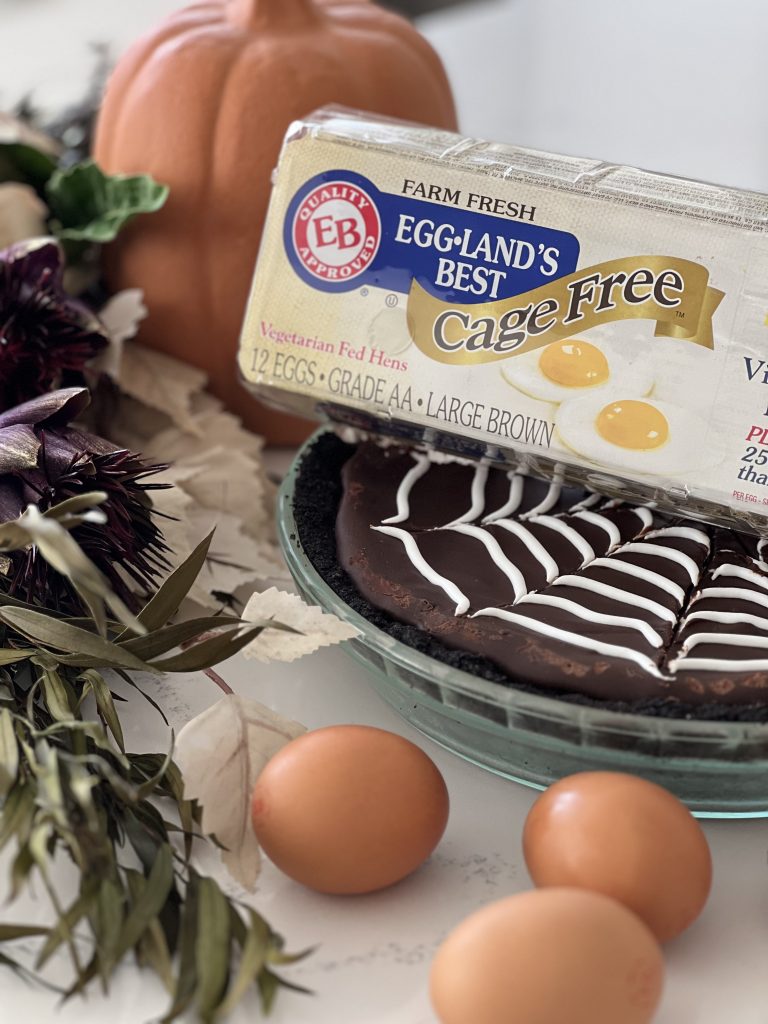 I decided to buy Eggland's Best eggs for this recipe, just so I'd feel slightly less guilty about how decadent this pie is. Eggland's Best eggs have 6x more vitamin D, over double the vitamin b12, and more than double the omega 3's compared to ordinary eggs. They also have 25% less saturated fat AND stay fresher longer than ordinary eggs.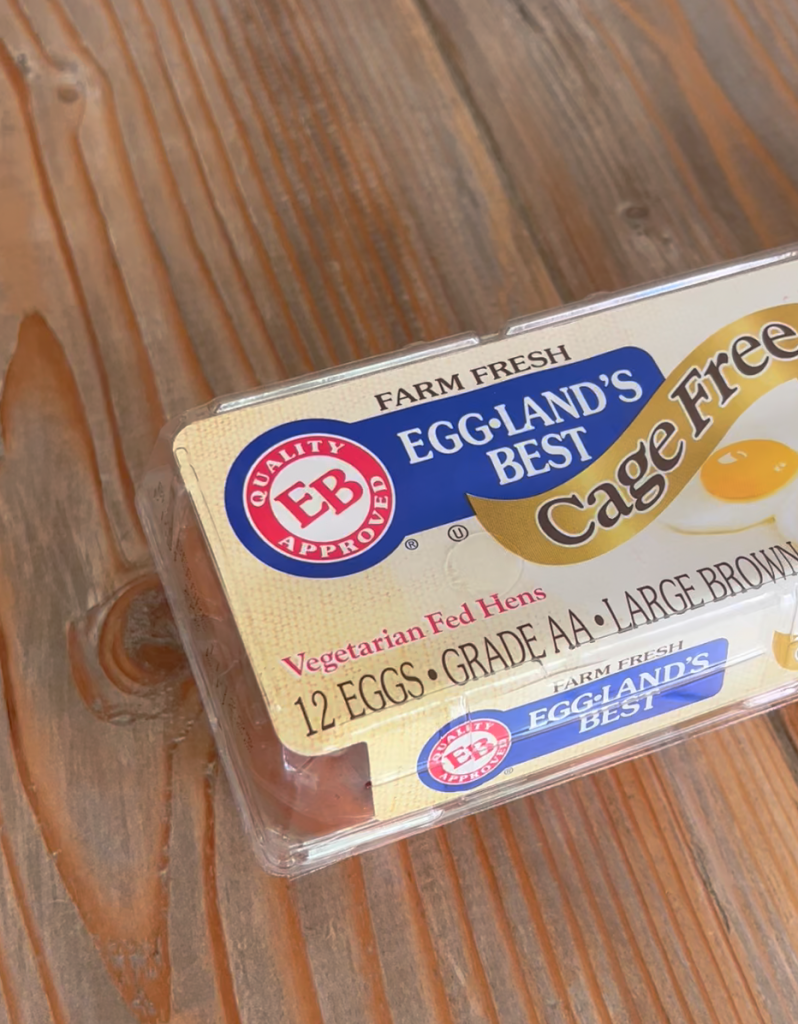 You can opt to buy some higher quality chocolate for the ganache, but I actually just used semi-sweet chocolate chips and it still tasted amazing. It was kind of nice actually to use semi-sweet just to cut the sweetness a bit. If you don't want the richness of ganache, you could just top with a simple chocolate glaze or syrup.
The spiderweb is created by a store-bought cookie frosting (just to make it easier). You start in the center and make concentric circles swirling until you get to the edges. Then you take a toothpick and drag it out from the center. I've done this a bunch of time with various foods (even bean dip) and it's the easiest way to make something Halloween themed.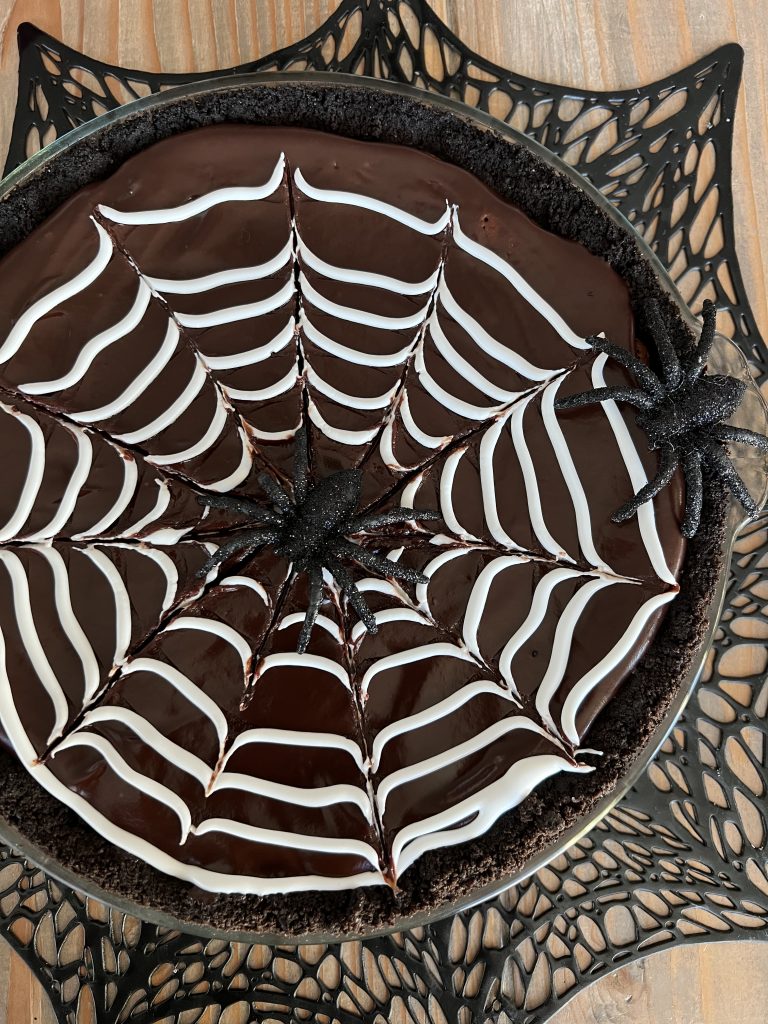 If you want, you can leave off the spiderweb and serve the pie as is, for a fancier dessert. It also pairs well with fruit, like strawberries or raspberries. In the past when I've made this dessert, I actually made it without the cookie crust or ganache, it was just the brownie torte with a simple chocolate glaze and some strawberries. It's super yummy (kind of like a flourless chocolate cake) but I didn't love the glaze so I changed it up a bit.
Recipe:
Oreo Crust
14 oz crushed Oreos
½ cup melted butter
Brownie torte layer
½ Cup butter
½ cup karo syrup
1 cup chocolate chips
1 cup sugar
3 eggs
1 tsp. vanilla
1 cup flour
Chocolate Ganache
1 cup heavy cream
8 oz chocolate chips
First you make the Oreo cookie crust.  You only need about two sleeves of Oreos or chocolate sandwich cookies for this.  I crumble them up in my food processor, but you can also smash them up in a baggie with a rolling pin.  Keep the cream in between the cookies, it helps to bind the crust together.  You melt the butter and add it to the crumbs right in the food processor and then put it in a pie pan, cake pan, or springform pan.  You don't need to bake it separately.  
Use a saucepan for the next part–melt the butter and Karo syrup and remove from heat.  Then add in the chocolate chips and stir until the chocolate has melted.  Add in sugar, eggs, flour, and vanilla and mix well.  Pour this into the prepare crust.  Then bake it at 350 degrees for 35-40 minutes.  Let it cool and then pour the chocolate ganache over.  
Chocolate ganache sounds fancy but it's actually really easy to make.  Just put some heavy cream in a pan and bring to a boil.  Meanwhile you have your chocolate chips in a separate bowl.  After the cream has boiled, pour it over the chocolate chips and then place some tin foil over the bowl and let it sit for about five minutes.  After that, grab a whisk and stir it really well.  It will looks really bad at first, like it's ruined and separated but keep blending and blending and it will turn into this beautiful silky smooth chocolate!  Pour it over the top of the dessert.  Chill in the fridge for at least an hour and then add the spiderweb on top!  
You'll want to serve this triple chocolate pie in thin slices, because a little goes a long way!  It's so good but rich!  Serve with milk or ice cream to cut through the rich chocolate a bit.  And with the spiderweb on top, you can serve it for a Halloween dessert!
Spiderweb Triple Chocolate Pie
Author:
Adapted from Allrecipes.com
Ingredients
Recipe:
Oreo Crust
14 oz crushed Oreos
½ cup melted butter
Brownie torte layer
½ Cup butter
½ cup karo syrup
1 cup chocolate chips
1 cup sugar
3 eggs
1 tsp. vanilla
1 cup flour
Chocolate Ganache
1 cup heavy cream
8 oz chocolate chips
Instructions
Combine Oreo crumbs and melted butter and form into a pie crust. Melt butter, karo syrup, and chocolate chips in a saucepan. Add sugar, eggs, vanilla, and flour and mix well. Pour in pie crust and bake for 35-40 minutes at 350 degrees. Make chocolate ganache by boiling heavy cream and pouring over chocolate chips. Let chocolate melt for about 5 minutes and then whisk until silky smooth. Top cooled pie with chocolate ganache. Create spiderweb effect by drawing concentric circles with cookie frosting and dragging from center outward.
Check out some other fun Halloween posts:
8 Steps to an Epic Halloween Party
Make Your Own Halloween Crystal Ball