An Easy Tiered Planter and Other Plans

This post was sponsored and written on behalf of The Home Depot; all opinions are my own.

If you've been following along for the last couple of weeks, you've seen my large Flower Tower and my mini Flower Tower.  You've seen my backyard plans, and my shopping trip to gather supplies.  I still have a very long way to go, but I wanted to share with you another project I made which was inspired by these other outdoor projects.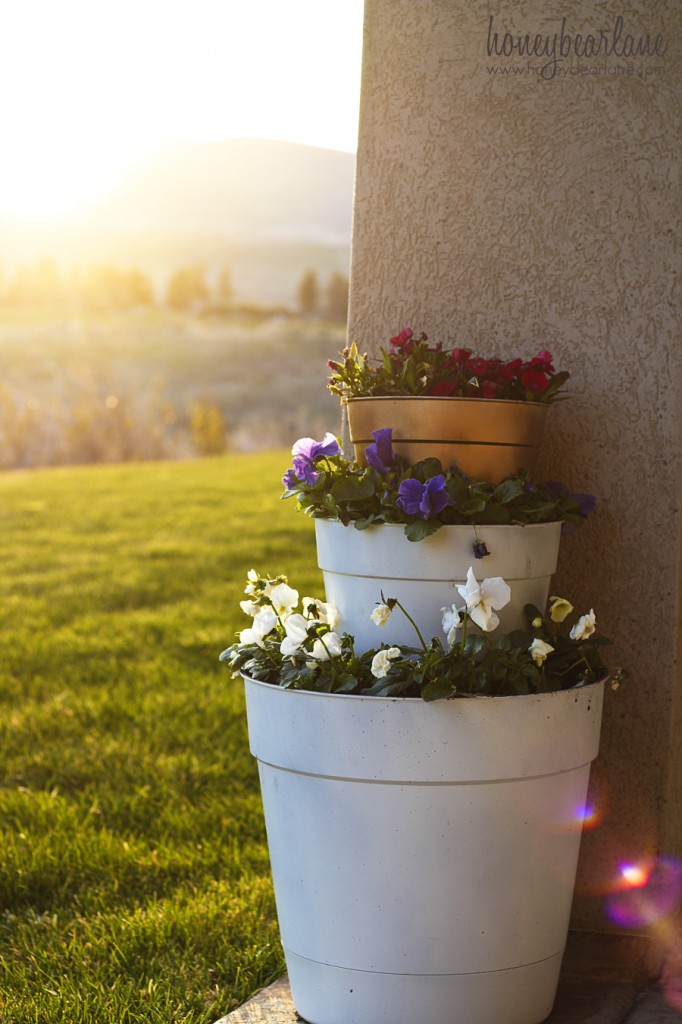 Isn't this pretty?  (I have to admit, the photograph itself is pretty amazing thankyouverymuch) This project couldn't be simpler.  It's a tiered planter and since I used plastic flower pots, the cost was less than $25 for the whole thing.  It's such a simple project that I can basically describe it with this one picture here: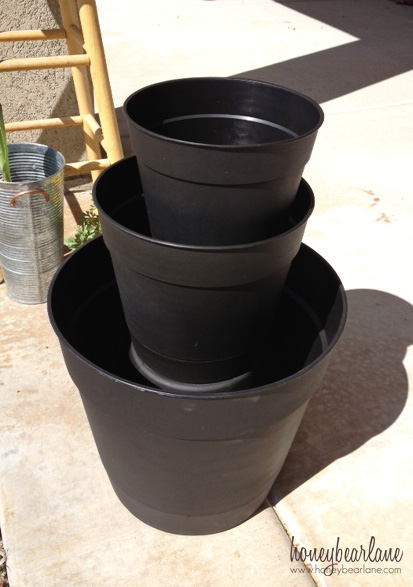 You start with five flower pots.  One extra large, two large, one medium, and one small.  The flower pots you will see will be the extra large, one large, and one medium.  You put the other large upside down in the bottom of the extra large.  Then you fill it with dirt up to the top of the pot inside.  Then you stack the large pot on top and put the small inside, upside down.  Fill it with dirt to the top of the other upside-down pot, then add the last medium-sized pot on top.
I spray painted these pots first in white and gold.  You should spray paint them with a spray paint that adheres to plastic well.  Then I planted some pansies and dianthus in the dirt and watered them.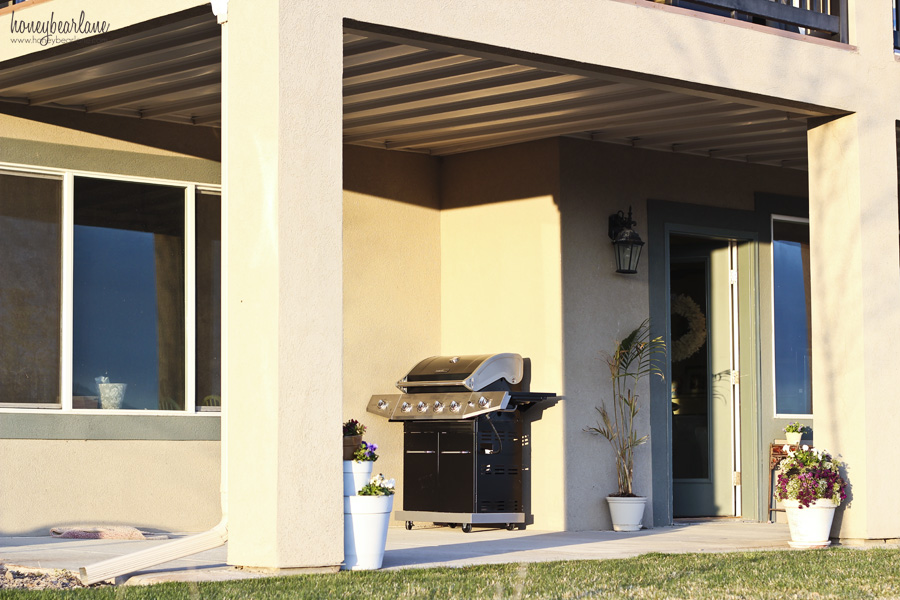 This is the Entertaining area that I really want to work on. As you can see, it's a good amount of space. I have a plan in mind to build a beautiful table, maybe paint it a pretty turquoise, and be able to host dinner parties or cookouts.  And you can see how pretty my little flower tower looks right there.  (The big one is on the other side of that pillar, and will accent the little lounge area.)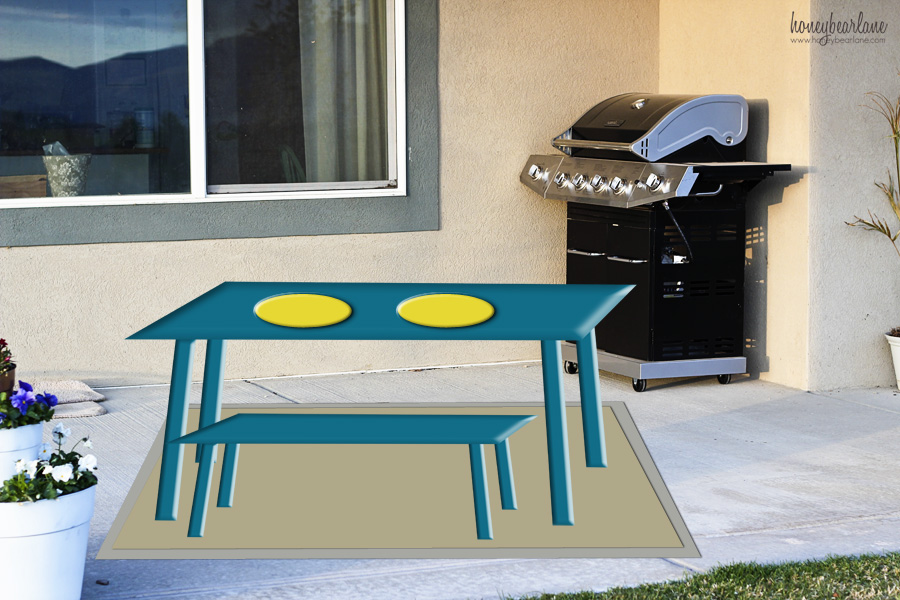 Here's my lovely mockup of what it might look like… and there is a great plan I want to follow on Ana-White.com (and I got to MEET her last week, yay!!!) I may make a bench too! But I think it would be fun to find some old mismatched chairs at a thrift store and paint them all the same color.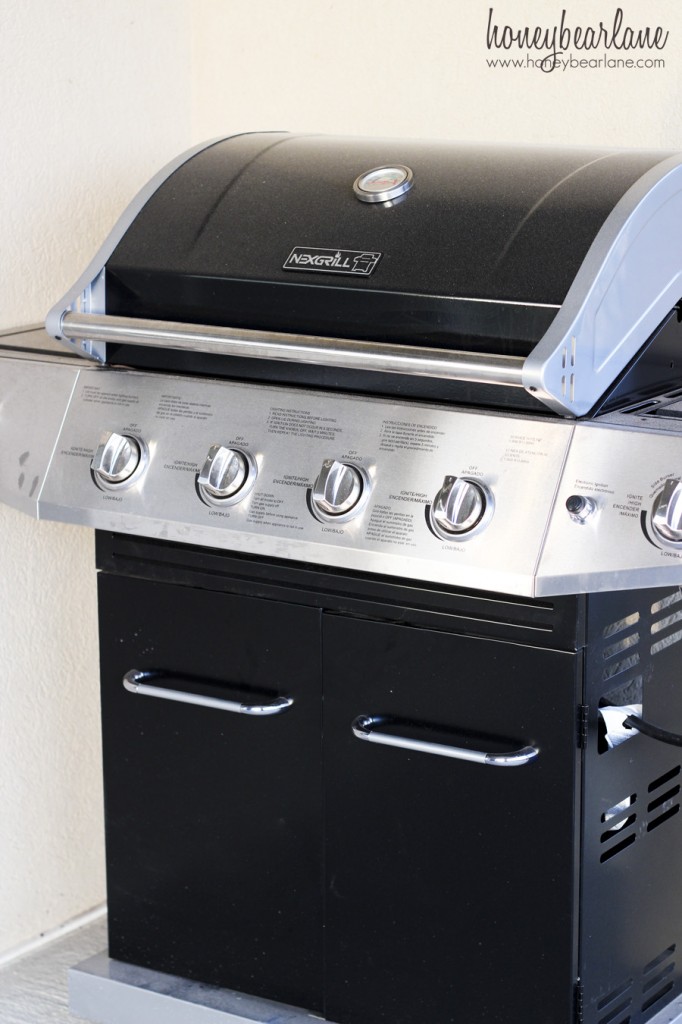 We also just bought this brand new grill at Home Depot. It was a stellar deal at $199, what we speculate to be a $500 grill. It's our first real grill and we love it! It's really changed the way I cook…no more stinking up the kitchen with all the fumes of my stove top grill pan and scraping off the residue for hours later. I used to avoid grilling because I hated using that pan but now I grill everything!
Now that I've made my Flower towers and my easy Tiered Planter, I have a good start to my outdoor living space.  The next steps are a bit more involved, involving wood and power tools and paint.  It's home improvement time, and The Home Depot has everything you need to #DigIn for Spring. No matter what projects you want to tackle, they have great values on all you need. They're ready to help you with renovation ideas and expert advice, too.
Get over $300 in email exclusive savings each year, sneak peeks on new products, monthly lawn & garden ideas for your region and access to The Home Depot's gardening experts. Click here (http://thd.co/ZNbhDj) to join the world's largest garden community today! Or go to homedepot.com/gardenclub to see some of the many benefits of membership.
This post is sponsored and was written on behalf of the Home Depot but all opinions are my own.