Extra Wide Barn Door Plans
I recently revealed my hall makeover, which included one of my projects to do this year–build a barn door to cover my closet entry. It's always been super open and often a mess which I just wanted to sometimes close up. Occasionally when we entertain large groups, they need to use the master bathroom so it's just nice to have the option of closing it up. Since it's a wider entryway, I needed to build a slightly wider barn door. So here are some free wide barn door plans!
(Affiliate links included in this post)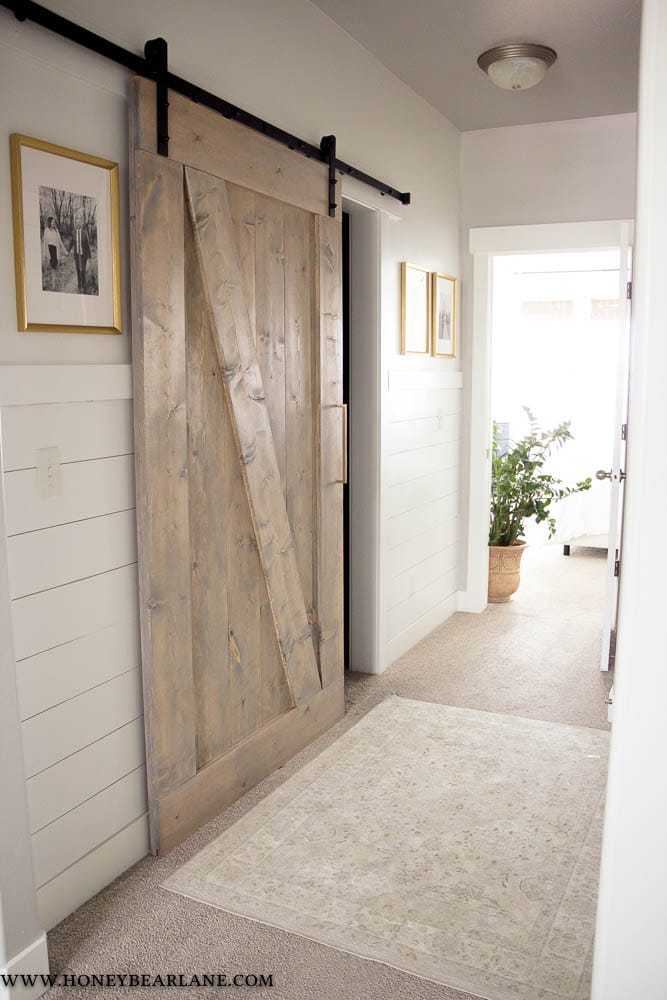 Make Your Own Wide Barn Door:
Materials:
(10) 1x8x8
(2) 1x2x8
1 1/4″ nails (nail gun preferred)
1 1/4″ wood screws
Wood glue
Cut List:
(6) 1×8: 84″
(2) 1×2: 84″
(2) 1×8: 69.5″
(2) 1×8: 46.5″
(1) 1×8: 46.5″
Step 1: Lay 6 1×8's side by side and the 2 1×2's on either end. This creates a total width of 46.5″ This is the bottom layer.
Step 2: For the top layer, put two breadboard ends on the top and bottom of the door and two 69.5″ boards on top. Put glue on the top layer boards and secure in place with nails, ensuring you nail so every board on the bottom layer gets attached to a board on the top layer.
Step 3: Flip the entire door over on its back and screw all the boards in place, close to where you nailed so you are making sure all boards are attached to a cross board. Then flip the door back and put the final cross board in place. To get the right angle cut, it's easiest to put the uncut board on top and mark the cuts with a pencil.
That's the entire process for building the door, wasn't that simple?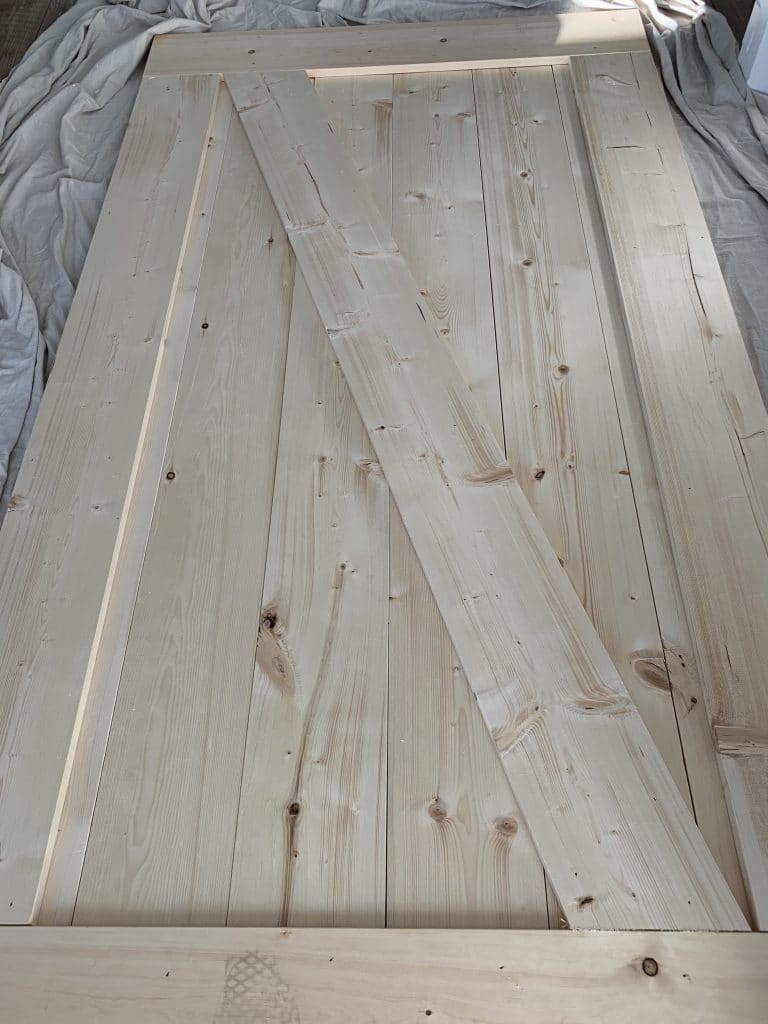 To finish this door, I sanded it and used a pre-conditioner before staining. I always use the pre-conditioner because it prevents that ugly blotching that is pretty common. Then I used a combination of stains (all Minwax): Puritan pine, followed by Classic Gray and then I painted a whitewash paint on top, let it dry for a few minutes and then wiped it off. I like the end result! That's the beauty of staining, I feel like you can experiment until you get the look you like.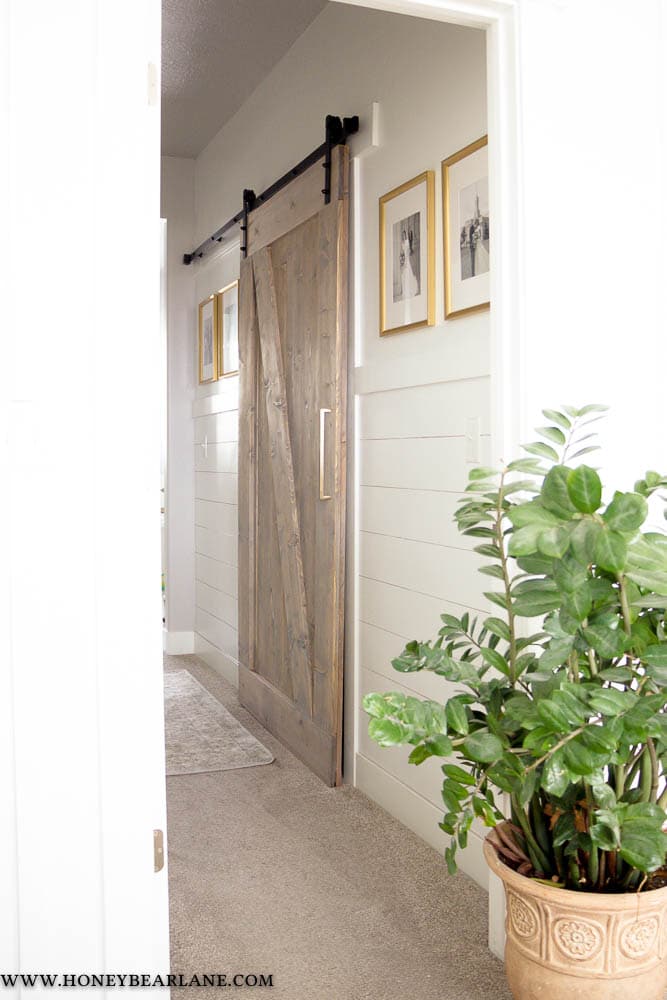 I used this barn door hardware from Amazon. The entire project cost about $150, but half of that was the hardware. To hang the door, I first framed out the doorway and then added an 8′ long header which was screwed into the studs. I also added some shiplap halfway up the wall and painted the entire wall white.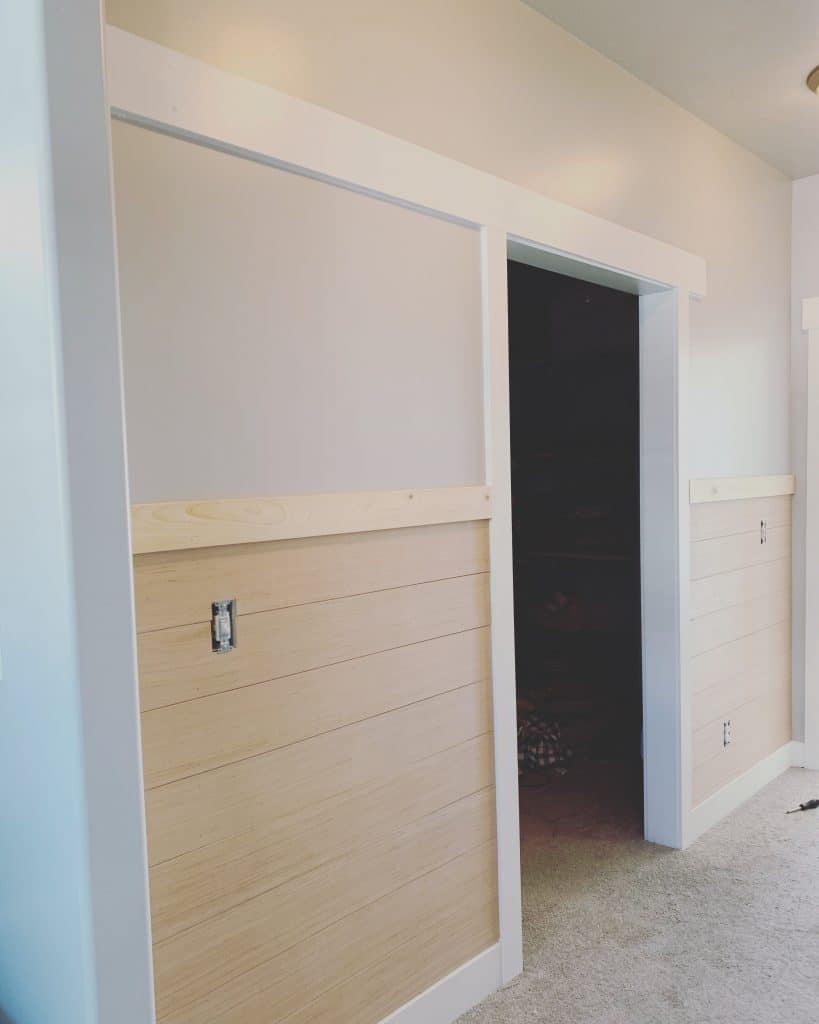 This wide barn door has made a huge difference in the way this hallway looks.  It looks soooo much better now!  I love the farmhouse style touch the shiplap adds as well.  I wanted to replace the ceiling light as well but one step at a time.  Someday I will also rip out the carpet and replace it with laminate and then completely re-vamp my closet so it's super custom.  Ah, so many projects, so little time.  And energy.  It's kind of exhausting trying to make my house up to my high and fancy standards, haha!  
Be sure to pin this for later or print the plans now!
More free plans here: