Baby Girl Pink and Gold Nursery Reveal
It's finally done!  The pink and gold nursery we did for my friend Kristen's adopted baby is finally finished.  It feels like it took forever because Kristen's family is super busy and we just couldn't work on the room as often as we wanted to.  But her daughter isn't one year old yet, so that's a win in my book!  If you remember back in April I posted about my plans for this nursery, and it turned out eerily close to those plans.  I normally use my plans as a loose guide, but Kristen loved the plan so she wanted to stick to it as closely as possible.
Here's the plan, just to refresh your memory: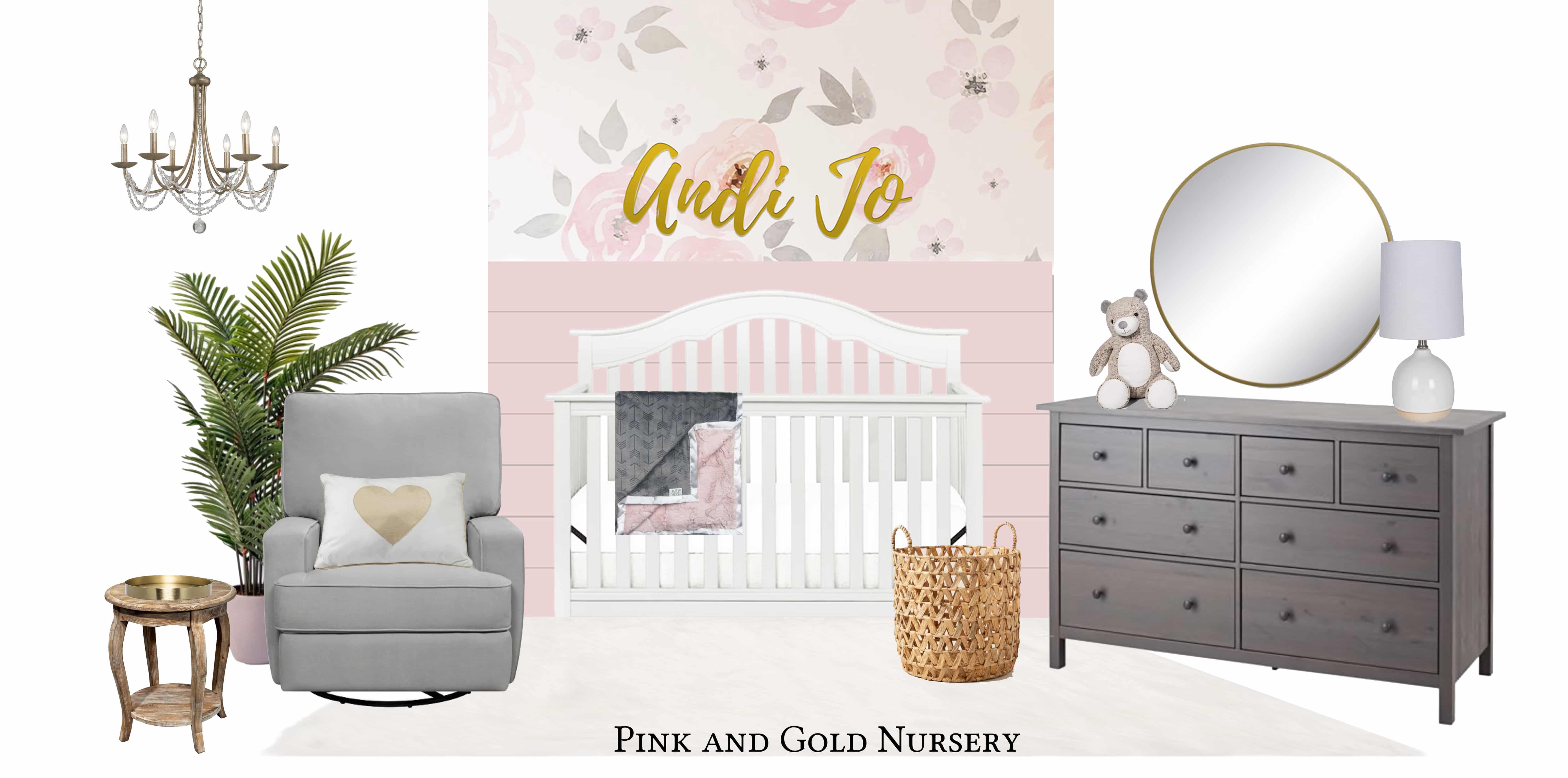 And here's how it turned out!
Isn't that cool?  Like honestly, I don't think I've ever had a plan turn out so close.  Here's a run-down of the room:
Pink shiplap wall:  DIY project
Wallpaper:  Pasted up by me, from the Wallpaperie
Dresser:  IKEA Hemnes
Rocker, round mirror, side table, stuffed bunny, light pink blanket, furry pillow:  Target
Hamper:  Home Goods
Lamp:  At Home
Name Cutout: Craft Cuts
I, of course, started the room by doing the pink shiplap wall.  I've done a bunch of shiplap so I have it down to an art now, and you can check out some tips here.  I did stupidly miscalculate the amount needed and ended up needing to add a few more rows.  We painted it Cachet Pink from Sherwin Williams.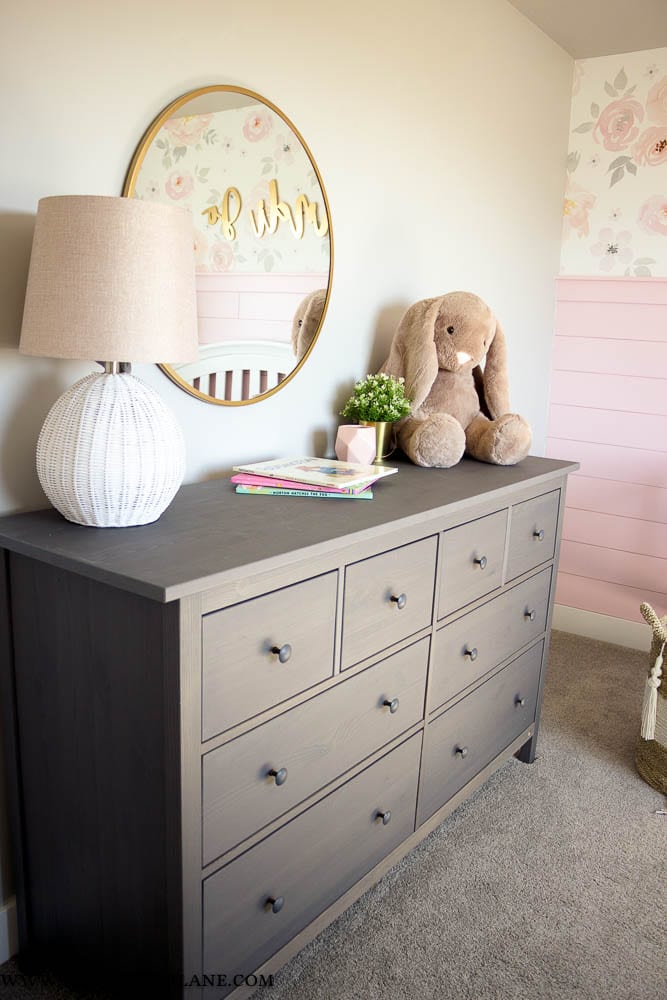 After the shiplap was done, I put up the wallpaper which was actually a lot easier than I thought it would be.  I bought it from this etsy shop Wallpaperie, and she has a great selection and is super awesome to work with.  She makes sure to cut the wallpaper so it all lines up and gives you instructions on how to hang it.  It was self-adhesive, so no messy watery mess.  This was only the second time I've done wallpaper and it went much better this time.  The first time was a brick pattern which was much trickier to line up. I love this floral wallpaper–it adds SO much to this space!  It's the perfect blend of colors for this pink and gold nursery.
Other Girl's Rooms I've Done: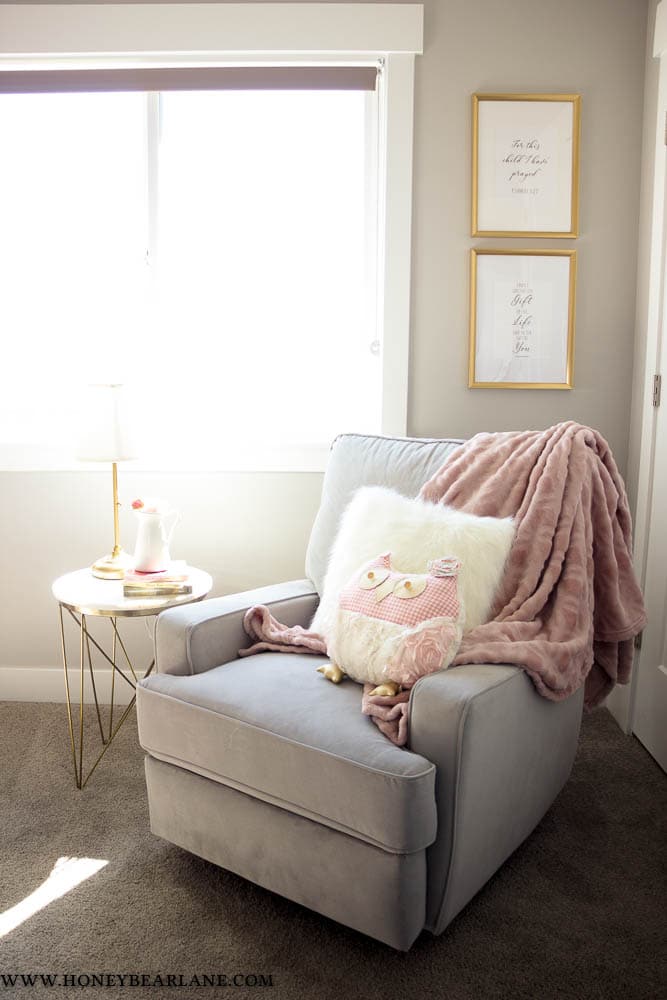 She actually bought a new white crib from IKEA because her old crib was a dark cherry wood color and she wanted white.  However the new crib was way too small in size, so we agreed it would be better with her original crib which I had always planned on spraying white.  I think she was just trying to save me some work, but I had planned the design around her existing crib so it just worked better.  I used my HomeRight sprayer to spray it, and first started using DecoArt satin enamel white paint.  But after flying through four pots of them, I went to Lowe's and bought a quart of their furniture enamel paint which was so much better!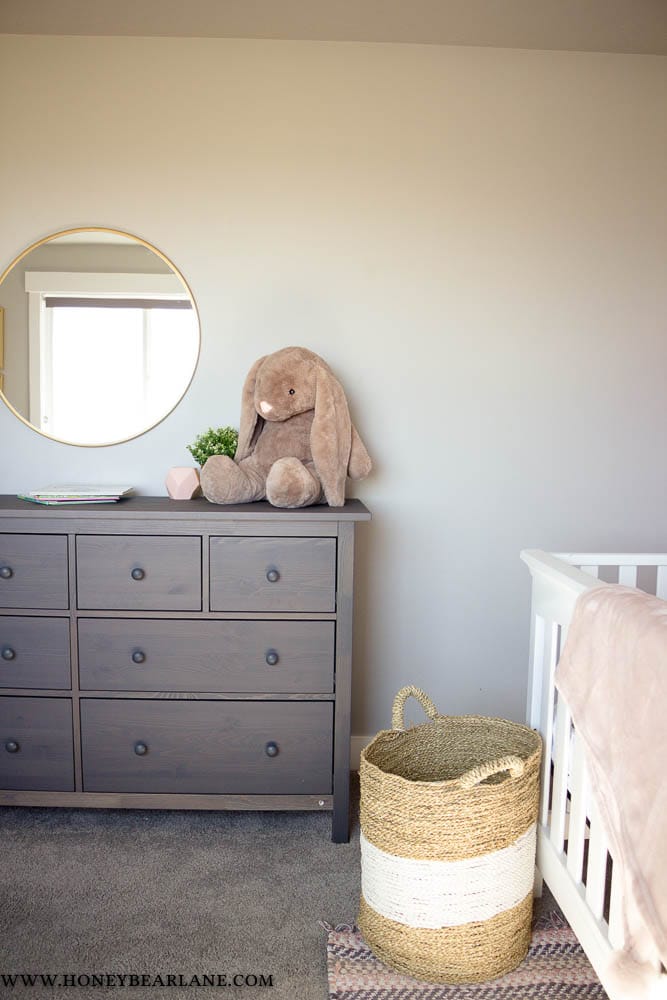 After all the DIY stuff was done, Kristen got to work buying the other furniture pieces.  She got the rocking chair from Target, the new dresser from IKEA, and all the little accessories from various other stores.  It was just a matter of putting it all together and soon this adorable pink and gold nursery would basically be done.
The only thing left was the name cutout which I was just planning on buying off Etsy.  However at the same time I started getting ready for that, I was contacted by Craft Cuts and they happily supplied me with this super cute and high quality wood name cutout.  I just went on their site and entered in the thickness, width and height, chose the font, and we were good to go!  It was so super easy.  They sent me the name and I just spray painted it gold.  I actually tried to paint it by hand first, but the gold paint I had wasn't really working well and I didn't want to see brush strokes.  Spray paint really can be a DIY girl's best friend.
To hang the name up, I just had to use some painter's tape and a level.  I put the painter's tape where I wanted the bottom of the name to be, then used the level to get the tape all nice and even on the wall.  I used Command velcro strips to attach the name to the wall.  I just secured them to the back of the name and then pressed them firmly on the wall.  It was soooo easy.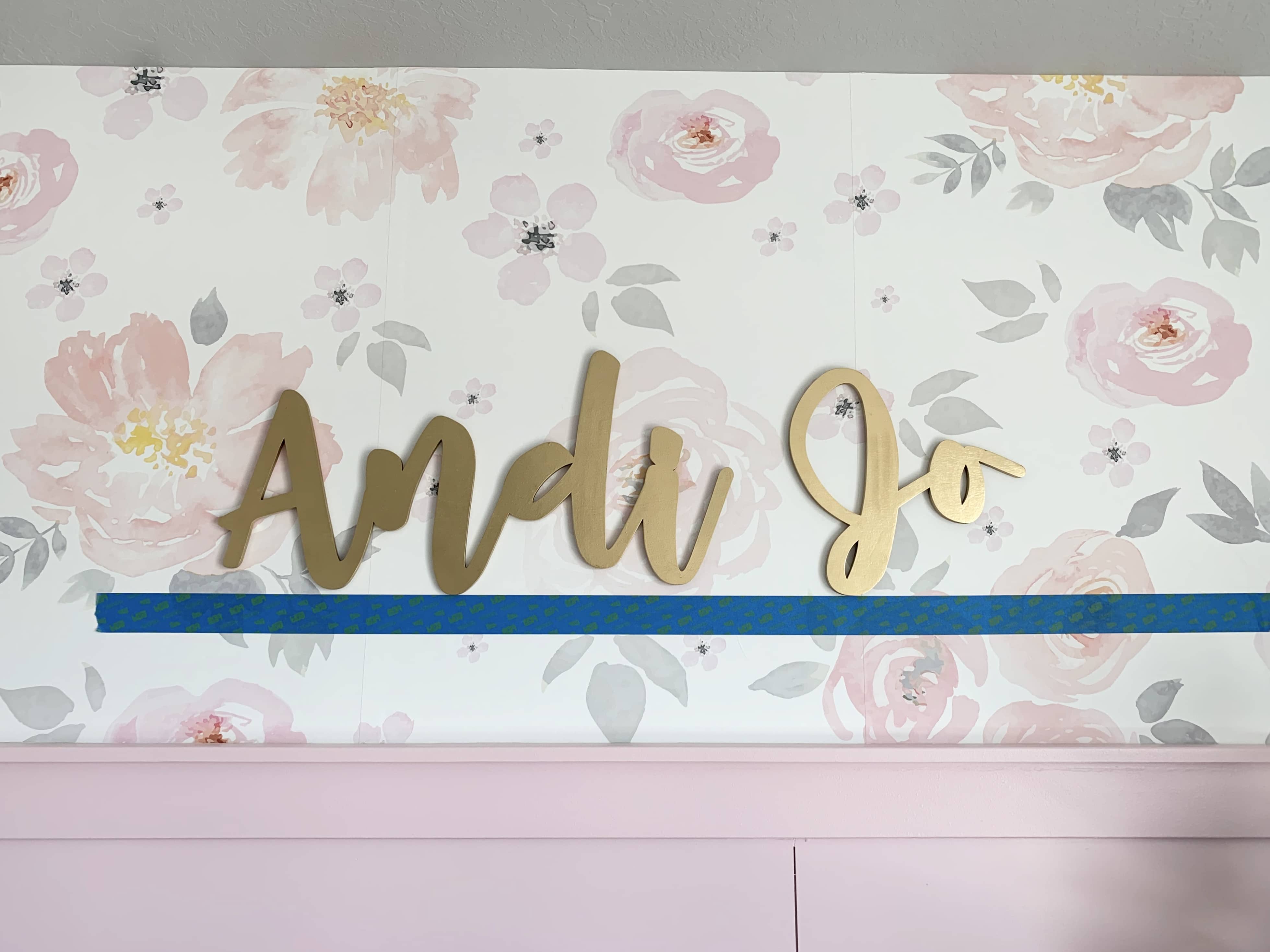 I love the name, although I kind of wished I'd gone a bit bigger.  It's always hard to estimate size when you're trying to visualize it. Just for any of you thinking about doing the same thing in a child's room, maybe consider doing it bigger than you planned.
This round gold mirror is one of my favorite Target finds.  I have one in my own house, but I've also used it in two other rooms I've decorated.  It's SO affordable and just so pretty.  I also love this cute, albeit somewhat depressed looking bunny.  Kristen found the rattan lamp at At Home which is the perfect lamp for this room.  And believe me, we were really struggling to find just the right lamp for the space!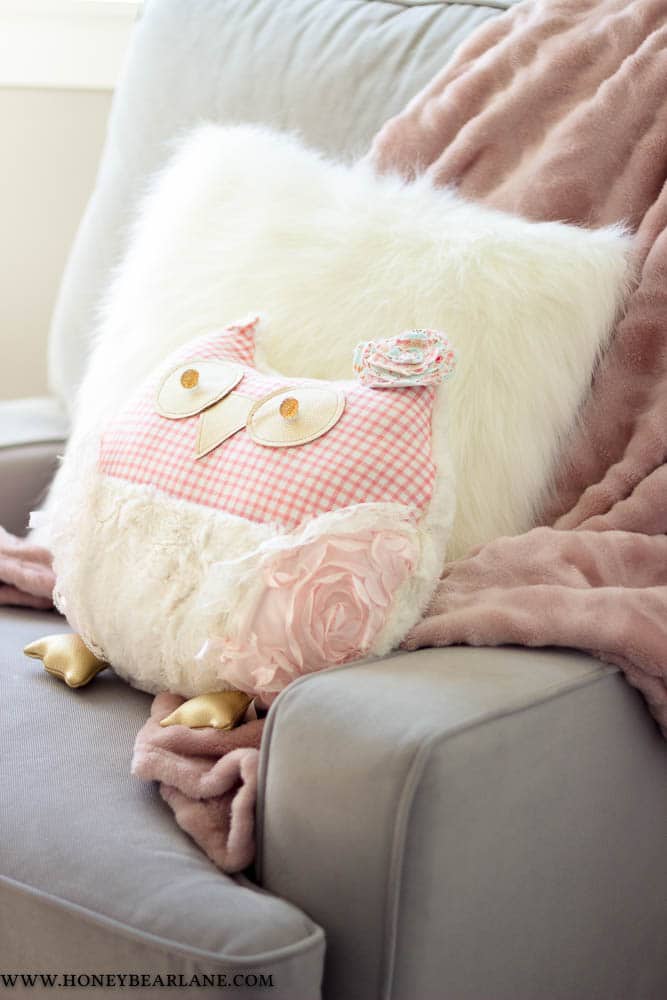 Kristen also bought this faux Fiddle Leaf Fig tree from Hobby Lobby.  They have some really great options lately.  She tried a couple other plants in that corner but this worked the best.  She knew she had to go faux because she was too busy to remember to water a plant.  You really can't ever go wrong with a Fiddle Leaf Fig, and those trees actually look pretty convincing because real Fiddles kinda look fake.  Except for all the dead spots, haha!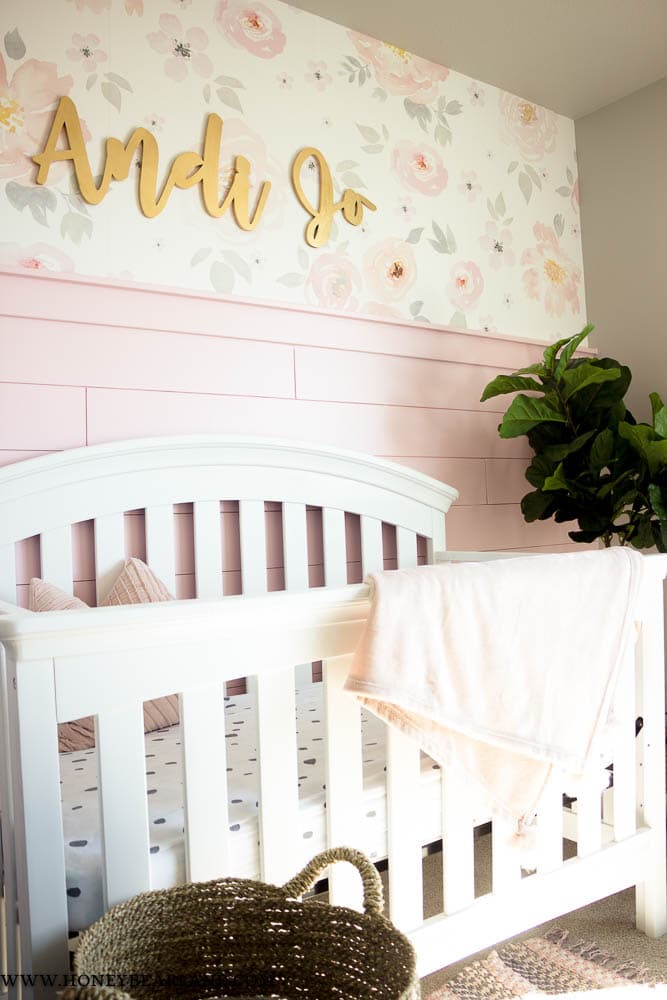 We are both so happy with how it turned out.  It's always so fun to do kids rooms, and it makes me wanna do another one!  This pink and gold nursery is the perfect place for a little baby girl to spend her time.  The best part is that it will transition really well into a little girl's room.  I'm sure by the time she is a teenager she will want to re-do some stuff.  🙂
Here is Amazon list for your convenience in shopping for items similar to what we have in this room!  (Affiliate links.)
If you enjoyed this post, make sure you pin it and share it!