Boho Farmhouse Dining Room Makeover
Do you have a room in your house you just can't seem to get right?  For me that is my dining room.  I have changed it so many times over the years, never 100% loving the end result.  This year I did a boho farmhouse dining room makeover and I finally got it the way I wanted!  This is kind of a long post so enjoy!
**This post has affiliate links, please read my disclosure here.
When we first moved in, I built this farmhouse table and bench.  I finished it with this faux reclaimed wood look and painted the base.  I absolutely loved the finished result, but unfortunately I sealed it with a really bad topcoat.  It stayed semi-tacky and wasn't durable.  Over the next year of wiping the table down several times a day, the entire finish was removed in specific spots.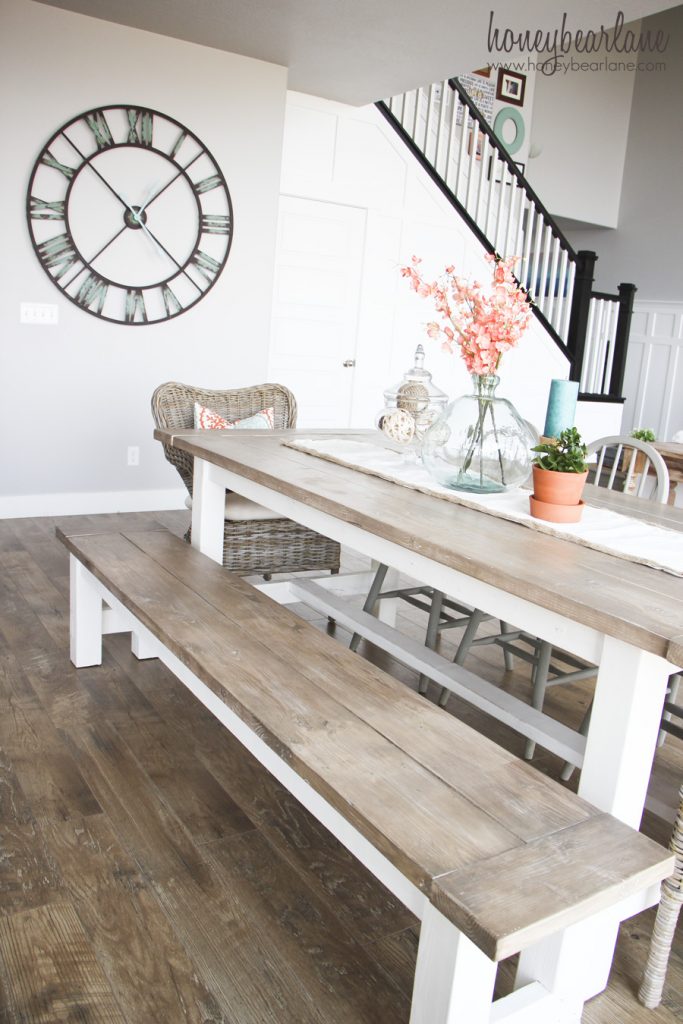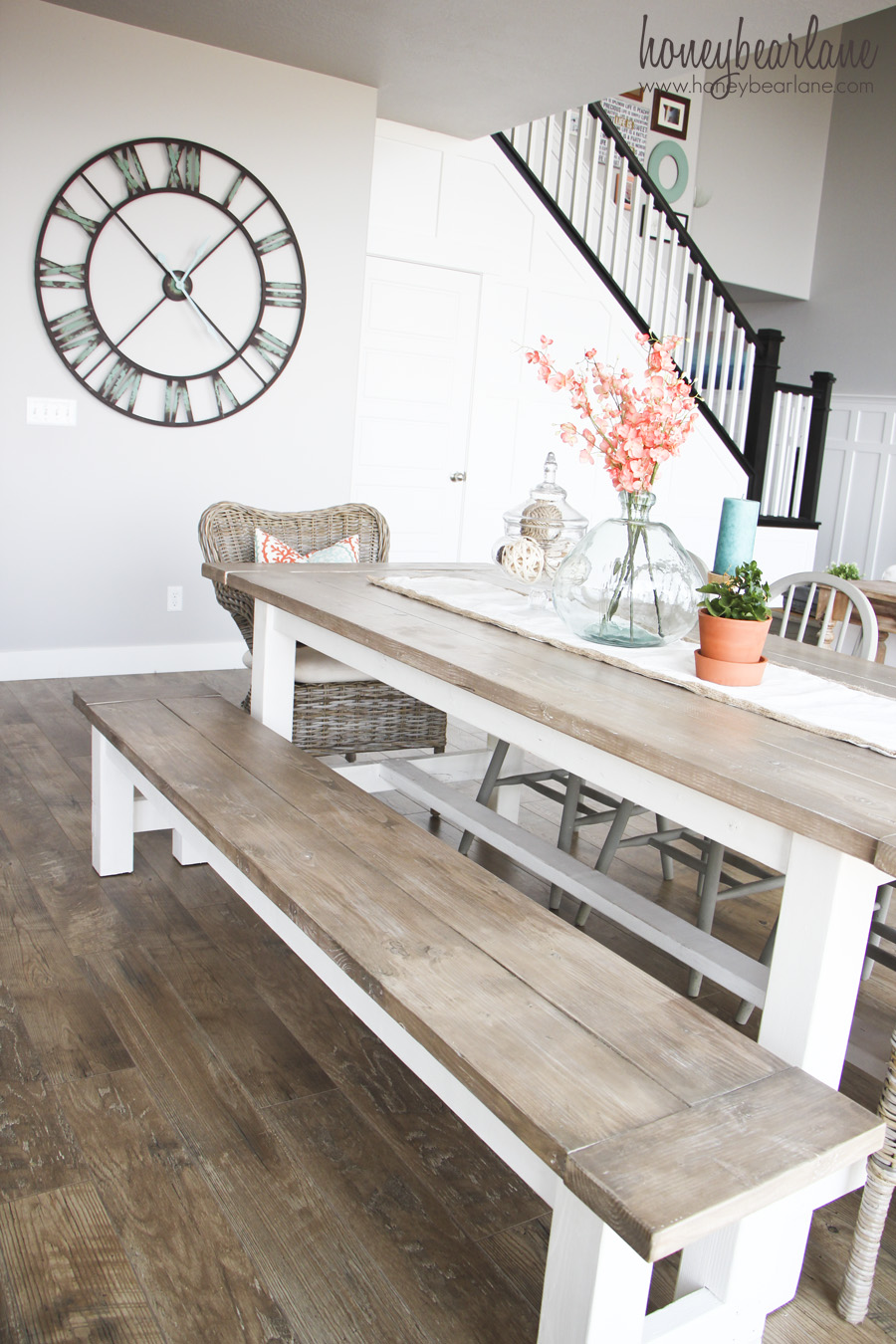 I knew I was going to have to refinish it, but I didn't want to strip it, so I decided to paint the top in a painted weathered wood style.  It was okay, but I wasn't in love.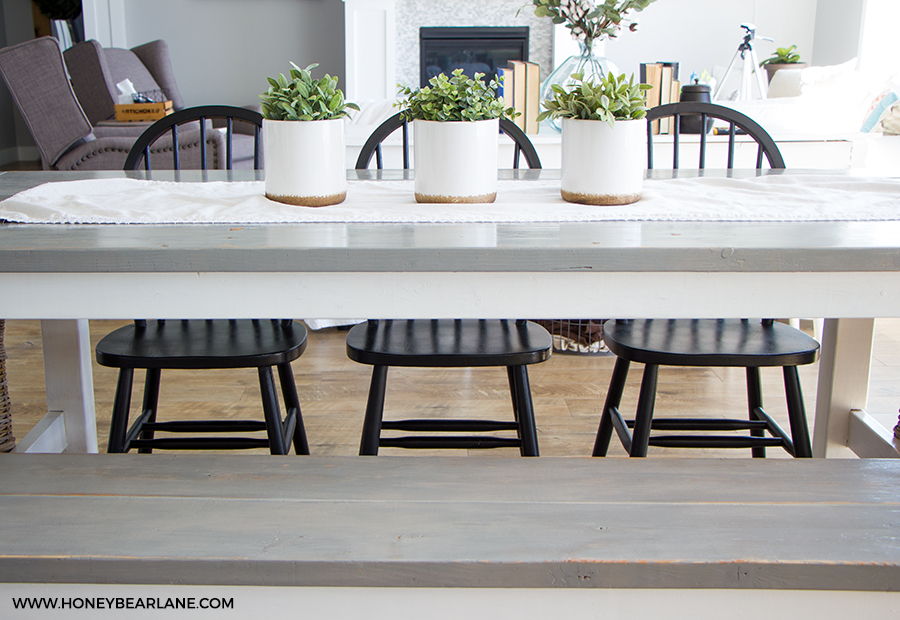 A year or so later, I refinished it again by stripping the paint off the top and refinishing the top in a wood style and then painting the base black.  Also, not wild about the finished result.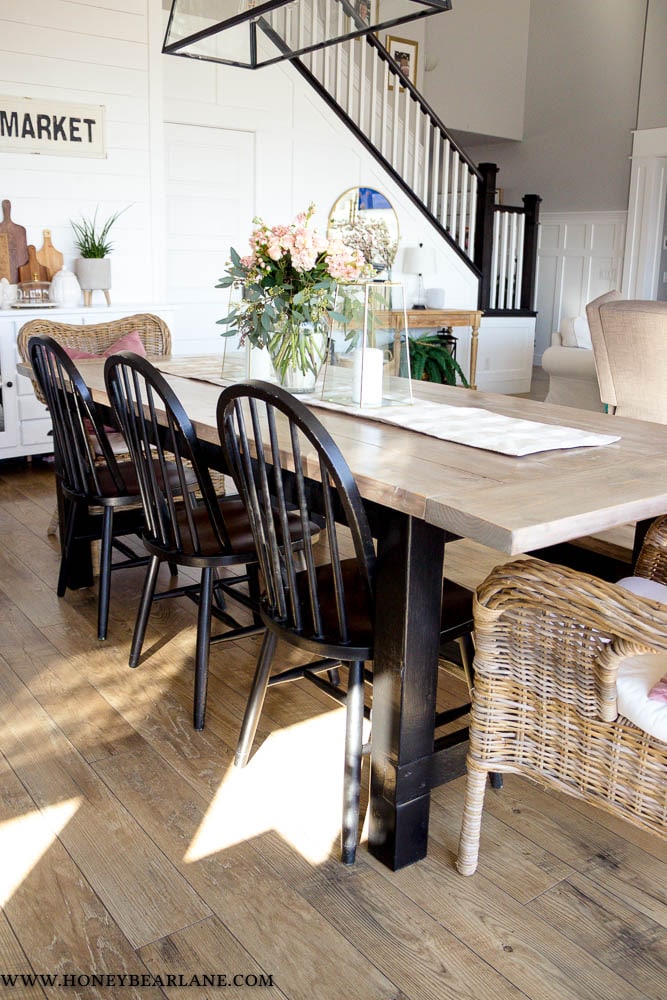 Finally, at the beginning of this year I decided to strip the entire table and bench.  I did so (lots of hard work and time!) and only refinished and sealed the top.  The base I left bare with that distressed "stripped paint" look and I actually really love it.  It makes the table look more old and found.  Since the base rarely gets dirty, I'm not really concerned with sealing it.  I didn't even really finish sanding the bench base.  Here is the finished result!
The stain I used for the top of the table is the following combination:
Dining Room Gets a New Rug
I also finally took the plunge and bought a rug for under the table.  I have always loved the look of having a rug under a dining table, but it is pretty impractical with little kids that make messes all the time at the table.  I have spent literally years evaluating different rugs to see if it could hold up to kids and food.  I considered Ruggable (the washable rugs) but I didn't really love the idea of having to move the entire table on and off the rug to wash it.
One day I came across this super trendy rug from Overstock that my neighbor bought and I realized it was busy enough to hide some stains and neutral enough to work.  She loves hers.  The print is printed on and it's extremely low-pile (like smooth) so it makes it very easy to clean.  I went ahead and bought it and have loved it ever since.  It's the perfect dining room rug!  I even bought a similar one for my living room.  It's thick enough to be comfortable to walk on.  There are actually a bunch of different prints available in this style of rug and I bought another one for my living room.  They are super durable, wear really well, and basically never look dirty.  Win win win!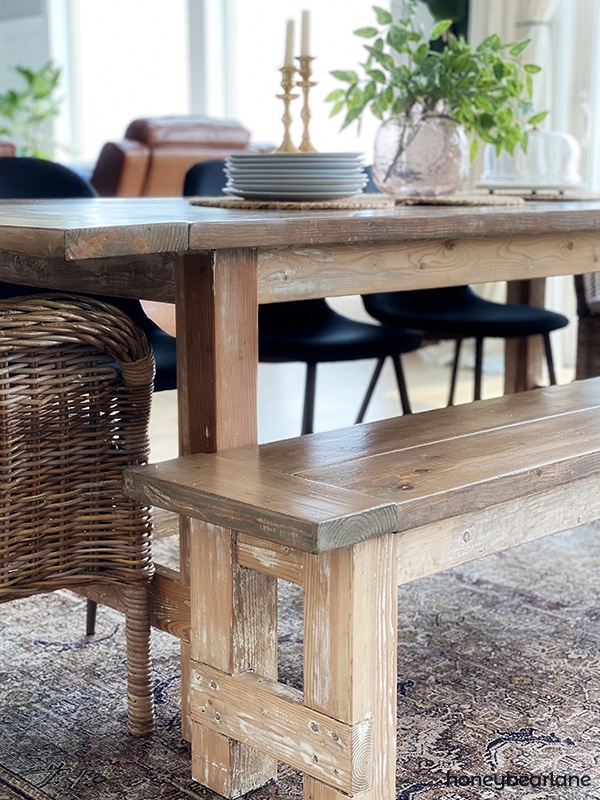 Then I Built a Barn Door
This north wall in the dining room has also been quite a puzzle for me.  I have had shelves and a buffet there and that was okay for awhile but I kind of felt like they were really busy and crowded the flow of traffic through the room.  I moved the buffet to the living room and moved the console table from the living room to the entry.  I took down the shelves as well.  Then I left it that way for literally two years and every time someone new came to the house and my husband showed them my home projects, "Heidi did this shiplap wall!" they'd see the marks left from the shelves and were like "uh yeah…I can tell."  But I knew what I wanted to do and just needed the time.
I decided to build a barn door to close off the laundry room/mudroom because that area is always a bit messy.  I love having the ability to just shut the door when guests are around.  I ended up building the exact same door as I did in my bedroom closet just for continuity throughout the house.  I also used the same barn door hardware, yet it cost almost double what it did the first time because the price of lumber has increased so much.  I finished it slightly differently since I wanted it to blend better with the woods in the dining room and kitchen.  Here is the list of stains I used in the order they were applied:
Minwax Simply White
Minwax Golden Oak
Rustoleum Matte Finish Polyurethane
I like the Simply White for pine because it gives more of a neutral base to work with and takes away a lot of the stripey orange.  The Golden Oak brings back the wood color but everything is more muted because of the Simply White.  The Classic Gray gives it the more weathered older look that is pretty prominent in my home so it helps make things feel cohesive.  The Matte Finish Poly is my new favorite finish.  Its really durable but matte so nothing is shiny.
Finishing Touches for My Boho Farmhouse Dining Room
My most favorite detail in the entire space is the little macrame planter pots.  We had just a little speck of space which I wanted to add a little interest to.  I decided on some macrame planter pots to really bring home the boho feel.  I bought the macrame on Amazon and the little pots at Michaels.  I found some succulents at Home Depot which will hopefully grown to become hanging plants but I didn't want to start with large plants that would need to be transplanted soon.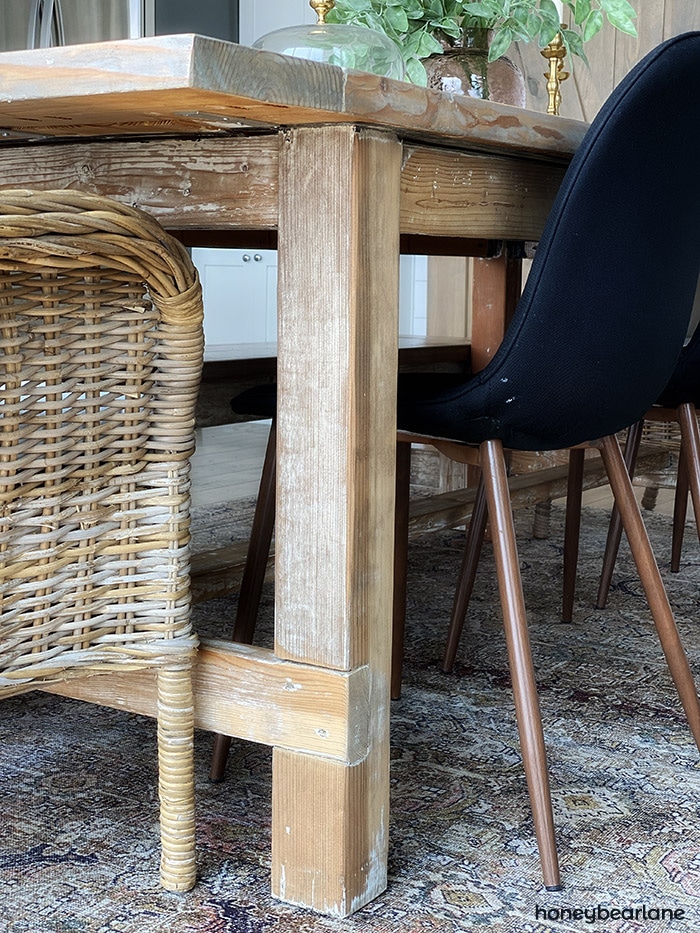 I finally chose new dining chairs!  It was literally the hardest decision I've made for my house and it was the very last thing I've replaced.  I settled on these black upholstered mid-century chairs from Target and they have actually held up really well so far.  I Scotch-guarded them when they first came which has helped with any food stains.  They are pretty comfortable as well.
We also changed out the light above, which kind of prompted the entire makeover.  We installed the light from West Elm last summer.  It took several months for all of the parts to be shipped to us and it was the hardest light we've installed but it was worth it because it makes such a difference!  I love the brass look and it's very modern without being too modern and clashing with the style of the house.  It's quite large (four feet long) so it makes a huge statement.  I got it shortly after we got the new kitchen pendants and they go really well together.
Here's a little video to hopefully give you a better feel for the space:
I honestly feel like this boho farmhouse dining room blends seamlessly with the rest of the main floor now and I don't find myself constantly staring at my table wondering what I could do to make it look the way I dreamed. It's perfect!