Bedroom Window Seat Built-ins Ideas
I told my daughter Ellie (11) that we could finally redecorate her bedroom.  She was ecstatic because she's been the sole subject of musical bedrooms in our house but has finally landed in one of the best rooms in the house–a back bedroom with a large window with the best view in the house!  It started out as our guest room which was one of the first projects I did in this house, so nearly ten years later, we've decided to give it an update that suits her style a bit more.  But first I need some bedroom window seat built-ins ideas.
I actually made a little mockup for her bedroom awhile back, but it's funny how your ideas can change within just a few months.  I have avoided Instagram for months because it's so easy to fall into the comparison trap, but lately I've just been focused on using it merely as inspiration and as long as I maintain healthy boundaries with Instagram, it can actually serve me in a positive way!  And lately I have been so inspired by all the great creations happening by the ladies of Insta.  After seeing so many DIY projects, I actually would love to do something built-in in her bedroom.  I've always wanted to do a bedroom built-in window seat in one of my rooms and I think if I combine that with a little desk in Ellie's room, that could be the perfect solution.
Built-in Window Seat Ideas with Bookcases and a Desk
I love this idea of having both the window seat, bookshelves, and a desk.  Ellie has a desk in her room that she uses all the time for doing nails and artwork.  She definitely needs a large desk area like this amazing space seen in Bria Hammel Interiors.  And the best part about this photo is that we only have about two feet on either side of the window, so that seems like an accurate match to this bedroom.
Here's another example of a desk leading out of the built-in window seat/bookcase combo.  This bedroom from Mindy Gayer has a little more of the light and bright look we're going for.   I love how clean everything looks because there is so much storage and it doesn't look cluttery.  This is a good solution for my hoarding-tendency daughter who just has so. much. stuff.
I adore the color scheme in this bedroom by Nesting with Grace.  I love that they opted for that green mint color on the built-ins because it makes me want to do Ellie's that way 100%.  Since I'm going to get a larger bed for Ellie, having the built-in window seat area seems like a great space solution for her boho bedroom.  It also adds so much character to a builder-grade home!  Another reason why it is so great to have developed my DIY skills.
mockup of her bedroom:
So I guess what I have to do now is make a Sketchup plan for the built-ins, which will be on that left wall with the window.  I won't smush the bed against the wall as much and I probably won't do the wood shelf on top of the existing board and batten but the paint color will be the same.  I'm not sure about the Terrazzo look on the wall, but I already bought the decals so I'll have to find some sort of use for those.  Maybe on the inside of the bookcases could be a fun accent.  I'm also not sure at all about what to do about the bed.  Ellie says she likes the low bed look but I feel like it would be nice to have some under bed storage as well as be high enough to look at the view out the window.  We also would like an upholstered headboard, but I can't seem to find one I like.
Paint colors we're using so far:
Sherwin Williams Accessible Beige (as I used for my mudroom lockers and bathroom shiplap.  I feel like this color is way lighter than it looks on the sample) and then Benjamin Moore Swiss Coffee but lightened 10%, as recommended by my friend Brooke who has a great sense of design.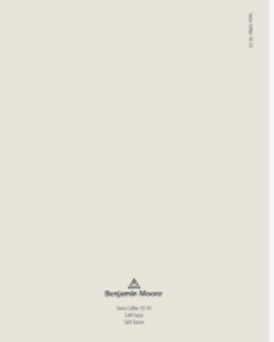 Blue green colors I'm considering for the built-ins, please tell me which one you like best! Benjamin Moore Beach Glass, SW Halcyon Green, or SW Sea Salt.  I'll have to get samples to truly see how it looks in the lighting in her room.
Since I've decided to do the bedroom window seat built-ins with the bookcase and desk, this is going to be a long haul project.  Sometimes when you only see videos on fast mode it can seem like some of these people build things in a day and it can be pretty discouraging.  But we all have lives right? I have five kids, two part-time jobs, and a house to maintain.  As much as I'd love to work non-stop, I have to find little pockets of time to do things.  Plus we know that most DIY projects do not progress in a linear fashion.  There are always road blocks, financial constraints and dumb little reasons why we have to put the project on hold.  So here's me telling you that it's OKAY if your project takes awhile…months, or even years to finish.  That is normal!
I'm actually super excited to get started on this.  She's at Girl's Camp this week and I told her I would paint while she is gone.  However that has yet to happen because I've had laryngitis (so much fun!) and haven't felt well.  Plus I've been trucking along on our basement kitchen (reveal soon, I promise!) and I really need to just get that finished before embarking on another major project.  I guess now that I need to design the built-ins in Sketchup that will take a little time also!
See some of Ellie's other bedrooms:
Pink and Blue Girl's Room Plans
Pink and Blue Girl's Room Reveal